loading...
Search
9,772 RESULTS FOR JUST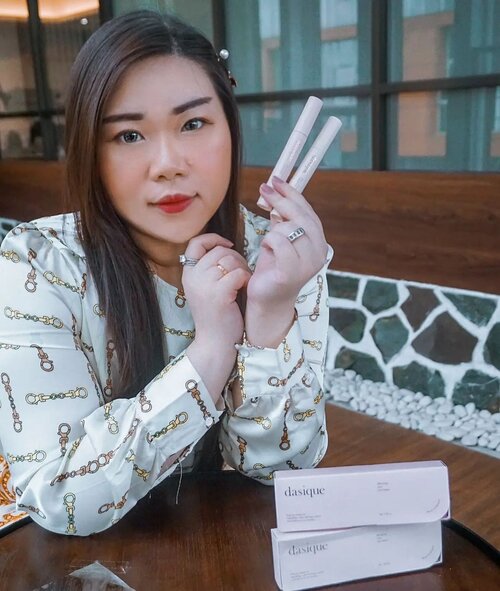 #Repost
from Clozetter @Mgirl83.
Mascara with the prettiest packaging ever!
I am definitely in love with @dasique_official 's aesthetic and even their mascara's no exception.
Been loving their Mood Up Mascara Long & Curl lately, it's the typical soft and natural type of Korean mascara (if you are obsessed with luscious lashes like me, you'd need 3 coats) and available in 2 shades :
* 01 Black
* 02 Choco Brown .
I was always hesitant about trying non black mascara, but the Choco Brown is actually dark enough to make me not feel weird but give the overall look a softer, more romantic look and i am starting to really like it too 🙈. It might not look too different to black when you apply it, but side by side comparison would make it obvious! (It's my first brown mascara, if you can't tell 😛)
With formula that is just right (not too wet, not too dry), the mascara has small fibres to make lashes looks longer and more voluminous - and it is able to hold curls all day long without smudging (no smudging is important for me!). The brush is small and curved, making application to be a breeze and precise.
The packaging is very extra, comes with a pretty box with floral design in the inside, the mascara tube's colors are in the nude family, which is very very pretty and aesthetic but honestly pretty easy to get dirty as the mascara can smudge around the opening 🙈, but still - for mascaras to impress me with their packaging is really something so if you are drawn to pretty things like me, you should really check this brand out.
Overall, i enjoy using Dasique's mascara (although i do use multiple layer everytime because i like va va voom lashes) and i am dying to get my hands on their eyeshadow palettes because they all look sooo pretty 😍😍😍.
You can grab yours at my Charis Shop (Mgirl83) for a special price or type
https://bit.ly/dasiqueMascaraMindy83
To directly go to the product's page 😉.
@hicharis_official @charis_celeb @charis_indonesia
#charisceleb
#charis
#hicharis
#reviewwithMindy
#beautefemmecommunity
#koreancosmetics
#clozetteid
#sbybeautyblogger
#makeup
#koreanmakeup
#dasique
#dasiquemoodupmascara
+ View more details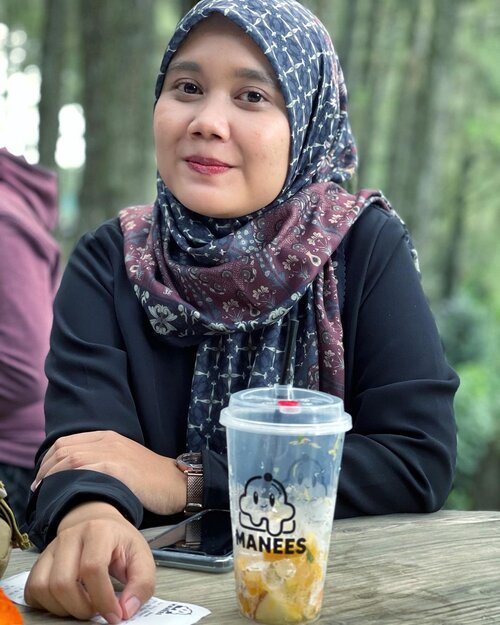 #Repost
from Clozetter @sridevi_sdr.
I feel like I am floating when he calls me manees ✨
Opppsss he not calling me, he just want my drink 🍹😆
Karna lagi pake
#RullaScarf
koleksi @heaven_lights x @dwihandaanda kali yaa bawaannya jadi manis aja ☺️ Sihitam perpaduan maroon ini cakep banget dan jadi salah satu scarf favorite aku untuk kemanapun. 🖤
Selain patternnya yang cakep, bahannya masyaallah banget sii. Alus pisan dan ga tebel 😍 Luvvv deh sama Rulla Scarf ini.
#dailyootdwithhl
#ootdwithhl
#hlladies
#heavenlights
+ View more details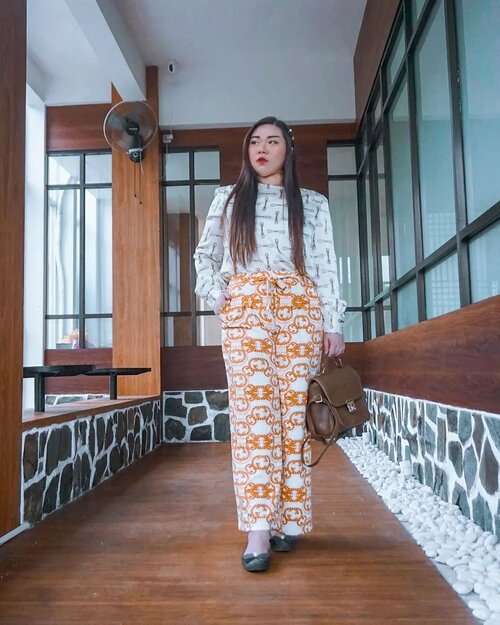 #Repost
from Clozetter @Mgirl83.
Channeling my inner tai tai 😛✌️.
I'm sure you'd agree that my outfit is pretty different than my usual style - it's just that once in a while i am drawn to these type of classy, mature but relaxed style too. I'm also don't usually wear a lot of pattern (let alone trying to pair pattern with pattern) but i was influenced by Jeffree Star's loud Gucci style so i was very drawn to these pattern somehow.
Top and bottom were bought separately, i don't remember which one i bought first but i do remember buying one purposefully to wear with the other one specifically - and i think they really go well together (if i may say so myself haha).
Top : @maxfashionsindonesia
Pants : i'm almost sure i got it from @houseofvintage_sby (there used to be one in Marvell City but it closed down after pandemic 🥲. I loved this store very much, they have a lot of trendy fashion with crazy cheap price tag. I think they still have a store in Royal Plaza, dunno if they are still open but i checked that they are still active in IG and you can purchase their stuffs online).
Bag : unbranded, bought in South Korea.
I might wear more patterned tops and palazzo pants (well, palazzo pants are my fave type of pants) and act my age - but i can't promise anything 😛✌️.
#ootd
#ootdid
#clozetteid
#sbybeautyblogger
#BeauteFemmeCommunity
#notasize0
#personalstyle
#surabaya
#effyourbeautystandards
#celebrateyourself
#mybodymyrules
+ View more details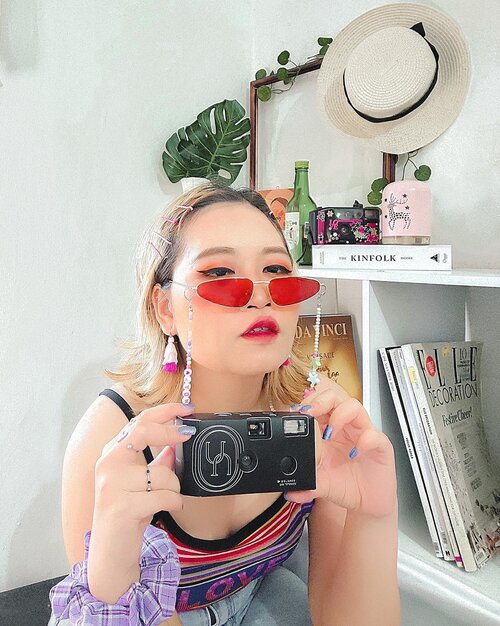 #Repost
from Clozetter @mndalicious.
Maybe I'm not pretty ✿
maybe I'm just fun ✿
'Cause I got a belly and I got a bum. But I can't be jelly of all the other ones. So I'm falling in love with my... Rum.. bum.. bum.. bum 🎶
• 📷Yoon merch dispo camera @w_n_r00 @ygselect
• 🍡Candy strap made w/love by my kpopies bestie, Juna😋
• 💜Scrunchie @bibim.cat
.
.
#stylingbyamandatydes
#y2k
#y2kfashion
+ View more details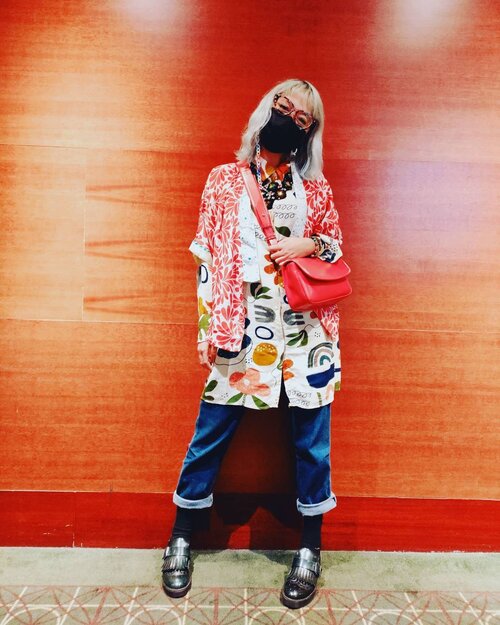 + View more details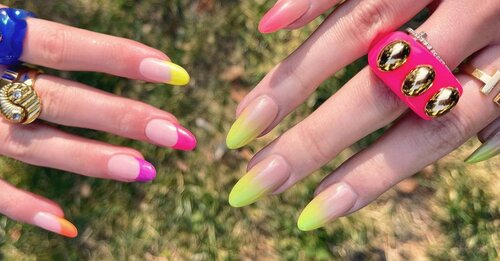 It's also been all over Instagram this summer.
Simak juga artikel menarik lainnya di Article Section pada Clozette App.

+ View more details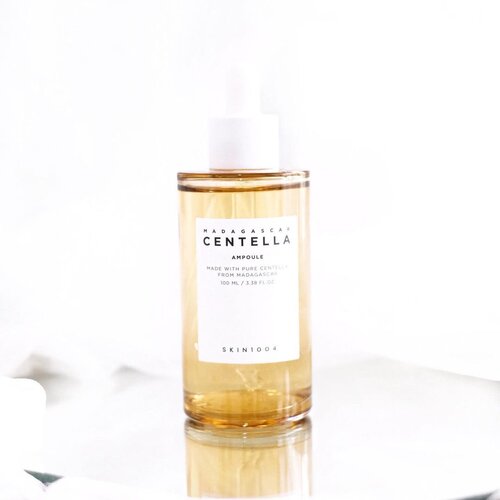 + View more details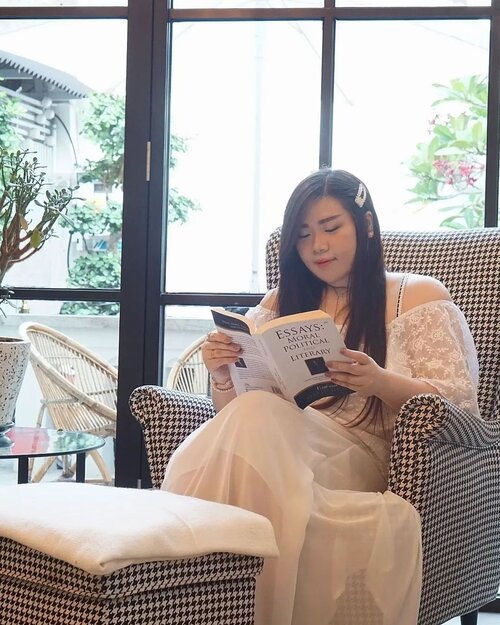 #Repost
from Clozetter @Mgirl83.
Everything can be faked in social medias..
Like this picture where i look like i am serenely reading my book in a dreamy environment and cool weather...
Reality : although i was (i couldn't go back to reading my books yet i dunno why) a bookworm, i wouldn't be caught dead reading an essay, especially if it's about moral political literary 🤣🤣🤣. It was a hot and balmy day (the cafe probably turn off some of the ACs to cut costs because it's still PPKM level 3 okay) and i was fighting my annoyance to a group of ill-mannered patrons who kept on not-so-quietly making commentaries and jokes about us and our picture takings. I mean, in this day and age, there are still people who got confused when there are girls all dressed up taking pictures? Which rock have y'all been living under? Some of us practically make a living by taking pictures...
So yeah, please. Don't believe everything you see in social medias. Most of us would only post the pretties, happiest pictures and would never share our sad times and struggles behind the camera and pretty pictures. Trust me, nobody have a great time all the time, everytime. Some of us just not about to flaunt them.
Take all the positives, if pictures and "social media life" can inspire you and drive you forward, it's good. But don't think that your life is any less just by comparing it to other people's happy photos.
With that surprisingly wise and totally unplanned caption, i bid y'all audieu and hope y'all have a great weekend!
#ootd
#ootdid
#clozetteid
#sbybeautyblogger
#BeauteFemmeCommunity
#notasize0
#personalstyle
#surabaya
#effyourbeautystandards
#celebrateyourself
#mybodymyrules
+ View more details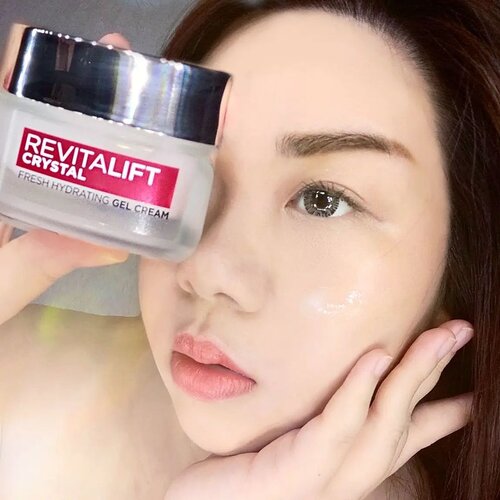 #Repost
from Clozetter @Mgirl83.
Crystal clear skin? Yes we can! With L'Oreal Paris Revitalift Crystal Gel Cream!
I've been using (and loving) this new product from L'Oreal Paris in the past 2 weeks and i love how it makes my skin so bouncy and well moisturized with its lovely light gel texture. I was surprised at how deep moisturizing it is despite its light formula. I think the name crystal gel cream really perfectly describes the product!
L'Oreal Paris Revitalift Crystal Gel Cream contains pore minimaizing Salicylic Acid that can penetrates up to 10 layers deep for crystal clear skin all day long.
Its benefits includes :
* Gives skin moisture replenishment for 24 hours hydration.
* Improve skin texture with 17% refinement after just 5 minutes.
* Oil control (-38% sebum reduction ).
* Pore minimizing.
* Keep skin radiant.
Totally enjoyed this product and if you're interested to give it a try, do it today as they are having 12% off at their official @shopee_id store (link at bio)!
@getthelookid
#reviewwithMindy
#skincarereview
#SbyBeautyBlogger
#BeauteFemmeCommunity
#clozetteid
+ View more details

loading ...
Back To Top