loading...
Search
76 RESULTS FOR KEEPCOOL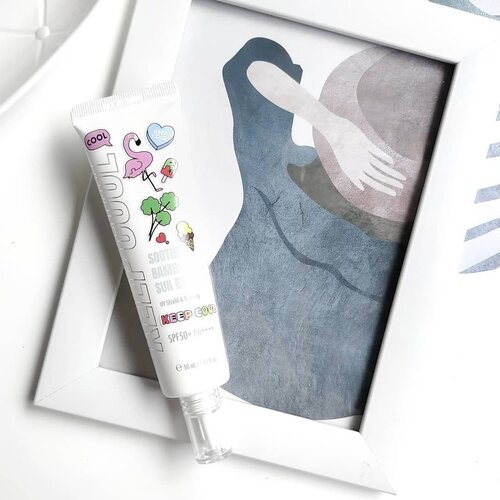 @keepcool_global Soothe Bamboo Sun Essence SPF50+ PA++++
.
This is my current favorite sunscreen❤. Initially, I thought that this sunscreen caused a breakout that I experienced 2 weeks ago. At that time, I used 2 new products including this sunscreen, and 2 days later 3 new cystic acne appeared in areas that are less prone to breakouts. why did I suspect this sunscreen? This is a chemical sunscreen, this type rarely suits my skin. My sensitive skin has been good friends with physical sunscreen for years. But apparently, this sunscreen wasn't the cause of the breakout, but the other product. I'm so excited to be able to use this sunscreen again, and now I have used it for more than a week, there are no negative effects at all.
.
Here are my reviews about this sunscreen.
.
🌿 It has a sleek packaging and easy to squeezed
🌿 The nozzle tip makes it easy to apply.
🌿 Has a heavenly light texture that is easy and satisfyingly to spread out.
🌿 No white cast, healthy glow finish, gives a calming effect on my sensitive skin.
🌿 The smell is very soft and there's a slight refreshing scent.
🌿 This sunscreen also gives a great moist effect, sometimes when I am in a hurry I skip moisturizer and immediately use this sunscreen after toner.
🌿 I have combination skin, this sunscreen doesn't make my skin look dull or oily.
.
Overall, I really love this sunscreen ❤ I'm so happy, because finally I found a chemical sunscreen that fits on my sensitive and acne prone skin.
.
.
For my Indonesian friends, you can buy this sunscreen at the Offical Shopee Keep Cool or at HiCharis.
.
.
.
#keepcool
#keepcoolsoothebamboosunessence
#soothebamboosunessence
#sunessence
#sunscreen
#summer
#spf
#readyforsummer
#skincare
#kbeauty
#kskincare
#koreanbeauty
#koreanskincare
#beauty
#beautycommunity
#clozetteID
#skincarecommunity
#skincareroutine
#skincarereview
#sunscreenreview
#bamboo

+ View more details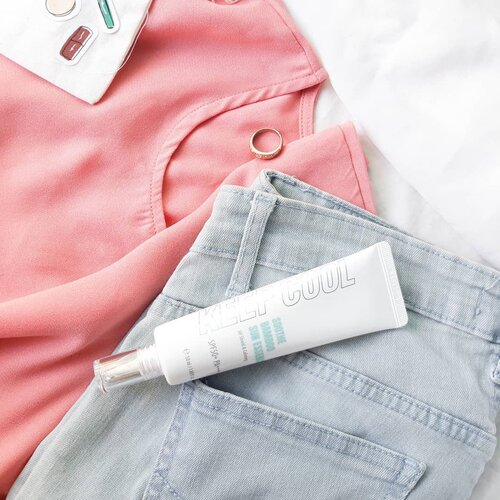 𝑾𝒉𝒂𝒕 𝒊𝒔 𝒚𝒐𝒖𝒓 𝒄𝒖𝒓𝒓𝒆𝒏𝒕 𝒅𝒂𝒊𝒍𝒚 𝒔𝒖𝒏𝒔𝒄𝒓𝒆𝒆𝒏?Sunscreen is a necessary part of our skincare routine as protection. I am currently using KEEP COOL Soothe Bamboo Sun Essence* in my daily routine. Sunscreen + Environment? What's the connection? We know that many personal products are affecting the environment, end up in ocean and affect the ecosystem. In 2015, it was estimated that around 14,000 tons of sunscreen are ending up in the world's coral reefs per year and causing irreparable damage. Fortunately, this sunscreen is reef-safe sunscreen that does not include Oxybenzone and Octinoxate. This is a chemical sunscreen. This contains 40% Bamboo Water that hydrates and soothes the skin. 3% B-Circadin, cares for broken biorhythyms, sensitive skin and gives skin radiance. Centella Extract, Hyaluronic Acid, and Cool Keeper Complex, an unique ingredient blend by natural antipyretic herbs. The UV Filters are Tinosorb S and Uvinul A Plus.Now let's talk about my experience of using this. It's beautiful and sleek white tube packaging. The box is so cool with hologram effect. It has a white color with a hint of green. I love how lightweight this sunscreen is! After apply it I feel cooling effect, so its really nice to use in Jakarta, cause here is hot and humid 🌞It is easy to spread and absorbs quickly. I don't feel heavy, sticky, and greasy after use. This doesn't contain fragrance and essential oil so its really comfortable to use and re-apply. No white cast, but it gives my skin brighter and fresh look. Personally, I feel that this sunscreen blends perfectly with my skin and give a semi-matte feeling for my oily skin. It doesn't pill under my makeup. I have been using this for almost 2 weeks and no bad reaction.Overall, it is such a perfect sunscreen for daily use. I'm really happy to use this and bring this everyday. If you have oily skin I recommended you to try this!This is my honest thoughts and experience and It might be different from yours.*PR/Press SampleAvailable to purchase at Hicharis Shop, link on bio.
#keepcool
#soothebamboosunessence
#sunessence
#mykeepcool
+ View more details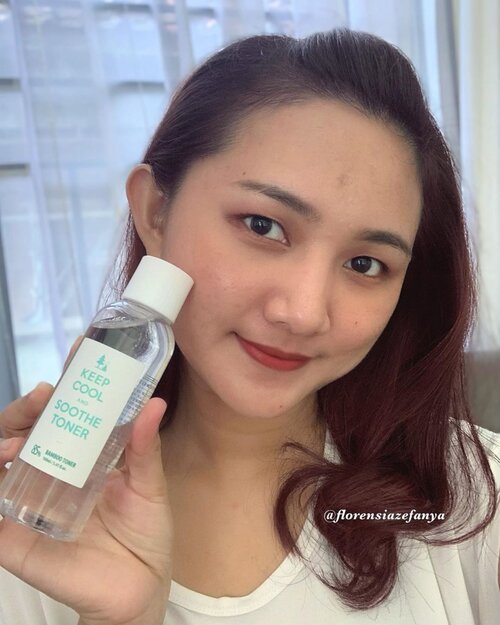 + View more details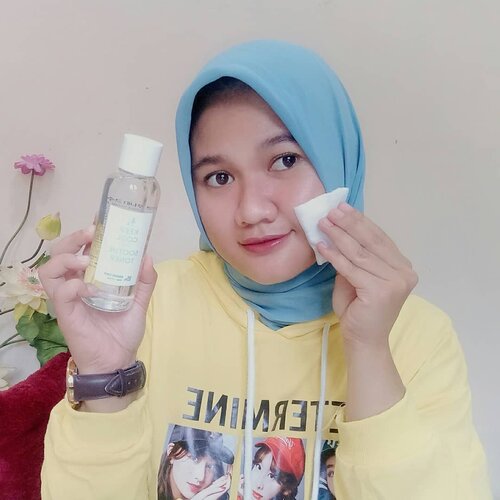 ((( 🌿Toner Bamboo Water 🌿 )))..Kemarin" baru cobain 𝑲𝒆𝒆𝒑 𝑪𝒐𝒐𝒍 𝒂𝒏𝒅 𝑺𝒐𝒐𝒕𝒉𝒆 𝑻𝒐𝒏𝒆𝒓 85% 𝑩𝒂𝒎𝒃𝒐𝒐 Water. Jadi ini adalah salah satu Toner yang mengandung 85% 𝑩𝒂𝒎𝒃𝒐𝒐 𝑾𝒂𝒕𝒆𝒓 yang mampu membantu melembabkan kulit dengan sangat baik. 💞...𝑲𝒆𝒆𝒑 𝑪𝒐𝒐𝒍 𝒂𝒏𝒅 𝑺𝒐𝒐𝒕𝒉𝒆 𝑻𝒐𝒏𝒆𝒓 85% 𝑩𝒂𝒎𝒃𝒐𝒐 Water ini juga simple dan travel friendly menurutku. Selain itu tekaturnya ringan seperti air dan gak lengket atau berbau menyengat sama sekali. Kandungan antioksidan pada toner ini dapat membantu melindungi kulit dari paparan sinar matahari yg tidak sehat.👌💯...Biasanya aku gunakan 2x sehari setiap pagi atau malam hari. Selama benerapa hari menggunakan 𝑲𝒆𝒆𝒑 𝑪𝒐𝒐𝒍 𝒂𝒏𝒅 𝑺𝒐𝒐𝒕𝒉𝒆 𝑻𝒐𝒏𝒆𝒓 85% 𝑩𝒂𝒎𝒃𝒐𝒐 Water ini sangat nyaman dan membantu melembabkan dan menenangkan kulit dengan baik, cepat meresap dan tidak perih di kulit. Jadi jarang banget ngalamin kulit kering lagi deh. Recommended! ..Cocok banget untuk semua jenis kulit bahkan kulit sensitif sekalipun. 😍...Oya 𝑲𝒆𝒆𝒑 𝑪𝒐𝒐𝒍 𝒂𝒏𝒅 𝑺𝒐𝒐𝒕𝒉𝒆 𝑻𝒐𝒏𝒆𝒓 85% 𝑩𝒂𝒎𝒃𝒐𝒐 Water ini asli dan hits banget di korea. Aku order Toner di @hicharis_official (
https://hicharis.net/Revanisanabella/O4v
)aku sudah taruh Linknya di bio aku. Jadi buat kalian yg lagi cari skincare korea terpercaya dan pastinya ori, aku sih selalu percaya order di Charis. 💯💯💯
[email protected]
_celeb @charis_indonesia @keepcool_global @keepcool_official...
#CHARIS
#CHARISSTORE
#charisAPP
#keepcool
#keepcooltoner
#clozetteid
#skincarekorea
#bambootoner
#keepcoolandsoothebambootoner
#keepcool
#charisceleb
#chariscelebedition
#charisapp
#revanisanabellareview
+ View more details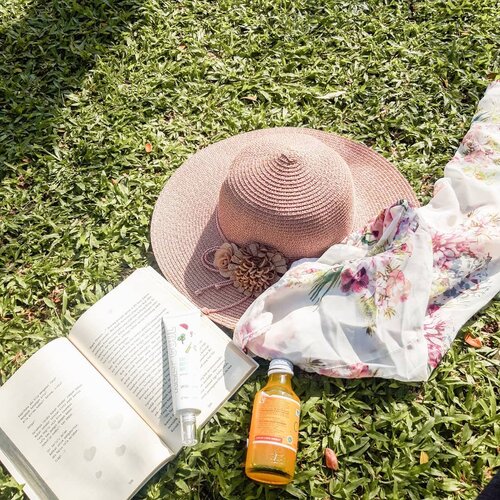 𝑪𝒂𝒍𝒎 𝒊𝒏 𝒕𝒉𝒆 𝒔𝒖𝒏 ☀️I'm currently using a sunscreen from @keepcool_global. I also decorating the tube using their stickers. It is fragrance free, lightweight, and no white cast. Complete review in the next few days.Happy Sunday peeps!
+ View more details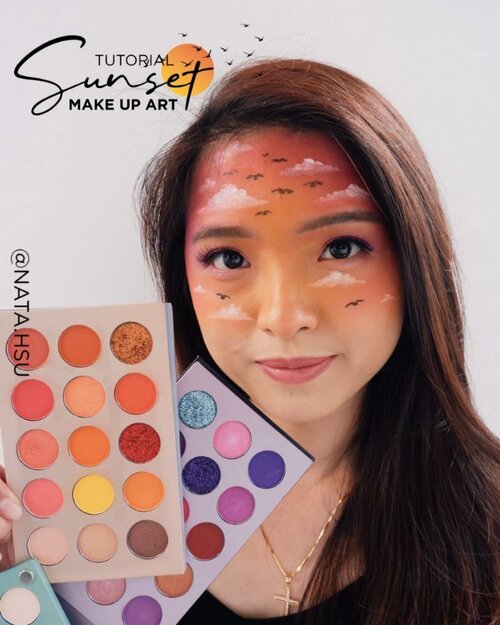 + View more details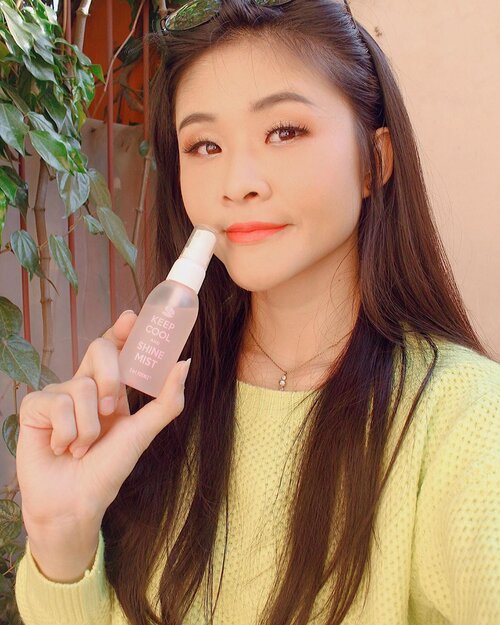 + View more details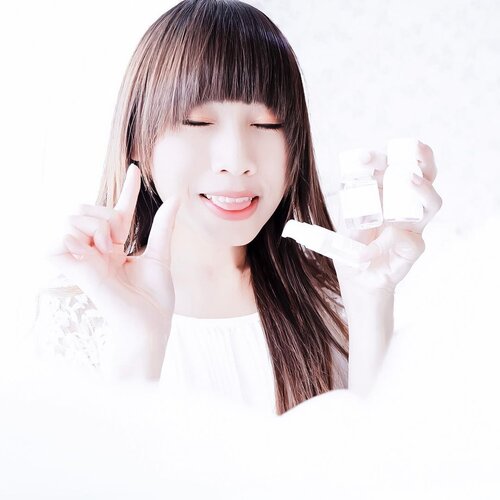 + View more details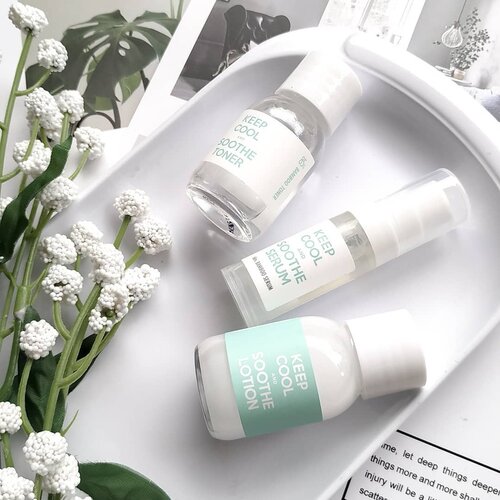 Ketika mendengar kata Keep Cool apa yang terlintas di pikiran kalian? Entah kenapa aku kepikiran sama kotak pendingin 😂😂😂 pokoknya sesuatu yang harus dimasukkan kedalam situ dan terjaga suhunya tetap dingin.
.
Udah lama aku penasaran dan pengen banget coba produk Keep Cool. Beberapa kali ikut giveaway mereka tapi belum jodoh. Hingga akhirnya aku dapat kesempatan dari Charis untuk nyobain Keep Cool Soothe Bamboo Mini Kit, yeaayyy I'm so excited!
.
Berisi produk ukuran mini dari Keep Cool Bamboo Line mereka :
.
🐼 Soothe Bamboo Toner 20ml, mengandung 85% Bamboo Water.
🐼 Soothe Bamboo Serum 5ml, mengandung 66% Bamboo Water.
🐼 Soothe Bamboo Lotion 20ml, mengandung 51% Bamboo Water.
.
Karena ukurannya mini aku agak sayang buat memakainya untuk skincare routine. Mungkin akan habis dalam waktu 1 mingguan jika dipakai am & pm. Jadi, aku putuskan untuk memakai mini kit ini ketika kulitku bermasalah.
.
Kondisi kulitku beberapa hari yg lalu ada ruam merah & gatal di pipi kanan kiri, trus ada jerawat kecil di bawah hidung & dagu. Aku coba kompres bagian yg merah dengan Bamboo toner, toner ini memiliki water-like consistency, tidak lengket & cepat meresap. Surprisingly setelah ku kompress beberapa saat rasa gatalnya langsung berkurang. Kemudian aku pakein bamboo serum & lotion ke seluruh wajah. Tekstur serumnya kental tapi terasa ringan & cepet meresap, sementara lotionnya agak watery tapi bikin wajah berminyak.
.
Bagaimana hasilnya? Dalam semalam Soothe Bamboo Mini Kit ini mampu mengatasi ruam merah & gatal di pipiku, sementara untuk jarawat butuh 3-4hari untuk sepenuhnya sembuh. Oh iya, tapi itu jerawat kecil ya, aku belum coba buat jerawat gede & bengkak karena memang lagi jarang jerawatan.
.
Dari ke 3 produk dalam mini kit ini aku paling suka sama tonernya, must have buat yg kulitnya sensitif & mudah iritasi.
.
Soothe Bamboo Mini Kit
https://hicharis.net/yourwilddaisy13/HFd
#keepcool
#soothebamboominikit
#Toner
#serum
#LOTION
#CHARIS
#hicharis
@hicharis_official @charis_celeb
@keepcool_global
#kbeauty
#koreanbeauty
#kskincare
#koreanskincare
#bamboo
#clozetteID
#beauty
#beautyblogger
#beautyreview
#beautycommunity
#skincare
#skincarereview
#skincarecommunity

+ View more details

loading ...
Back To Top