loading...
Search
85 RESULTS FOR KEEPCOOL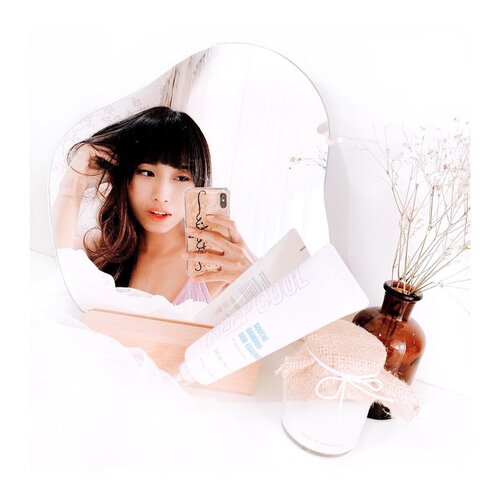 Keep cool and keep stunning !-Sunscreen in my life,is really important. Apalagi tipe kulit aku super tipis dan super sensitif. Ga bs banget kalo kena panas terlalu lama. Fix pasti bakal gosong.That's why !Aku tu seneng banget hunting sunscreen dengan SPF 50+ PA++ yg dry and sensitive skin friendly dgn texture yg lembut.-...and here we go.I recommend you another sun protector which good for sensitive and dry skin. @keepcool_global Soothe Bamboo Sun Essence.What's good?Soft textureEasy to absorbMoisturize our skin wellThere's no white stain will leftSensitive and dry skin friendlyNot sticky at allDown side?I thought, there's no down side.Maybe if you are looking for sunscreen which have light and watery texture. This one isn't for you babe.-How to use it?Use this sunscreen twice a day (it'll be better) after you applied a moisturizer. Slide to page 6 — to watch how applied this sunscreen perfectly.Where's to buy?Grab this 50ml Hydrating sunscreen for 330k on my @charis_celeb shop :
http://hicharis.net/tephieteph/1s2ABtw
, I rate this sunscreen for 5/5 !It fits perfectly for dry and sensitive skin ☘️...
#clozetteid
#charis
#hicharis_official
#charisceleb
#tephcollaboration
#sunscreen
#facesunscreen
#moisturizer
#skincareroutines
#skincarenatural
#keepcool
#bloggersurabaya
#bloggerjakarta

+ View more details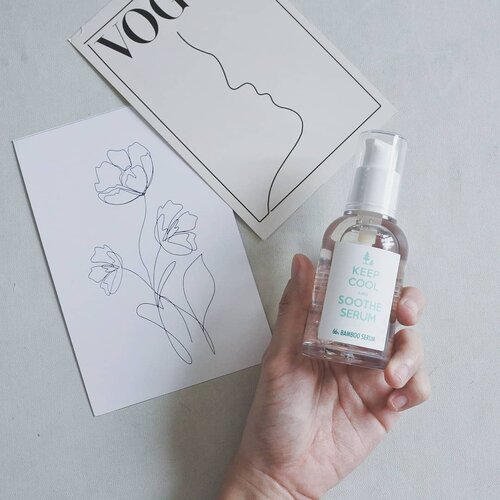 + View more details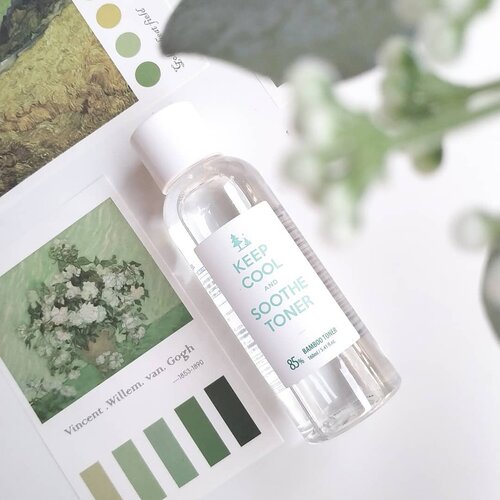 Keep Cool Soothe Bamboo Toner
.
Sebelumnya aku sudah pernah cobain toner ini versi mini, waktu itu berkesempatan buat coba bamboo mini kit. It was great! Dan toner ini otomatis masuk jajaran toner favorite ku, beberapa orang yang telah aku rekomendasikan toner ini juga mengatakan hal yang sama kalau toner ini memang bagus dan jadi favorite mereka juga 😍.
.
Mengandung 85% Bamboo water yang memberikan efek menenangkan. Low pH 5.5 membantu menjaga keseimbangan alami kulit. Dengan high & low hyaluronic, memiliki daya tahan kelembapan & hidrasi yg kuat.
.
It has water-like consistency. Teksturnya bener-bener kayak air, ringan, ga lengket, mudah terserap, ga berwarna, ga berbau tapi terasa seger banget menyentuh kulit + ngasih hidrasi yg lumayan bagus.
.
Aku menggunakan toner ini dengan 3 cara :
1. Sebagai face toner setelah cuci muka, aku sapukan menggunakan kapas. Meskipun sudah ngasih hidrasi tapi setelahnya masih aku tambahkan dengan hydrating toner lagi.
2. Sebagai soothing & calming pad. Caranya aku rendam kapas tipis menggunakan toner ini, lalu menempelkannya ke area yang bermasalah seperti iritasi, kemerahan atau sedang ada jerawat bengkak.
3. Sebagai face mist. Aku pindahkan toner ke botol spray mini supaya bisa masuk sling bag dan aku bawa kemana2, jadi setiap kali butuh tinggal aku semprotkan.
.
Toner ini bagus banget buat soothing & calming kulit yang bermasalah, cepet banget menenangkan & ngurangi kemerahan. Bagi aku yg memiliki kulit sensitif ini adalah penyelamat.
.
Have u ever tried this toner? Let me know bagaimana cara kalian menggunakannya?
.
U can buy this toner at my Charis Shop
https://hicharis.net/yourwilddaisy13/NEu
.
#CHARIS
#CHARISSTORE
#charisAPP
@hicharis_official @charis_celeb
@keepcool_global
.
.
.
#keepcool
#soothebamboo
#Toner
#bambootoner
#calmingtoner
#soothing
#soothingtoner
#kbeauty
#koreanbeauty
#kskincare
#koreanskincare
#bamboo
#clozetteID
#beauty
#beautyblogger
#beautyreview
#beautycommunity
#skincare
#skincarereview
#skincarecommunity

+ View more details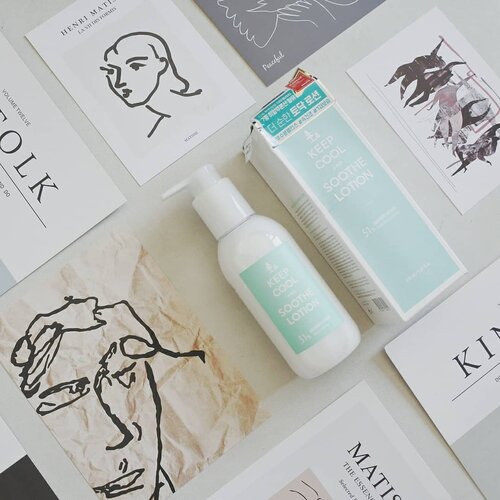 🎍 @keepcool_global @keepcool_official Keep Cool and Soothe Lotion 🎍I'm always a fan of light moisturizer and find korean lotion are sufficient enough to hydrate my dry skin while making it soft and plump.As i mentioned on my story before i'm currently trying Keep Cool and Soothe Series set. I really love how they are so mild and gentle, and soothe redness & hormonal acne on my skin.Keep Cool and Soothe Lotion is the best light moisturizer i ever tried! They're using Bamboo Water instead of ordinary water and formulated with 7 layer of Hyaluronic Acid.This lotion also can be applied to your body to treat redness, allergic reaction, or even sunburn. With 2% Derma-Clera, it provides skin relieving inflammation and soothing.No sticky or greasy feeling after application and absorbs nicely. This is perfect for those with dry skin but prefer simple and quick routine.Buy Soothe Bamboo Lotion (150ml) here👉
https://hicharis.net/annisapertiwi/1qEY
👈
#keepcool
#SootheBambooLotion
#hicharis
@hicharis_official @charis_celeb
#charisceleb
#kbeauty
#kbeautyenthusiast
#clozetteid
+ View more details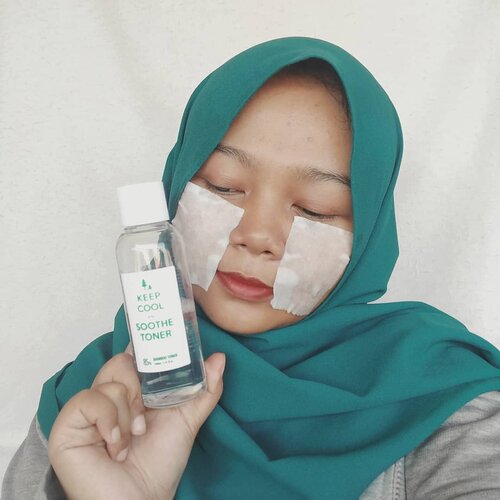 💦@keepcool_global 𝗞𝗲𝗲𝗽 𝗖𝗼𝗼𝗹 𝗮𝗻𝗱 𝗦𝗼𝗼𝘁𝗵𝗲 𝗧𝗼𝗻𝗲𝗿 (4/5)💦..🛒@hicharis_
officialwww.hicharis.net/indiranyan
- Rp 255.000 (160ml) ..Dengan kandungan 85% bamboo water untuk menyegarkan, melembapkan dan menenangkan kulit. pH 5.5 yang skin-friendly. Bahan-bahan yang digunakan kalau cek di EWG semuanya di grade Green ..💧PackagingDilengkapi dengan dus berwarna hijau-putih. Informasi mengenai produk mudah dipahami karena dicetak juga dalam bahasa Inggris. PAO nya 12 bulan, tapi yakin gak butuh waktu lama untuk aku menghabiskan toner ini. Lihat aja kemasan 160ml ini baru 2 minggu pakai sudah tersisa setengah!--Kemasan botolnya terbuat dari plastik dan transparan. Mulut botolnya pun disegel jadi bisa meminimalisir bocor selama pengiriman..💧Tekstur & WangiGak berwarna dan cair layaknya air dan yang paling disuka gak ada wangi sama sekali 💯..💧Cara aku pakaiBisa dipakai pada pagi dan malam hari. Seringnya aku pakai toner ini 3-5 tetes dituang ke tangan lalu pat-pat ke wajah. Cara lainnya pakai compressed sheet mask dan dituangkan toner ini atau basahi kapas dengan toner ini lalu tempel di wajah selama 10 menit..💧 PengalamanTonernya ringan sekali tapi tetap bisa menghidrasi kulit dengan baik hanya dengan 1 layer tanpa ada rasa lengket. Jadi sepertinya kulit berminyak pun gak akan merasa toner ini berlebihan untuk kulit. Waktu diaplikasikan ke kulit rasanya adem sekali dan lumayan menenangkan kulit yang kemerahan setelah aku pakai clay mask. Baca beberapa review lain toner ini bisa meredakan beruntusan, tapi sayangnya gak terlihat di aku. Secara keseluruhan ini basic hydrating toner yang bekerja dengan baik pada kulit aku. Lagi jadi toner yang paling sering aku pakai pagi dan malam, apalagi setelah pakai produk yang mengandung AHA dan BHA terasa banget efek soothing. ..----------
#keepcool
#keepcoolandsoothetoner
#keepcooltoner
#charisceleb
#charisapp
#indiraxcharis
#skincarereview
#reviewskincare
#clozetteid
#beautybloggerindonesia
#abcommunity
#abbeatthealgorithm
+ View more details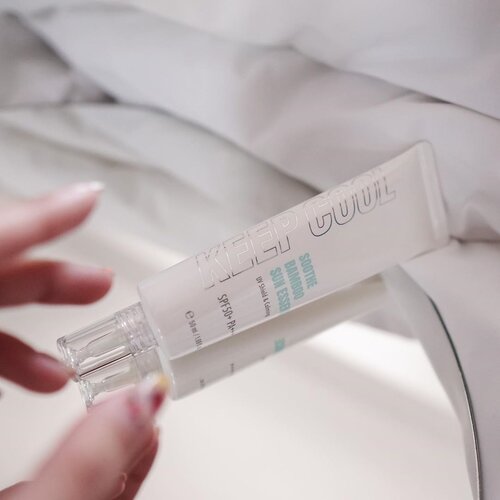 First things first Sunscreen, here's one that is non irritating, no white cast yet perfect for daily use. It's the Soothe Bamboo Sun Essence SPF 50+ /PA++++ ☀️by @keepcool_global . The product can easily blend into the skin without making it feel heavy at all, its mild and gentle but strong in protecting our skin from the harmful UV rays. If you're having sensitive skin do check out this product cause it claims to be safe for all skin type including sensitive skin cause all the ingredients in it is super safe....Where to buy? Check out my @hicharis_official shop or
http://hicharis.net/Steviiewong/OEX
#keepcool
#Soothebamboosunessence
#hicharis
@hicharis_official @charis_celeb
#shotbystevie
#collabwithstevie
#akincare
#clozetteid
#beauty
#love
#style

+ View more details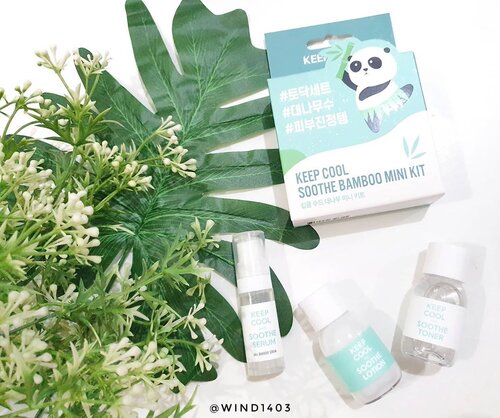 Awalnya nyobain travel sizenya, terus suka banget sama tonernya @keepcool_global yang cocok buat
#sensitiveskin
#dehydratedskin
#innerdryskin
dan juga
#damageskin
akhirnya memutuskan buat check out toner ukuran besarnya.Apalagi di Bandung sekarang lagi kemarau, jadi kalau siang panasnya luar biasa, aku suka pakai
#soothebambootoner
ini buat jadi masker ala-ala, caranya cukup tuangkan toner diatas kapas, aku pakai silcot btw trus tempel di area yang kemerahan karena panas, seperti dahi dan pipi.Kalau mau ga ribet bisa juga dijadiin face mist, karena toner ini kayak air, ga ada aroma, ga ada pewarna, cocok banget buat semprot2 dihari yang panas. Karena kandungan utamanya clean bamboo water, dijamin seger banget deh di kulit.Bedanya apa sama toner lain? Toner dari
#keepcool
ini mengandung pH 5.5 low acid, hyaluronic acid juga bahan2 lain yang bisa menjaga kulit tetap segar selama beberapa saat.
#cleanbambootoner
ini bisa dipakai semua jenis kulit karena formulanya yang ringan dan bebas bahan yang mengiritasi kulit. Ada yang sudah coba? Kalau penasaran aku sarankan kalian buat coba trial sizenya dulu ya.Soothe Bamboo Toner 160ml bisa dibeli di
https://hicharis.net/Wind1403s/K8g
#CHARIS
#CHARISSTORE
#charisAPP
@hicharis_official @charis_celeb
#clozetteID
#abbeatalgorithm
#abcommunity
#idskincarecommunity
#koreanskincare
#skincaredaily
#naturalcosmetics
#abblogger
#skincareobssesed
#abroutine
#instaskincare
#igskincare
#skincarecommunity
+ View more details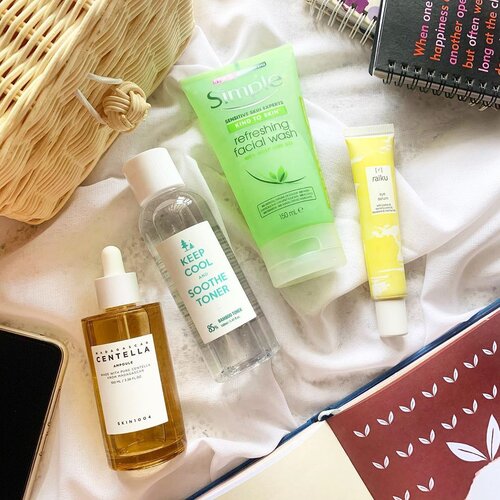 Skincare yang aku gunakan pasti selalu ada yang berganti tiap bulannya karena selalu coba sana sini demi bisa kasi review ke kalian🙈 Disini ada 4 skincare yang lagi aku gunakan sekarang (ga termasuk serum, cream dan lip treatment) diantaranya:• @simpleskincareid Refreshing Facial Wash: Teskturnya gel. Busanya banyak, jadi setelahnya wajah agak sedikit kering. Makanya langsung 'hajar' dengan hydrating toner.• @keepcool_global Soothe Toner: Teksturnya cair. Beda dengan toner Hale yang sebelumnya aku gunakan. Ga ada aromanya. Cepat juga menyerap ke kulit.• @skin1004indonesia Madagascar Centella Ampoule: Masi setia dengan produk ini hampir 3 bulan terakhir ini. Teksturnya cair, gampang nyerap. Efek lembapin dan menenangkan kulit yang iritasi pun oke. Fungal acne safe💕.• @raikubeauty Eye Serum: Aku udah pakai 6 bulan dan tujuan aku pakai cuma untuk melembabkan daerah sekitar mata. Klaim lainnya bisa menyamarkan lingkaran hitam di sekitar mata tapi aku ga ngerasain efek ini sama sekali soalnya masi suka tidur larut🤣🙈.Selain keempat produk ini, aku juga menggunakan beberapa serum dan cream yang fokusnya untuk anti-aging, mencerahkan kulit dan cocok untuk kulit berjerawat/sensitif. Aku share di post selanjutnya ya💕.
#skincareroutine
#fungalacne
#fungalacnesafe
#fungalacneproducts
#ClozetteID

+ View more details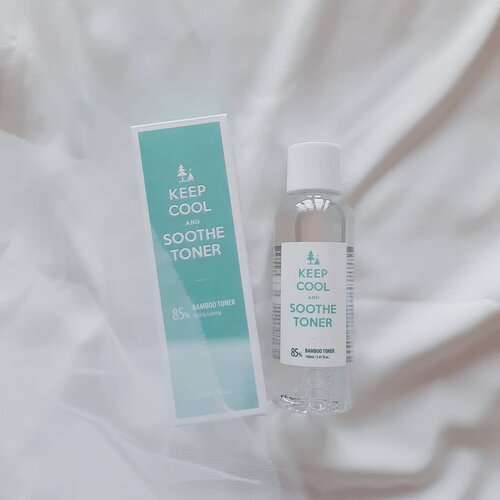 🎍 @keepcool_global @keepcool_official Soothe Bamboo Toner 🎍Actually i've tried the mini size before and really love how it does a very good job to soothing skin irritation signs such as redness and pimple.Instead of water, Keep Cool is using 85% Bamboo Water for the Soothe Series.Bamboo water provides skin calming effect 🌱It also contains Hyaluronic Acid for hydration.With pH5.5, Keep Cool Soothe Bamboo Toner strenghtens our skin barrier.Ingredients also EWG level safe (green)!For me it's as gentle as water when applied to my skin. Quick absorption, no funny smell, and helps freshen my skin well. Combined with the lotion and serum (i also have the travel size set), it's a perfect choice for anyone who wants simple skincare routine.Buy Soothe Bamboo Toner 160ml here👉
https://hicharis.net/annisapertiwi/NVm
👈
#CHARIS
#CHARISSTORE
#charisAPP
@hicharis_official @charis_celeb
#charisceleb
#keepcool
#soothetoner
#vsco
#clozetteid
#kbeautyenthusiast
#kbeauty
+ View more details

loading ...
Back To Top