loading...
Search
34 RESULTS FOR KOREANSHEETMASK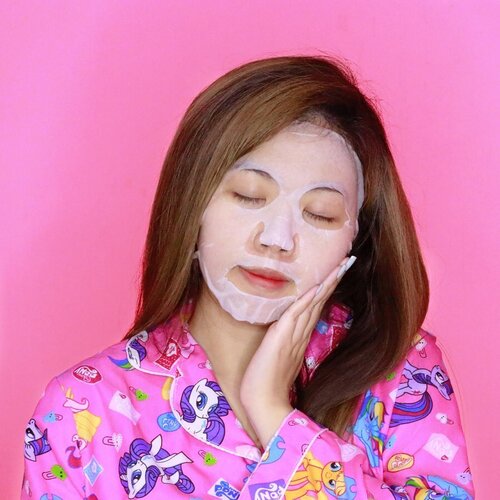 + View more details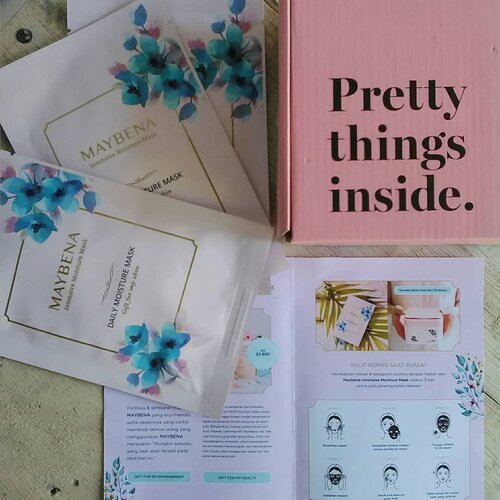 Pake skincare rasanya nggak lengkap kalo nggak pake masker. Akhir-akhir ini aku lagi suka sama masker jenis sheet mask karena praktis tinggal pake aja.
.
Waktu liat sheet mask dari @maybena_official ini langsung suka dong. Ini nih yang bikin aku suka sama sheet mask yang berasal dari Korea ini :
✔ Kemasannya yang berwarna dusty pink dengan hiasan bunga-bunga bikin jadi keliatan anggun banget
✔ Terbuat dari 100% bahan organik
✔ Lembaran maskernya lebih tipis dari biasanya yaitu cuma 0.2mm dan transparan, jadi bikin essence nya mudah menyerap ke dalam kulit
✔ Mengandung 5 bahan utama yaitu Hyaluronic Acid, Peptide, Ceramide NP, Panthenol, dan Tea Tree Leaf Extract yang telah tersertifikasi EWG dan hypoallergenic
✔ Berfungsi untuk melembabkan, menenangkan, mencerahkan, dan menutrisi kulit secara intensif
✔ Cocok untuk semua jenis kulit dan bisa dipake setiap hari
✔ Tersedia dua jenis kemasan, yaitu kemasan satuan dan box isi 30 sheets
.
Oh ya, untuk harganya sekitar Rp 20k untuk kemasan satuan, dan Rp 400k untuk kemasan box. Tentunya kalo beli kemasan box sekalian jadi lebih hemat ya. Nah, mumpung weekend, yuk me time dulu dengan makseran.
.
.
@beautyjournal @sociolla
#maybena
#maybenaofficial
#maybenasheetmask
#sheetmask
#koreansheetmask
#skincare
#skincarereview
#skincareroutine
#skincareaddict
#review
#minireview
#beautyjournal
#sociolla
#clozetteid
#saturday
#beauty
#blogger
#mantrianarani

+ View more details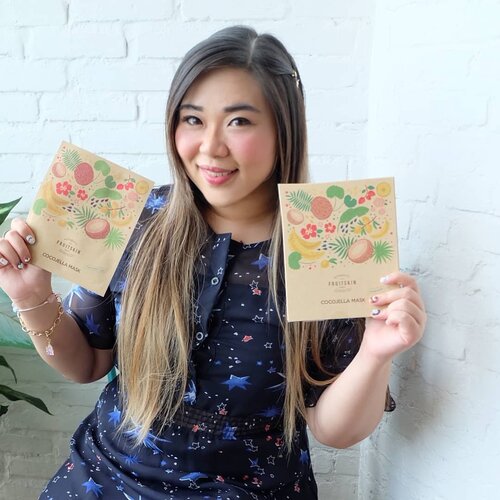 + View more details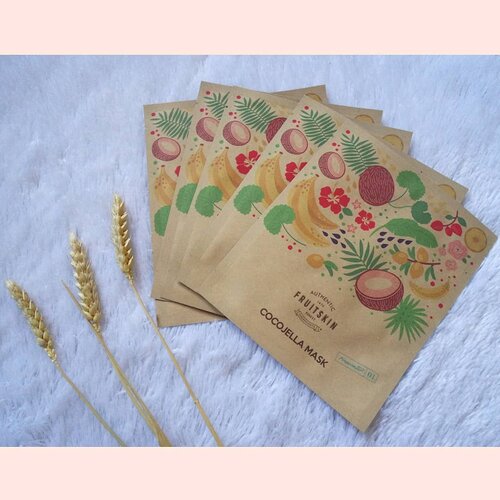 Hi guys!
One of the thing that we CAN (and i'd say should) do while we fight Covid-19 and
#stayhome
is taking care of our skin. All these stress will take a toll on our skin and we really shouldn't let it! I have a facial mask recommendation for you and it's pretty unique!
Cocojella Mask from @fruitskinkr has a name that says it all, has a jelly texture of fermented coconut that really feels like young coconut skin, unlike any other sheet mask i've ever tried. It's very thin (that's why it comes with 2 netting on each side to help application and handling) and silky smooth but super stretchy and durable!
Contains fruwater (from Rose Banana) it has a cooling and nourishing benefit, i personally detected a delicate, delicious natural coconut scent combined with a slight tanginess. The essence is very watery (probably because it is Fruwater?) and each package has abundant essence that you can run the excess to your arms and legs 😁. It feels very cooling and comfortable to use, and it is deeply moisturize. As i have oily skin, it makes me feel a bit sticky so i had to rinse with water but even so i wake up the next morning with super hydrated, bouncy, supply skin!
I would highly recommend trying it not just because it really works to nourish your skin with one use, but also because of the uniqueness making the experience to be totally different and more exciting than your usual, boring sheet mask!
Grab yours only at my @hicharis_official store (it's Mindy83) :
https://bit.ly/cocojellaMindy83
.
#charisceleb
#fruitskincocojellamask
#fruitskin
#fruitskinkorea
#cocojellamask
#kbeauty
#koreanskincare
#koreansheetmask
#koreanbeauty
#koreancosmetics
#kcosmetics
#clozetteid
#sbybeautyblogger
#beautynesiamember
#bloggerceria
#bloggerperempuan
#bbloggerid
#indonesianfemalebloggers
#review
#skincarereview
#maskreview
#skincare
#influencer
#beautyinfluencer
#SURABAYABEAUTYBLOGGER
#endorsement
#endorsementid
+ View more details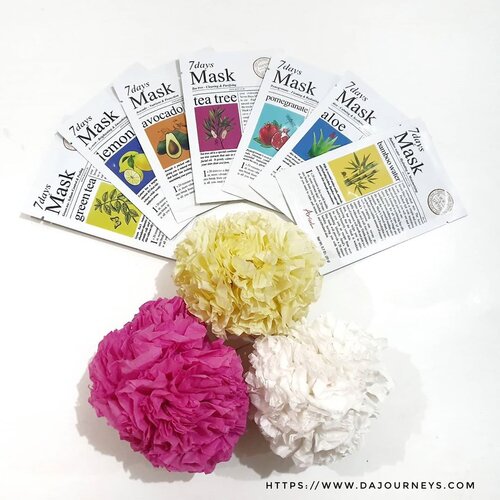 + View more details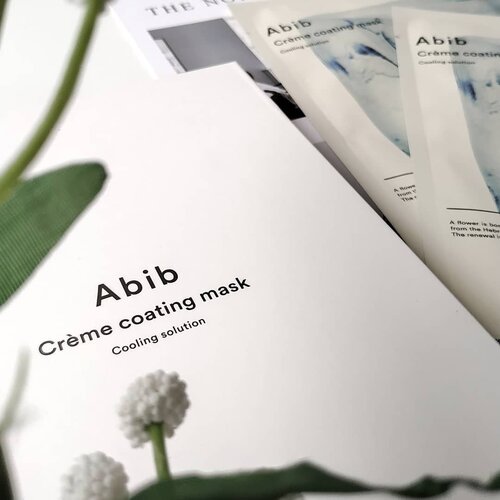 Abib Crème Coating Mask - Cooling Solution
.
Another unique mask that I discovered earlier this year. What's the uniqueness of this mask? The regular sheet mask is submerged in essence, while this mask is coated with cream essence. This is certainly more practical and reduce the mess due to the drippings essence.
.
This cooling solution variant claims to cool down your skin temperature & soothe irritated skin, it seems to be very suitable for use during summer & for sensitive skin.
.
Packed in plastic which is bigger than the usual sheet mask packaging. When I opened the packaging, I found another clear plastic package inside. 2 pieces type, each sheet are protected with film. When I open the protective film, it feels like peeling off a sticker and then sticking it on my face. It felt very strange at first, but later I found out that this was a fairly easy and practical way, and no more messy essence.
.
I thought that this mask would have a cooling sensation, seeing some soothing ingredients like Centella Asiatica & Tea Tree, but apparently during the use I didn't feel any cooling sensation.
.
After 20 minutes I took the mask and the cooling sensation suddenly appears and I love it! when I massage the remaining creamy essence it turns into water droplets, and it's so soothing!
.
How was the results? As its claim! This mask instantly reduces the redness and cool down my irritated skin, besides that my skin feels moist and well hydrated.
.
I highly recommend this mask, for those of you who don't like "wet" sheet masks and need a good mask for skin irritation.
.
I'll be back with the other variant, the tone-up solution, see ya 😏
.
.
#abib
#creamecoatingmask
#abibmask
#abibsheetmask
#kbeauty
#koreanbeauty
#kskincare
#koreanskincare
#koreanmask
#koreansheetmask
#clozetteID
#bloggirlsid
#kbbvmember
#beauty
#beautyblogger
#beautyreview
#beautycommunity
#skincare
#skincarereview
#skincarecommunity
#skincareroutine
#skincarediary
#skincarelover
#sheetmask
#sheetmaskreview
#mask
#maskreview
#sheetmasklover
#sheetmasksddict
+ View more details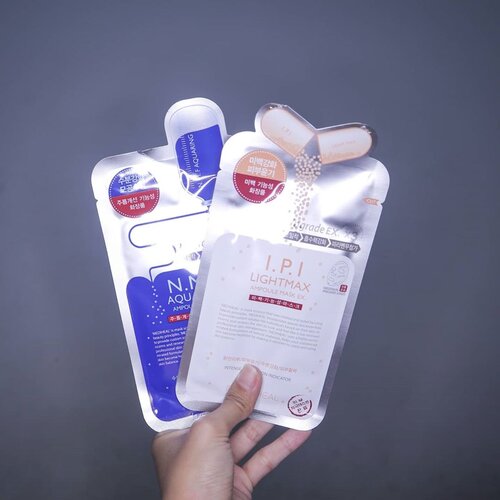 Besok udah Senin lagi?!🔥.Tenang, gaes. Mending kalian ambil masker, kita me-time dulu bareng. Ngga jadi me-time dong🤦🏻‍♀️ Aku lagi nyoba masker @mediheal_idn yang I.P.I, yang warna putih, fungsinya untung mencerahkan. Akhir-akhir ini lagi banyak pikiran + males pake skincare malem jadinya muka lebih kusam. Masker Mediheal ini ada tulisan merek dia di sheet masknya, jadi terjamin banget ini asli. Setelah pakai 20 menit, aku kira akan ninggalin kesam lembab yang lengket ternyata ngga loh! Essencenya gampang meresap dan ngga bikin kulit lengket, terus terlihat lebih cerah 💕.Masker Mediheal bisa kalian beli di @sociolla dengan harga Rp29.000. Eh dia masuk
#bestofbeauty2019
versi Sociolla loh! Masker yang biru di belakang (N.M.F) itu untuk melembabkan kulit yang kering, gaes. Kalo kulit kalian kering, bisa pake itu, yaa 😉.
#aidacht
#beautiesquad
#clozetteid
#skincarereview
#sheetmaskreview
#koreanskincare
#koreansheetmask
#sheetmask
#mediheal
#socoid
#sociolla
#socoboxbestof2019
+ View more details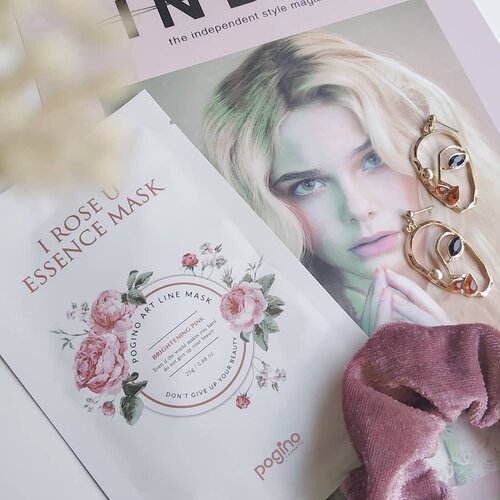 Today I started my 7 days mask challenge for brightening. So, I will use 7 masks for 7 days that has brightening functions from various brands. And to begin with, on day 1 I choose to use @pogino_korea I Rose U Brightening Pink Essence Mask, I got this mask from @skencos
.
I have never heard this brand before, but from the beginning I was very interested with the beautiful packaging, looks shabby chic.
.
This mask contains Niacinamide & Pearl extract as brightening properties. It also contains Rose Water which functions as a hydrating.
.
The sheet was made of natural vegetable materials, very thin helping the skin to breathe relaxingly while using the mask. Has a great adhesion that helps to evenly distribute the essence to the skin without being lifted up.
.
It has clear slightly viscous essence and nice fresh rose scent. I really love the scent, so relaxing.
.
I had this mask for 20min, there's no soothing sensation during using it. When I took the sheet off, the essence absorbed felt a little bit sticky & greasy, and I didn't notice the brightening effect, I just saw my face looks supple and well hydrated. I think it works like a regular hydrating mask, but honestly the sheet material and the scent are the plus points of this mask.
.
.
#pogino
#poginocosmetic
#rose
#pink
#rosemask
#maskchallange
#kbeauty
#koreanbeauty
#kskincare
#koreanskincare
#koreanmask
#koreansheetmask
#clozetteID
#bloggirlsid
#kbbvmember
#beauty
#beautyblogger
#beautyreview
#beautycommunity
#skincare
#skincarereview
#skincarecommunity
#skincareroutine
#skincarediary
#skincarelover
+ View more details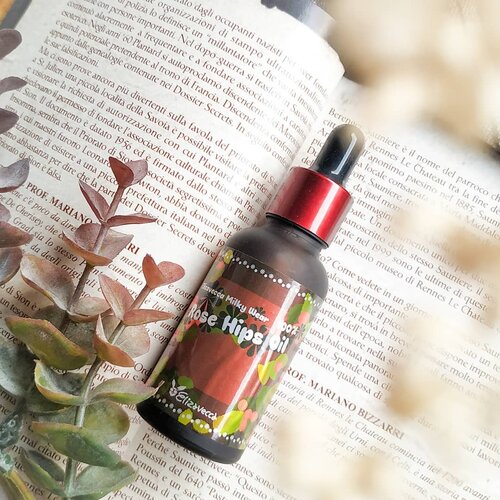 Elizavecca Milky Wear 100% Rosehip Oil
.
This is the first oil that I dare try to apply it on my face. I have read about how good rosehip oil is, some people said it works like magic for the skin. .
First, I'd like to highlights what are the benefits of rosehip oil as stated at littlediy.com
❤ Fades Wrinkles : It help stimulate collagen production & slows down aging.
❤ Fights Acne : The oil's acid content helps prevent blackheads & whiteheads.
❤ Evens Skin Tone : Using it at night to fade scars, spots & pigmentation.
❤ Fade Stretch marks : Massage oil into your stretch marks to help repair the damage skin.
❤ Hair Growth : Helps repair the damaged hair & promots healthy hair growth.
.
The oil housed in frosted amber glass dropper bottle. I think this is the old packaging, because they already have the new packaging with their cute piggy illustration on it.
.
Since it's 100% rosehip oil & there's no artificial fragrance added, so it's smell slightly musty.
.
It has clear & liquid texture, feels abrasive and greasy, so I chose to mix it with my moisturizer before applying it onto my face to reduce its uncomfortable greasy feeling and unpleasant scent.
.
This oil works pretty well for my seasonal dry patches. I frequently have dry patches due to weather changes or when my skin got bad reactions of a new products. By using this oil, I can see that my dry patches are slowly disappearing and my skin has become more moisturized.
.
I plan to use it for my thighs stretch marks. My weight increased dramatically, around 11 kg, so stretch marks appeared on my thighs. I will share how the results later...
.
This product was provided by
#elizavecca
in exchange for honest review.
.
.
#rosehipoil
#elizaveccarosehipoil
#clozetteID
#bloggirlsid
#kbbvmember
#beauty
#beautyblogger
#beautyreview
#beautycommunity
#skincare
#skincarereview
#skincarecommunity
#skincareroutine
#skincarediary
#skincarelover
#kbeauty
#koreanbeauty
#kskincare
#koreanskincare
#koreanmask
#koreansheetmask
#glowingskin
#glowskin
#acneproneskin
#antiacne
#acne
#sensitiveskin
#acnetreatment
+ View more details

loading ...
Back To Top