loading...
Search
998 RESULTS FOR KOREANSKINCARE.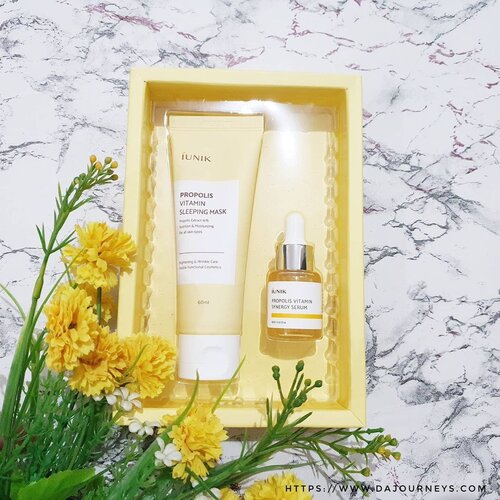 Udah lama kepo sama iUNIK, brand asal Korea yang terkenal karena ingredients nya yang EWG, simple tapi mantul, makanya jadi favorite banyak blogger dsn skincare enthusiasts.Akhirnya bisa nyobain sendiri, ternyata aku sama produknya iUNIK tuh cemacam hubungan love hate relationships hahaaa aku suka hasil akhirnya setelah dipakai kurang lebih 3 minggu, kecuali serumnya ya, karena kecil banget jadi seminggu abis 😅 soalnya luas penampang wajah saya beda dari kebanyakan, pipi semua isinya 🤣.Pas dipake sih saya kurang suka sama ehm cek di blog deh apanya yg saya ga suka wkwkk tapi pas liat before afternya, kok bagus 😅 lanjut deh kalau gini mah, oh ya tonernya lebih ke essence kalau menurutku soalnya teksturnya mirip essence daripada toner.Review lengkap bisa cek di link hidup di bio, yang mau beli produk
#iUNIK
bisa cus ke @ponnybeaute dijamin ori, kalau nggak tau mau coba yang mana, chat sama mimin aja dulu nanti di bantu konsultasi.
#skincarejunkie
#beautytalk
#skincarehoarder
#treatyourskin
#skinstagram
#skincarecommunity
#skinluxury
#abskincare
#igskincare
#igskincarecommunity
#kbeautyaddict
#koreanskincareroutine
#skincareblogger
#skincareinfluencer
#abcommunity
#tbwskincareroutine
#discoverunder10k
#SBNetwork
#STARTWITHSBN
#SOCOBeautyNetwork
#clozetteID
#idskincarecommunity
#koreanskincare
#skincaredaily
#skincareobssesed
+ View more details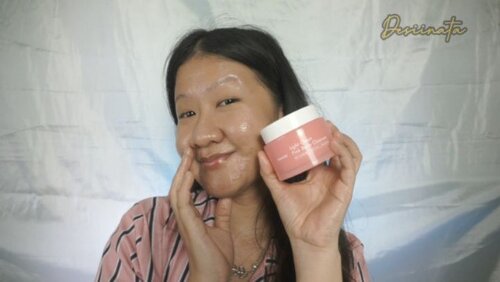 DAYMELLOW PINK BALM CLEANSER @daymellow_officialini merupakan pink balm cleanser ukuran 90ml.Texture Balm apabila diapply pada tangan akan sangat mudah melted dan cepat meremove makeup dengan mudah, makeup water proof sekalipun.Aku gunakan pada area mata, khususnya mascara & eyeshadow dapat terhapus dengan mudah tanpa rasa perih dan kulit tetap lembab.Wanginya strong essence Roseyg fresh dan ini cleanser balm yg berbeda dari produk sejenisnya karnaKandungannya terbuat dari Extract Pepaya, PHA, Roseship fruit oil, natural floral fragrance, Avocado oil dan Camellia kissi seed oil.Dari semua kandungan tsb bermanfaat mengangkat sel kulit mati pada kulit, melembabkan kulit serta teruji secara klinis PEG FREE tanpa membuat kulit iritasi.Ini produk korea, /// score review 9/10link pembelian disni
https://ys.style/JwHhP983ffb_atau
Download @yesstyle untuk promo menarik korean beauty dan gunakan kode voucher DESIINATA , diskon upto 10% !!....
#like4likes
#clozetteid
#daymellow
#skincare
#ktrend
#koreanskincare
#cleanserbalm
#love
#fff
#lfl
#l4l
#ootd
#photography
#selfie
#셀스타그램 @yesstyleinfluencers #일상스타그램
#yesstyle
#yesstylereview
#좋반 #선팔 #얼스타그램 #셀카 #셀피 #좋아요반사
#likeforlikes
#likeforlikev
+ View more details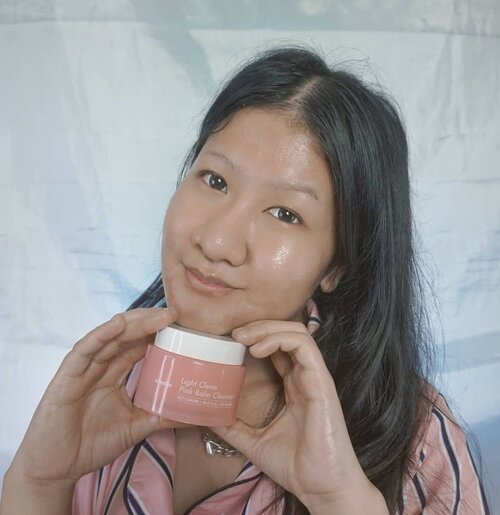 + View more details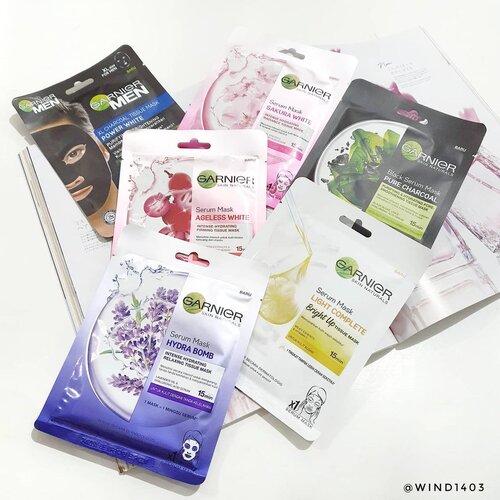 + View more details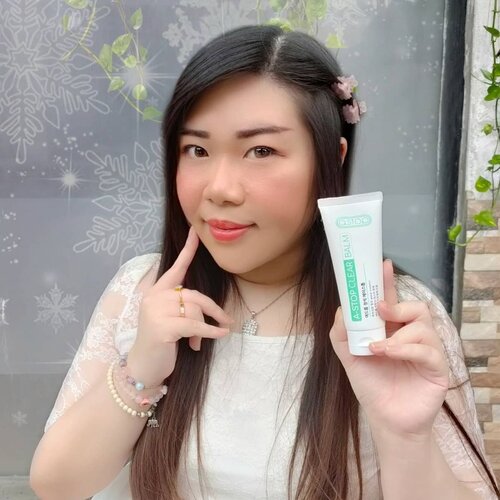 The perfect companion for the Clear Serum : @acne_stop__ Clear Balm to seal the moisture in and keeping acne at bay at the same time!The word "balm" made me hesitate at first because i was worried it'd be thick, greasy and heavy - but it's actually a lot lighter than i anticipated (you can see at the 5th slide how light the texture is once spread) and gets absorbed into the skin easily.I love how it makes my skin feels very soft and velvety immediately, it's very moisturizing but doesn't make my skin as oily as most moisturizer, granted - it's still pretty oily but definitely as oily as it could be. Contains natural ingredients like Raspberry, Shea Butter, Aloe Vera Extract and White Willow, this balm is also PEG Free.Definitely recommended especially for those with sensitive but acne prone skin (or like me, just really want to prevent acne!), use with Clear Serum for best result!You can get them at my Charis Shop (Mgirl83) for a special price or type
https://bit.ly/clearbalmMindyTo
directly go to the product's page 😉
[email protected]
_official @charis_celeb @charis_indonesia
#Flush
#Pimple
#Excessive
Sebum
#A.STOP
#CLEARSERUM
#CHARIS
#astopclearbalm
#hicharis
#reviewwithMindy
#beautefemmecommunity
#koreancosmetics
#clozetteid
#sbybeautyblogger
#koreanskincare
+ View more details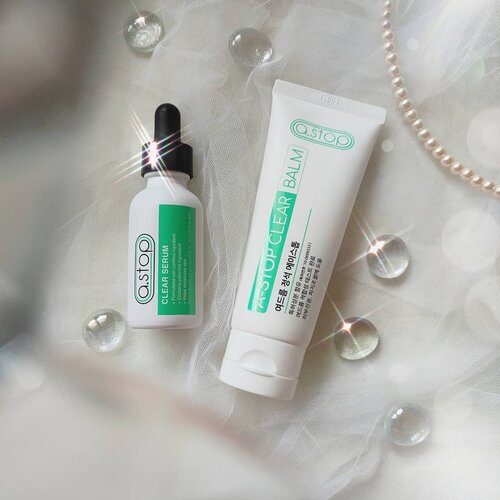 + View more details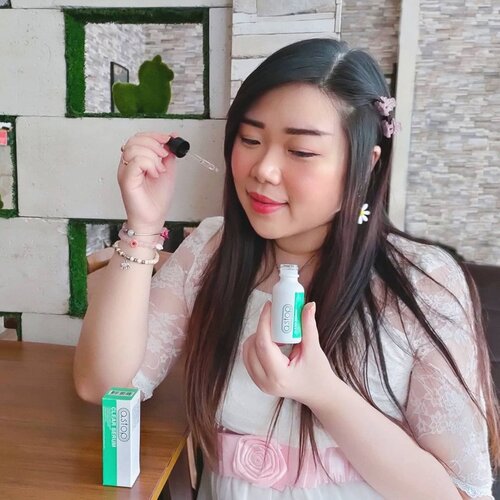 As someone with oily skin, although fortunately not acne prone, i am always wary about extra sebum and hormonal acnes. At the same time, i am also no spring chicken 🤣 so i also cannot afford to use products that doesn't give me enough hydration as well. Most acne preventing and curing serums has ingredients that doesn't agree with me (they make my allergy goes crazy) but i finally, FINALLY found one that is gentle and kind to my skin, gives me the hydration my skin needs but also really work to prevent acne from appearing from my skin : @a.stop4you Clear Serum "5 Days Miracle BHA Serum" .It has a thin, watery consistency, very light and easy to absorbed into the skin and gives deep hydration that i didn't expect from such a light serum. It doesn't have a strong scent that most acne preventing products have and really works well to keep acnes at bay even around my period (when usually my skin would act out the most).As far as acne preventing and curing serum goes, this is definitely the mildest but effective one and it works well even for sensitive skin like mine - so i definitely recommend this for everybody who want to prevent and or cure acne, no matter what your skin type is (because i believe this will also work well for drier skin type as it is really hydrating - but you should definitely use moisturizer too, preferably the one from this same line, the Clear Balm *which i will talk about next* as they really work well together)Available in 2 sizes (30ml and 55ml) You can get them at my Charis Shop (Mgirl83) for a special price or type
https://bit.ly/astopserumMindyTo
directly go to the product's page 😉
[email protected]
_official @charis_celeb
#Flush
#Pimple
#Excessive
Sebum
#A.STOP
#CLEARSERUM
#CHARIS
#hicharis
#reviewwithMindy
#beautefemmecommunity
#koreancosmetics
#clozetteid
#sbybeautyblogger
#koreanskincare
+ View more details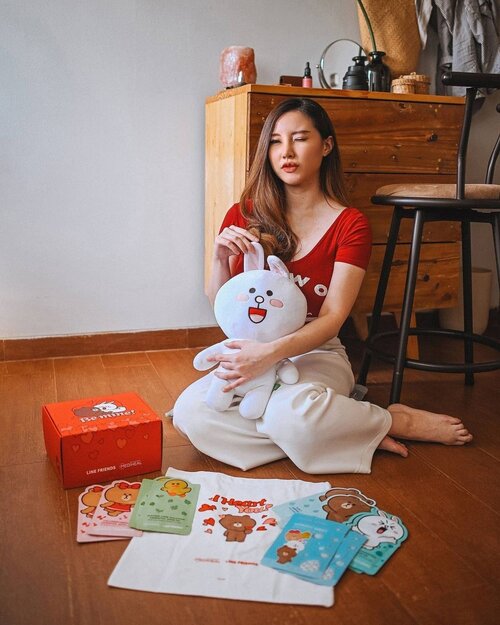 Siapa karakter LINE Friends favorit kalian? Mine is Cony (tapi di quiz dapetnya Sally The Hard Worker 😆🐥) soalnya dari dulu aku sering dapet julukan 'kelinci' karena gigiku mirip 🐰 Haha. Surprisingly @mediheal_idn sedang berkolaborasi dengan @linefriends yg pastinya special dan limited edition! Selain bisa beli satuan, tersedia juga dalam bentuk bundle : Be Mine Set dan Love You Set.
.
Be Mine Set seperti punyaku, isinya :
- Special Gift Box Be Mine
- Special Gift 2 Pcs Synergy Sheet
- Special Gift Tote Bag
- 8pcs Sheet Mask:
2 pcs N.M.F AQUARING AMPOULE MASK EX untuk Melembabkan Kulit.
2 pcs TEATREE CARE SOLUTION ESSENTIAL MASK EX untuk Menenangkan Kulit.
2 pcs  COLLAGEN IMPACT ESSENTIAL MASK EX untuk Mengencangkan Kulit.
2 pcs W.H.P BRIGHT HYDRATING BLACK MASK EX untuk Mencerahkan Kulit dan Membersihkan Pori-Pori.
.
*Synergy Sheet hanya bisa kamu dapetin dengan membeli bundle Love You/Be Mine
.
Jangan lupa buat ikutan quiz giveaway dengan total hadiah 25juta rupiah! Untuk
selengkapnya bisa langsung cek IG Feed @mediheal_idn Stock sudah sangat menipis, don't miss it!
#MedihealLINEFRIENDS
.
.
.
.
.
#clozetteid
#makeup
#skincare
#koreanskincare
#korean
#beautyblog
+ View more details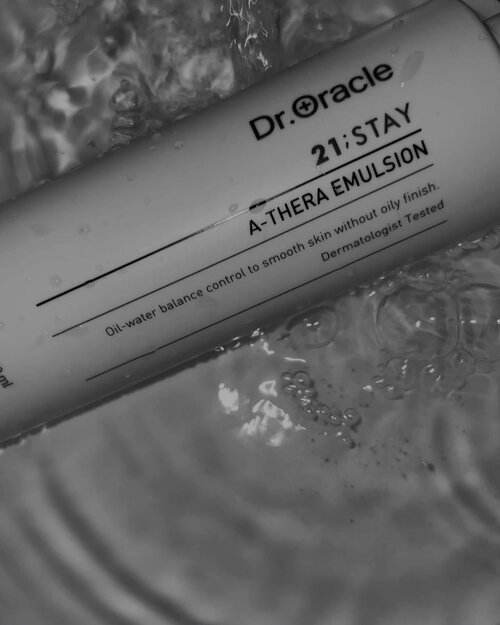 @droracle.id 21 Stay A-Thera Emulsion ✨Apa sih Emulsion?Emulsion itu adanya lotion versi sangat ringan yang ada ditahapan K-Beauty, skincare routine yang dilakukan setelah toner dan sebelum serum atau setelah serum sebelum moisturizing cream. Tapi case ini balik lagi ke kondisi kulit masing-masing, untuk di gw sendiri emulsion biasanya dipake sebagai moisturizer alias step terakhir. Tapi gw juga baru-baru ini coba di step setelah toner dan sebelum serum. Intinya urutannya dari yang paling cair ke yang paling padat, depends on how thick is your serum.Gw sendiri waktu punya emulsion ini pertama kali gw treat kaya moisturizer, tapi kalo lo ngerasa kurang nampol nguncinya gak salah banget kalo mau nambah moisturizing cream/gel lagi di tahap paling akhir.This soft, transparent liquid emulsion contains: - Celtic Water & Bamboo Water to relax and hydrate your skin - Green Tea Extract, Sage Extract, & Grape Seed Oil to help soothe the skin and control sebumSebulan hampir dua bulan ke belakang, jerawat hormon gw tumben banget lagi banyak. Entah ditrigger juga pake skincare baru, intinya kulit wajah gw lagi gak seimbang. Ditambah @droracle.id 21 Stay A-Thera gw abis sekitar 2 mingguan. Setelah repurchase kerasa banget dikulit skin barrier lebih baik dan acnes cepat juga ilangnya.Kesimpulannya jangan biarin kulit kering disaat jerwatan, karena jadinya bisa nambah breakout. Setelah pakai Emulsion dengan fungsi soothing dan hydratingnya, jadi lebih nyaman. Ini cocok banget dipakai untuk yang acne prone.Semoga review singkat gw membantu ya💜This product can be purchased at @kaycollection ya ✨-
#koreanskincare
#skincareroutine
#kayxkarina
#clozetteid

+ View more details

loading ...
Back To Top