loading...
Search
2 RESULTS FOR KOSESOFTYMO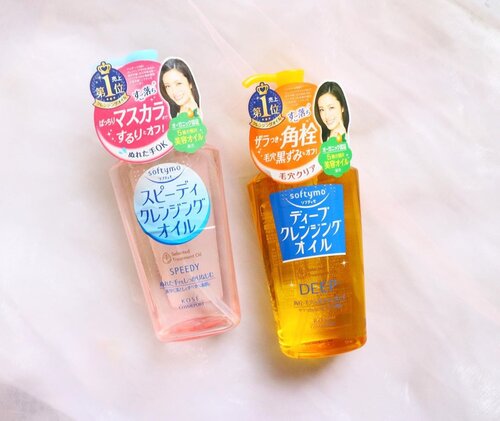 I discovered these affordable Kose Softymo Cleansing oil since four years ago, and because it was hard to find it in my country, I have to buy it in Japan for around 650¥. It's quite cheap compared to another brand tho. Price wise with good amount of product 👌🏻☘️ I've tried both Deep ( yellow) and Speedy (pink) version. The packaging is simple but cute because of the color of the bottle, pink and yellow. They comes in plastic bottle with pump, and it has another lock seal to prevent leak or another unfortunate things that might be happened.☘️ In my opinion, both Speedy and Deep don't have specific smells, odorless and colorless. They are capable of removing base makeup except waterproof eyeliner and mascara. They aren't powerful enough to erase them. When the oils get into eyes, it doesn't hurt but make my vision blurry. So, which one better. Speedy or Deep? 💦 A point of view based on dry skin person:☘️ Texture: Speedy slightly more liquidy compared to Deep. Both version has more liquid-texture-like but they're oil. ☘️ From my experience with Speedy and Deep, both work fine on my skin, it glides smoothy to remove the makeup, and when you mix it with lil bit of water, it would emulsified into milky texture. But I have to say, Deep feels lil bit dry on my skin, and I'm not really sure if it works on deep cleansing my skin since I don't see significant result. I prefer Speedy one, like the name. It can remove my skin faster, but it doesn't dry out my skin so much.
#kose
#kosesoftymo
#ellskincaregame
#skincareobsessed
#skincarebloggers
#idskincarecommunity
#clozetteid
#skincareproducts
+ View more details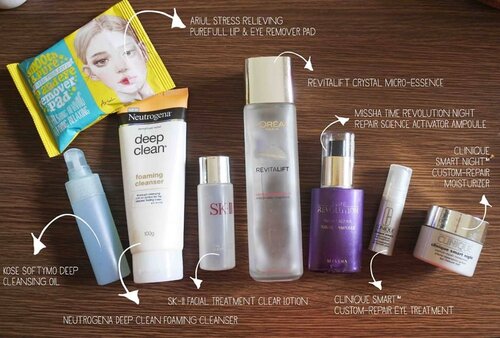 Setelah sharing tahapan skincare pagi dan juga haircare, waktunya sharing nightime skincare routine. Again, this is for me who has oily (which turn into combination skin lately) with hyperpigmentation because of acne (alias bekas jerawat yang cukup membekas huhu 💔). List lengkapnya & review lengkapnya bisa liat di blogpost "skincare routine saat WFH" di link pada bio ya.💁🏻‍♀️
Terlihat banyak ya tapi jangan kaget kalau mau mendalami soal skincare, sebenarnya basic skincare itu CLEANSING - TONING - MOISTURIZING - (+PROTECTION kalau siang hari).
Jadi kalau mau mulai, bisa cari produk yang bisa meng-cover hal penting tersebut. 👌 Untuk serum, ampoule, dkk itu tambahan kok. Semuanya tergantung kondisi kulit, skin goals dan juga budget.
✨ Untuk CLEANSING disini ada cleansing pad Ariul (kalau pakai eyemakeup yang susah dihapus) lanjut dengan Kose Cleansing Oil & facial wash Neutrogena. Double cleansing is essential
✨ TONING lagi coba pakai toner atau clear lotionnya SKII makanya kecil begini hihi. Lanjut essencenya Loreal yang Revitalift karena pengen mencerahkan bekas jerawat yang bandel. Ada ampoulenya Missha yang efeknya biasa aja, ini dalam rangka menghabiskan produk wkwk.
✨ MOISTURIZING dibantu sama produk Clinique baik night moisturizer dan eye cream. Ini cukup rich yaa jadi saya yang basicnya oily skin, pakainya tipis tipis. So far so good! Lalu tidur deh~
Anyway ini yang daily ya sebelum kena fungal acne HUHUHU 😭😭 (I will tell you about this later on tapi alhamdulillah udah baikan dan sisa bekas jerawatnya ajaewr).
Kalau kalian bagaimana? Oiya ada yang punya rekomendasi skincare lokal buat menghilangkan bekas jerawat? Please do drop your comments below!
.
-------
.
#skincare
#pmskincare
#mypmskincare
#skincaremalam
#nightskincare
#10stepsskincare
#clozetteid
#clozettedaily
#skincarejunkie
#ariul
#neutrogena
#facialfoam
#kosesoftymo
#cleansingoil
#lorealrevitalift
#misshatimerevolution
#cliniquesmart
#clinique
#skii
#reviewIbuFaradila
#momblogger
#lifestyleblogger

+ View more details

loading ...
Back To Top