loading...
Search
3,409 RESULTS FOR LASHES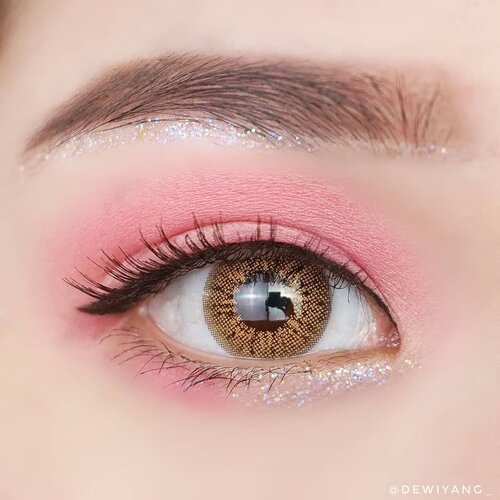 What is your favorite color? 💖
@beautyglazed gorgeous me eyeshadow palette
@blackrouge_id pearlverly iglitter - purple
@upmostbeaute 2in1 eyeliner serum
@lookecosmetics holy lash elixir mascara
@holicatid barbie brown
#DewiYangEye
+ View more details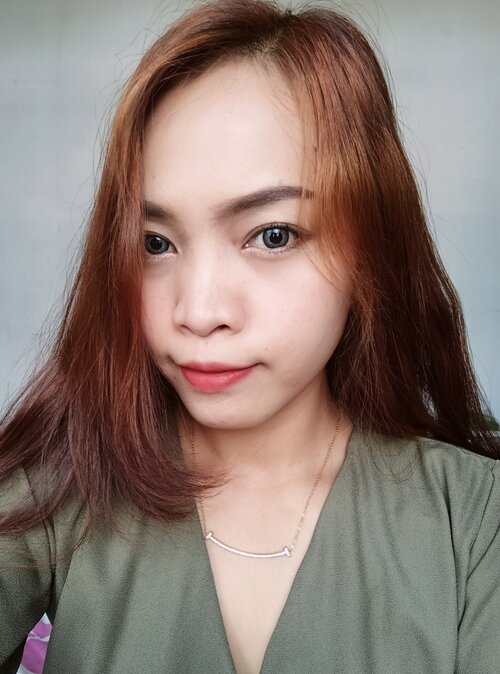 Basic korean makeup ❤️
Face :
• Moonshot Multi Protection Tinted Moisture
• Lakme Cushion
#Sand
Beige
• Make Over Concealer
#02
Light
• Maybelline Fit Me Powder
#120
• BLP Cheek Stain as Blush on
#Pink
Guava
Eyes :
• Freshkon Moondust
#Gray
• Beauty Creation Eyeshadow Palette
• Etude House Drawing Eyebrow Pencil
#Brown
• Maybelline Lash Lift Mascara
Lips :
• Peripera Ink Velvet
#02
Celeb Deep Rose

+ View more details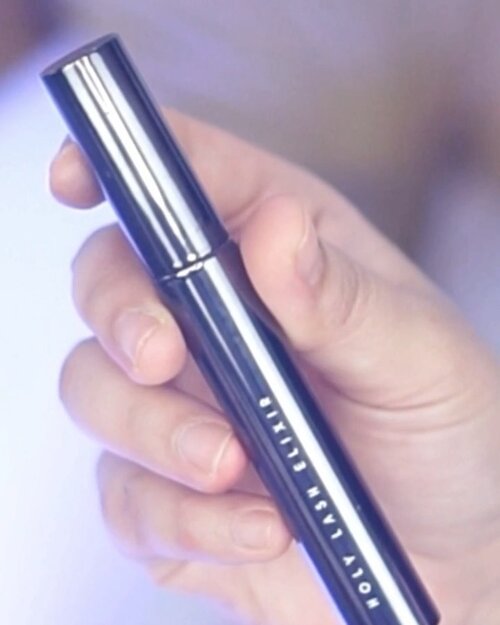 10 makeup lokal terbaik versi aku:1. @studiotropik flawless primer water2. @wardahbeauty Instaperfect Porefection Skin Primer3. @dearmebeauty Poreless Airy Flawless Fluid Foundation4. @esqacosmetics Flawless Micro Setting Powder5. @esqacosmetics Starlight Liquid Eyeshadow6. @esqacosmetics Goddes Cheeck Palette7. @lookecosmetics Holy Lash Elixir Mascara8. @mizzucosmetics Brow Wow9. @wardahbeauty Velvet Matte Lip Mousse10. @studiotropik Dream Setter Glowy
#clozetteid
#makeuplokal

+ View more details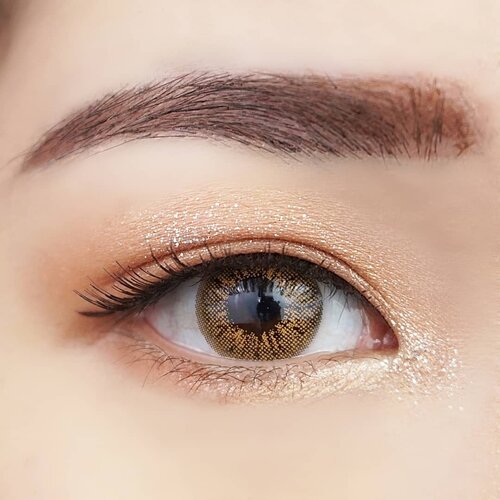 Sparkling ☆♡ brow ♡- @mizzucosmetics brow tint- @inezcosmetics eyebrow mascara - almond♡ eyeshadow ♡- @beautyglazed perfixt palette - shade raw- @peripera.id sugar twinkle - kitten beige- @sascofficial it's lit gel eyeliner - gold♡ eyeliner ♡@upmostbeaute 2in1 eyeliner serum♡ mascara ♡@marshique_official lash& brow home spa mascara - brown♡ lens ♡@holicatid barbie brown
#DewiYangEye
+ View more details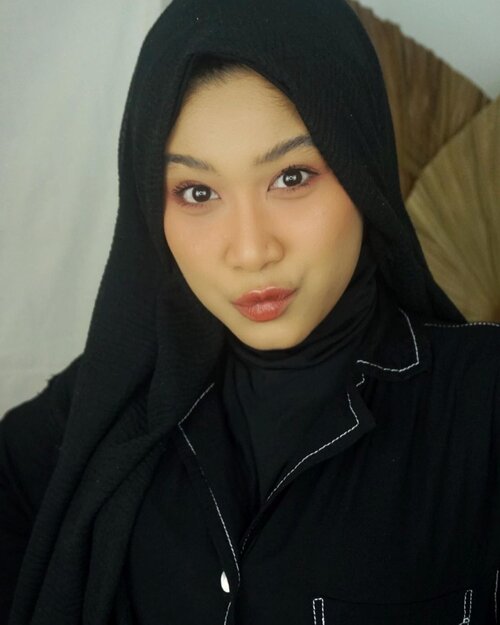 Lama-lama berasa juga ya udah 7 bulan aku di rumah aja. LOL. Kegiatan aku jadi semuanya dilakukan secara virtual dari rumah.Simple banget pakai 5 produk wajib ini, yang super essential buat aku:1. @lookecosmetics Holy Flawlesa BB Cushion - Diana2. @lookecosmetics Holy Smooth & Blur Loose Powder - Freya3. @lookecosmetics Holy perfecting Pressed Powder - Aurora4. @lookecosmetics Holy Lash Elixir Mascara5. @lookecosmetics Holy Lip Crème - Hebe & GaiaKalau lagi pengen bibir yang glossy, aku tambah lagi pakai @lookecosmetics Holy Lip Polish - LunaNanti aku bikinin reviewnya di YouTube yah.
#clozetteid
#LookeEssentials
#naturalmakeup

+ View more details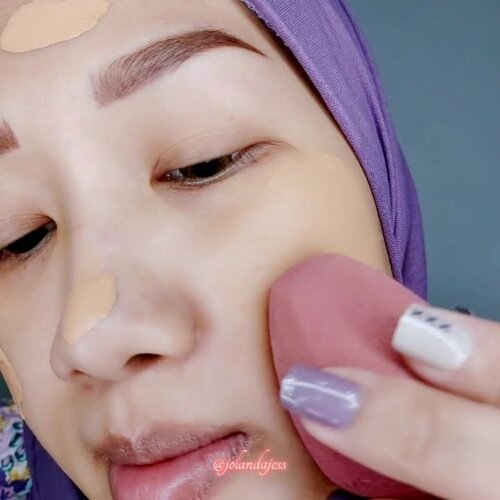 + View more details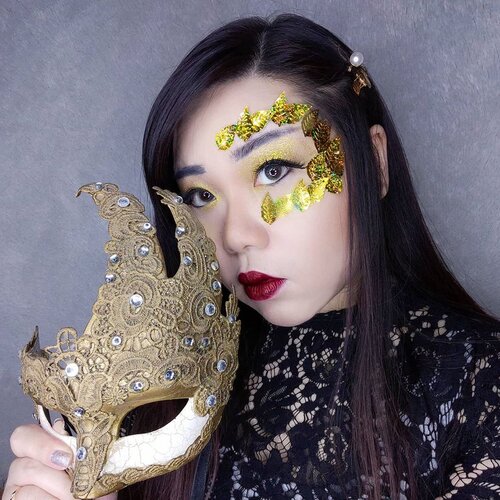 Honestly when concepting for this look, the inspo that i wanted to recreate is a pic of a girl wearing a full masquarade mask ada the makeup is super simple, just pure, rich gold glitter on her lids and dark red lips.
But when it comes to execute it.. well, it's not that easy 😆. First of all, my mask is a real, legit masquarade ball mask from Venice (i had to sadly cut the tags off finally so i could take these pics haha) and it comes with a ribbon tie and it's quite heavy, actually wearing it is not comfortable and pretty hard to adjust. Even tying it on is a stuggle as we couldn't really figure out the best fit.
Second of all, the eye holes of my mask is a lot smaller than i expected, it couldn't even fit my dramatic lashes! So small that you can't see the eye makeup almost at all 😞 so finally i gave up and added the gold leafs to mimic a mask shape around one of my eyes area (i already planned to pose with the mask covering the other eyes and i simply couldn't be bothered to apply on the other side as well 🤣🤣🤣).
So yeah, it's a simple, elegant look (i just want to look gleaming with gold and still pretty so a gentleman would be allured and ask me to dance 🤣) but it was not as easy as it looks. Hope y'all enjoy the look!
#clozetteid
#masquarade
#masquarademask
#masquaradeinspired
#gold
#BeauteFemmeCommunity
#thematiclook
#thematicmakeup
#sbybeautyblogger
#makeup
#ilovemakeup
#clozetteid
#sbybeautyblogger
#bloggerceria
#beautynesiamember
#bloggerperempuan
#indonesianfemalebloggers
#girl
#asian
#bblogger
#bbloggerid
#influencer
#influencersurabaya
#influencerindonesia
#beautyinfluencer
#surabayainfluencer
#jakartabeautyblogger
#SURABAYABEAUTYBLOGGER
#makeuplook
+ View more details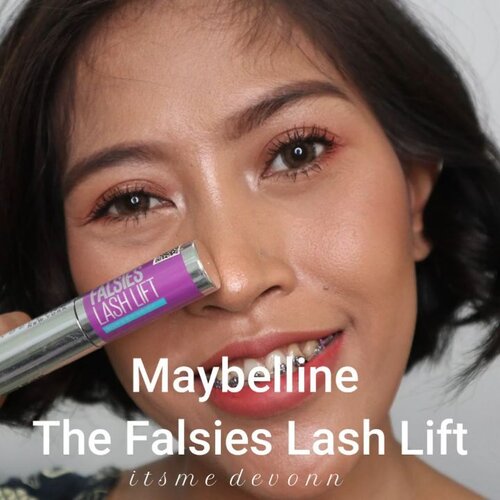 + View more details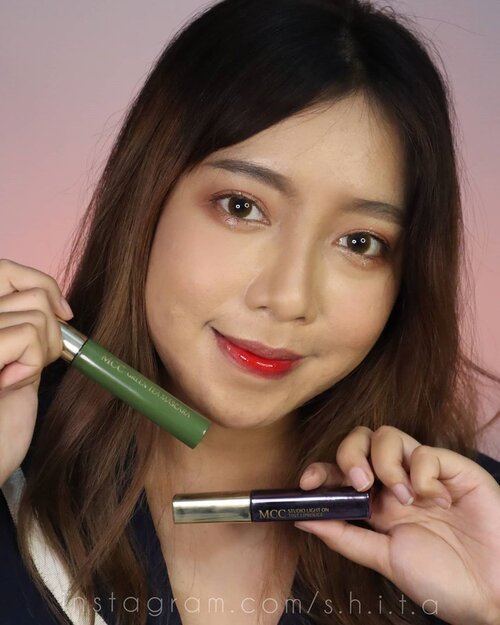 ✨REVIEW✨𝙈𝘾𝘾 𝙂𝙧𝙚𝙚𝙣 𝙏𝙚𝙖 𝙈𝙖𝙨𝙘𝙖𝙧𝙖
#1
Eco Volume UpMascara ini mengandung 30℅ Green Tea Water. Sehingga cocok untuk mata yang sensitif. Karena termasuk Anti-Irritation Mascara.Klaim mascara ini :•memberikan efek mata yang terlihat jelas•long lash•volume up•washable•comfortableMeskipun untuk efek volume upnya kurang di bulu mata aku yang super lurus dan pendek ini😭Tapi lumayan bagus juga saat diaplikasiin (cek slide 4)Yang paling aku suka karena dia ini ga bikin glumpy dan washable banget!! Gampang dibersihin dan ga ada ninggalin residu si mascara ❤Rate : 4.5 / 5. . 𝙈𝘾𝘾 𝙎𝙩𝙪𝙙𝙞𝙤 𝙇𝙞𝙜𝙝𝙩 𝙊𝙣 𝙏𝙞𝙣𝙩 𝙇𝙞𝙥𝙧𝙤𝙪𝙜𝙚
#501
Burgundy RedLip product ini 3 in 1 banget! Karena dia ini Lip Rouge + Tint + Lip Gloss jadi 1 !!Hasil akhirnya shiny dan juicy lips. Warnanya juga pigmented. Bahkan masuk ke pinggiran bibir aku yang gelap. Meskipun glossy, tapi ga lengket jadi nyaman dipakai. Long lasting juga, masih ninggalin stain meskipun aku pakai makan❤Yang kurang aku suka sama liprouge ini.. Packagingnya aja 😁But productnya is good and worth to try✨Rate : 4.5 /
[email protected]
@kallala.official
#mccindonesia
#kallalaofficial
#greenteamascara
#liprouge
#clozetteid
#clozetter

+ View more details

loading ...
Back To Top