loading...
Search
13 RESULTS FOR MAKEPREM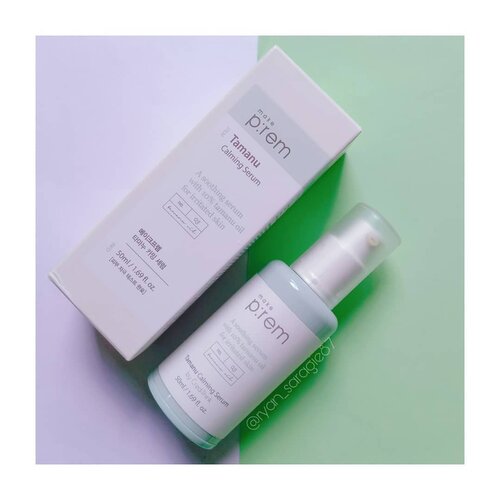 Setelah sempat hilang sekian bulan, finally Tamanu Calming Serum nya @makeprem ini berhasil aku temukan kembali, makanya bisa aku buatkan reviewnya hari ini..So serum ini dikemas kedalam botol plastik berwarna hijau dilengkapi pump sebagai aplikatornya. Untuk isinya sendiri ada 50ml & pas aku cek ternyata isi serumnya gak nyampe 1/4 dari panjang botolnya, agak mubazir sih bikin botol segedey ini 😊.Adapun kandungan utamanya seperti Tamanu Oil, Hyaluronic Acid & Herb Complex dipercaya dapat menenangkan kulit senstiv dengan cepat, menghydrasi kulit secara mendalam plus meningkatkan kesehatan kulit. Tapi setau aku selain itu Tamanu Oil atau lebih kita kenal dengan extrak biji buah cemara ini punya kegunaan untuk merawat kulit berjerawat & sebagai anti aging..Berbeda dengan serum lainnya, textur serum ini lebih kearah cream berwarna hijau yang agak thick mirip kek moisturizer cream gitu sih ketimbang serum. Walopun thick dia masih gampanglah buat diratain cuma agak lama nyerap ke wajah & berasa kek greasy diwajah sampe bangun pagi malahan..Adapun aromanya seperti wangi jamu jamuan yang agak stronge, sebagian orang mungkin gak nyaman dengan wangi ini tp kalo aku sih suka banget sama aroma jamu kek gini..Aku pake serum ini pas malam hari aja, itupun pas jerawatan atau pas kulit wajahku kek lagi kering aja & aplikasiinnya juga tipis tipis aja. Aku aplikasiin gak keseluruh wajah mengingat serum ini punya fungsi menghydrasi aku gak mau kalo dia sampe memompa minyak diwajahku mengingat kulit wajahku kan over oily. .Setelah 4 hari pemakaian serum ini sukses bantu atasin masalah jerawatku, kulit juga berasa lebih halus & serum ini juga bagus buat kalemin kulit kemerahan atau sensitiv gitu. Btw karna aku pake serum ini gak tiap hari, jadi dia lumayan awet sih menurutku..Nah gimana ada yang pernah nyobain serum ini gak? Cus share dikomentar ya 😉.
#makeprem
#kbeauty
#kcosmetics
#kskincare
#skincare
#serum
#tamanuoil
#hydrating
#pmroutine
#beutybloggerindonesia
#hijabblogger
#clozetteid
#beautyjournal
#메이크프렘 #세럼 #세럼추천 #스킨케어 #선물 #뷰티그램 #뷰티블로거

+ View more details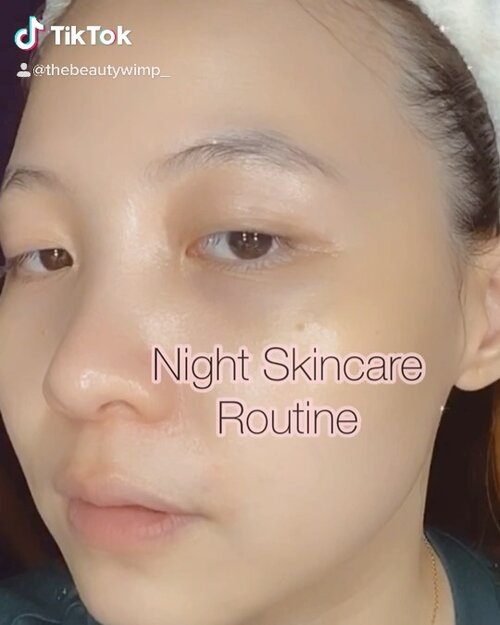 + View more details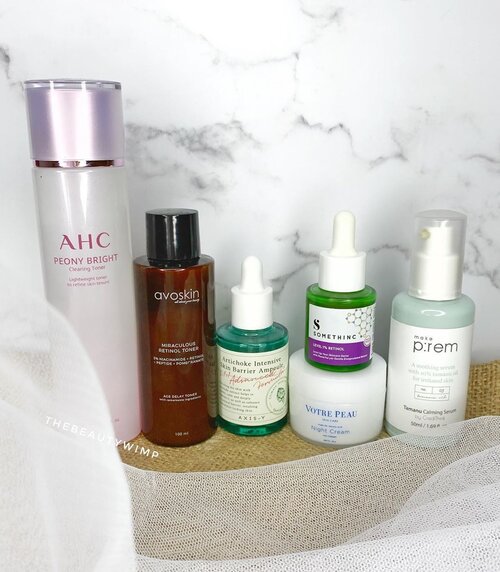 + View more details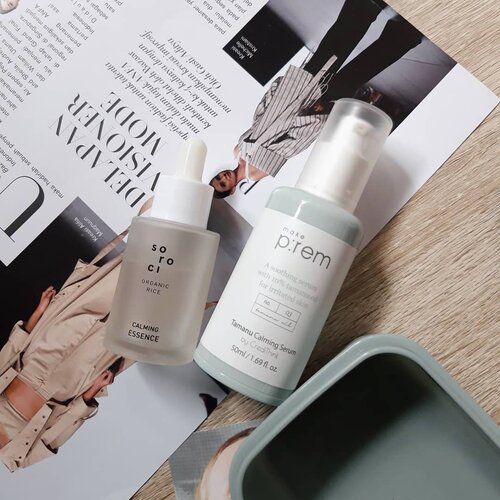 Happy leap day everyone!Calming products when my face is irritated. Calming essence and calming serum. But I prefer to use @makeprem as night moisturizer (calming + moisturizing). I have reviewed it before 💖.......
#clozetteid
#soconetwork
#treatment
+ View more details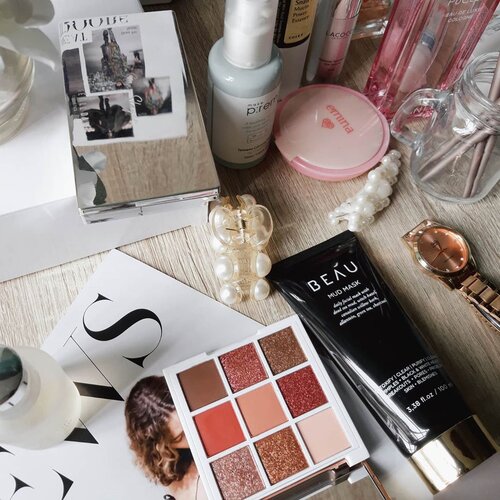 + View more details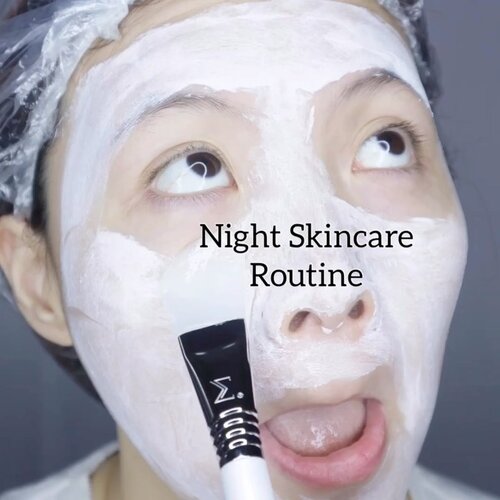 Skincare-an berasa fancy bener coy pake brush segala jujur aja 😂Jadi ini Night Skincare Routine full pake newly designed skincare brush dari @sigmabrushesTotal ada 6 brushes yang bisa kalian beli individually (berdasar kebutuhan aja)•* S01 Clay/Mud Mask™ - Apply thick masks onto skin* S02 Spatula™ - Scoop + mix skincare products * S05 Moisturizer™ - Gently apply moisturizer * S10 Serum™ - $16 USD Evenly apply liquid + gel serums * S15 Gel Mask™ - Swirl gel masks onto skin* S20 Eye Cream™ - Apply eye cream without tugging••Jadi pake skincare brush Sigma ini bisa mengurangi tugging on the skin. Tekanan gitu biar ga mudah keriput.Lebih higienis karena terhindar dari bakteri tangan kita.Handle brush nya juga semua dijamin waterproof jadi ga mudah lepas tu kepala sm badan wkwk•And as usual ,All Sigma brushes are cruelty free, vegan along with 2 years warranty & hand-crafted--no two will be identical.•••Skincares I used in the video :Mask @joylabbeauty whipped cream maskToner @thayersnatural @naruko.indonesia Serum @makeprem x @credithink tamanu calming serumMoisturizer @always_be_pure Sleeping mask @lacoco.id
+ View more details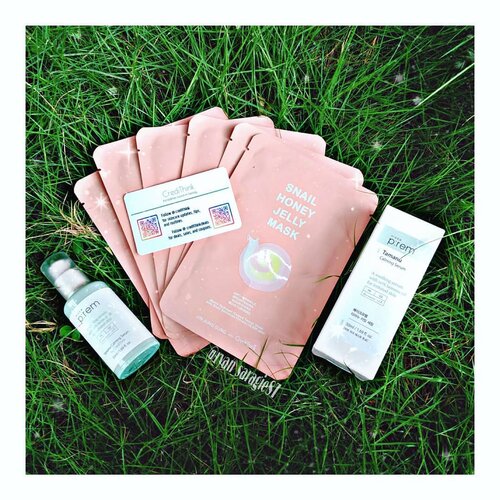 ❄ GRATITUDE POST ❄..Si budey makan sambel cocol,Happy Monday all 😀.Seperti yg pernah aku share di Unboxing IG Story ku sebelumnya, kalo aku dikirimin paket oleh pihak @credithink walopun paket ini sempat mampir & menginap kurang lebih 2 minggu dikantor Bea Cukai Pekanbaru 😭😭.Sedikit info aja kalo @credithink merupakan salah satu webstore yang menyediakan berbagai jenis produk skincare dr beberapa brand skincare Indie asal Korea yang mungkin jarang kita temui atau kita dengar namanya sebut saja Make P:rem, Jin Jung Sung, Thank You Farmer, Urang, Iunik, Keep Cool, Isn Tree & lainnya. Tapi...kalo kelen ngaku Korean skincare junkie pasti kenal lah sama brand yang aku sebutkan diatas 😊 . Dan biarpun brand mereka kurang familiar tapi untuk kualitas produk tetap okey kok guys, makanya sebagai tehnik marketing mereka sering ngadain event try & review gitu untuk menyasar para skincare junkie yang siap sharing review produk tsb baik di Instagram, Youtube ataupun Blog..Adapun produk yg diberikan untuk ku sbb : 🌸 Jin Jung Sung Snal Honey Jelly Mask 🌸 Mask sheet ini punya klaim berguna sebagai Anti Aging, Brightening, Nourishing & Moisturising. 🌸 Make P:rem Tamanu Calming Serum 🌸 Serum yang punya kandungan minyak extrak dari biji cemara ini dipercaya dapat menenangkan kulit sensitiv dengan cepat, menghydrasi serta membuat kulit lebih sehat. ..Okey thank u so much for @credithink @ens_jinjunsung @makeprem . Dan untuk reviewnya Insya Allah ku usahakan share dibulan ini tapi jika memungkinkan soalnya kondisi kesehatanku agak drop belakangan ini..
#credithink
#jinjungsung
#makeprem
#kbeauty
#kcosmetics
#kskincare
#skincare
#serum
#tamanuoil
#sheetmask
#maskpack
#skincarecommunity
#abcommunity
#bloggercommunity
#pmroutine
#bblogger
#clozetteid
#메이크프렘 #진정성화장품

+ View more details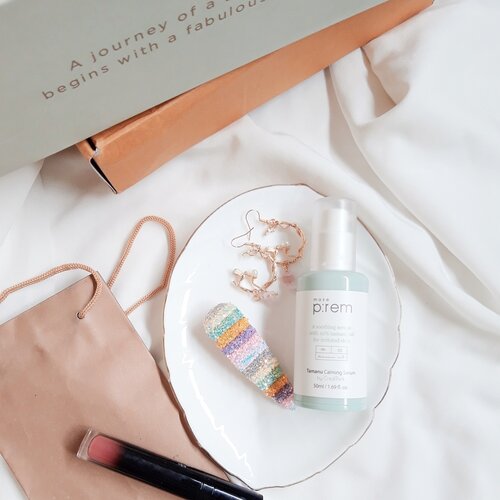 Make P:rem Tamanu Calming
[email protected]
x @credithink.This serum is the result of collaboration between CrediThink and Make P:rem. Its claimed to calm and hydrate skin. Its made from 10% tamanu oil and 6 layers of hyaluronic acid. Its my first time trying tamanu oil as skincare ingredients. There are many benefit of tamanu oil such as for reduce acne, dermatitis, eczema, etc.This serum has thick consistency but easy to spread. .The scent is unique and not bother me at all, i love the scent. I like this serum, it really helps calming my face especially after chemical exfoliation. Then when redness appears due to irritation is also very helpful. A few days ago I was irritated because one of the Korean sheet masks and this serum was really helpful. Also when there are new pimples, it's also good to calm down. I will use this serum for longterm use because the benefits for my skin..Full review ada di blog, link on bio 👩‍💻.......
#clozetteid
#soconetwork
+ View more details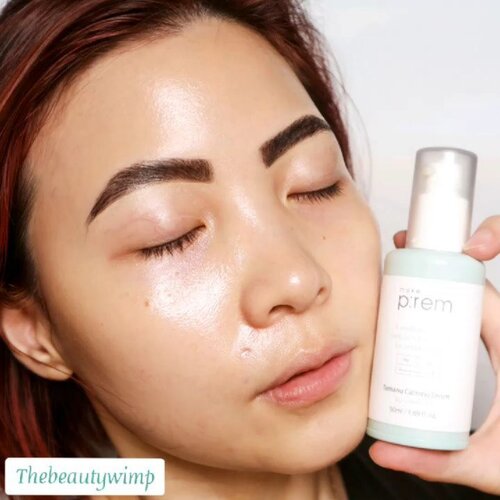 #MAKEPREM
x @credithink Tamanu Calming Serum_____This product comes in a pastel olive bottle with a pump which makes it easy to use. As a serum, the texture itself is quite thick and firm.It is targeted for those with acnes, dry, dullness, & worn skin_It spreads very easily, and has an olive color (just like the bottle does). I noticed a pretty strong tamanu scent, for me the closest thing to describe it , is temulawak.The smell pretty much lingers for like few mins, even after another layer of skincares the smell is still noticable. It's okay though, i dig jamu 😂__Despite of the scent, i gotta say that I love the formula. Since it is a emulsion-like, i find this serum is veeeery hydrating & extremely pleasant to use because it doesn't feel like a heavy layer.It absorbs nicely into the skin and works well on my dry skin. Most days, i only wear this alone (skip moisturizer) and jump on my sunblocks right away. __...
#abbeatthealgorithm
#skincaredaily
#skincareluxury
#skincareroutine
#skincareblog
#skincareblogger
#abcommunity
#tamanu
#skincareobsessed
#skincareaddict
#koreanskincare
#kbeautyaddict
#selfcare
#instaskincare
#skincarediary
#kbeauty
#discoverunder9k
#Clozetteid
#clozzeteid
+ View more details

loading ...
Back To Top