loading...
Search
15 RESULTS FOR MAKEUPSET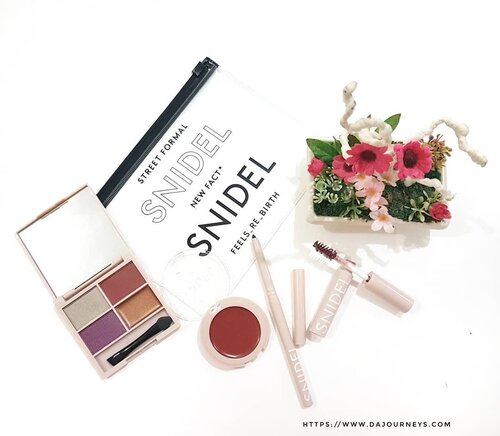 + View more details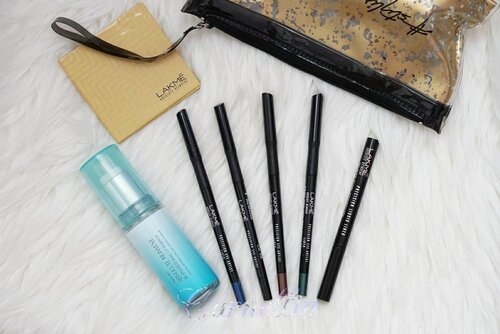 Salah satu produk multifungsi dari @lakmemakeup ... their eyeliner 😍😍 Karena tekstur dan kemampuannya grip tiny hair, belakangan daku pakai di eyebrow dan hasilnya, garis-garis rambut yang terlihat kaya abis sulam alis.
Tips pakai: jangan ditekan, tapi biarkan eyelinernya "sentuh" rambut alis, the crayon-ny texture wil coated the hair like mascara, but with better effects, as in pigment and finish.
Plus kemampuannya yang water resistant bikin alis lebih awet seharian.
#eyeliner
#eyebrowpencil
#love
#lakmemakeup
#makeuptips
#makeup
#beauty
#makeupset
#motd
#ClozetteID
#photooftheday
#lookoftheday
#tips
@lakmeprgirl
+ View more details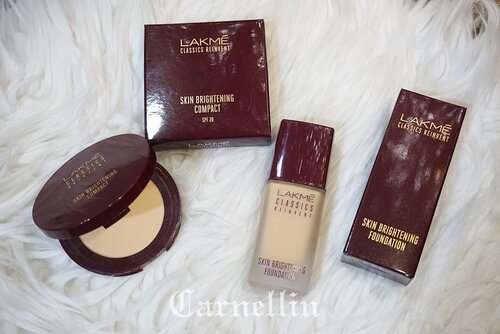 + View more details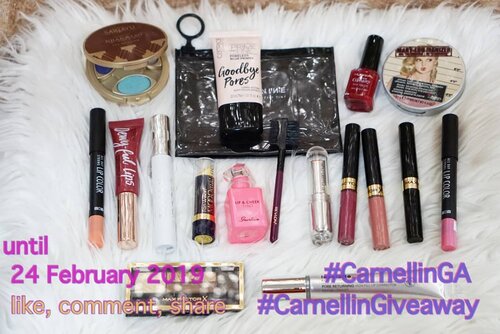 #carnellingiveaway
#CarnellinGA
 ini menjawab hasil survey di IG Story.Tidak direkomendasikan untuk kamu yang berkulit sensitif untuk alasan kenyamanan juga. Silahkan ikut jika berminat dengan preloved items.Semua preloved disini sudah dipakai untuk pemakaian pribadi mereview, share di sosmed, merasa tidak cocok dengan shade atau warna tertentu atau sudah merasa terlalu banyak produk dirumah. Ada yang umurnya baru beberapa hari ada juga yang sudah beberapa bulan sampai tahun. Semua preloved di giveaway aku setidaknya masih ada sekitar 80-85% isi atau beberapa bahkan hanya sekali-dua kali colek. Mohon ikut dengan kesadaran masing-masing bahwa ini giveaway yang tidak dipaksakan.Ada apa saja hadiah di Instagram Preloved:1 eyeshadow Sariayu1 primer Catrice1 pouch1 nail polish SILKYGIRL1 highlight The Balm2 VOV lip color1 lip balm Max Factor2 liquid lipstick Max Factor1 lipstick shu uemura1 eyebrow and eyelash brush1 Lip and Cheek Tint Guerlain1 lipstick moodmatcher1 Talika Lipocils1 Dewy-ful Lips Catrice1 eyeshadow palette Max Factor1 la palette Pore Caresemua hadiah ini untuk 1 pemenang yang beruntung.Giveaway ini ada di masing-masing platform Carnellin, nah yang di blog, semua hadiahnya brand new alias baru ya. Cara ikutan giveaway ini gampang, cukup LIKE, COMMENT dengan tag 3 teman kamu di post ini, SHARE (repost atau IG Story yang WAJIB kamu taro di highlight)Pemenang dipilih secara randomDi setiap platfrom akan ada 1 pemenang(blog, FB, IG, Youtube, total 4 pemenang ya)1 orang bisa memenangkan lebih dari 1 set hadiah di platform yang berbeda. Ongkir ditanggung pemenangGiveaway sampai 24 Frebruary 2019Pemenang diumumkan kurang lebih seminggu setelah tanggal 24 February 2019 di tag di IG story (jadi gak perlu DM terus nanyain pemenang)Boleh like dan comment di post aku yang lain.Boleh ikutan giveaway aku di blog, youtube, dan facebook juga.IG: @CarnellinFacebook: 
https://www.facebook.com/WhileYouOnEarth/Blog
:
whileyouonearth.blogspotYoutube.com/Carnellin.Terima
kasih, semoga yang menang senanggg 😁
#giveaway
#menangkan
#hadiah
#ClozetteID
#makeupset
#preloved
#giveawaypreloved
+ View more details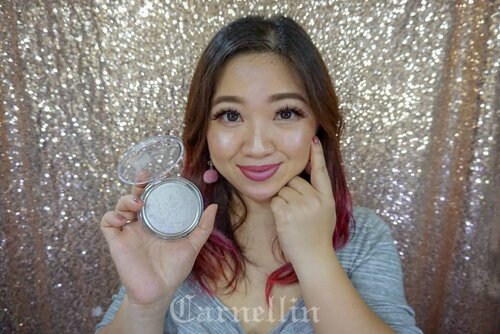 + View more details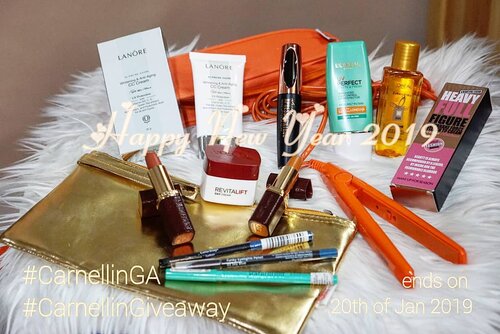 Halooo, selamat tahun baru 2019 eperibodiii, di hari pertama tahun ini selain ucapan selamat, ada donk ya bikin
#CarnellinGA
lagiii.
Boleh di repost di feed Instagram, boleh juga di IG Story, masukkan ke highlight sampai giveawaynya kelar, dan pemenang akan diumumkan lewat IG story @Carnellin, di tag juga kok akun yang menang, don't worry 😘. Caranya seperti biasa, mudah simple dan aman 😂
1. Follow @Carnellin
2. Tag 2 teman di repost atau ig story kamuh tentang giveaway ini.
3. Hashtag
#CarnellinGA
dan
#CARNELLINGIVEAWAY
itu wajib, gak perlu tag akun @Carnellin
4. Boleh spam like dan spam comment post yang lain, tapi pemenang tetap dipilih random berdasarkan hashtag wajib ya. Nanti akan di ig story juga pemilihan pemenangnya.
5. Hadiah akan dikirimkan dengan ongkir maks Rp. 20rb, jika lebih dari itu, maka sisanya ditanggung pemenang.
6. Giveaway berakhir tanggal 20 Jan 2019, biasanya 1-3 hari dari tanggal tutup aku sudah umumkan pemenangnya.
Isinya apa ajah:
1. Mascara yang sempet heboh iklanin di instagram yg katanya bisa kaya spider web gitu.
2. Lanore CC Cream shade 01.
3. Revitalift Day Cream
4. L'Oreal Extraordinary Oil
5. Silkygirl Funky Eyeliner Pencil
6. Revlon Colorstay Eyeliner
7. Bourjois Contour Clubbing Waterproof
8. L'Oreal UV Perfect Matte & Fresh.
9. Color Riche shade 640
10. Color Riche shade 292.
Dan itu yang orange, catokan untuk rambut pendek, poni atau pria yang stylish banget hehehe.
Total ada 11 items 😍
All of them are for 1 winner alias 1 pemenang. Boleh kok pemenangnya kalau mau bagi-bagi 😁
Terima kasih dan semoga yang menang worth the prize.
#giveaway
#lanore
#loreal
#silkygirl
#mascara
#pelembab
#bourjois
#revlon
#eyeliner
#lipstick
#beauty
#clozetteID
#makeupset
#makeup
+ View more details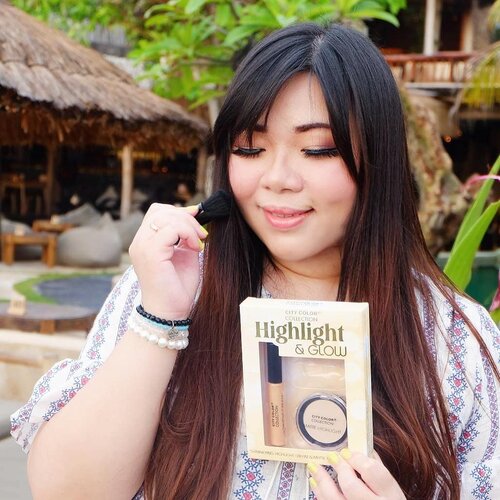 + View more details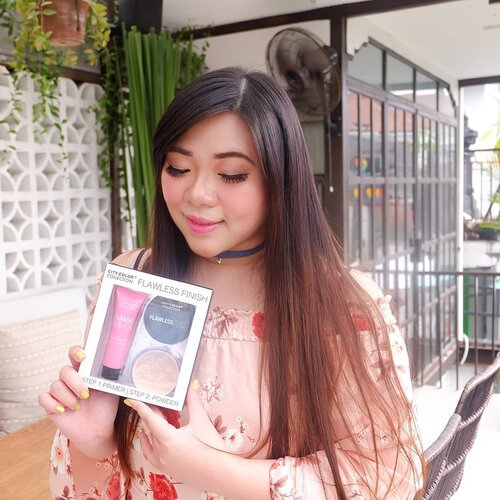 Hello!Today i want to share my thoughts on this super economical set from @citycolorcosmetics (for best price, get it from @kumurabeauty !). This base duo is called the Flawless Finish set and consists of a primer and a loose powder for only IDR 115K!The primer is pretty thick and has a more minimizing (your skin would look smoother instantly, pores would be filled and blurred out), smoothing, matte effect. It makes base makeup application easier and faster. I don't find it making oil control better, but if you're looking for a smoothing primer to achieve flawless skin look, this can be considered. A word of advise tho, pore filling primer can clog your pores if you use it continuously so do use it sparingly (a few times a week should not hurt but avoid everyday usage) and only on days when you need your skin to look poreless.The Natural Loose Powder is really lovely as well, i usually don't find loose powder's coverage to be enough but this one has some coverage and neutral color that it maximizes the effect and coverage of the base i am using (i looked like i had a full makeup day when in fact i was only using the primer, tinted moisturizer and the loose powder)! It is very soft too, and i can safely say that it's one of the nicest loose powders i've tried in a while.Overall i really enjoy using this set and for the low price range, i would not hesitate to recommend this to all of you!
#citycolor
#citycolorcosmetics
#makeupset
#cheapmakeupset
#kumura
#kumurabeauty
#clozetteid
#sbybeautyblogger
#bloggerindonesia
#bloggerceria
#beautynesiamember
#girl
#review
#influencer
#beautyinfluencer
#recommendedonlineshop
#onlineshop
#surabayablogger
#SurabayaBeautyBlogger
#bbloggerid
#beautybloggerid
#beautybloggerindonesia
#surabayainfluencer
#influencersurabaya
#bloggerperempuan
#endorsement
#endorsementid
#endorsersby
#onlineshopmurah
+ View more details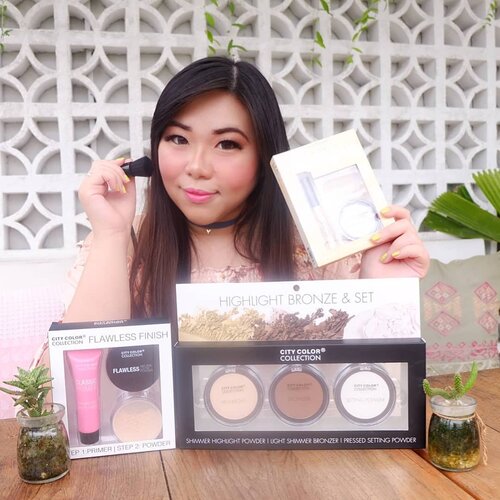 + View more details

loading ...
Back To Top