loading...
Search
192 RESULTS FOR MOISTURISING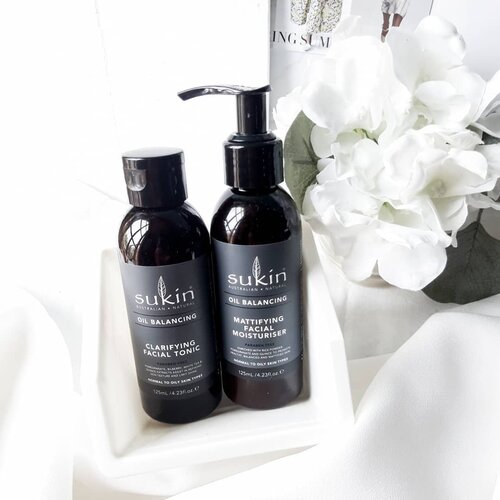 Eid Mubarak! ✨✨ I used a few products from Sukin, an Australian made skincare brand. Their formulations are kind to skin and kind to earth.Sukin Oil Balancing Clarifying Facial Tonic, a perfect product for post-cleanse balance and refinement. A blend of White Tea and Quince Extract assist to revitalise the appearance of oily skin, tighten pores and help to limit shine. Pomegranate & Bilberry Extracts promote a balanced complexion while Aloe Vera, Chamomile and Cucumber encourage soothed, calmed skin.The smell of the toner is fresh citrus mix with others cause it has essential oils at the bottom of the ingredients list. It does not have color and the texture is really watery. I like to use this toner in the morning its really good because the oil-balancing really works on me. It also can be used as a post-cleanse, when my skin feels dry or dehydrated this toner is not so hydrating so I use a thicker hydrating toner.Sukin Mattifying Facial MoisturiserThis moisturiser is enriched with Rice Powder, Pomegranate and Quince to promote healthy, balanced skin. A blend of Aloe Vera, Chamomile and Willowherb to calm and soothe while providing light hydration. Rooibos Tea, Moringa, & Willowherb Extracts encourage skin revitalisation and refreshes acne-prone skin.From the moisturizer, it gives a moist feeling thats not stuffy on my face. It gives a matte finish but doesn't feel tight. Give enough moisture. It smells almost like the toner but is softer. The moisturizer also doesn't make my skin feel heavy when Im using it and sit well under my usual sunscreen & makeup. I prefer to use this for morning, for PM routines I use another product which is more occlusive. Swipe for the texture.Have you tried any Sukin products?❤❤
+ View more details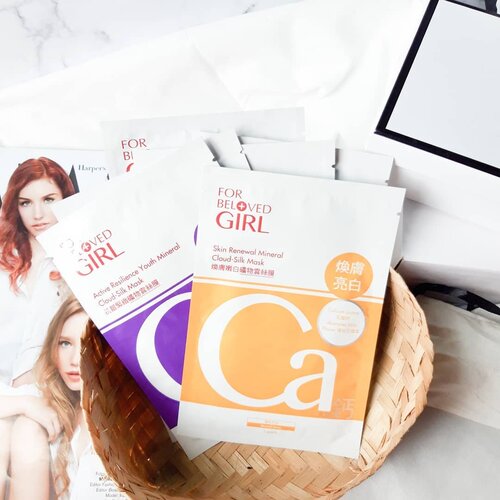 For Beloved Girl is a brand from Taiwan.Now their Mineral-Cloud Silk Mask available here.They are all formulated differently with different minerals as you can see from the packaging. One piece of mask equal to 1.88 bottles worth of mineral water spray. Cloud silk masks are ultra-thin and lightweight with specific minerals..The mask was soaked with essence, and include extra white plastic makes application easier.I love how thin the mask is. It fits perfectly on my face and the feeling is fresh, calm & light. It doesn't feel too sticky or irritate after using it and its moisturise my skin well.I think this mask is perfect if you need an extra shot after work or just for chill out.Six variants of this mask are,☁️Flawless BrighteningFor dull skin with uneven skin tone. Contains triple effects-brightening, moisturizing, and repairing☁️Extreme MoistureFor dry or dehydrated skin. Triple hydration factors provide skin hydrate power☁️Skin RenewalFor skin pore and acne issues. Double advanced-skin renewal ingredients help skin speed up resurfacing efficiency.☁️Oil ControlFor skin with excessive sebum. Controlling over-active oil glands & preventing acnes.☁️Puffy EliminationFor puffy eyes & face with caffeine power will speed up circulation, keeps skin from overly hoarded water and lift up skin.☁️Active Resilience YouthFor aging skin with soy protein and combination of collagen to boost natural collagen...You can buy this mask from @sociolla or For Beloved Girl Indonesia on Shopee 🛍
+ View more details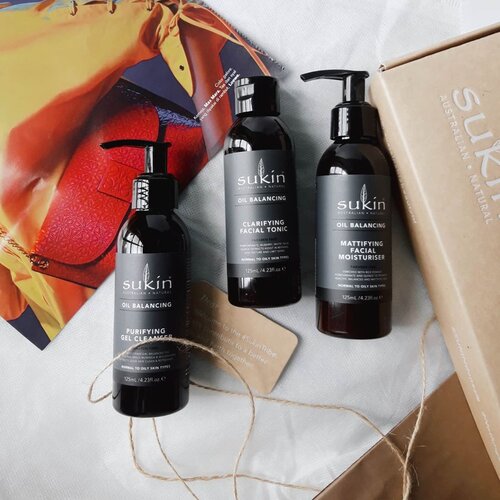 I have been quite curious to try Sukin before their launch in Indonesia. Thank you Sukin Indonesia for sending this package to me. This one is a match for my skin type which is oily. Sukin's oil balancing range contains activated bamboo charcoal, pomegranate, willowherb, bilberry and quince.~~They sent me 3 products, cleanser, toner, and moisturiser.Last night I tried Oil Balancing Purifying Gel Cleanser, the packaging is very good because it uses a pump and can be locked too. It smells fresh woodsy and lime like that (I'm not good at describing it 😆) gently removes dirt and oil, it leaves a soft feeling on my skin, does not dry out, and really fresh. ~~Have you tried anything from Sukin?🌱🖤......
#soconetwork
#clozetteid
#sukintribe
#sukindonesia
+ View more details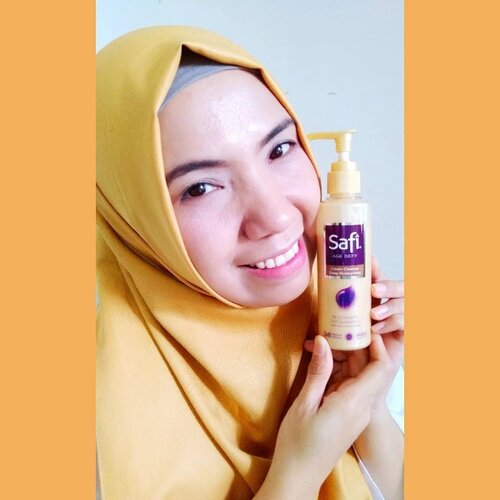 + View more details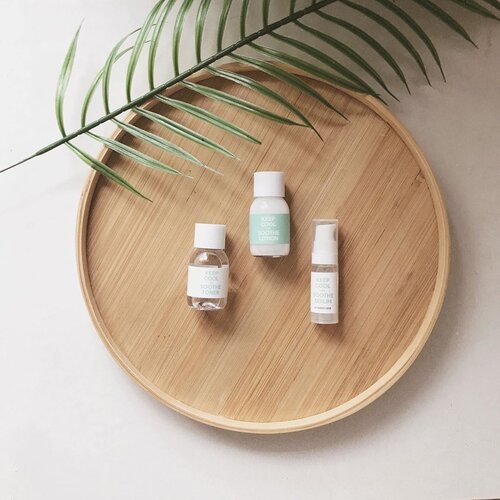 Baru aja belakangan ini cobain si Soothe Bamboo Mini Kit. Rasanya? Seger banget. Fresh gitu. Dari ketiga rangkaian skincare Korea ini favorit gue adalah si toner dengan low ph yang rasanya tuh moisturise kulit banget dan fresh. Serum sama Lotionnya juga cukup cocok di kulit gue yang oily. Gak bikin tambah berminya selama pemakaian, dan lotionnya cukup cepat menyerap. Udah ada yg pernah cobain
[email protected]
_celeb
#skincarejunkie
#beautybloggerindonesia
#clozetteid

+ View more details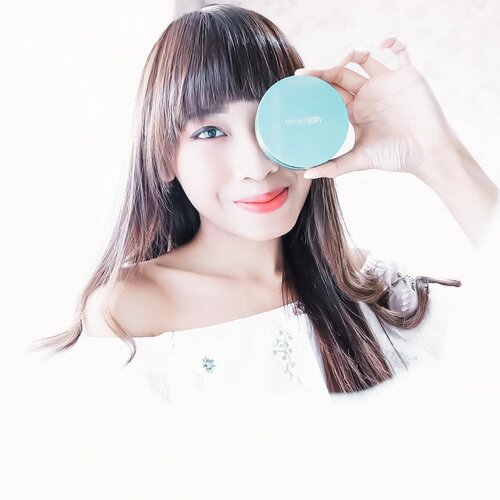 Still looking for a cushion with good quality and high coverage? I suggest you to try this one !
-
Wardah Exclusive Flawless Cushion ini adalah cushion dengan medium to high coverage dan moisturiser yang cukup baik. Cocok banget buat kalian yang punya jenis kulit oily dan belum menemukan cushion yang cocok.
-
Wardah Exclusive Flawless cushion, gak cuma bakal kasih kalian natural glowing finish tapi juga bisa menghambat produksi sebum sampai dengan 10 jam ! It's the one of best local product cushion of the year.
#FellThePerfection
#WardahExclusiveSeries
.
.
.
#clozetteid
#cushion
#bestcushion
#localbrand
#beauty
#beautyhacks
#bloggersurabaya
#bloggerjakarta

+ View more details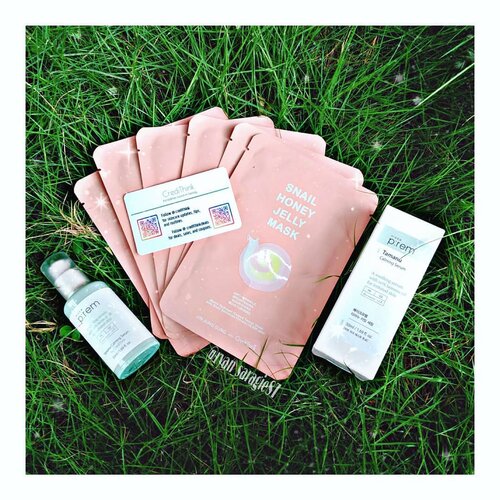 ❄ GRATITUDE POST ❄..Si budey makan sambel cocol,Happy Monday all 😀.Seperti yg pernah aku share di Unboxing IG Story ku sebelumnya, kalo aku dikirimin paket oleh pihak @credithink walopun paket ini sempat mampir & menginap kurang lebih 2 minggu dikantor Bea Cukai Pekanbaru 😭😭.Sedikit info aja kalo @credithink merupakan salah satu webstore yang menyediakan berbagai jenis produk skincare dr beberapa brand skincare Indie asal Korea yang mungkin jarang kita temui atau kita dengar namanya sebut saja Make P:rem, Jin Jung Sung, Thank You Farmer, Urang, Iunik, Keep Cool, Isn Tree & lainnya. Tapi...kalo kelen ngaku Korean skincare junkie pasti kenal lah sama brand yang aku sebutkan diatas 😊 . Dan biarpun brand mereka kurang familiar tapi untuk kualitas produk tetap okey kok guys, makanya sebagai tehnik marketing mereka sering ngadain event try & review gitu untuk menyasar para skincare junkie yang siap sharing review produk tsb baik di Instagram, Youtube ataupun Blog..Adapun produk yg diberikan untuk ku sbb : 🌸 Jin Jung Sung Snal Honey Jelly Mask 🌸 Mask sheet ini punya klaim berguna sebagai Anti Aging, Brightening, Nourishing & Moisturising. 🌸 Make P:rem Tamanu Calming Serum 🌸 Serum yang punya kandungan minyak extrak dari biji cemara ini dipercaya dapat menenangkan kulit sensitiv dengan cepat, menghydrasi serta membuat kulit lebih sehat. ..Okey thank u so much for @credithink @ens_jinjunsung @makeprem . Dan untuk reviewnya Insya Allah ku usahakan share dibulan ini tapi jika memungkinkan soalnya kondisi kesehatanku agak drop belakangan ini..
#credithink
#jinjungsung
#makeprem
#kbeauty
#kcosmetics
#kskincare
#skincare
#serum
#tamanuoil
#sheetmask
#maskpack
#skincarecommunity
#abcommunity
#bloggercommunity
#pmroutine
#bblogger
#clozetteid
#메이크프렘 #진정성화장품

+ View more details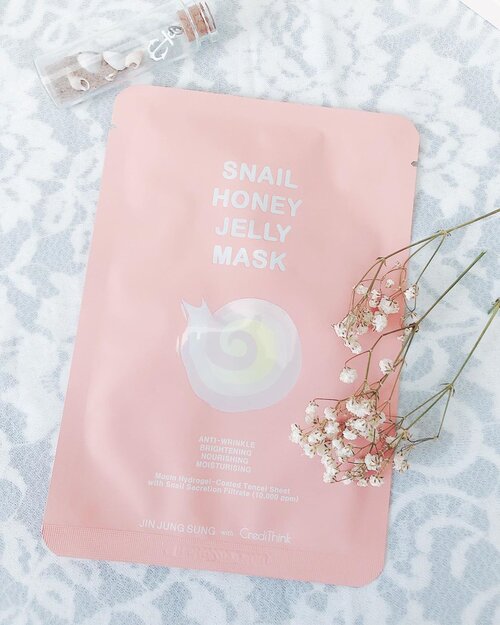 Snail Honey Jelly Mask 🐌 @ens_jinjungsung x @credithink •
Is a perfect sheetmask for me, as you know I recently really liked snail ingredients because it had a real effect on my skin. Having skin with uneven texture is frustrating 😭 and my age now has to use anti-aging products. A good investment is to include anti-aging products in your routine skincare if you are 25 years or older.
•
Amazing sheetmask has 4 benefits in 1. Anti wrinkle, Brightening, Moisturising, Nourishing and this sheermask material is really comfort in my skin, feel lo light and giving me a lot of essence. •
Mucin Hydrogel-Coated Tencel Sheet which can absorb a lot of essence and is very effective for absorption of essence in the skin. Made from Eucalyptus tree which is environmentally friendly
•
Mucin Microbubbles special formula containing snail filtrate 10.000 ppm, 7 types of Hyaluronic Acid and Glycoprotein help reduce finelines & improve elasticity
•
Jujur, aku suka banget material sheetmask yang modelnya tipis gini karena dia super efektif memberikan banyak essence ke kulit dengan baik dan aku gatau apa ini perasaanku saja, sheetmask material ini ga lengket setelah pemakaian. Karena jujur sheetmask yang memiliki material lebih tebal daripada ini, setelah di pakai agak lengket dan aku perlu bilas pakai air supaya tidak legket. So I really love tencel eucalyptus material ❤️
•
I prefer using sheetmask on night skincare routine, how about you? •
Is BLACK FRIDAY !!! Visit @credithink website and get the special price 😍❤️
•
#microbubblemask
#snailmask
#wringklesfree
#cleanbeauty
#credithinkmask
#credithink
#ensjinjungsung
#ensjinjungsungmask
#kbeauty
#sheetmask
#snailfiltrate
#beauty
#makeup
#skincare
#selfie
#clozette
#clozetteid
+ View more details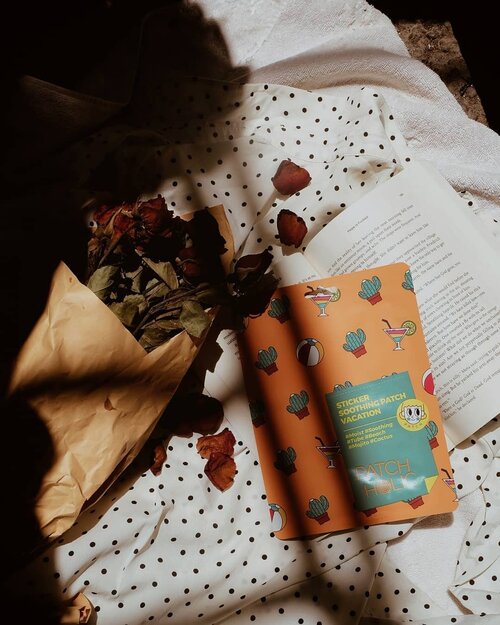 I used these patches the first day I got them!🍒 Packagingnya superrrr gemes, jd gatahan buat langsung cobain. Selain bentuknya lucu2, wanginya juga enak banget. Sticker patch ini memberikan efek cooling dan moisturising, jd cocok untuk pemilik kulit sensitif, sunburned atau tired skin. 30 menit setelah diaplikasikan, kulit beneran terasa jauh lebih lembut dan halus. I'll be buying again when I run out! Don't think twice and grab yours now! Click direct link on my bio and enjoy your special discount🍒🍉🍋✨ @charis_celeb @hicharis_official
hicharis.net/Itachenn/Gwg
#patchholic
#stickerpatch
#charis
#charisceleb
#hicharis
#clozetteid
+ View more details

loading ...
Back To Top