loading...
Search
30 RESULTS FOR NIGHTROUTINE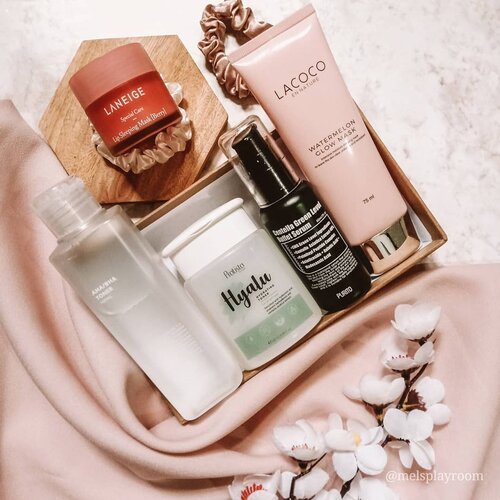 + View more details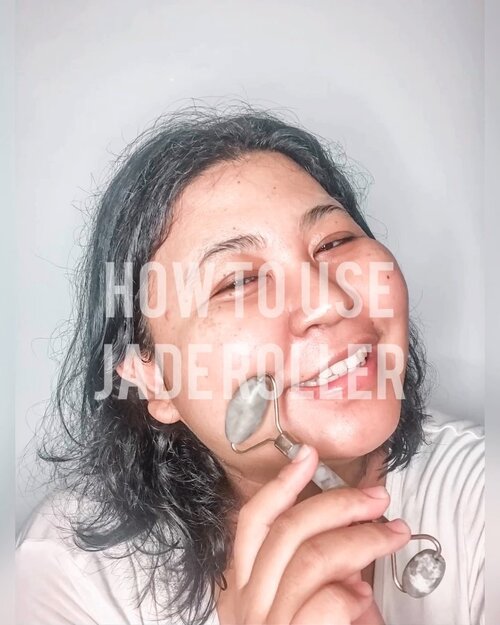 ✨ CARA MEMAKAI JADE ROLLER ✨.Hai haiii! Kali ini aku mau kasi tau cara pakai Jade Roller yang baik dan benar. Cara pemakaian:1. Gunakan dalam keadaan dingin. Aku biasanya taruh di kulkas semalaman.2. Biasanya di awal aku akan roll di setiap sudut wajah sampai bagain mata dengan tetap roll ke arah atas hingga dingin pada batu hilang.3. Setelah itu aku akan roll setiap bagian wajah ke atas 5x perbagian. Untuk leher ke bawah dan mata menyamping. Aku lakukan 3x sesi..Cara menyimpan:1. Bersihkan dengan air biasa mengalir. Seminggu sekali bersihkan dengan sabun wajah. Setelah dibersihkan lap sampai kering dengan tissue.2. Taruh pada kantong wadahnya, jangan biarkan baru terekspos udara luar langsung dengan waktu lama.3. Taruh di kulkas agar tetap dingin. Kalau gak punya kulkas, taruh di tempat bersih..Selama pemakaian, aku merasa wajahku memang less puffy terutama ketika makan mie instan. Aku merasa juga skincare lebih masuk. Aku emang biasa pake jade roller setelah pakai sheet mask karena paling banyak essence dan lama keringnya. 😅 sekalian nunggu gitu loh..Kalau kalian gimana nih cara pake jade roller-nya?.
#jaderoller
#howtousejaderoller
#jaderollerindonesia
#nightroutine
#nightskincare
#nightskincareroutine
#skincaresecrets
#perawatanwajah
#perawatanwajahpagihari
#selfcare
#perawatanwajahkusam
#perawatanwajahharian
#perawatanwajahdantubuh
#clozetteid
#balibeautyblogger
#beautiesquad
.
#vinaskinkeran
+ View more details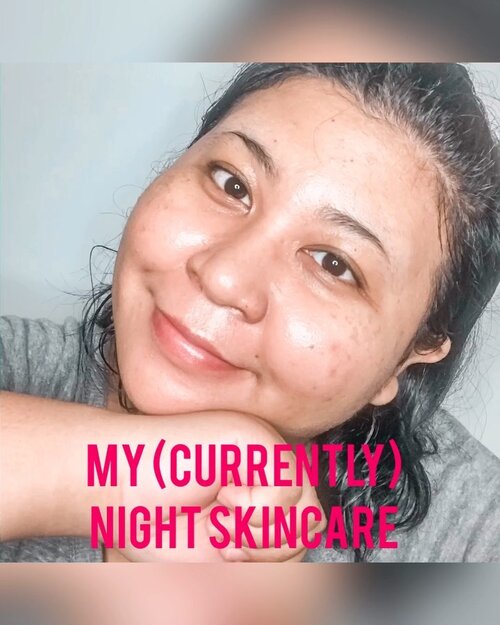 + View more details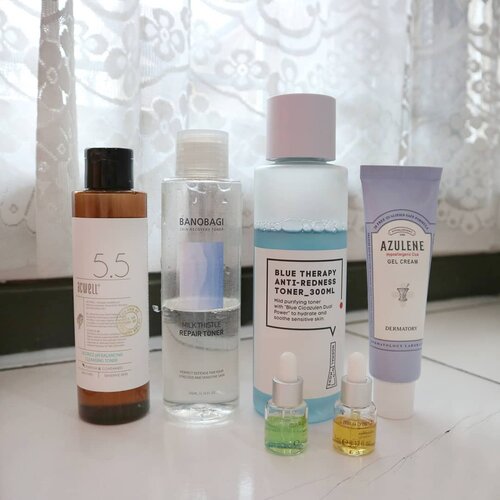 Night time Routine🌙
The first thing I do after work is of course, washing my face! Do you guys realize of how dirty your face is after a day out? Even though you think you're working indoor, dust and sebum is also there. So make sure you wash your face especially for night time.
Your skincare products won't work maximally if the "canvas" is not clean enough. I do double cleansing every night, the first cleanser I am using at the moment is
#Neogen
Real Cica Micellar Cleansing Oil and the second cleanser is
#ElsheSkin
Deep Cleansing for Oily Skin. They are both not in picture but after cleansing, I follow with these products:
•
#Acwell
Licorice Cleansing Toner
•
#Banobagi
Milk Thistle Repair Toner*
•
#NormalNoMore
Blue Therapy Anti Redness Toner
•
#MilaDopiz
Purifying/Vitamin C Ampoule*
•
#Dermatory
Azulene Gel Cream
I use double toning method focusing in hydration whenever I feel my skin is easily irritated or reddened. They help to calm and tone down the temperature when skin feels hot. I also use Mila D'opiz ampoule in certain areas only (purifying for small acne, vitamin c for cystic and pigmentation! Full reviews were already posted last week.) I actually have been incorporating an exfoliator to my night time routine. I want to see how it works first and will update you guys soon. xx
—
*Gifted
PS: Reviews are all based on my personal experience, all opinions are not influenced by the brand. But YMMV🙏
.
.
#gegeciellaskincare
#abbeauty
#skincare
#koreanskincare
#abbeatthealgorithm
#clozetteid
#idskincarecommunity
#abcommunity
#koreanbeauty
#beauty
#kbeauty
#asianskincare
#asianbeauty
#nightroutine
#skincareroutine

+ View more details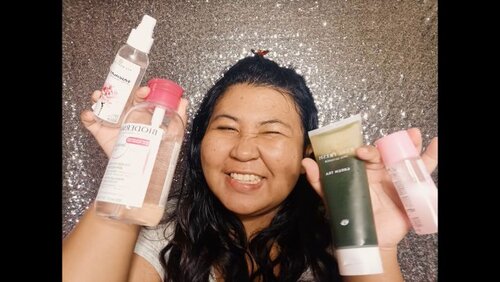 NIGHT ROUTINE GAK SAMPE 5 MENIT!
.
Ps.
Iya aku kan udah bilang iteman karena main di WB kemarin. :(
.
Kadang ya di hari dimana kita pulang malam, kasur memanggil tapi belum bersihin diri. Apa yg kalian lakukan?
.
Aku? Night routine, cebokan, siram badan tapi gak pake sabun, handukan, tidur. 😂
.
Nah, karena udah ngantuk berat, tentu night routine dibuat sesimpel - simpelnya, tapi aku gak lakuin setiap hari sih. Hanya ketika ngantuk berat dan capek.
.
Step pertama tentu bersihin make up dulu. Aku bersihin mata dan bibi pakai @pixycosmetics Eye & Lip Make Up Remover. Lalu dilanjutkan dengan @bioderma_indonesia Sensibio untuk membersihkan wajah dari kotoran dan debu.
.
Step selanjutkan pakai @altheakorea Real Fresh Skin Detoxer yang Green Tea sebagai masker dan cleanser. Kandungan greentea-nya membantu mengangkat impurities pada kulit sekaligus merawat kulit. Aplikasikan secara merata lalu diamkan selama 10 detik. Basahkan tangan lalu pijat lembut sekitar 1 menit dan bilas.
.
Step terakhir adalah toner! Gak boleh dilupakan untuk mengembalikan kelembapan alami kulit. Aku lagi pakai @thebodyheart rose water yang cocok untuk semua jenis kulit. Kalau sudah menyerap, ya udah, tidur. 🤭
.
Sesimpel itu, tapi ini cuma di keadaan darurat doank semacam gak kuat lagi untuk skinkeran sejam. 😂
.
#vinamaskeran
.
.
.
#nightroutine
#skincaremalam
#ngantuk
#ngantukberat
#altheakorea
#altheaangels
#pixycosmetics
#biodermasensibio
#thebodyheart
#skincare
#treatment
#dailyskincare
#nightskincare
#kulitcerah
#malas
#clozetteid
#masker
#maskerwajah
#caramerawatwajah
#maskoftheday
#selfcare
#skincareaddict
#skincarecommunity
#womenstyle
#maskerharian
#cantikalami
#perawatanwajah
#basicskincare
#tidur
+ View more details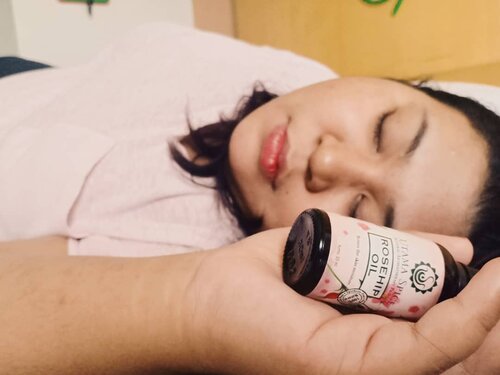 + View more details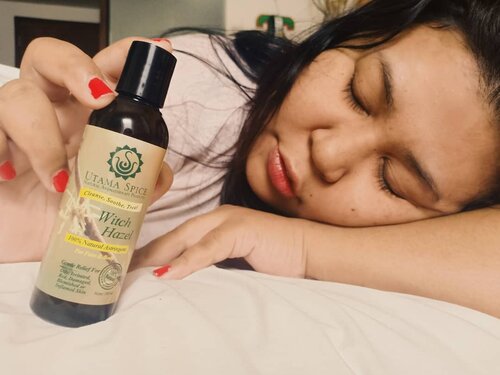 + View more details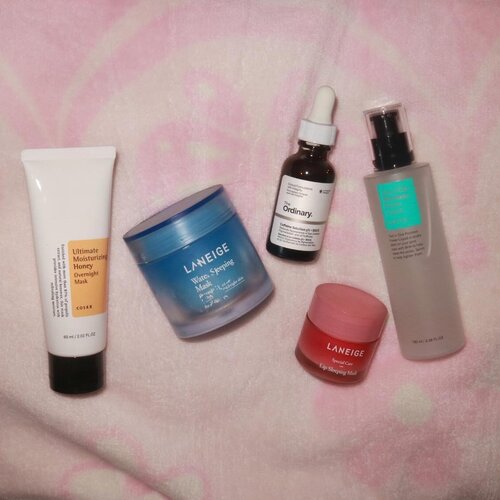 ✨Night Skincare Routine✨
I wash my face with @cosrx Good Morning Low PH Gel Cleanser first.
_
✨ COSRX Two in one poreless power liquid. @cosrx
It's my second day using this one. Still figuring out if I like it or not.
_
✨ COSRX Ultimate Moisturizing Honey Overnight Mask. @cosrx_indonesia
Cause the poreless power liquid is a bit drying.
_
✨ The Ordinary Caffeine Solution. @deciem
Pro tips: this one works better if you are tired!! One swipe then BAM your eyes feel so fresh.
_
✨ Laneige Water Sleeping Mask. @laneigeid
Of course I need more than one sleeping mask. 😆 This one is for my neck. It works better for my neck.
_
✨ Laneige Lip Sleeping Mask. @laneige_kr
Do I really need to explain how good this little girl on my lips? 😍
_
I have a small pimple on my chin. It's tragic because we have family event tomorrow. 😔
#skincareroutine
#nightroutine
#skincarejunkie
#oilyskin
#acneproneskin
#largepores
#laneige
#cosrx
#deciem
#theordinary
#caaantik
#caaantikbeautyblog
#clozetteid
#beauty
#starclozetter

+ View more details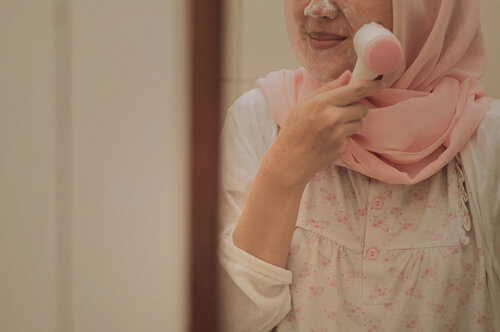 New favorite!!Omaygat secinta itu sama @jacquelle_official Facial Cleansing Brush si Clean Pink ini. Nyesel iiihh baru tau 😭Bersih banget kalo abis make up dan kena sentuhan lembut si bulu brushnya. (swipe for details) Sama sekali enggak berasa kaya bulu ini, cintah deeh! Udah gitu sisi silikonnya bisa membersihkan pori-pori sekaligus exfoliate. Cuma tinggal pake facial cleanser yang biasa kita pake aja kelar sudah kehidupan kotor dunia. Love you beb @jacquelle_official ❤️❤️Jangan lupa double cleansing beb mukanya abis kena polusi! ___________
#clozetteid
#doublecleansing
#nightroutine

+ View more details

loading ...
Back To Top