loading...
Search
2 RESULTS FOR PILLOWSPRAY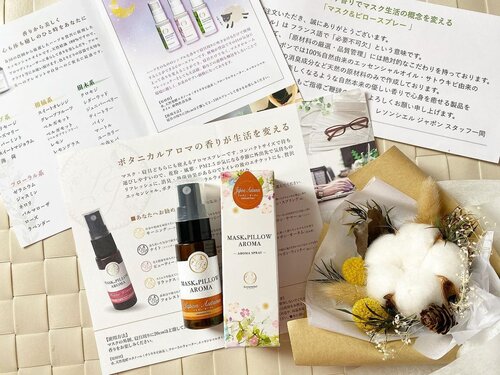 Aroma Spray for mask, pillow or room. This is their Autumn Scent which reminds me of a red colored leaves in the mountain side near Kyoto.
Product can be purchased here:
https://tinyurl.com/y8ons5n9
A direct e-commerce from Japan.
Mask Spray Derived from Plants] It comes with a cute box and is perfect as a gift.
"Autumn in Japan" with the fragrance of sweet Osmanthus that you will feel as fall comes. The rich fragrance of sweet Osmanthus is so comfortable and memorable.
As mask has become something we have to wear daily, scented mask gives us better mood and feeling. A 20 ml can spray 200 times (average 3 months). As it uses ethanol derived from sugar cane, it does not have the unique ethanol smell of mask spray. It also contains botanical deodorizer and has a deodorizing and bacteriostatic effect.
This 3-way product can be used for restroom etiquette, pillowcase, or room fragrance too. It contains essential oil and botanical floral water, so you can enjoy the original aroma. Recommended for those who like the scent of flowers, housewives, ladies, and those who like the calm scent.
[Contents of the blend] Kinmoku, bergamot, floral water, etc. [Use] Spray 2 to 3 times on the outside of the mask with a 20 cm gap. [Ingredients] Water, natural fermentation ethanol, floral water (pesticide-free), essential oil, plant deodorizer.
#love
#spray
#spraymask
#scented
#aromatherapy
#essentialoils
#tocoo
#Japan
#pillowspray
#beauty
#autumn
#shopping
#tocoomall
@tocoomall
#recommended
#igers
#igdaily
#dailyessentials
#dailyneeds
#clozetteID
#ecommerce
#smellsgood
#autumnvibes
🍁
#instadaily
#instagood
#aroma
#instadaily
#hello
#nature

+ View more details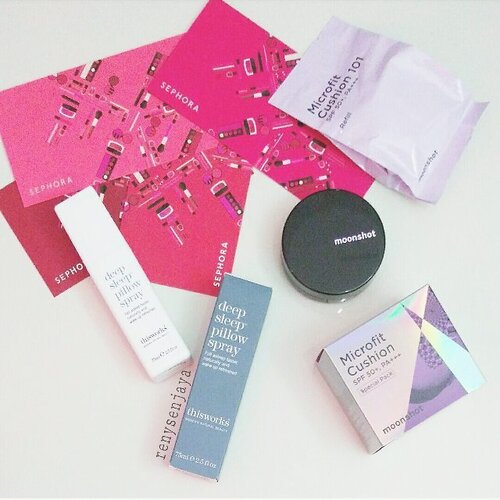 First Sephora haul in 2017 😜
As always, couldn't resist everytime passing by a Sephora store. Told myself it would only be a quick look around but in the end, it would be me carrying a basket queuing at the cashier 😅😅 Although this time, I managed to limit myself to grab only a couple items 😁 .
Welcoming @moonshot_korea Microfit Cushion to my collection 'cause I'm all about that BB Cushion life 😘 It is my second product from the brand; my first one being the Jelly Pot Eyeshadow and I love it! ❤ To be honest, I wasn't interested in purchasing this cushion at first place 'cause I thought it could possibly be just another advertising gimmick using famous idols to promote certain products. Don't get me wrong, I do love BigBang and G-Dragon, I mean who doesn't, even my hubby knows the names of all members 😂 However, when it comes to base products I can be really fussy; until I came across some good reviews on blogposts and YouTube videos about it, and YESS I need it to try it 😍 I'm lucky enough to be able to get the special pack version (with refill) which was the one Sephora sold when it was first launched. Normally, it comes with no refill although you can buy the refill separately but of course it would be more expensive when you total them. Fyi, Mine is in shade 101😉
.
The other one is a product I've been really wanting to purchase for such a long time, @thisworksofficial Deep Sleep Pillow Spray. Many people found this to be quite effective on helping them sleep better at night. Sometimes, I have trouble sleeping at night and I hope it would work on me and help me rest well 😪
.
.
#sephora
#sephorasingapore
#sephorahaul
#makeuphaul
#cushionfoundation
#pillowspray
#kbeauty
#koreanmakeup
#beauty
#makeup
#clozetteid
#beautyblogger
#beautycommunity
#naturalproducts
#greenbeauty
#makeupaddict
#makeupjunkie
#makeupcollection
#makeuplover
#makeupmafia
#makeupmess
#makeupobsessed
#makeupporn
#makeupoftheday
#instabeauty
#instamakeup
#thisworks
#moonshot

+ View more details

loading ...
Back To Top