loading...
Search
170 RESULTS FOR PLANTS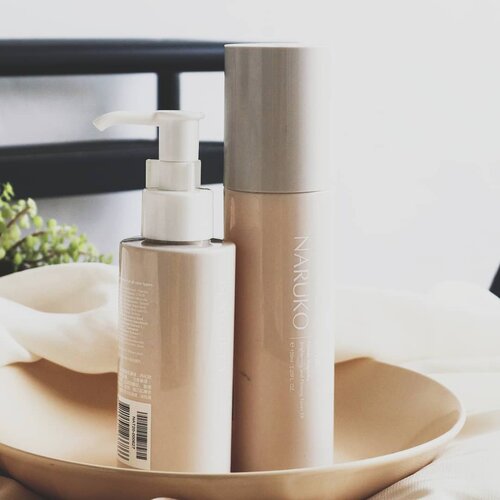 ✨ NARUKO TAIWAN MAGNOLIA SERIES*INGREDIENTS ANALYSIS🌸 Seri magnolia dari @naruko.indonesia diklaim bisa memutihkan kulit, menunda penuaan, melembapkan, dan menghilangkan noda noda melanin di kulit wajah. Well, ada benarnya sih, karena terdapat niacinamide, arbutin, licorice root extract, ascorbyl glucoside (vit C), dan ethyl ascorbic acid (vit C) terkandung di sini .🌸 Wangi magnolia yang cukup menyegarkan untuk saya.🌸 Sayang banget, PAO produknya 6 bulan saja. Kurang ngerti juga kenapa, setahu saya sebetulnya ada bahan pengawetnya yaitu ethylhexylglycerin untuk semua produk.🌸 Jika kamu ada alergi terhadap plant extract, coba perhatikan lagi bahan bahannya. Setahu saya sih bahan bahan di edisi magnolia enggak memicu iritasi kecuali lemon essential oil ..ABOUT THIS PRODUCT .🌸 Untuk toner-nya memiliki tekstur yang agak thick dibanding toner yang biasa saya pakai. Saya enggak menggunakan kapas karena rasanya buang buang isi produk. Lebih suka pakai tangan. Lembap, enak ♥️.🌸 Favorit saya sebagai banci moisturizer adalah lotion. Well, ini sih sebetulnya emulsion, jadi pakai ini meski cukup melembapkan, emang enggak bisa disebut moisturizer. Moisturizer sendiri gabungan humektan-emollient/occlusive (baca highlight HEO) l, sementara lotion ini ringan banget. Edisi zaman dulu botolnya mirip dengan toner, tapi untungnya sekarang model pump sehingga mudah dikeluarkan.🌸 Terakhir adalah maskernya! Agak membingungkan sih cara pakainya, karena ternyata bagian dagunya juga masih ada sambungannya. Saya sih templokin leher aja jadinya, lol. Ada ear holder, jadi bisa dipakai sambil tidur tiduran. Essence-nya rich banget. Saya pakai 30 menitan rasanya essence itu masih tersisa di sheet mask-nya..Overall, karena saya mencari produk yang bisa membantu mencerahkan bekas bekas jerawat, saya anggap seri magnolia ini menolong. FYI, saya nguji pemakaiannya kurang lebih 3 minggu, dan saya enggak pakai bahan pencerah lain. Tok cuma pakai Naruko saja sebagai pencerah.RATING Toner 3.75/5Lotion 4/5Sheet Mask 3/5.*For review purpose, review is my own personal opinion
+ View more details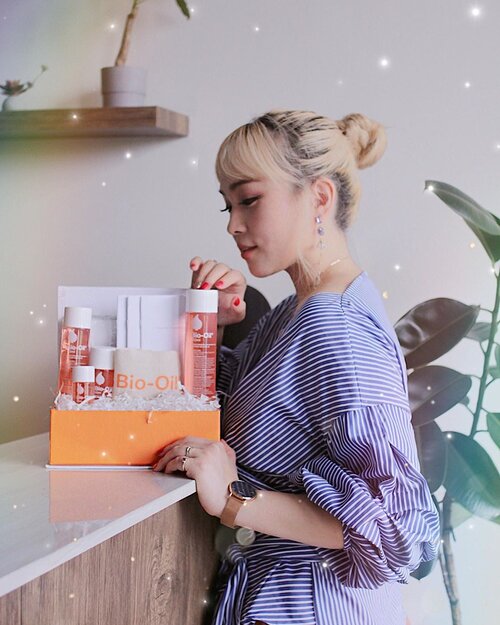 [Do you want to have a healthy and flawless skin like Korean?] @biooilidn is one of the most favorite skin oil brand in Korea. Korean people like to use it for overcome skin problems such as stretch marks (pregnant women), dehydrated skin while autumn and winter, also Korean beauty bloggers recommend to use it as makeup base. Here are about Bio-Oil: - Bio-Oil is a complete skincare product with extra benefit to take care your hair to your feet - therefore it's suit to support your good habit in caring your skin.- Bio-oil is well known as solution in healing scars and stretch marks and also its formula can be used to fix uneven skin tone, dry skin and prevent aging.- Bio-oil usually called as dry oil that can absorb quickly and does not sticky on skin because it contains Purcellin Oil and unique combination from organic plants and also vitamin A and E.How to use it?- Put Bio-Oil on your backhand and apply it to skin with problems while do a massage as clockwise move until it spread evenly.- For maximum result, use it twice a day after bath for minimum 3 months.- Use it to fulfill the needs of caring and solving different types of skin problem. Bio-Oil comes with 4 sizes: 25ml, 60ml, 125ml, 200mlCan I trust this brand?Bio-Oil is from South Africa and have been successfully sale in more than 86 countries, known as global brand since the widely sales in 2002.Honest review from onnie:I've used this product for almost one month and I want to share my experience with you. First, when my face got dehydrated, I apply Bio-Oil before sleep and before makeup. It's not oily and moisture my skin. Also, it helps to overcome scars on my face. Second, since I am a blond-hair person, I have to take care it to not getting dry. Therefore, I love to use Bio-Oil on my hair to prevent it getting dry and messy. I truly recommend Bio-Oil for those who has dehydrated skin, scars, stretch marks, and also dry hair.
#BioOilHealthySkinHabits
#PerfectFlaws
+ View more details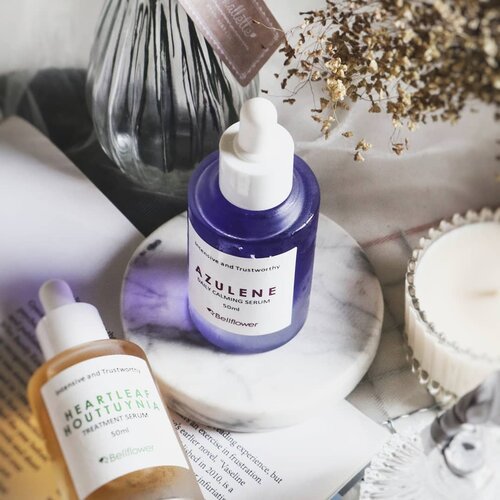 💦 @bellflower_global Azulene Daily Calming Serum*.INGREDIENTS ANALYSIS ✨ Terdiri dari gabungan bahan yang bikin iritasi dan noniritasi ekstrak tumbuhan. Misal, grapefruit extract, lavender extract, dan thyme extract. Sementara noniritasi contohnya licorice root extract.✨ Saya agak kaget karena katanya ini bisa tahan 12 M, sementara rasanya saya enggak melihat ada bahan pengawet di sini. Bisa juga karena saya melewatkan, enggak selalu saya hapal nama bahan pengawet.✨ Terdapat rh-Oligopeptide 1 yang bagus untuk antiaging .✨ Terdapat guaiazulene yang berasal dari chamomile yang diekstrak. Saya sudah pernah memakai guaiazulene dari brand lain, dan perlu saya akui, memang jempolan dalam mengatasi kemerahan dan iritasi, bikin kulit jadi kalem. Inilah yang bikin produk jadi berwarna biru.ABOUT THIS PRODUCT.✨ Serum ini memiliki tekstur cair. Wanginya herbal, campuran berbagai tanaman, namun tidak kentara, jadi sama sekali tidak mengganggu .✨ Botol kaca yang tebal meyakinkan saya bahwa produk ini dibuat secara berkualitas dan higienis! Cara pemakaiannya juga pakai pipet, jadi memudahkan buat pemalas macam saya, huehehe.✨ Kalau kulitmu lagi bermasalah, misal jerawatan atau skin barrier rusak, cobalah beralih ke produk mengandung guaiazulene. Bener, bagus banget. Namun perlu diperhatikan, siapa tahu ada bahan lain di Bellflower Azulene yang enggak cocok sama kulitmu .✨ Dengan ukuran 50ml, rasanya lama banget ya habisnya 🤔. Sebuah peer buat saya, mengingat saya enggak selalu mengalami iritasi. Jadi saya lebih menyarankan produk ini dipakai sama kamu yang rentan acne prone namun tidak alergi dengan plant extract.RATING3.5/5.WHERE TO BUYAs usual, belilah di bos elpiji @keranjangmica kalau mau dapat harga terjangkau dan original 🤭.*Gifted for review purpose by Bellflower
#skincareregime
#skincareblogger
#skincareaddict
#skincarejunkie
#bellflower
#redness
#pimples
#acneprone
#acnetreatment
#irritationskin
#idskincarecommunity
#clozetteid
+ View more details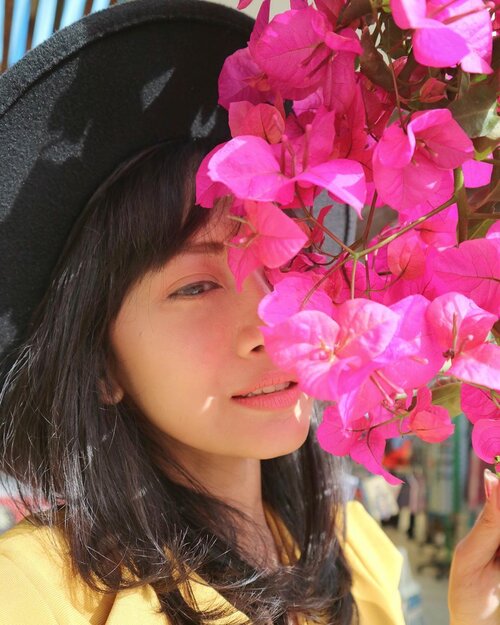 + View more details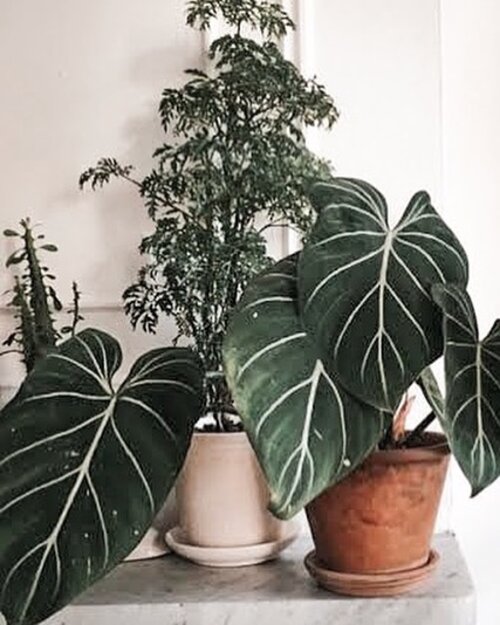 + View more details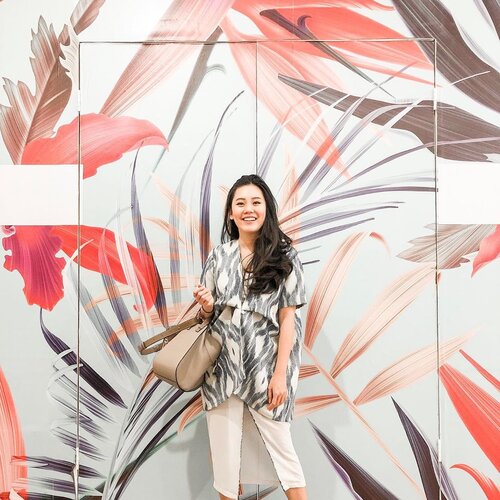 + View more details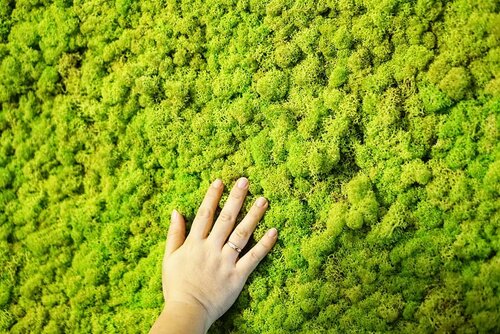 + View more details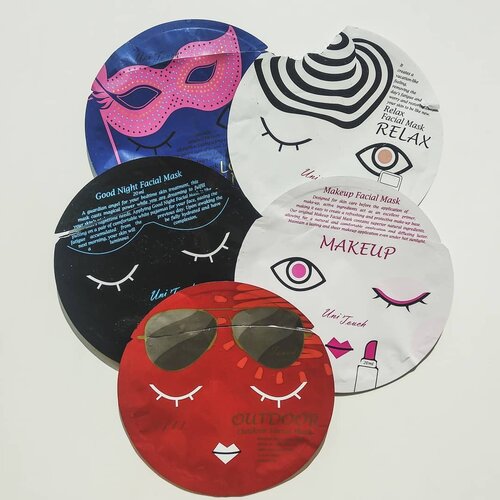 🤸 @unitouchindonesia MISS O SERIES*..Say hello to new luxury sheet masks from Taiwan that is launched today! Here's my two cents:.🤸 Good Night Mask: My favorite from all of the above! Perhaps because I rarely use black sheet mask, or it stick very well like another layer of my skin. It fit perfectly on my face! I don't have massage the leftover essence. After taking it off, you'll be very happy with your moist skin! Rating: 4/5.🤸 Long Night Mask: The fiber of this sheet mask is the thickest among all of them. There is a holder for the ear, so you could use it for long night without falling. I used it only about 30 minutes. I dislike it. The mask doesn't properly stick. The eyes are slightly pierced, while the mouth area is covering my lips. Rating: 3/5.🤸 Makeup Mask: Along with Relax, this is a sheet mask with a quite thin fibers. In accordance with its purpose, this mask is needed for giving enough moisture to my skin, so the makeup could sit perfectly on top of my face, without cracking and creasing! Rating: 3/5.🤸 Relax Mask: It used after you're tired all day long! The fiber is thin and sticks well so it could be used while resting. Rating: 3/5.🤸 Outdoor Mask: I don't understand the essence of distinguishing Relax and Outdoor Mask except for gimmicks. Well the fiber is thicker, the ingredient list is longer, but those could give the same effect after you are being exposed to UV light. So, meh, it is just the same. Rating: 3/5..INGREDIENT ANALYSIS:🤸 All if them contains essential oil and plants/flower extract, beware if you have any allergy .🤸Lactobacillus ferment doesn't trigger fungal acne.🤸 But only one sheet mask, Relax Facial Mask, which is quite safe to use if you have fungal acne .🤸 All of them are heavy with humectant. So if you're a lazybones, skip toner and essence if you're wearing Miss O Series, voila, you could directly use moisturizer/sunscreen! .*For review purpose
#unitouch
#unitouchindonesia
#sheetmask
#naturalskincare
#skincareregime
#skincareblogger
#rasiancommunity
#rasianbeauty
#sheetmask
#insommiareview
#clozetteid
+ View more details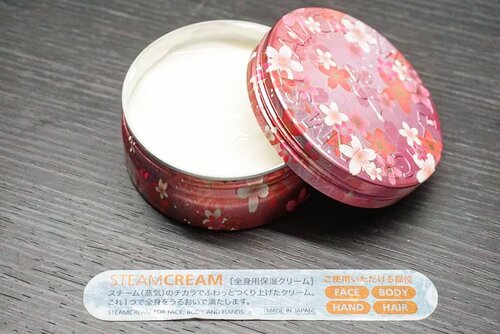 I knew about @steamcreamjapan from around 2009 to 2010, and I thought it was the best thing ever, since it is not just a moisturizer for ALL SKIN TYPE, but can be used for hair, body and hand too, without any greasy nor heavy feeling but still very much moisturizing and effective.
Now, I'm still a huge fan, keep purchasing one whenever I'm traveling to Japan. The brand itself is from UK (and yes, Japan too. Like Anglo-Japanese). The concept and technology is from Japan, here some of the details provided on the web:
Bright, white and light, STEAMCREAM exudes simplicity and purity, and it has the formula to match: Every limited-edition tin is enriched with 12 sustainable natural active ingredients, including raw plant extracts and essential oils, to nurture your skin. We use a shot of steam to extract the nutrients of oats, orange flower water and chamomile oil, fusing these with essential oils of rose, lavender and orange blossom, to enhance the virtues of each and every ingredient, along with the cream's absorption to your skin.
The tins? Oh it was another thing I'm crazy about. The sustainability, design, ideas, and my husband still use an empty one as his USB holder, it is waterproof, leakproof and hold things inside just nice without worrying it will fell apart open. The one he is having is 10 years old.
Carrying one during traveling is like a multi-tasking moisturizer for the whole family. I personally love the feeling whenever using the product, the smell of the natural ingredients is calming and addictive yet so nostalgic while the creamy milky texture pampering my skin with goodness. Definitely recommended.
#lovesteamcream
#ClozetteID
#bblogger
#recommended
#musthave
#steamcream
#best
#moisturizer
#love
#moistskin

+ View more details

loading ...
Back To Top