loading...
Search
3,190 RESULTS FOR PRETTY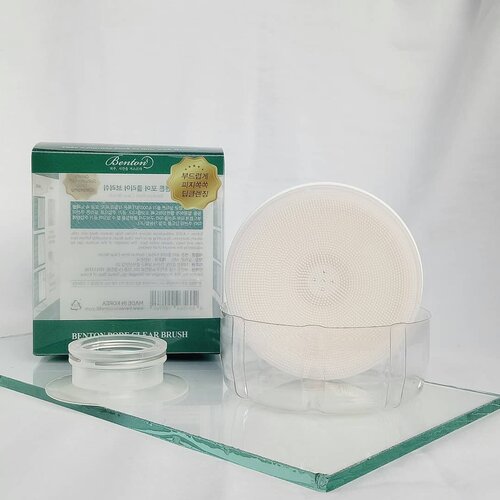 Benton Pore Clear Brush is a quick-drying antibacterial silicone brush which designed to improve the difficulties of drying and storing for old brushes. Have 0.4mm thick of 4,000 micro silicone bristles remove wastes and sebum inside pores effectively. 🌸
- 0.4mm micro silicone bristles make every pore to be deep cleansed by moving flexibly. - Cleansed thoroughly which is much meticulous than using hands, and it helps to improve skin texture. - The softness cushion feeling of brush gives comfortable feeling without giving any irritations to skin. 🌸 Packed with a plastic container that is equipped with a brush holder so that it can be stored in the bathroom safely. The packaging and shape of the brush looks elegant. 🌸 How to use it is quite unique, because we have to pump first so that the brush expands. In my opinion this is too wide in diameter, because it's a little hard to reach the edge of the nose. 🌸 I'm a little confused about the treatment of this brush so that it lasts and remains hygienic, but it is a brush which overcame the difficulties of drying and storing for old brushes, and it is safe to use with quick drying after simple washing with water.
It can be dried and stored at the same time by attaching to the holder. 🌸 I have dry skin type and have whiteheads and blackheads pretty much on the nose. I use this brush every time I wash my face at night after wearing makeup and activities all day. I really like the soft brush texture. I wear this once every 2 days, because if I use it every day my nose will get drier and there will be peeling skin. After washing my face using this product, my face feels clean even though I don't use first cleansing. I also feel the blackheads on my nose decrease.
Have you tried this product? let's share your opinion about this product.
#benton
#bentoncosmetics
#bentonporecleanbrush
#beautiesquad
#lianaekacom
#idskincarecommunity
#skincarecommunity
#skincare
#skincarelover
#skincarejunkie
#lokalskincare
#skincarelokal
#indonesiabeautyblogger
#beautybloggerindo
#clozetteid
+ View more details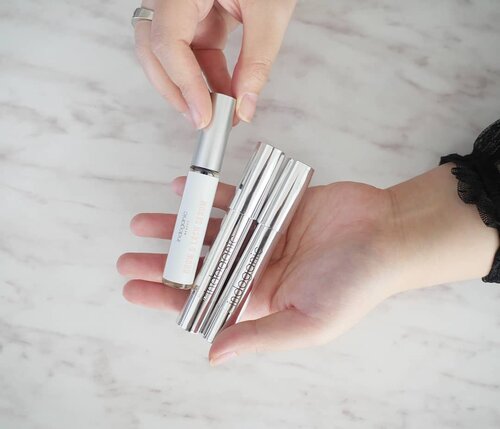 + View more details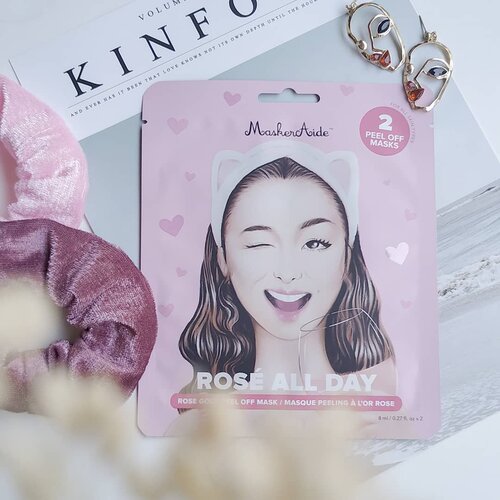 MaskerAide™ Rose All Day - Rose Gold Peel-Off Mask
.
Sebenarnya aku bukan orang yang suka peel-off mask, karena aku punya kulit sensitif dan seringnya kulitku jadi iritasi setelah pakai peel-off mask, so I prefer sheet mask or clay mask. Tapi.... Lihat deh masker ini super cute! Bukan sekedar kemasannya aja yang cute tapi tekstur dan warnanya juga bener-bener2 sesuai namanya, rose gold! So pretty ✨.
.
🍷MaskerAide is Canadian-Korean beauty brand, bingung nggak?? Jadi ini tuh brand Canada, diformulasikan di Canada but made in Korea, paham?
.
🍷Rose Gold peel-off mask ini mengandung honey extract, royal jelly extract, propolis extract, Rose water & Bergamot oil.
.
🍷 Tiap pack nya berisi 2 sachet masing-masing berukuran 8ml, 1 sachet bisa aku pakai 2x.
.
🍷Teksturnya kental berwarna rose gold, agak lengket tapi mudah diratakan. Gunakan agak tebal supaya mudah dikelupas.
.
🍷Baunya enak banget, kayak bau bunga gitu tapi bukan yang terlalu kuat. Sayangnya ketika dioleskan disekitar mata terasa agak pedih.
.
🍷Surprisingly, pas pakai masker ini ada soothing sensationnya, trus pas masker mulai kering tidak membuat wajah terasa ketat dan ketarik.
.
🍷Butuh waktu 15-20 menit untuk membuat masker kering seluruhnya. Ketika di kelupas tidak terlalu sakit dan masker yang mengering tidak mudah robek jadi bisa dikelupas secara utuh se-muka.
.
🍷Karena kulit mati ikut terangkat, wajahku jadi terasa halus, terlihat cerah & glowing setelahnya. Tidak ada tanda-tanda iritasi atau kemerahan.
.
🍷Agak takut jika kulitku bakal jadi kering, tapi ternyata nggak! Sepertinya kandungan madu, royal jelly & propolis extract yg membuat kulitku tetap lembap.
.
🍷Overall, ini masker yang bagus! Aku sarankan untuk menggunakannya seminggu 1x buat yang punya kulit sensitif, dan 2-3x buat yang kulitnya normal/berminyak.
.
.
Get yours now at my Charis Shop
https://hicharis.net/yourwilddaisy13/IvE
#roseallday
#maskpacks
#peeloffmask
#Maskeraide
#hicharis
@hicharis_official @charis_celeb @maskeraidebeauty .
#clozetteID
#bloggirlsid
#kbbvmember
#beauty

+ View more details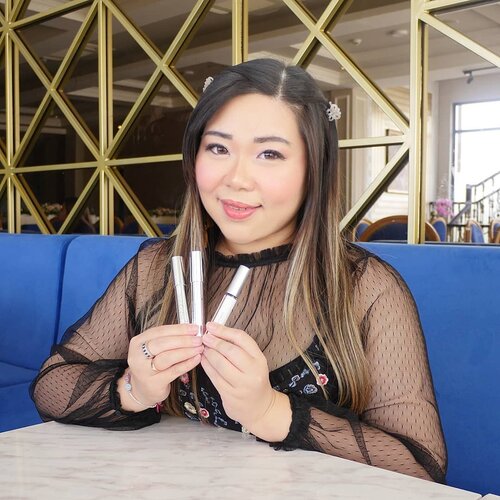 I have been enjoying using these products from @indoganic_official
So much lately, have you heard of this clean beauty (practical, simple and clean)concepted brand before? It's already BPOM and organic certified - all of the composition in their products are chosen carefully to make sure they are toxin-free.. First product that i tried is their Brow & Lash Serum that can be used on both your eyebrows and lashes. It has benefits to lengthen and volumized, stimulate growth, strengthen and make them healthier. I've use it for about 10 days on my lashes (because my eyebrows are very thick already) and my originally very thin and sparse eyelashes become thicker, darker and more volumized (swipe to see the progress)! I also enjoy using their Lip & Cheek Crayon that has very creamy and soft texture. Made with botanicals natural composition like Jojoba oil, Vegetable Squalene and Shea Butter that's very moisturizing as well as Raspberry Seed Extract and Grapefruit Oil. Like its name suggested, it can be worn on both the lips and cheeks. I love wearing these for everyday use as they are very soft and comfortable, and non drying even after being used the whole day.
The Lip & Cheek Crayon is available in 2 shades that are suitable for everyday use, swipe to see lip swatches. I love using the Natural Nude everyday because it can make my face more polished even when i wear no makeup while the Rosy Red is super pretty for days when i want to look very made up without wearing too much makeup.
The texture of the Lip & Cheek Crayon is so creamy that it feels more like a pigmented tinted lip balm for me. If you are someone who always wanted to try red lips but get intimidated by the boldness, i strongly recommend trying Rosy Red as the pigmentation can be controlled by using it lightly so the shade would still be beautifully red without being too bold but you can always amp the strength by applying more.
Thank you so much @indoganic_official
And @jakartabeautyblogger for the chance to try out these awesome products 😘
#indoganic
#indoganicbeauty
#indoganiccleanbeauty
#indoganicofficial
#JakartaBeautyBlogger
#JakartaBeautyBloggerFeatIndoganic
#clozetteid
#review
+ View more details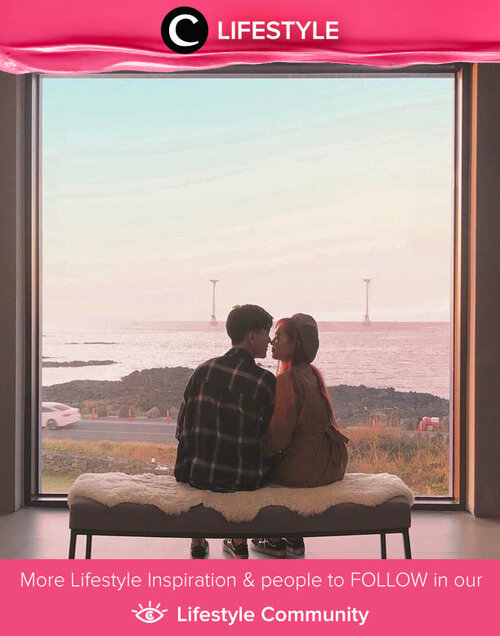 A romantic photo shared by Clozette Ambassador @soyankim, took place in Klein Blue Jeju Art Gallery and Coffee Shop. Super pretty! Simak Lifestyle Update ala clozetters lainnya hari ini di Lifestyle Community. Yuk, share momen favoritmu bersama Clozette.

+ View more details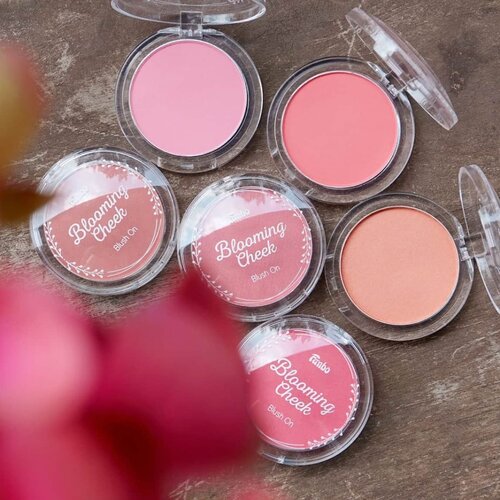 Affordable blush with 6 pretty colors! Blush on terbaru @fanbocosmetics ini warnanya cakep-cakep banget sih. Favorit aku yang shade 06 Warm Hug *next slide* 😊 Karena ada sedikit shimmernya jadi bikin look instant glow. Pipi beneran blooming like fresh flower~ Asal jangan like bakpao aja ya hehe. Shimmernya bener-bener subtle kok jadi gak lebay gitu ya 💖 Buat yang lagi nyari blush terjangkau dan pilihan warnanya banyak, cus cobain satu ini..
#FanboCosmetics
#FanboBloomingCheek
#JakartaBeautyBlogger
#JakartaBeautyBloggerFeatFanboCosmetics
@JakartaBeautyBlogger
+ View more details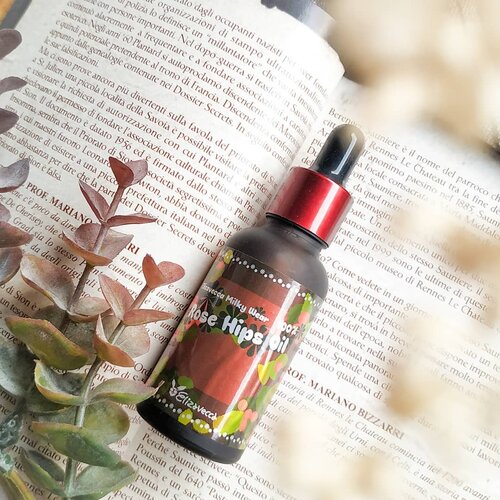 Elizavecca Milky Wear 100% Rosehip Oil
.
This is the first oil that I dare try to apply it on my face. I have read about how good rosehip oil is, some people said it works like magic for the skin. .
First, I'd like to highlights what are the benefits of rosehip oil as stated at littlediy.com
❤ Fades Wrinkles : It help stimulate collagen production & slows down aging.
❤ Fights Acne : The oil's acid content helps prevent blackheads & whiteheads.
❤ Evens Skin Tone : Using it at night to fade scars, spots & pigmentation.
❤ Fade Stretch marks : Massage oil into your stretch marks to help repair the damage skin.
❤ Hair Growth : Helps repair the damaged hair & promots healthy hair growth.
.
The oil housed in frosted amber glass dropper bottle. I think this is the old packaging, because they already have the new packaging with their cute piggy illustration on it.
.
Since it's 100% rosehip oil & there's no artificial fragrance added, so it's smell slightly musty.
.
It has clear & liquid texture, feels abrasive and greasy, so I chose to mix it with my moisturizer before applying it onto my face to reduce its uncomfortable greasy feeling and unpleasant scent.
.
This oil works pretty well for my seasonal dry patches. I frequently have dry patches due to weather changes or when my skin got bad reactions of a new products. By using this oil, I can see that my dry patches are slowly disappearing and my skin has become more moisturized.
.
I plan to use it for my thighs stretch marks. My weight increased dramatically, around 11 kg, so stretch marks appeared on my thighs. I will share how the results later...
.
This product was provided by
#elizavecca
in exchange for honest review.
.
.
#rosehipoil
#elizaveccarosehipoil
#clozetteID
#bloggirlsid
#kbbvmember
#beauty
#beautyblogger
#beautyreview
#beautycommunity
#skincare
#skincarereview
#skincarecommunity
#skincareroutine
#skincarediary
#skincarelover
#kbeauty
#koreanbeauty
#kskincare
#koreanskincare
#koreanmask
#koreansheetmask
#glowingskin
#glowskin
#acneproneskin
#antiacne
#acne
#sensitiveskin
#acnetreatment

+ View more details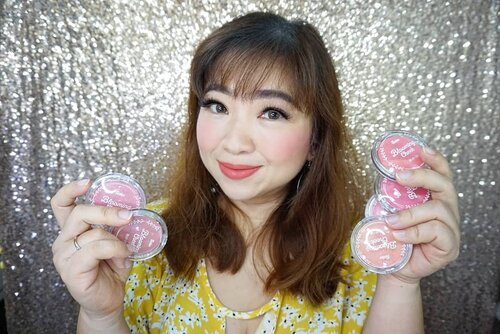 + View more details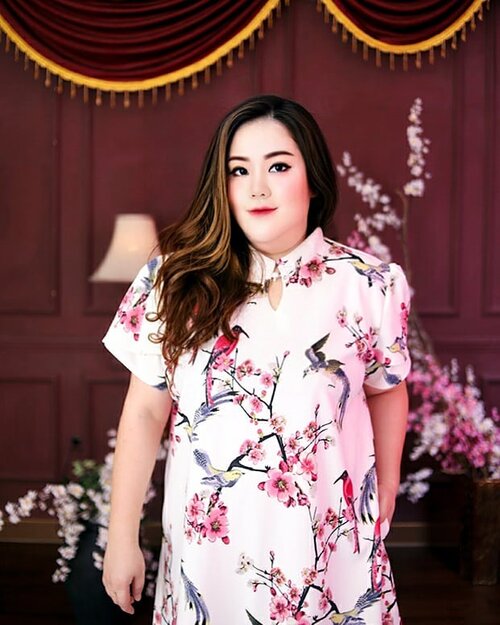 + View more details

loading ...
Back To Top