loading...
Search
720 RESULTS FOR QUICK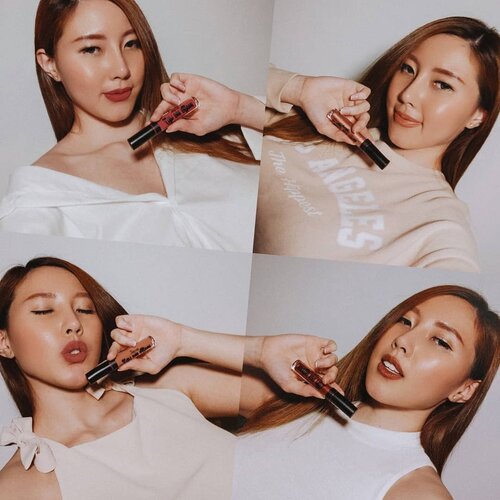 Akhirnya aku sadar, ngeswatch lip product adalah hobi aku 🤭 Soalnya what your lipstick color might say about your personality. Disini aku cobain 4 shade dari @barrymcosmetics_id 's Matte Me Up, 2 Lip Kit Metallic & 2 Liquid Lip Paint : (L to R) Runway, Couture, Go To, Prestige. Here's a quick review :
.
Color • • • • • SHEER | VIVID ☆☆☆☆☆
Texture ☆☆☆☆☆ LIGHT | HEAVY • • • • •
Finishing ☆☆☆☆☆ MATTE | CREAMY • • • • •
Longevity • • • ☆☆ LOW | HIGH • • • • •
.
Barry M is a must have British cult cosmetics and 100% vegan & cruelty free. Salah satu drugstore brand yg hits banget di kalangan Beauty Blogger/Vlogger luar. Pokoknya kalau kalian cari reviewnya udah banyak banget! Available at @sociolla
.
#LoveBarryMBarryBarryMuch
#BarryM_id
#ClozetteID
#Makeup
#lipstick
#MOTD
+ View more details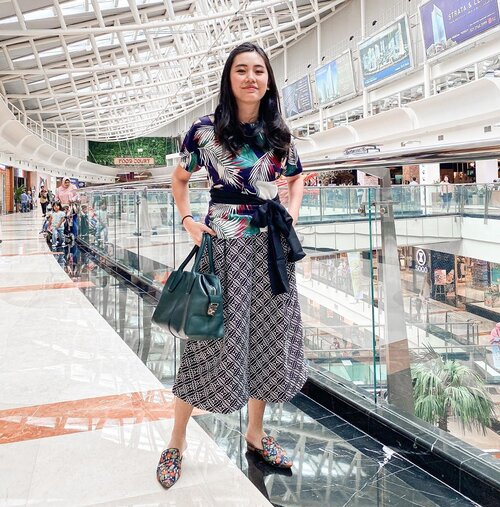 Weekend kemarin menyempatkan quick date sama paksu, 3 jam aja keluar rumah berdua. Cuma nonton Little Women lalu pulang lagi. Great movie, btw.
Meskipun kangen Owen (apalagi pas ada choo choo train lewat ya ampunnnn, never in my life had I imagined I'd miss someone so bad at the sight of choo choo train LOL), tapi it was so refreshing. Kayak zaman pacaran lagi. I think it's good untuk dilakukan lebih sering.
How about you? Do you still go on a date with your partner? If so, how frequent? (Wearing a tropical top from @shopataleen )
#momblogger
#ootdmommy
#clozetteid
#ootd
#lookbookindonesia

+ View more details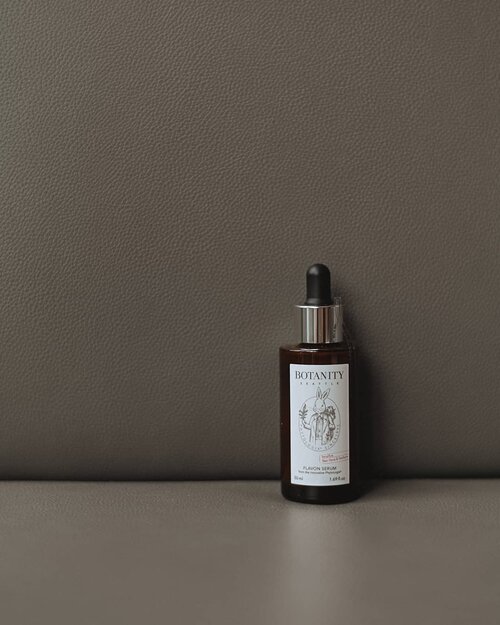 Serum Lancome aku udah abisss, saatnya cobain serum @botanity_id Baru pakai sekitar 2 mingguan dan kepingin share quick reviewnya disini :
.
BOTANITY FLAVON SERUM
Volume : 50ml | Price : IDR 399.000,-
Ingredients : Uniflavon™bamboo & scutellaria root extract, lotus extract, propolis extract, centella asiatica extract, honeysuckle extract, dan bellflower root extract
.
-Texture • ☆☆☆☆ LIGHT | WEIGHT • • • • •
-Based • ☆☆☆☆ WATERY | OILY • • • • •
-Fragance • • ☆☆☆ SOFT | STRONG • • • • •
-Finishing ☆☆☆☆☆ SMOOTH | THICK • • • • •
.
PROS
✔ Rich & Moist
✔ Quick Absorb
✔ Easy to blend
✔ Soothe Redness
.
CONS
✖ Over moist for oily skin.
Ada kalanya kulit jadi sangat berminyak menjelang period, suka clash muncul jerawat kalau pakai skincare yg moisturenya cukup tinggi. Siasat kalau kondisi kulit lagi minyakan parah, ganti dengan skincare yg lebih mild. Pelembab alternatif aku Aloe Vera Gel.
.
Shop : @neuffa
.
#ClozetteID
#Skincare
#BeautyBlog
#KoreanSkincare
#Review
#SkincareRoutine
+ View more details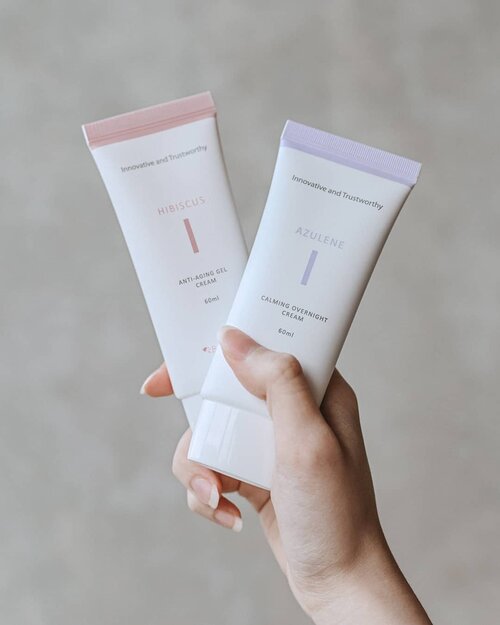 Beberapa bulan lalu aku dikirimin produk ini sama @bellflower_official Sejujurnya aku jarang cocok sama skincare Korea karena hampir semuanya over moist di aku malah jerawatan. Tapi karena sebelumnya aku uda pernah pakai treatment serum Heartleaf Houttuynia-nya @bellflower_official dan cocok! Jadi aku beraniin diri buat terima dan cobain cream-nya. Here's a quick review :
.
HIBISCUS ANTI-AGING CREAM
Volume : 60ml | Price : $15.00
Ingredients : Hibiscus sabsariffa flower extract 5,000ppm, Adenosine Collagen
.
- Texture ☆☆☆☆☆ LIGHT | WEIGHT • • • • •
- Based ☆☆☆☆☆ WATERY | OILY • • • • •
- Fragance • • ☆☆☆ SOFT | STRONG • • • • •
- Finishing ☆☆☆☆☆ SMOOTH | THICK • • • • •
.
PROS
✔ Travel Friendly
✔ Quick Absorb
✔ Easy to blend
✔ No clog pores
.
CONS
- (little bit) smells like medicine
.
.
AZULENE CALMING OVERNIGHT CREAM
Volume : 60ml | Price : $15.00
Ingredients : Centella asiatica extract, Hottuynia cordata extract, Camellia japonica seed oil, Guaiazulene
.
-Texture • • • • • LIGHT | WEIGHT ☆ • • • •
-Based ☆☆☆☆☆ WATERY | OILY • • • • •
-Fragance • • • • • SOFT | STRONG ☆ • • • •
-Finishing ☆☆☆☆☆ SMOOTH | THICK • • • • •
.
PROS
✔ Travel Friendly
✔ Quick Absorb
✔ Easy to blend
✔ No clog pores
✔ Reduce redness
.
CONS
- ✖
.
Shop :
https://www.bellflowercos.com/
Free shipping worldwide
.
#reviewskincare
#koreanskincare
#ClozetteID
#skincare
#skincareroutine
#skincareproducts
+ View more details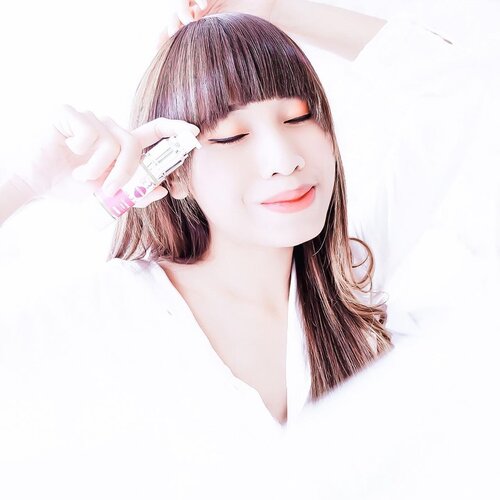 + View more details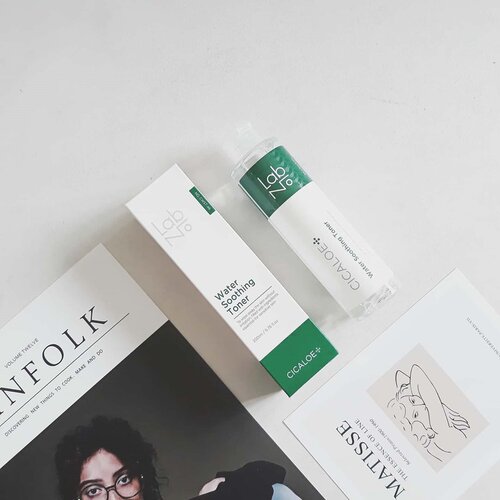 🌱☘🌿CICALOE WATER SOOTHING TONER from @labno__official 🌱☘🌿 Cica or Centella Asiatica and Aloe Vera are great ingredients for calming skin. This toner is suitable for acne prone and sensitive skin. How does it work on my normal to dry skin?
Lets do a quick review 🌟
PACKAGING - The design is very 'medicine-like'. It got a strong vibes of 'clinical treatment'. Beside, the typography is clean and simple, too. If you're not comfortable with having to brought this medium-sized bottle when you're traveling, you can just simply depot the toner inside a smaller bottle for travel.
TEXTURE & FRAGRANCE - An ordinary watery toner. No alcohol scent and it got a tangy smell, don't really fancy it. It's sort of similiar to Jumiso Yes I Am Toner which is i've reviewed before.
AFTERMATH - Although LabNo claims this is a hydrating toner, it isn't enough for my dry skin. But if you have oily skin, maybe the amount of hydration is just perfect.
The soothing effect is also so-so, i think. It does nothing to my itchy dry patches, but it helps for some redness on my cheek. So, i can conclude that Cicaloe Water Soothing could fit as a calming or soothing toner, but no as a hydrating toner.
Buy this toner here 👉 𝗵𝗶𝗰𝗵𝗮𝗿𝗶𝘀.𝗻𝗲𝘁/𝗮𝗻𝗻𝗶𝘀𝗮𝗽𝗲𝗿𝘁𝗶𝘄𝗶/𝗜𝗿𝗲 👈 and get Rp41.000 off your order 🍃
#LABNO
#CicaloeWaterSoothingToner
#hicharis
@hicharis_official @charis_celeb
#charisceleb
#vsco
#clozetteid
#cleanflatlay
#skincarereview
#skincareenthusiast
#skincarejunkie
#beautyblogger
#beautybloggerindonesia
#kbeauty
#kbeautyenthusiast

+ View more details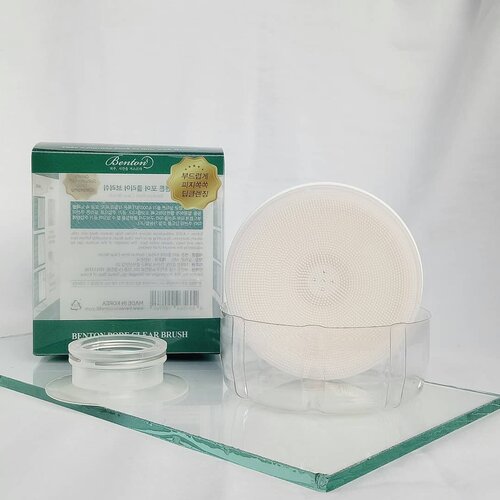 Benton Pore Clear Brush is a quick-drying antibacterial silicone brush which designed to improve the difficulties of drying and storing for old brushes. Have 0.4mm thick of 4,000 micro silicone bristles remove wastes and sebum inside pores effectively. 🌸
- 0.4mm micro silicone bristles make every pore to be deep cleansed by moving flexibly. - Cleansed thoroughly which is much meticulous than using hands, and it helps to improve skin texture. - The softness cushion feeling of brush gives comfortable feeling without giving any irritations to skin. 🌸 Packed with a plastic container that is equipped with a brush holder so that it can be stored in the bathroom safely. The packaging and shape of the brush looks elegant. 🌸 How to use it is quite unique, because we have to pump first so that the brush expands. In my opinion this is too wide in diameter, because it's a little hard to reach the edge of the nose. 🌸 I'm a little confused about the treatment of this brush so that it lasts and remains hygienic, but it is a brush which overcame the difficulties of drying and storing for old brushes, and it is safe to use with quick drying after simple washing with water.
It can be dried and stored at the same time by attaching to the holder. 🌸 I have dry skin type and have whiteheads and blackheads pretty much on the nose. I use this brush every time I wash my face at night after wearing makeup and activities all day. I really like the soft brush texture. I wear this once every 2 days, because if I use it every day my nose will get drier and there will be peeling skin. After washing my face using this product, my face feels clean even though I don't use first cleansing. I also feel the blackheads on my nose decrease.
Have you tried this product? let's share your opinion about this product.
#benton
#bentoncosmetics
#bentonporecleanbrush
#beautiesquad
#lianaekacom
#idskincarecommunity
#skincarecommunity
#skincare
#skincarelover
#skincarejunkie
#lokalskincare
#skincarelokal
#indonesiabeautyblogger
#beautybloggerindo
#clozetteid
+ View more details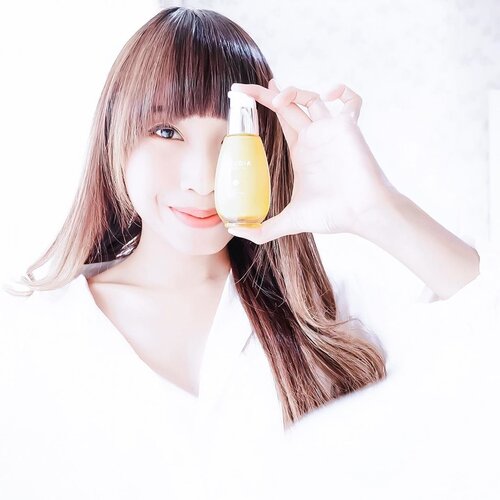 The famous skin care is here !I've been seen and read about @frudiaindonesia on my timeline for many times 🙈-It makes me curious about it and decide to try it out. But first, let me tell you about it. @frudiaindonesia is the on of K-Beauty brand that concern with skin care products. They have a lot of series and that time I have a chance to try CITRUS BRIGHTENING SERIES. Fyi, for brightening series they have 5 products inside.-What's good?That contain 71% Jeju orange extract to replace a water contain.Brightening and flatten our skin tone.Fruit seed oil complex inside this serum, help to Moisturize our skin and help it from dehydration.Serum texture is light enough and not sticky at all.Inside the serum, there's shimmers that makes our skin brighten fast.Fading any blackspot and flex.Quick to dry.Suitable for all skin type (included sensitive skin) Citrus or orange fragrance.Down side?For me, the citrus/orange fragrance is too strong. Actually I like the flowers fragrance.I RATE IT 4/5 !-How to use?Put this serum twice a day (day and night) before you put any moisturizer or sunblock. Use it regularly for maximum result.-Where's to
[email protected]
🙈Wanna to try? Or still curious about this serum? Stay tune on my IG stories really soon 🍊...
#clozetteid
#sbbxfrudia
#sbbreview
#sbybeautyblogger
#frudiakorea
#brighteningserum
#brighteningskincare
#bloggersurabaya
#bloggerjakarta

+ View more details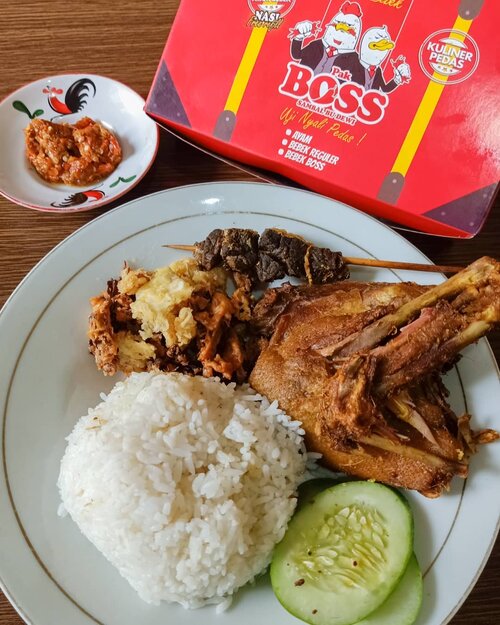 Udah tau mau makan siang apa hari ini? Kadang kalau dari pagi mendung dan seharian hujan, jadi mager ya 🤣🤣🤣 .
No worries, if you are looking for a quick what-to-eat solution. Ada @ayambebekpakbosslaladon yang udah siap sedia dengan berbagai paket ayam dan bebek 😍😍 .
Jadi kemarin pesen paket Bebek Pak Boss dan paket ayam. Nah kalau ini paket bebeknya. Udah lengkap sama nasi, bebek goreng, sate paru (bisa diganti tempe), timun, sambal dan KOL CRISPY! Auto jadi kesukaan Rio sih yang kol crispy ini 🤣 ga terlalu berminyak juga, jadi ga khawatir bakal batuk~ .
Rasanya enaaak! Kenyang juga karena banyak lauknya sih ya hahaha. Bebeknya gede dan empuk. Sambelnya juga pedessss banget. Cocok lah buat cuaca yang selalu bikin laper kaya gini (apa cuman saya aja yang laperan ya 🙄). Ini aja nasinya ambyar karena Rio ga sabaran makan 🤣🤣 .
Harga semua ininsekitar Rp. 30.000,- ajaa. Dan banyak paketan yang lebih murah 😍 anyway @ayambebekpakbosslaladon juga ada program review dan bisa dapet kesempatan makan gratis loh. Silakan melipir ke IGnya yaaa untuk info lebih lanjut 😚 jadi kalian makan siang pakai apa nih? .
--------
.
#ayambebekpakboss
#ayambebekpakbosslaladon
#bebekgoreng
#ayamgoreng
#paketbebekgoreng
#paketayamgoreng
#bogorkulinary
#bogoreatery
#paketnasi
#instafood
#foodblogger
#foodgram
#restobogor
#ClozetteID
#clozettedaily

+ View more details

loading ...
Back To Top