loading...
Search
261 RESULTS FOR REFLECTION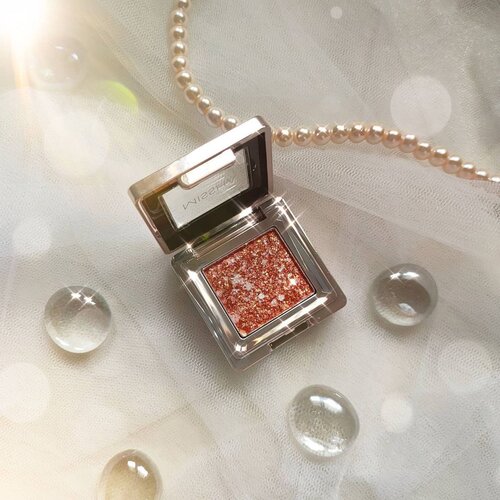 My love for shimmery Korean eyeshadow will never fade 🙈.I usually prefer eyeshadow palettes, but for micro glitter shimmery shadows, i don't mind singles - like this @misshaglobal.official Kodern Shadow Glitter Prism. Weirdly enough i cannot find the shade's name in the packaging (or it might only written in Korean, which i definitely cannot read) i thought it was Lucid but i dug up my old receipt (i got it from @altheakorea a while back) and turned out it's
#9
Dragon - which looks almost bronze-brick red in the pan but translate into a more Rose Gold shade when used.I was drawn to the unique presentation and it's actually hand made??? Which makes it all the more interesting for me. It seems like they combined and pressed several colors, shimmers and micro glitters for each shade and press them together, resulting in highly reflective, full dimensioned glittery, pigmented (the swatch only took me some light swipe okay) shadow. It's just simply beautiful, smooth (no grittiness whatsoever, the glitter particles are sooo fine) and easy to use. I am happy with the shade i chose, it's very easy to wear and pair with most shades and it's pretty enough to wear on its own (not many shades can be worn solo and not make my eyes looks smaller/weird) - but because it's soo pretty... I kinda want to collect all of the shades and there are quite a lot of them 😭. Price wise, it's not too expensive (78-120k, depending on the OS), but if you try to get them all, obviously they add up 🤣.I am obviously in love and that means i highly recommend it, even if you don't wear a lot of makeup and just want some color on your eyes and be done with it, i think you will appreciate this one. TAKE ALL MY MONEY!
#glitter
#eyes
#glittereyeshadow
#kbeauty
#clozetteid
#sbybeautyblogger
#BeauteFemmeCommunity
#shimmeryeyeshadow
#eyeglitter
#reviewwithMindy
+ View more details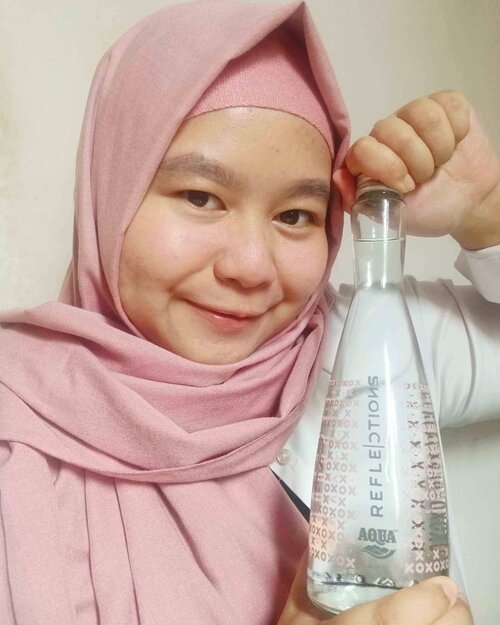 Beberapa tahun yang lalu, saat saya mulai belajar soal basic skincare, ada satu hal yang paling saya ingat. Hydration is key. 👌🏻 Semenjak hamil sih saya juga disarankan mengonsumsi air yang banyak agar kondisi kandungan bagus. Nah, ternyata ada efeknya juga. Memang kulit terlihat lebih glowing dan kalau bangun, kulit juga tidak terlalu berminyak. Yeay! 🥰Padahal sekarang lagi ngehits yaa trend "glass skin" & "glowing skin" yang terlihat sehat dan moist itu. Memang sih banyak yang jadi membeli skincare, tapi ternyata menghidrasi kulit dari dalam juga penting loh. Oleh karena itu, @sociolla bersama @aqua_reflections berkolaborasi mengeluarkan edisi spesial Aqua Reflections x Sociolla untuk menunjukkan pentingnya rutin minum air berkualitas agar kulit dapat memancarkan kecantikan alaminya. "Hydration All The Way, Inside and Outside" is very important! 💯Selain minum, skincare yang hydrates and moisturizes juga jangan lupa dipakai yaa. Kaya serangkaian produk dari @ariul_id, @klorane_idn @koreanaestheticskincare_id @sukinskincare_idn dan juga @mediheal_idn ini. Lengkap! Jangan lupa juga untuk ikuti giveawaynya biar punya hydration box lengkap dari Sociolla, hanya sampai Februari 2021 saja~ Caranya : 💧Beli produk AQUAxSociolla di Sociolla Offline Store. Psst, bisa scan QR codenya juga untuk mendapatkan e-voucher yang berlaku sampai akhir tahun 2021 loh. 💧Minum & tunjukan botol AQUA sambil menggunakan Instagram filter AQUA x Sociolla yang bisa kamu temukan di Instagram @sociolla💧Peserta yang mengikuti challenge harus follow IG @sociolla, @beautyjournal, dan juga @aqua_reflections💧Simpan postingan di IG Story Highlight dengan judul "AQUAxSociolla" dan jangan lupa & Comment "DONE" di postingan Giveaway AQUAxSociolla di Instagram @beautyjournalGood luck! Kalau mau tips dan penjelasan perbedaan produk hydrating vs. moisturizing, bisa check di blog post faradiladputri.com ya. Keep staying hydrated!.-------.
#StartwithSBN
#beautyjournal
#
#hydratetoradiate
#aquareflections
#aquaxsociolla
#cumadisociolla
#sociolla
#liveyourfinestreflections
#stayhydrated
#hydratedskin
#kulitterhidrasi
#clozetteid
#clozettedaily
#skincarejunkie
#hydratingskincare

+ View more details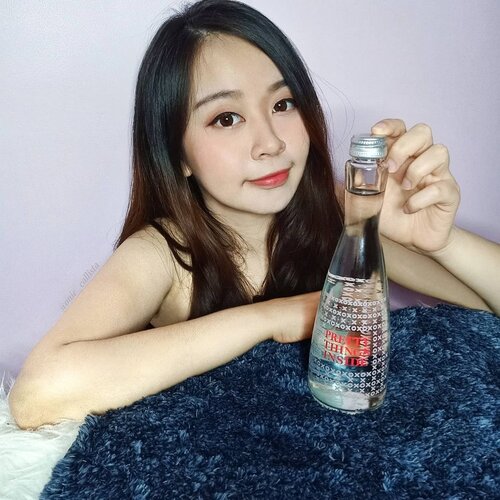 Semua perempuan pasti pengen banget punya kulit yang sehat dan cerah. Mulai dari penggunaan skincare, sampai perawatan ke klinik kecantikan. Tapi pada tau ga si penting banget mengkonsumsi air minimal 2 liter tiap hari?Selain bisa menjaga kesehatan tubuh kalian, air juga membantu menghidrasi kulit kalian loh! Air membantu menjaga kelembaban kulit kalian dari dalam.Dan kali ini @sociolla bekerjasama dengan @aqua_reflections , meluncurkan AQUA Reflections limited edition! Setiap tetes AQUA Reflections membawa kebaikan dari kandungan mineral alami seimbang, yang baik untuk kulit kalian . Berasal dari satu sumber terlindungi, membantu hidrasi kulitmu dari dalam dengan optimal.Menarik nya lagi, di botol limited edition AQUA Reflections x Sociolla, kamu juga bisa scan QR code pada botol untuk mendapatkan kejutan spesial, lho! Dari QR code tersebut, kamu bisa langsung log in atau sign up SOCO ID dan mendapatkan e-voucher senilai Rp25.000 yang berlaku sampai 31 Desember 2021. Kalian bisa dapetin di seluruh offline store Sociolla yaa! ❤️Dan aku punya beberapa rekomendasi skincare nih buat menjaga kulit kalian agar tetap terhidrasi dengan baik:1. AHC Hyaluronic Cleansing Foam2. MediHeal N.M.F Aquaring Ampoule Mask EX.3. Sukin Original Hydrating Mist Toner4. Ariul Smooth & Pure Micellar Cleansing Water5. Klorane Fleur De Cupuacu Ultra Nourishing Body LotionUntuk review selengkapnya, jangan lupa cek blog aku ya! 🥰So, jangan lupa jaga kelembaban kulit kalian dengan minum air minimal 2 liter sehari dan dapetin banyak manfaat nya! ❤️
[email protected]
_id @mediheal_idn @sukinskincare_idn @koreanaestheticskincare_id @klorane_idn-
#AquaReflectionsxSociolla
+ View more details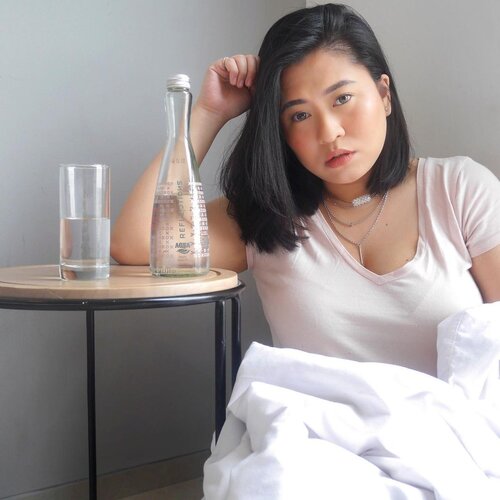 + View more details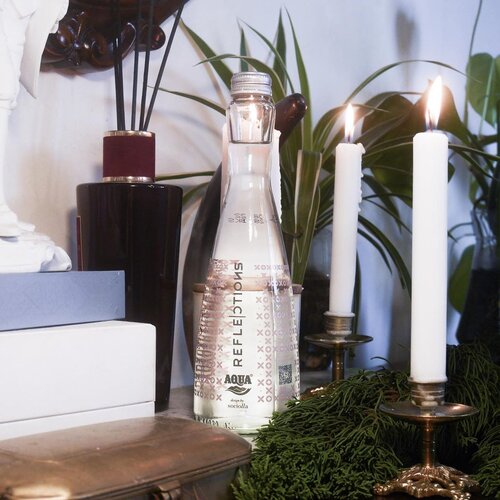 Here y'all!!!!! A very thoughtful yet sophisticated collaboration, @aqua_reflections x @sociolla 🎉Punya tagline ~ Hydrate to Radiate : Hydration All The Way, Inside and Outside. Jadi collab ini mengingatkan kita kalau mau achieve kulit cantik dan sehat itu dengan kulit yang terhidrasi dari dalam dan luar. Dari dalam dengan minum air sebanyak 2Liter sehari. Kalau yang kalian minum air yang berkualitas, efeknya pun akan lebih maksimal. Dari luar tentunya dengan skin care yang tepat.Selain Sociolla membuat design gemesh untuk botol AQUA Reflections, di kolaborasi ini mereka sudah melakukan "kurasi" produk skincare apa aja yang bisa bikin hidrasi kulit jadi maksimal. List produk-produknya tentu sudah ada di Sociolla. MANTEB KAN??? UDAH DIPILIHIN BEB, kita tinggal pilih sesuai kebutuhan aja.Kebetulan di sini aku punya beberapa produknya :- @ariul_id Micellar Water- @klorane_idn Ultra Nourishing Body Lotion- @koreanaestheticskincare_id Hyaluronic Cleansing Foam- @sukinskincare_idn Hydrating Mist Toner- @mediheal_idn NMF Aquaring Ampoule Mask EXReview singkat tentang produk di atas, cerita lengkap soal collab ini, dan produk lainnya yang sudah dikurasi, kalian bisa cek link yang ada di-Bio aku.AQUA Reflections x Sociolla ini bisa kalian dapetin di Sociolla Offline Store. Coba deh, main-main ke IG mereka. Psssstttt, ada giveaway produk skincare + voucher belanja 25ribu min. pembelanjaan 150ribu 💦💦♥️•••
#clozetteid
#HydrateToRadiate
#SOCOBeautuNetwork
#AQUARflections
#AQUAxSociolla
#kikicasmitaBlog
#skincare
#acne
#acnefighter
#hydration
#diRumahAja
#cumaDiSociolla

+ View more details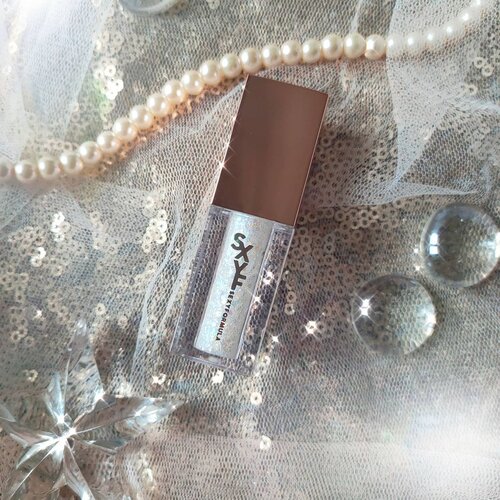 I think it's not a secret that i have a thing for shimmer and glitter, especially when it comes to eye makeup - i just love them so much! When it comes to shimmery eyeshadows, i would say that my favorite is definitely Korean ones, they are always so beautiful! But usually i stick to their pressed powder/cream based type and now for the first time i am trying out the liquid based glittery eyeshadow/topper from @sexy_formula !Jewel Key Eye Glitter Parts is a water-based glitter eyeshadow with both fine and chunky glitters i think most Korean makeup style lover would love. Currently only available in 01 Opal Crystal (the fact that it comes with a number makes me sure that they'd come up with other shades in the future), it's a iridiscent - or dare i say, holo (as it reflects and shift to all kind of colors when you move) white base topper that would match any eyeshadow you are wearing.My eyes are pretty sensitive and some liquid based eye makeup products can give me burning/tingling sensation, but this one is very gentle and i never experience any side effect whatsoever 🙂.Has a unique (newly improved) silicon applicator for a precise and easy application, it dries down pretty fast as long as you don't pile on too much (and if you have tapered eyelids like me, you might want to wait until it dries before opening your eyes too wide to prevent the chunkier glitters to move into your double eyelid 🙈), Jewel Key Eye Glitter Parts is perfect to jazz up your eye makeup and make them more dazzling in a few seconds!You can get yours with special price at my Charis Shop (Mindy83) or type
https://bit.ly/jewelformulaMindy83
to get directed to the page directly @hicharis_official @charis_celeb
#charisceleb
#sexyformula
#JewelKeyEyeGlitterParts
#glitter
#eyes
#CHARIS
#hicharis
#kbeauty
#clozetteid
#sbybeautyblogger
#BeauteFemmeCommunity
#eyeglitter
#eyeshadowtopper
+ View more details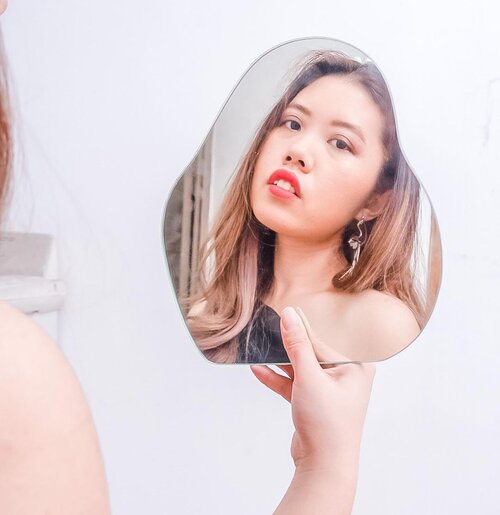 Me : "Mirror, mirror on the wall. Who's the one who kept procrastinating on their assignments?"The mirror : 💁‍♀️Me : *surprised pikachu face*...Playing with some reflections on my latest self photoshoot at home. This is one of my way to coped with quarantine, for a entire year btw. Just set some timer with remote app, and this was a piece of cake.Tap for accessories details ✨

+ View more details

+ View more details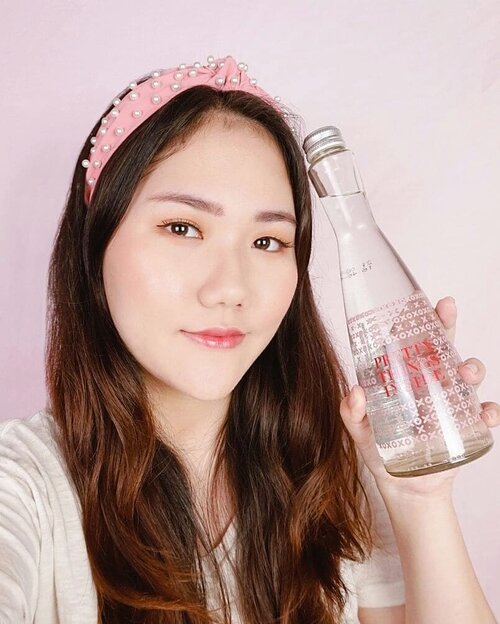 Ini yang ditunggu-tunggu, @aqua_reflections x @sociolla collaboration is here guys! Hadir dengan limited edition packaging dengan ciri khas Sociolla, Pretty things inside, yang pas banget sama isi dari botol ini. Menurutku ini benar-benar kolaborasi yang super menarik! Dengan tema Hydrate to Radiate, Sociolla bersama Aqua Reflections mengingatkan kita akan pentingnya menghidrasi kulit baik dari dalam maupun dari luar dengan konsumsi air minimal 2 liter sehari dan menggunakan skin care pastinya. Gak perlu pusing karena ada hydration kit curation dari Sociolla yang isinya rekomendasi produk dari @ariul_id @klorane_idn @koreanaestheticskincare_id @sukinskincare_idn @mediheal_idn 🌟Aqua Reflection x Sociolla sudah tersedia di Sociolla Offline Store terdekat. Jangan lupa setelah beli di scan QR code yang ada di botolnya biar kamu bisa langsung dapetin shopping voucher Sociolla. Let's hydrate our skin all the way from inside and outside!
#HydratetoRadiate
+ View more details

loading ...
Back To Top