loading...
Search
34 RESULTS FOR RETREAT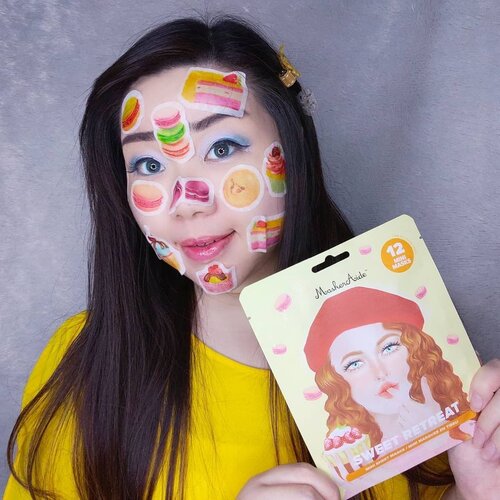 I honestly have mixed feelings about this mask set from @maskeraidebeauty - But let's start with the positives (because there are a lot of them!) :+ It's ridiculously cute!+ The concept is fun and it makes doing your mask fun, which is helping in my case because i don't particularly enjoy the hassle of applying facial mask 🤣!+ It has a sweet, tantalizing scent. I don't usually like strong scents when it comes to my skin care (esp if it smells like flower/baked goods/artificial fruit) but this one is so mouth wateringly sweet i forget to feel weird about it (but it has no negative side effect so no worries for me).+ It has thin sheet pieces and the serum is watery so the serum delivers fast to my skin and application time is shorter than regular, super wet, slimy sheet masks.+ It really works to make my skin hydrated without the overbearingly sticky and greasy effect most Korean sheet mask seems to give me.In the meantime i am concerned about :- How the sheet pieces are so thin yet there are a truckload of the watery serum left in the package, the amount of the serum (and it's really really thin and watery too, almost like water so you can totally spill it all over if you're not careful) left is really overwhelming and even though i use it all over my body+husband's i can't help to think most people would probably dump it? Seems like such a waste for me.- Since the sheets are so thin and in smaller pieces, they don't hold all that much serum (hence the leftover), i worry about how effective the mask set would be for drier skin that needs more hydration, they might not get the full potential of the mask because of the concept.However, it is still a great product that i will definitely use again, it's so much fun and you can even take selfies with them (as you can see, i got a bit carried away 🤣🤣🤣) so if you're interested you can get them at my Charis Shop (Mgirl83) for a special price or type
https://bit.ly/sweetretreatsMindy83To
directly go to the product's page 😉.
#SweetRetreatSET
#maskeraide
#CHARIS
#hicharis
#reviewwithMindy
#beautefemmecommunity
#koreancosmetics
#clozetteid
#sbybeautyblogger
#koreanskincare
@hicharis_official @charis_celeb
+ View more details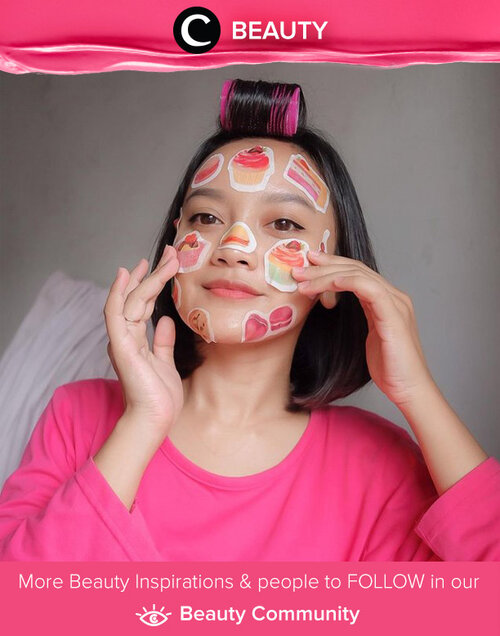 Maskeraide punya cara unik untuk menghidrasi kulitmu, yakni melalui Sweet Retreat Set yang terdiri dari 12 masker mini dengan ilustrasi menggemaskan. Kamu bisa memfokuskan perawatan pada area-area tertentu sesuai kebutuhan. Image shared by Clozette Ambassador @sucifitriaapriani. Simak Beauty Update ala clozetters lainnya hari ini di Beauty Community. Yuk, share produk favorit dan makeup look kamu bersama Clozette.

+ View more details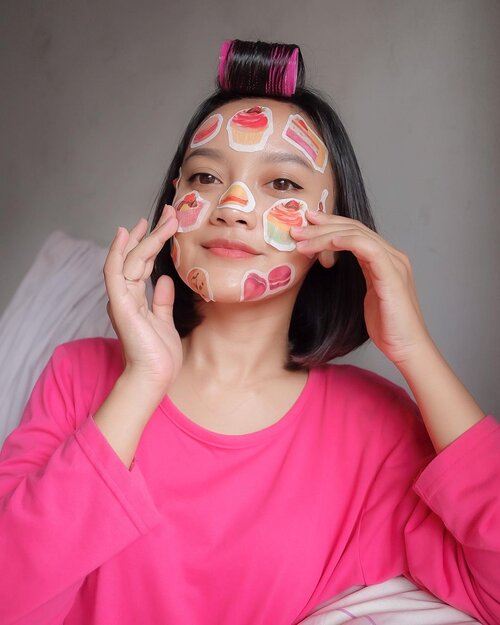 + View more details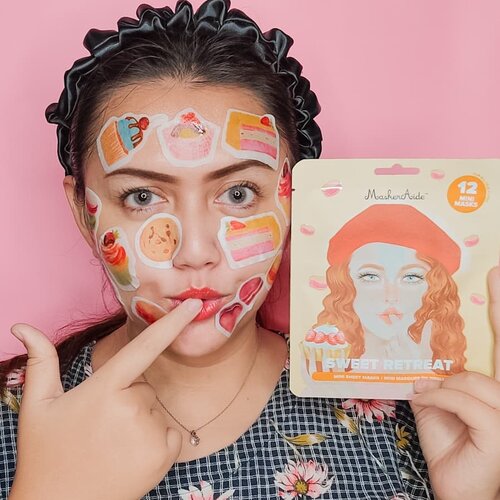 Malam minggu saatnya maskeran pake masker paling gemesh dari @maskeraidebeauty 😍Jujur sih, ini masker gemes banget.. Ga pernah nemu masker se unik ini sebelumnya.. @maskeraidebeauty sweet retreat ini adalah mini sheet mask yg terpotong jadi 12 bagian dengan gambar gambar lucuu.. Di slide ke 3 kalian bisa liat, itu pas di keluarin dia bentuknya kaya buku stiker gitu.. tinggal kita copot copotin aja terus tempel ke wajah..Ini essence nya super banyaak sumpeeh.. essence sisanya gue bisa pakai ke leher, tangan dan kaki saking banyaknya..Masker ini bagus untuk bikin kulit kita dingin dan lembab.. Dipakainya enak, sama seperti pakai sheetmask biasa, cuma bentuknya aja lebih unik😍Produk ini bisa kalian beli di
hicharis.net/khansamanda
@charis_indonesia @charis_celeb @hicharis_official @maskeraidebeauty
#hicharis
#charisceleb
#charis
#maskeraide
....
#clozetteid
#khansamanda

+ View more details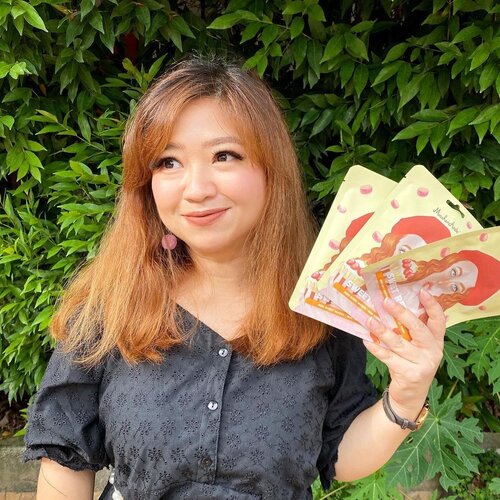 + View more details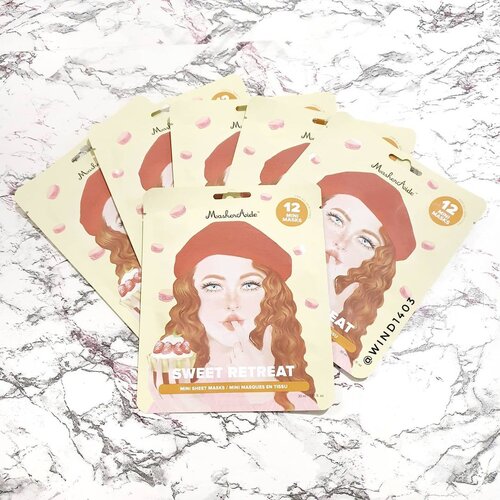 Masker tergemas yang pernah saya coba, gimana ga gemas kalau bentuknya makanan semua 🤣 unik lagi, jadi nggak kayak sheet mask pada umumnya.
#sweetretreat
ini terdiri dari 12 mini mask dengan bentuk berbagai macam kue dan dessert, kenapa dibikin seperti ini, karena terkadang ada spot yang membutuhkan perhatian lebih dibanding kulit wajah secara keseluruhan.Fungsi masker ini apa sih? Fungsinya untuk menghidrasi, meratakan warna kulit dan melawan tanda penuaan. Dengan ingredients utama adenosine, ekstrak buah fig dan kelapa.Masker ini cocok untuk kalian yang membutuhkan hidrasi di beberapa spot khusus, seperti bagian cuping hidung, bawah mata dan dahi. Selain itu juga cocok buat kalian hang memiliki masalah dengan warna kulit tidak merata, karena bisa mengurangi kusam.Essencenya sangat banyak dan melimpah jadi bisa di oles hingga tangan dan leher, maskeran sama sahabat saat weekend? Cocok banget 🥰 dijamin makin seru.Sweet Retreat SET bisa dibeli di
https://hicharis.net/Wind1403s/1tUk
#SweetRetreatSET
#maskeraide
#CHARIS
#hicharis
@hicharis_official @charis_celeb
#discoverunder10k
#clozetteID
#koreanskincare
#idskincarecommunity
+ View more details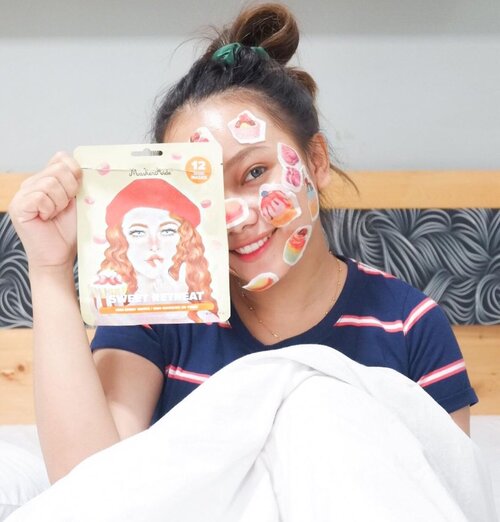 Ujan" sambil maskeran tuh enakk bgt btw ini Sheet Mask tergemesssss yg pernah aku pakai ! Bentuknya gemess bgt ada yg cupcakes, macaroons & masih bnyak lagi jumlahnya ada 12 mini sheet mask yg klo liat bikin pengen dimakan 😂 karna bentuknya kicil" jadi kalian bisa atur sndiri mau pakai disisi mana & essencenya buanyakkk 💕Bukan cuma bentuknya yg gemess tapi manfaatnya juga banyak loh, melembabkan kulit meratakan warna kulit & sebagai anti aging 😍Kalian bisa beli sheet mask gemes ini di link @hicharis_official aku namanya Sweet Retreat SET
http://hicharis.net/dianputrinitami/1ubM
#SweetRetreatSET
#maskeraide
#CHARIS
#hicharis
@charis_celeb
#ClozetteID
+ View more details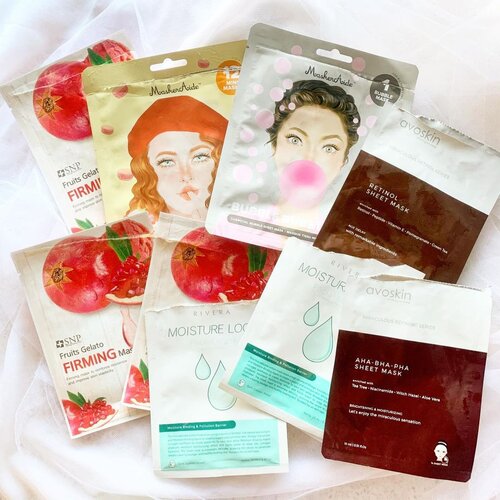 Yuhuuu.. udah bulan Desember aja nih🗓 Rasanya waktu cepat banget berjalan ya🥺 Btw aku mau membuka bulan Desember ini dengan postingan empties ku mengenai masker. Tadinya mau digabung dengan makeup dan skincare lainnya tapi kok penuh banget kalau semua dimasukin dalam 1 frame🤣 Jadi fokus di masker dulu ya.Dari segala jenis masker, sheet mask ini yang paling banyak stoknya. Trus kalau lagi rajinnya maskeran, mikir dah tu sampah plastik jadi makin banyak😂 tapi gimana, ga dipakai kok mubazir🙈.Btw masker2 yang udah aku pakai ini ada yg produk lokal dan korea, diantaranya:• @maskeraidebeauty varian Bubble Bubble Pop dan Sweet Retreat• SNP Fruits Gelato Firming Mask varian Pomegranate• @avoskinbeauty Miraculous Sheet Mask Series: AHA-BHA-PHA Sheet Mask & Retinol Sheet Mask. Sheet mask lokal pertama yang mengandung bahan aktif• @riveracosmetics Facial Mask: Moisture Lock (Anti Aging).Semua masker ini udah aku review di IG Feed, bisa scroll aja ke bawah. Untuk masker SNP dan Avoskin, review lengkapnya udah up di Blog👩🏻‍💻.
#skincareroutine
#masktime
#sheetmask
#sheetmaskaddict
#sheetmaskreview
#kbeauty
#kbeautyskincare
#ClozetteID

+ View more details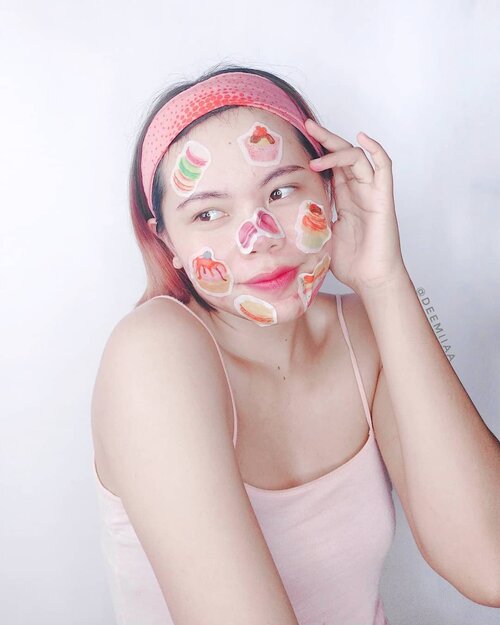 ..
Gemes banget nggak siih ada sheet mask kaya gini?
..
Nggak cuma gemes, wanginya juga enak dan doi punya essence yang melimpah beeeeb
..
Pakenya cukup 10-15 menit aja yess, cuss buat yang pengen cobain bisa langsung beli produknya dk Charis yaaa
..
Sweet Retreat SET
https://hicharis.net/deemiiaa/PA2
#SweetRetreatSET
#maskeraide
#CHARIS
#hicharis
@hicharis_official @charis_celeb
+ View more details

loading ...
Back To Top