loading...
Search
4,946 RESULTS FOR SBYBEAUTYBLOGGER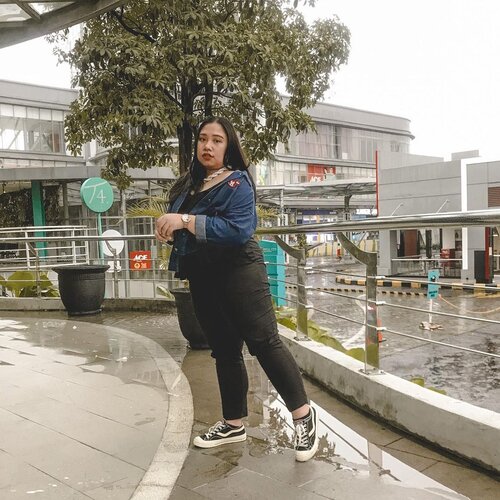 + View more details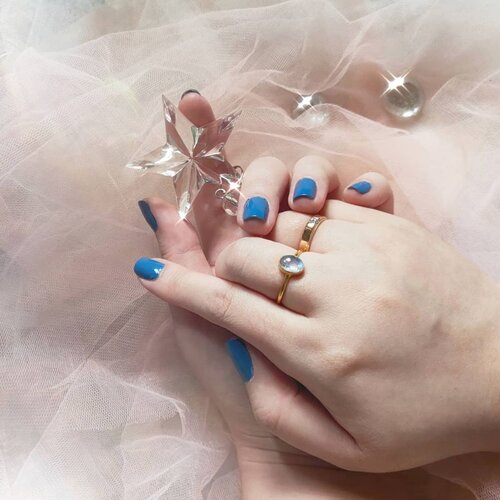 - Moonstone cultivates compassion and empathy. It helps us to tap into our intuition and enhances psychic abilities and clairvoyance. The creative and intuitive power of feminine energy is activated by the moonstone. The serene and tranquil energy of the moonstone also invites creativity, healing and motherly protection. -As much as i love my diamonds, i was traumatized by losing a few (both just the diamond or the entire ring) along the way and i just cannot deal with that 😥. Plus various kinds of gem stones and their beautiful powers and philosophy speaks to me so i truly love gemstones and prefer to collect and wear them for everyday life (i prefer to wear my diamonds on special days only as i am clumsy/forgetful and the only jewelry i wear even to sleep and shower is my wedding/couple ring).This is my first moonstone ring and my newest jewelry (that is not entirely costume), it's a Valentine's Day gift from me for me. I wear it so whenever i look af it, i am reminded of how strong - how much stronger i am than i ever know. How i am worthy and i am loved. How, at the end of the day, it is i who has to love myself first, the hardest and the best - because the one person who i can always rely and count on is myself.Btw, i am so SO proud of this pic, i think it's super beautiful and i definitely up my photography skill from 0 to errr 7 or so , quarantine really does have its positive sides too! Have a nice day everyone!
#moonstone
#moonstonering
#BeauteFemmeCommunity
#SbyBeautyBlogger
#clozetteid
#startwithSBN
#socobeautynetwork
+ View more details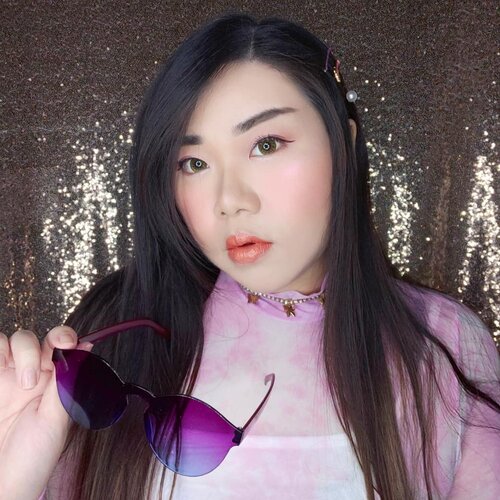 + View more details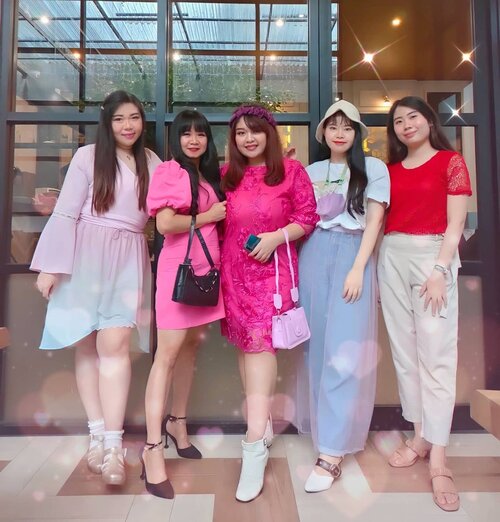 + View more details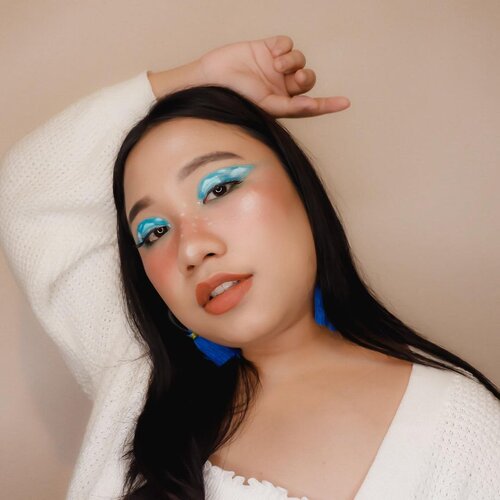 + View more details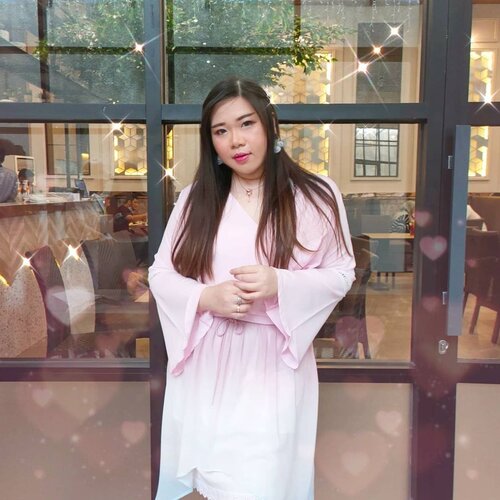 + View more details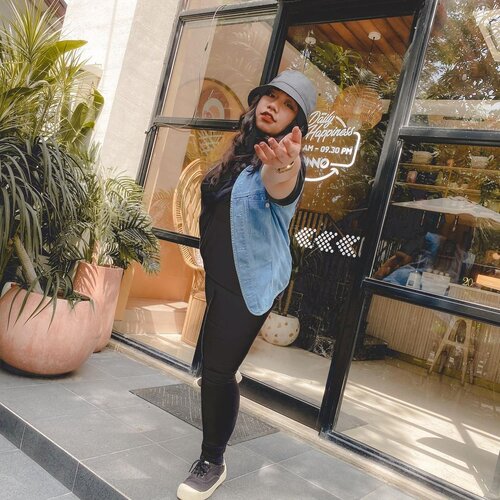 + View more details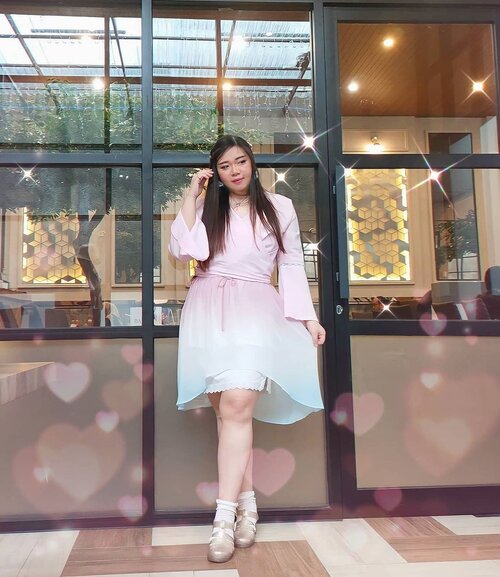 OOTD for our belated Galentine lunch 😁.
As Valentine's Day and CNY were so close together this year i was like, i should do OOTDs for both occasion! But then i was too lazy to bring change of clothes 🤣 (which happens 99% of the time), this is why i'm so impressed by those Instagrammers who would change multiple times in one day and cafe hop as i find it hard to find the motivation to do 🤣.
Anyway, i decided to go for Valentine's direction and wore pink but then i realized that the cut and the arm flare actually sends Hanfu vibes so i think i actually managed to accomplish my original plan? LOL.
Btw, some ppl who haven't met me in a while asked me if i lost weight (FYI, i HATE this question. If you think i lost/gain weight, keep it to yourself, i don't think talking about my physique is an interesting topic and it makes me feel uncomfortable), which i can't answer as i don't regularly weigh myself (it's a source of mental distress lol) but my clothes seem to confirm it as that skirt used to too tight and now it hangs super loose, which is weird coz i thought i would've quarantine weight gain as i don't do as much physical activities as i normally do and i binge eat sometimes 🤣. Well, i guess my unintentional intermitten fasting and detox are working somehow.
PS : i had to retype the whole caption because IG's acting up as usual, the draft works like shit nowadays and i keep on forgetting to back it up at notes!!! I hope some of you bother to read the the whole thing at least 🤣.
#ootd
#ootdid
#clozetteid
#sbybeautyblogger
#BeauteFemmeCommunity
#notasize0
#personalstyle
#surabaya
#effyourbeautystandards
#celebrateyourself
#mybodymyrules
+ View more details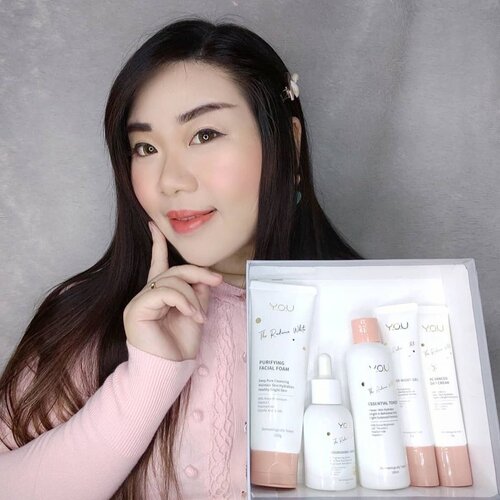 Udah lama aku kepo sama produk-produknya @youmakeups_id , kapannya akhirnya udah nyicipin makeupnya beberapa dan sekarang kesampaian nyobain skincare nya nih, asli aku penasaran banget karena banyak yang bilang bagus - dan ternyata emang bagus donkk 🙈.Jadi line Y.O.U The Radiance White Series tuh sekarang hadir dengan upgraded formula, ingredientsnya jadi makin keren-keren dan top rated seperti serumnya sekarang memiliki 50x Vit C* + Probiotics. Selain itu mereka juga mengandung ingredients seperti Snow Mushroom yang berfungsi untuk hydrating (among other cool ingredients) dan emang produk-produk di series ini deeply hydrating dan nourishing banget yang aku bisa rasakan dan notice pengaruhnya ke kulitku bahkan hanya setelah pemakaian beberapa hari.Selain memberikan deep hydration, aku juga notice banget kalau rangkaian ini bantu memudarkan bekas jerawat hormonal dan allergy attack yang sempat bikin kulit aku merah-merah di beberapa spot, kulitku jadi lebih cerah, merata dan bersih 😍😍😍. Oya, karena jenis kulit aku oily, jadi layering serum dan Day/Night Cream emang bikin lumayan terasa greasy tapi the result is worth it! Dan meskipun aku layer, kulitku ngga protes seperti biasanya, ngga ada acara breakout atau apapun hehe.Oya, The Radiance White ini memiliki
#triplebrightactivator
(makanya hasilnya cukup cepat kelihatan), dematologically tested dan juga tidak mengandung alcohol 😉.Btw aku juga suka banget sama packagingnya yang cantik especially serumnya yang botolnya aesthetic banget 😍.Buat yang pengen cobain Y.O.U The Radiance White Series bisa cuz check out di @shopee_id yah, mumpung lagi banyak voucher free ongkir ya kan 🙈
[email protected]
#youmakeups
#youtheradiancewhite
#1tetes3xlebihcerah
#BFCReview
#bfcxyou
#reviewwithMindy
#beautefemmecommunity
#clozetteid
#sbybeautyblogger
+ View more details

loading ...
Back To Top