loading...
Search
223 RESULTS FOR SENSE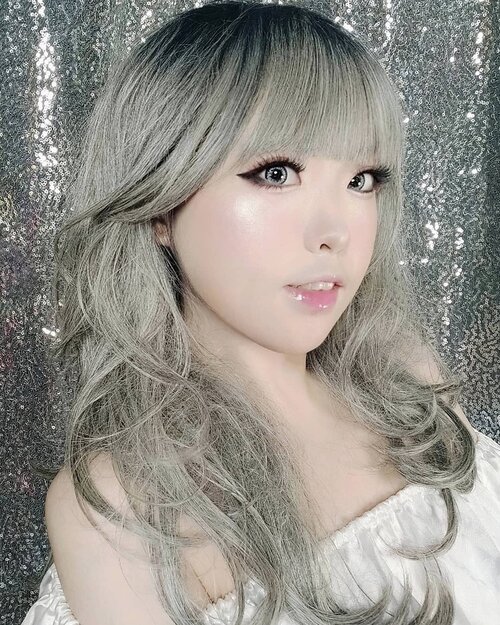 It seems like my signature makeup will fit perfectly for wedding makeup. It will keep you looking flawless - just focus on eye makeup & natural-glowing skin..*Tbh, i don't have an interest to get married in my 20's or early 30's bcs i'm too focus to improve myself & carreer. I don't think i have a time for romance. But if someday i decide to get married, i'm sure i'll do my own makeup & hairstyle, design & make my own wedding dress, write down the rundown, ask my sister to make a wedding cake (she is a professional chef & cake-art decorator 😘).My experiences tell me much about it all. I just need an event organizer to help me during the party 😌btw, garden party always be my fav one, with the closest family and friends. It's kinda private bcs i don't like too many guest. Such a waste if i invite too many people but i don't really knw them well. .I'll sing ballad love-song for my husband to be. 'You're the Inspiration' by Chicago (1984) is on the top on my list. Tbh, i have a high standart for a man i want to live with. Beside good looking, someone who will support me for everything i do, has a sense of art too, a deep thinker and open minded person. So, we can share about everything & make an artwork together. I don't want wasting time to have a small talk with wishy-washy kind of person. Career is my number one priority. I'll never trade every second of my life by living a fake love-live or be with someone that's not educated enough..I don't like a 'normal-boring' life like getting married-having baby-raise the kids-etc. I'm not gonna say it's wrong. Not at all, all people has their own choice, right? But i don't want to have that kind of life. Don't judge me bcs of my own choice. As an artist, i have my own life-goals, i prefer to live my life to th fullest & inspire the world with my artwork &ceativity.If someday i find someone who fill my expectations, has similarities and same way of thinking, i'll have no hesitation to living a marriage life and write down our planning to inspire others. But if not, it's not a big deal too. I never afraid to be alone. I enjoy it because i'm focus on what i can do to inspire others and living my thousand dreams
+ View more details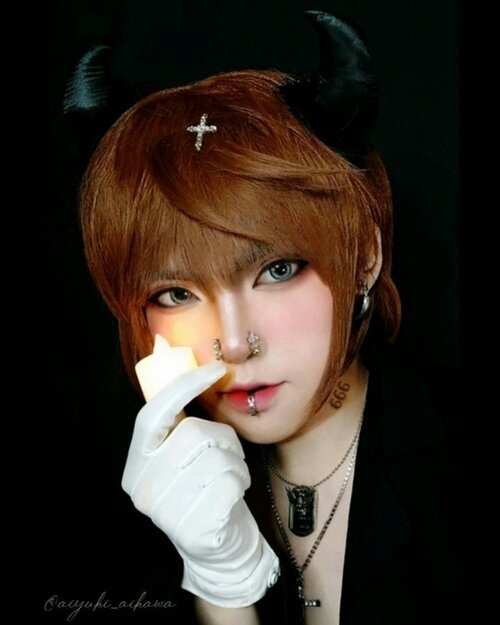 I've promised i'll tell you about my Lucifer's Makeup, right? .I need 1 hour to create this kind of makeup. Just using foundation, eyeliner, liptint, contouring and monochrome eyeshadow. Other than that, a skill, an intuition to create the image of Lucifer in my imagination. I have to create such a handsome face and evil side at the same time - so, my Lucifer will look so manly and elegant, so classy and dark. .Dangerous, but you want to down on your knees. Just like your feeling towards Demon : hate, but you never stop falling for them because they offer a worldly pleasure. It's not only about sex, but money, grudge, and everything that keeps you insane..As an Artist, concept is a MUST. And i'll put all my heart during execution, so don't ask me why i'm too serious if we talk about Artwork and originality. There is a pain, there is an effort behind every artwork i've made. There is no shortcut. There's a tears if i'm failed to give a soul into every role i play. I'm not lying. But as a perfectionist and detail-oriented person, i'll start from beginning again until i feel right. So you will enjoy the best from me, or i'll feel so guilty if i can't give my best artwork..Promise me : DON'T call me an artist anymore if i can't bring a nuance to my artwork. Promise me, DON'T call me an artist if i don't put my heart into it, DON'T call me an artist if i forgot to put my soul into every character i play. I dedicated my life for Art, i live because of Art. So, i better lose my soul than lose my intuition and sensitivity. A 6th sense to catch the meaning of every dark corner that normal people can't see..Stay tuned for the other madness, my beautiful creature ❤️ i promise i'll always improve my skill, my creativity, my quality, and everything.....
#Gyarumakeup
#GyaruGal
#Gyaru
#makeup
#可愛い #かわいい #ギャル
#JapaneseBeauty
#osharekei
#makeup
#kawaii
#kawaiigirl
#beauty
#style
#fashion
#harajuku
#イケメン
#japan
#モデル  #メイク  #ヘアアレンジ #オシャレ  #ギャルメイク #ファッション #ガール
#visualkei
#男性 #おしゃれ
#devil
#demon
#clozetteid
+ View more details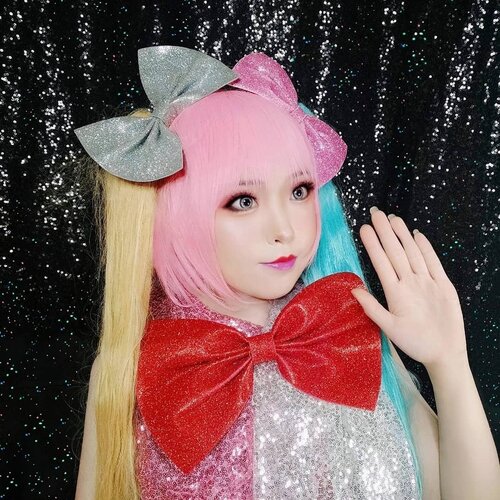 "As long as you can find yourself, you'll never starve." - Hunger Games, page 52, Chapter 4..However, it figuratively serves as a philosophy that will provide the key to success. Journey is one of discovering our true identity, which involves a balance between our stoic determination and our emotional side..I always tell the world through my autenthic style, my artwork, my passion and my spirit about TO BE YOURSELF. Why don't you just be yourself? No one can help but admire your spirit! I never hesitate to be myself. NOT AT ALL. I'll share what i feel, i'll do what i like, as long as it's positive. So, no one can control myself, my style, my passion and my life. This is the key to have an authentic-self..When you find out your true idendity, you will find what you want in your life, let's say : life-goals. You'll know what's your passion, what's makes you turn-on. I already found it since i was a baby! Yes, that's why i dedicated my whole life for ART. I learn everything about art : writing, drawing, singing, painting, photograph, etc. My 6th sense help me to feel every details, make a beautiful artwork even the dirty corner that normal people cannot see..This style inspired by Capitol's Citizens from Hunger Games, but i gave a bit sense of pop style of Harajuku. Can you feel it? Hahaha. Capitol's citizens and Harajuku style has a similarity. Yas, a sense to 'Mix&Match' (from top to toe : hair, makeup, outfit). That's why i combined them. As you can see, it became my autenthic style..So, what's your autenthic style? Just be brave to be your own-self yah! Oh, swipe left to see the other district's makeup created by my beautiful ladies ✨️👉..
#hungergamescollab
#hungergamesmakeupcollab
#Capitol
#Gyarumakeup
#Gyaru
#makeup
#可愛い #かわいい #ギャル #原宿
#HarajukuGirl
#osharekei
#makeup
#kawaii
#kawaiigirl
#beauty
#style
#girls
#fashion
#harajuku
#モデル  #メイク  #ヘアアレンジ #オシャレ  #ギャルメイク #ファッション #ガール #かわいい #おしゃれ
#clozetteid
+ View more details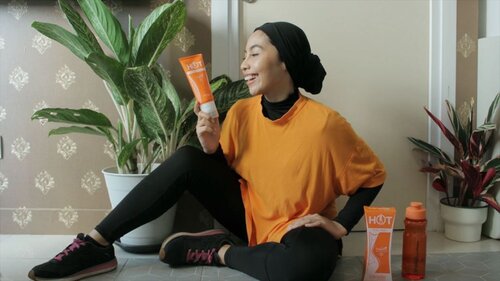 Kalau selama ini aku cuma olahraga sesuai mood, sejak ditantang sama @clinelleid untuk workout selama 15 hari menggunakan clinelle Hot Body Cream aku jadi semangat banget buat olahraga tiap hari..Sebelum workout aku pakai clinelle Hot Body Cream di area lengan, perut, dan paha soalnya itu area yang paling kayak jelly dan pengen aku kencengin. Krim ini tuh ngasih sensasi hangat pada kulit (SenseHot Thermal Action) setelah diaplikasikan. Buat aku sensasi hangat ini malah kayak sugesti nambah semangat saat olahraga. Cara pakenya juga gampang aku suka feature stainless roller ball di kemasannya jadi krimnya tinggal dimassage ke kulit dengan gerakan memutar searah jatum jam atau memijat dari bawah ke atas..clinelle Hot Body Cream mengandung:🧡PheoSlim G untuk membantu mengencangkan kulit🧡Scopariane untuk menyamarkan selulit🧡3M3 Whiteris G untuk mencerahkan kulit🧡Apricot Extract untuk melembabkan kulit.Oh iya krim ini nggak mengandung pewangi & pewarna buatan, non comodogenic, no mineral oil, alcohol, lanolin, dan paraben. Happy skin happy face banget deh kandungan krimnya!.Nggak nyangka setelah 15 hari lingkar lengan, perut, dan paha aku berkurang lumayan significant. Pastinya aku nggak berenti sampai di sini. Yuk kita lanjut workout sama-sama dan get in shape dengan clinelle hot body cream😉.@clinelleid @clozetteid
#GetInShape
#HotBodyCream
#ClinelleHotBodyCreamxClozette
#ClozetteId
#healthylifestyle
+ View more details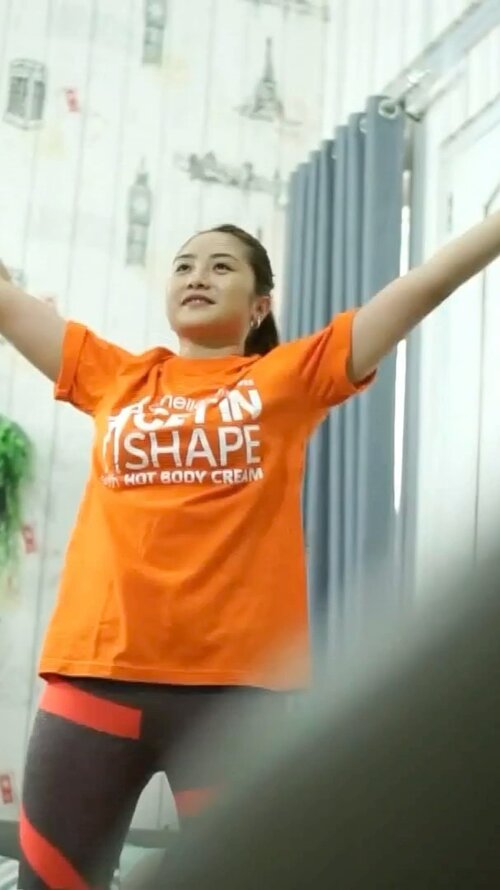 + View more details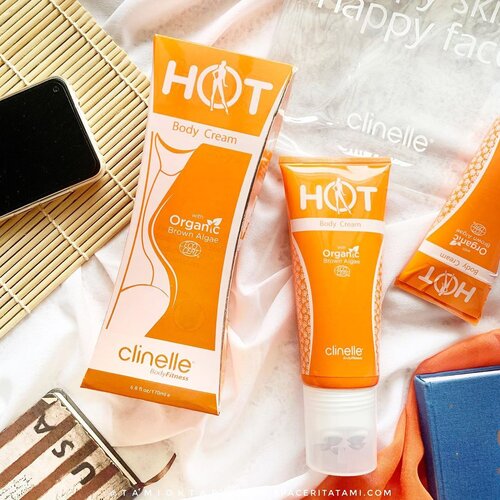 Perdana cobain body cream yang bukan cuma berfungsi untuk melembabkan kulit tapi juga bisa mengencangkan area lengan, paha serta perut. Yak, produk yang aku gunakan ini adalah @clinelleid Hot Body Cream yang mengandung bahan aktif dari ganggang coklat organik. Tersedia dalam 2 ukuran, 80ml dan 170ml.Selain itu, produk ini juga dapat membantu mengurangi lemak tubuh. Dilengkapi dengan Built-in Stainless Steel Roller dan The SenseHot Thermal membantu mencapai hasil maksimal.Hasilnya? Lingkar perut berkurang hampir 2cm. Aku barengi dengan olahraga sekitar 15-20 menit, biasanya 2-3 kali seminggu. Sesuai mood aja.Jaga pola makan? Ga begitu sih😋.Nah yang mau cobain produknya, bisa langsung kepoin Offical Shopee Clinelle ya. Bisa pakai kode voucher 'CLINCLZTT' dan dapatkan tambahan diskon sebesar 10% untuk setiap pembelian rangkaian Hot Body Cream 80ml.Review lengkap udah up di blog ya👩🏻‍💻.
#GetinShape
#HotBodyCream
#Clinelle
#ClinelleIndonesia
#Clozetteid
#ClinelleXClozetteIdReview
#ClozetteID
#ClozetteIDReview

+ View more details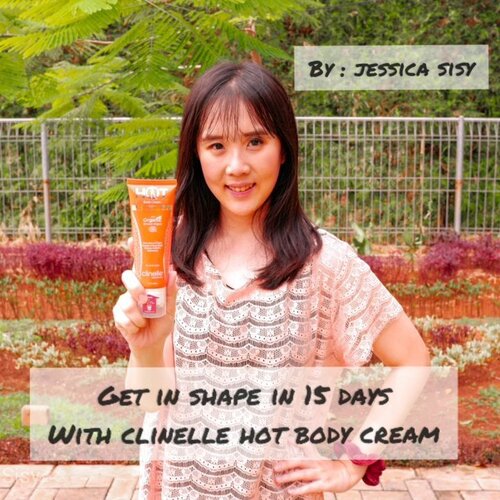 Get In shape in 15 days ❤Aku mau share experience workout aku menggunakan Clinelle Hot Body Cream selama 15 hari tanpa diet sedikitpun!Sebelum workout, aku selalu menggunakan Clinelle Hot Body Cream agar hasil workout lebih optimal dalam membakar lemak berlebih di tubuh sekaligus lebih efektif membatu mengencangkan area tubuh. Aku aplikasikan krim ini di area lengan atas, paha, pinggang, dan perut. Kalian bisa lihat hasilnya di video. .......Kandungan Organic Brown Algae terbukti mengencangkan tubuh, terutama area perutku. Selain itu, kulit tetap halus dan bisa utk whitening juga loh! Terdapat 5 stainless steel roller ball yg membantu krimnya terserap ke kulit dan memberikan SenseHot Thermal Action sehingga tubuh terasa hangat dan lebih energik untuk berolahraga. Selama berolahraga, yang aku rasakan badan lebih ringan dan lebih cepat berkeringat, tapi kulit tetap halus dan firm terutama utk area yg bergambir........Setelah 15 hari, aku happy banget dengan hasilnya! Lingkar pinggangku dari 75 cm turun menjadi 69 cm. Lingkar lengan atas dari 26 cm menjadi 22.5 cm. Lingkar paha dari 39 cm menjadi 37 cm. Beneran terasa efeknya di area perutku krn workout yg aku jalani memang untuk mengecilkan serta mengencangkan perut dan lengan. So happy sekarang bener2
#GetInShape
in 15 days bersama Clinelle tentunya 😄Yuks cobain dan rasakan sendiri perubahannya!@clinelleid @clozetteid
#GetInShape
#HotBodyCream
#ClinelleHotBodyCreamxClozette
#workout
#plank
#bodygoals
#nodiet
#workoutvideo

+ View more details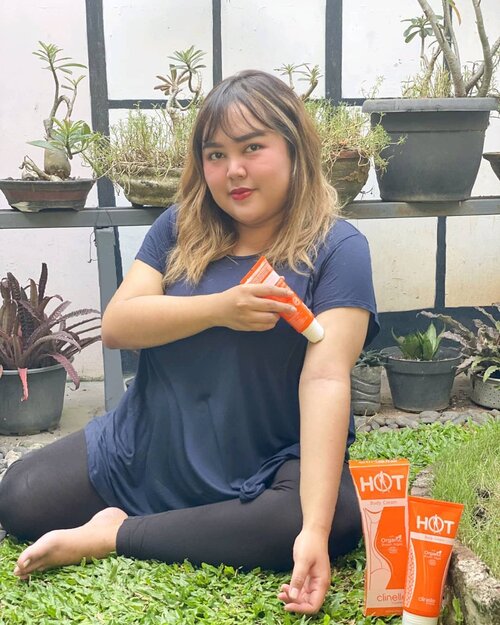 WFH berbulan-bulan bikin aku nambah endut 😭😭, ada yg samakah kaya aku? Sekarang aku sering jalan2 keliling komplek rumah, biar lebih maksimal, aku menggunakan @clinelleid Hot Body Cream sebelum olahraga di area perut, paha, dan lengan. Teksturnya seperti lotion, pas di aplikasikan ada wangi yg soft banget dan ada sensasi panas (SenseHot Thermal Action) yg bikin bakar lemak2 yg ada di tubuh kita. Review lengkapnya ada di blog aku ya (klik link di bio).Yang mau beli @clinelleid Hot Body Cream lagi ada diskon loh untuk size 80 ml di Shopee Clinelle dengan kode voucher CLINCLZTT 😍🥰😍🥰
#GetinShape
#HotBodyCream
#Clinelle
#ClinelleIndonesia
#ClozetteID
#ClinelleXClozetteIDReview
#ClozetteID
#ClozetteIDReview
+ View more details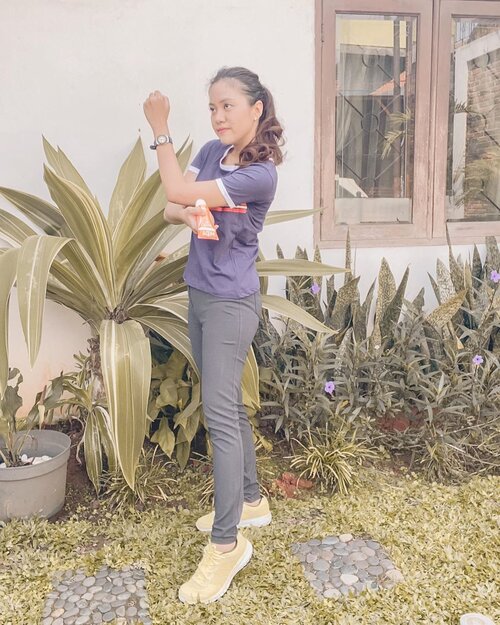 Aku berkesempatan mencoba Clinelle Hot Body Cream dari @clozetteid. Apa sih Clinelle Hot Body Cream? .Clinelle Hot Body Cream merupakan cream pembentuk tubuh dengan kandungan Organic's Brown Algae yang secara efektif berfungsi untuk menyamarkan selulit, meratakan perut, membentuk dan mengencangkan tubuh menjadi lebih ideal serta meningkatkan kekenyalan kulit dan mencerahkan warna kulit..Di kondisi dan situasi saat ini, tentu lebih disarankan untuk melakukan olahraga di rumah aja. Aku menggunakan Clinelle Hot Body Cream agar hasil workout lebih maksimal. .Kemasan Clinelle Hot Body Cream berbentuk tube yang ujungnya dilengkapi 5 stainless steel roller ball. Roller ball ini berfungsi ini berfungsi untuk memaksimalkan penyerapan cream. Terdapat dua ukuran kemasan, yakni yang sedang (80 ml) dan besar (170 ml). Menurutku kemasan yang ukuran sedang termasuk travel friendly. .Tekstur Clinelle Hot Body Cream ini seperti lotion pada umumnya. Yang aku suka produk ini tidak lengket dan cepat menyerap di kulit. Wangi produk ini seperti mint segar. Ada sensasi panas (SenseHot Thermal Action) yang aku rasakan, mungkin produknya sedang bekerja. Sensasi panasnya sih ga kayak pakai balsem ya hehe Terus aku merasakan produk ini melembabkan di kulit aku yang kering banget. Aku pakai produk ini baru seminggu selama pagi hari (terkadang sebelum berolahraga) dan malam hari, jadi belum ada hasil yang signifikan. .Clinelle Hot Body Cream sudah tersedia di Guardian terdekat dan Clinelle e-commerce. Kalian juga bisa beli di Shopee @clinelleid dengan menggunakan kode voucher CLINCLZTT dan dapatkan tambahan diskon sebesar 10% untuk setiap pembelian package Clinelle Hot Body Cream 80ml dengan minimum pembelian Rp 150.000.- dan maksimal diskon Rp 100.000.- .
#GetinShape
#HotBodyCream
#Clinelle
#ClinelleIndonesia
#ClozetteID
#ClinelleXClozetteIdReview
#ClozetteIDReview

+ View more details

loading ...
Back To Top