loading...
Search
213 RESULTS FOR SHEETMASK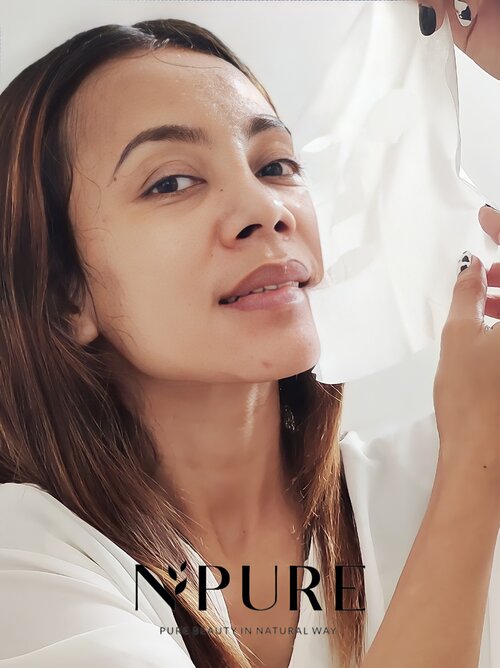 Masih dari Noni series by N'PURE nih... sheetmask nya pas di wajah, dan biodegredable sheetmask yang lombahnya bisa terurai, kereenn

+ View more details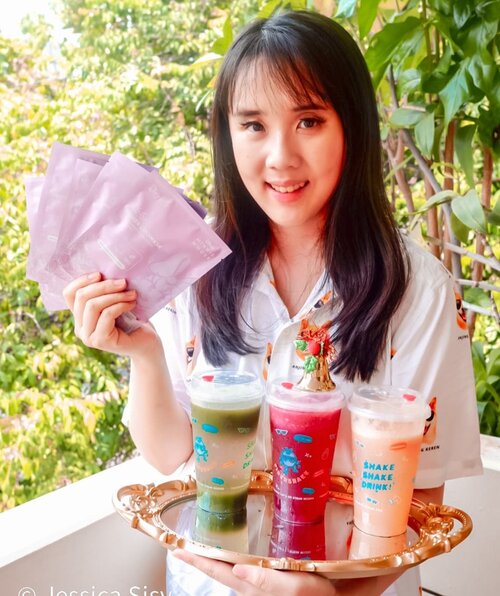 JUS BIKIN GLOWING ✔
Udah mau tahun baru siapa yg mau mukanya makin glowing? Lgsg aja cobain juice @fiber_shake dan glowing sheet mask dari @jacquelle_official
Christmas hampers dari mereka ini worth it bgt apalagi buat kalian yg mau kulitnya makin glowing!
Juicenya ada 3 di paketku:
• LANCAR (green) :spinach, pineapple, mango, and lemon. Juicenya berserat dan ada rasa asem seger dari buahnya.
• LANGSING (pink) :dragon fruit,  lemon, pineapple. Seger dan favoritku nih! Enak bgt!
• GLOWING (yellow): soursop, guava, peach, lemon. Dominan rasa guava dna manis dari soursop. So fresh!
Minum jus aja ga cukup, harus pake masker juga nih. Sheet mask nya max dipake 3x seminggu ya. Sheetnya tipis dna daya serapnya cepet! Must try guys!
#jusbuah
#glowingmask
#sheetmask
#fibershake
#jacquelle

+ View more details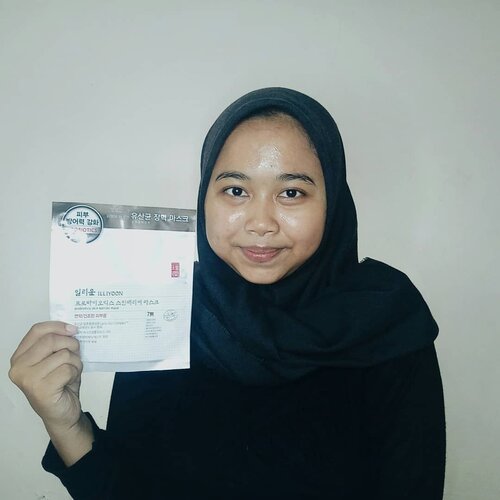 + View more details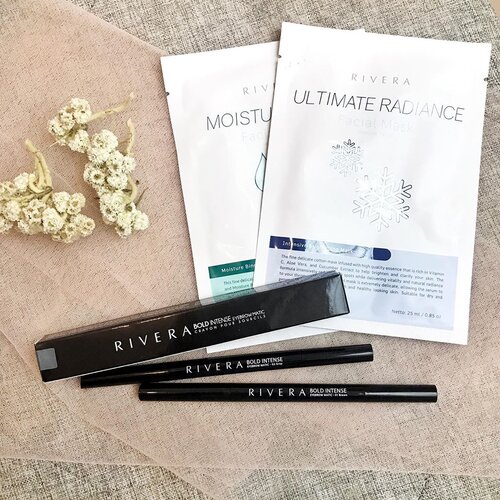 Excited banget karena sekarang, @riveracosmetics punya sheetmask lhooo.. penasaran banget.. karena sebenernya aku udah jadi pengguna produk produk @riveracosmetics dari lama, kayak eyebrow matic nya ini.. jadi favorit karena selain warna nya bagus, texture nya pas banget kalo buat bikin alis, dan juga gak perlu repot repot di serut.. jadi hemat waktu juga!!
#jiglyciouss
#clozetteid
#riveracosmetics
#bandungbeautyvlogger
#1stanniversarybbv
@bandungbeautyvlogger

+ View more details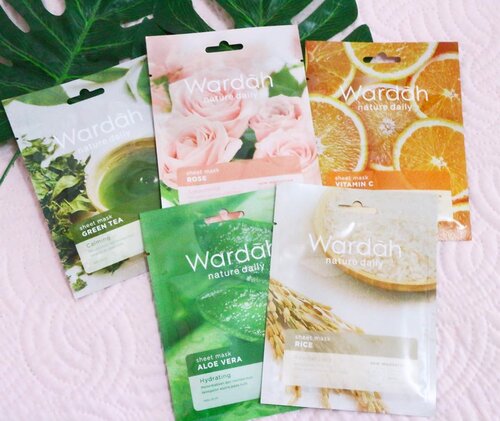 + View more details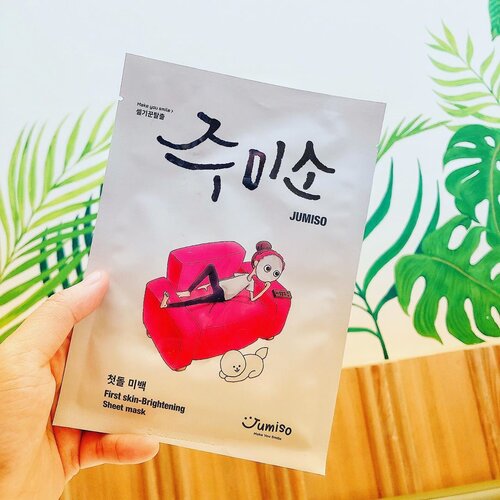 Facts! 🔎 Using sheet mask is a part of South Korean culture. And also the soul of korean skincare routine 🇰🇷
••••
JUMISO - First skin-Brightening Sheet Mask 🧖🏻‍♀️ @jumiso_official •••• If you want skincare that provides results, use a sheet mask and you can feel it for yourself. I include those who routinely use sheetmask, in a week I can 2-3 times wearing a sheet mask. The sheet mask that I use is usually a variant to calm the skin and brighten the skin 👩🏻‍🦰
••••
Jumiso sheet mask is so special for me, because I love the material of sheet mask is so thinlight and deliver properly essence into the skin. So refreshing and revitalising sheet mask contains rich of vitamin A dan E to improve skintone and perfect moist properly 💧
•••• Living in the capital city, we are prone to stress and it impacts on facial skin that is easily dull. When stressed, we need me time to revive the mood and so we stay healthy and positive. When me time, is when using sheetmask 🥰 because I will feel happier, more alive because I'm a better person when I'm using sheetmask 😝 •••• I use sheet mask usually after cleansing and toning, then leave it for 15-20 minutes so the skin absorbs well. after 20 minutes take off the mask and gently massage the serum into your skin proceed with a moisturizer to lock in moisture💦 Jumiso has 5 sheet mask variants that you should try and I highly recommend it ❤️
••••
You can get all Jumiso product at @stylekorean_global 🛒 and there best deal promo for bundling Jumiso product 😍 Let's check it out
http://bit.ly/35DZqhM
and shopping yay! 🛍
••••
#stylekorean
#stylekorean_global
#jumiso
#jumisofirstskinbrighteningsheetmask
#sheetmask
#kbeauty
#skincare
#makeup
#selfie
#clozette
#clozetteid
#kbeautyblogger
#abskincare
#kbeautyskincare
+ View more details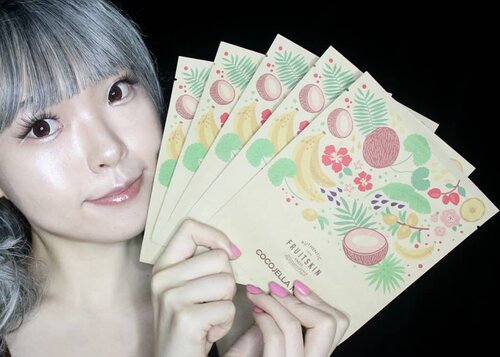 + View more details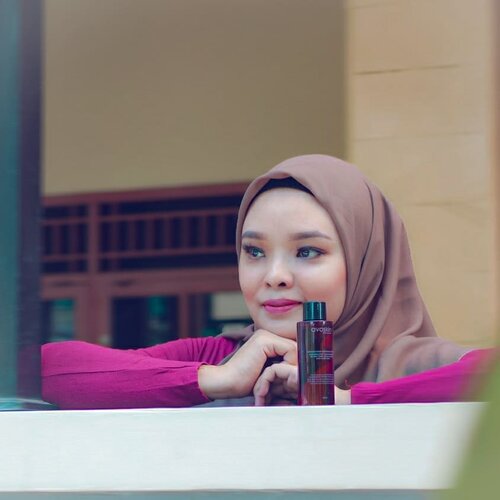 My First Impression for Avoskin Miraculous Refining TonerAkhirnya aku nyobain juga si Avoskin Miraculous Refining Toner. Baru 2x pemakaian. First impression aku : saat dipakai pertama kali ada sensasi tingling gitu. Ada yang bilang reaksinya panas, tapi di kulitku yang sensitive, gak sih alhamdulillah. Tapi aku pakainya di bagian T-Zone, dagu, and bagian pipi, karena cuma di bagian itu whitehead aku yang paling banyak and ada clogged pores. Selebihnya tempat lain gak.Aku bakalan pakai si toner ini once a week aja. Kombinasi ingredients :5% AHA (Glycolic Acid) untuk menjaga kelembapan kulit1% BHA (Salicylic Acid) untuk mengatasi jerawat2% PHA (Polyhydroxy Acid) untuk mengangkat sel kulit mati & melembabkan2% Niacinamide2% Tea TreeWitch HazelAloe VeraRaspberrytakut aja malah jadi breakout, karena basically aku gak ada masalah sama jerawat. Terutama di spot2 yang ada jerawat kecil, dan jelang haid periode, aku kompres aja jerawatnya pakai Avoskin MRT iniAku pakainya pagi hari aja, lalu dikombinasi sama Hydrating Toner Hadalabo lanjut pakai sunscreen SPF30. Tapi kalau keluar rumah aku pakai SPF50.Kalau malam hari aku pakai exofiliating toner yang acidnya rendah banget2 seperti beaussentials face toner yang mengandung lactic acid (AHA) dan PHA yg gentle bgt buat daily eksfoliate. Produk ini bisa bekerja sebagai hydrating toner, mild exfoliating toner, dan essence.Lalu di mix dengan hydrating toner Hadalabo. Karena biasanya aku lanjutkan dengan pemakaian sheetmask.Karena aku baca reviewnya exfoliator ini memiliki anti-inflammatory dan antioxidant, makanya PHA selalu direkomendasikan untuk pemilik kulit sensitif, acne prone dan juga kulit dehidrasi, apalagi aku ada acne scars. So aku beranikan diri untuk pakai toner ini.Lagi menyusui tetep pakai exfo toner seperti Avoskin MRT gini? Aman emangnya buat busui? Bukannya BHA adalah yg harus dihindari oleh busui?So far dari yg aku baca, skincare yg ada kandungan BHA nya tapi dibawah 2% masih aman untuk busui.@avoskinbeauty
#Avoskin
#ClozetteID
#makeuplook
#beauty
#skincare
#skincarebasics
#skincareroutine
#skincareaddict
#bodycare
#photooftheday
#iloveskincare
#selfcare
#skincareobsessed
#hijabstyle
+ View more details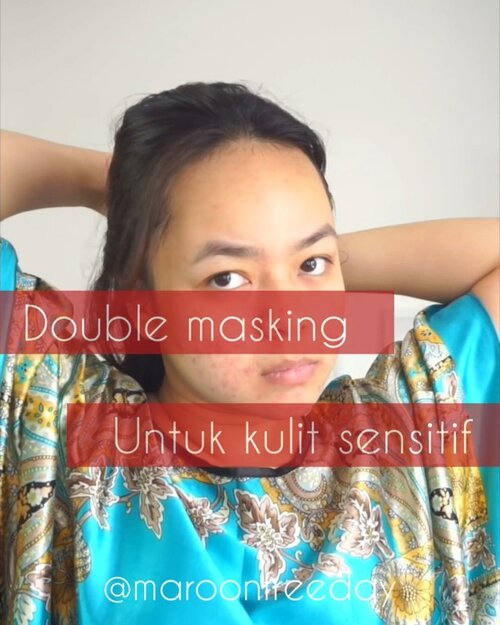 Double masking untuk kulit sensitif, sebetulnya boleh gak sih? 🧐🤔
Untuk aku yang punya kulit sensitif, pemakaian skincare tuh tricky banget termasuk masker, apalagi sheetmask. Aku pernah bahas juga bahwa aku enggak cocok pakai sheetmask karena terlalu lembap di kulit aku. Salah satu trik biar aku bisa pakai sheetmask adalah Double Masking.
Apa sih Double Masking tuh?
Seperti namanya, Double Masking ya artinya pakai masker double alias dua kali. Caranya tentu aja dengan pakai masker berbeda yang bisa membuat kondisi kulit kita jadi balance. Contohnya seperti yang ada di video ini, aku pakai Milk Peel Cream Mask dari @altheakorea yang ada bubble bubble lucu gitu. Namanya aja udah Milk PEEL Cream Mask ya, tentu aja dia eksfoliasi/exfoliate, yang mana bikin kulit jadi agak kering karena semua kotoran terangkat dengan baik. Nah disaat kulitku agak kering ini lah aku bisa pakai sheetmask yang variannya hydrating dari @iomibeauty agar mengembalikan hidrasi dan kelembapan kulit aku 💧
Jadi, udah bisa kira-kira mau pakai kombinasi masker apa? Atau udah pernah coba double masking? Yuk share di komen 😁
Btw aku suka banget sama sheetmasknya @iomibeauty karna dingin, padahal gak masuk kulkas. Jadi pingin beli lagi 🤣
#MaskeranSamaMaroon
#ClozetteID
#beauty
#makeup
#makeuptutorial
#inspirasimakeup
#inspirasicantik
#tipskecantikanid
#tipscantik
#beautybloggerindonesia
#indobeautysquad
#Bloggirlsid
#BeautygoersID
#Beautiesquad
+ View more details

loading ...
Back To Top