loading...
Search
402 RESULTS FOR SHEETMASK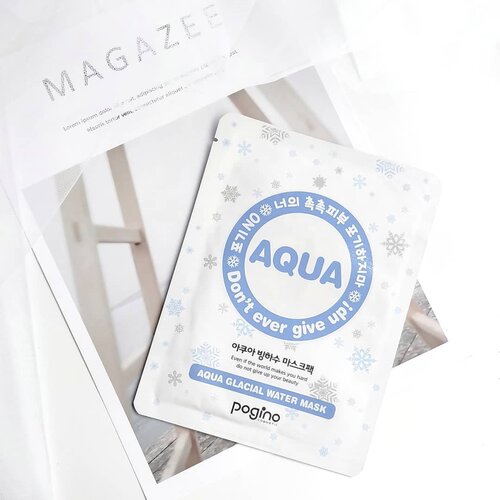 Pogino Aqua Glacial Water Mask
.
I got this mask from @skencos a few months ago. I'm sure my Indonesian beauty friends don't know much about this brand, so do I. Thank you so much @skencos for giving me the chance to try some masks that I didn't even know they were exist 😁.
.
The main ingredient is Glacial Water, supplies moisture to skin & helps in temperature care. The other ingredients are Complex Hyaluronic Acid, Rosa Centifolia Flower Extract & Bambusa Vulgaris Water provide a refreshing feeling on dry skin, regulates skin balance and helps maintain lively & moist skin.
.
The sheets is very thin, using nude mask sheet made from 100% natural vegetable materials.
.
If you look at the packaging there are snowflakes pictures, I assume that this mask will provide great soothing or cooling sensation. But it turns out it only provides soft soothing sensation.
.
It has a lot of essences, it looks like I can use it to take a shower, 😂😂😂. The essence is clear and slightly viscous, not greasy but a little bit sticky. With hints of a refreshing musk and powdery scent.
.
I used this mask for 30 minutes, I really liked the sheet material that adheres well on my face. It felt so comfortable and the scent gave me relaxation. After I took off the sheet, the essence left on the face felt a little bit sticky and needed time to be absorbed. Just as its claimed, I felt my skin become moist and well hydrated after using this mask.
.
.
.
.
.
#kbeauty
#koreanbeauty
#kskincare
#koreanskincare
#koreanmask
#koreansheetmask
#clozetteID
#beauty
#beautyblogger
#beautyreview
#beautycommunity
#skincare
#skincarereview
#skincarecommunity
#skincareroutine
#skincarediary
#skincarelover
#sheetmask
#sheetmaskreview
#mask
#maskreview
#sheetmasklover
#sheetmasksddict

+ View more details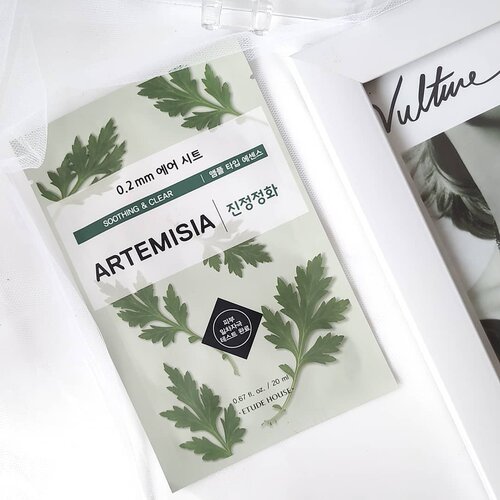 Etude Air Therapy - Artemisia
.
Now I know why this mask is one of the best sheet masks in 2019 @beaut.chat version.
.
Etude Air Therapy Sheet Mask has more than 20 variants, I almost tried all the variants and can easily say that Artemisia is the best!
.
Containing Artemisia Princeps Leaf Extract which helps calm and soothe redness on the skin while also healing acne / breakouts.
.
The sheet is super thin, just like the other variants of Etude Air Therapy Sheet Mask, made of breathable 0.2mm air sheet.
.
Has water-like essence, light and not sticky. It smells like most products with Artemisia, smells like herbs and mint hints.
.
I was very surprised when the sheet touched my skin, it gave shivers, it had a great soothing sensation! A mask with soothing sensation is definitely my fav!
.
Before using this mask my skin was having problems with redness and some hormonal acne. When I lifted the sheet, I could see the redness on my face was greatly reduced, my acne also became more calm. It took time for the essence to be absorbed and when it was absorbed my skin looked glowing and felt well hydrated. I really love this mask, it has an affordable price too, so surely I will stock up this mask.
.
Have you ever tried this mask?
.
.
.
.
.
.
#etude
#etudehouse
#etudemask
#etudesheetmask
#sheetmask
#mask
#sheetmaskreview
#kbeauty
#koreanbeauty
#kskincare
#koreanskincare
#beautchat
#bestmask
#bestsheetmask
#artemisia
#soothing
#shootingmask
#calming
#calmingmask
#ClozetteID
#skincare
#skincarecommunity
#beauty
#beautycommunity
#motd
#maskoftheday

+ View more details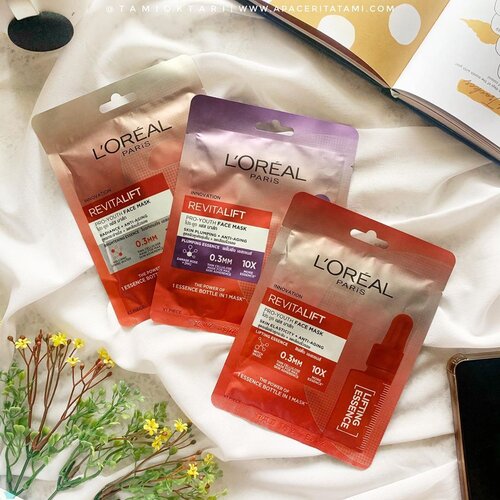 Sheet mask dari @getthelookid L'Oreal Paris Revitalift Pro-Youth Face Mask dengan 3 varian yaitu• Lifting Essence (witch hazel)• Brightening Essence (volcanic spring water)• Plumping Essence (hyaluronic acid) .Tipe lembaran maskernya yang super tipis jadinya nyaman banget di kulit dan enggak berasa engap. Ukuran maskernya pun pas banget di wajahku yang bulat ini. Lubang bagian mata dan mulutnya pas-pasan banget jadi harus diatur dengan benar maskernya supaya posisinya pas.Essencenya cukup banyak jadi lebihnya bisa dipakai di area leher dan tangan. Masih mengandung fragrance tapi wanginya hanya 'selayang' dan enggak menyengat sama sekali.Pemakaiannya cukup 10-15 menit. Setelah maskernya dilepas, wajah ga perlu dibilas. Biarkan essence sampai menyerap. Di kulitku yang berminyak, eessencenya cukup lama menyerap bahkan udah aku biarin selama berjam-jam yang akhirnya wajah jadi berasa greasy😅 Jadi menurutku masker L'oreal ini lebih pas untuk yang kulitnya kering.Masker ini udah tersedia juga di e-commerce seperti Tokopedia, Shopee dan Lazada ya.
#InstantRadiantSkin
#sheetmask
#ClozetteID

+ View more details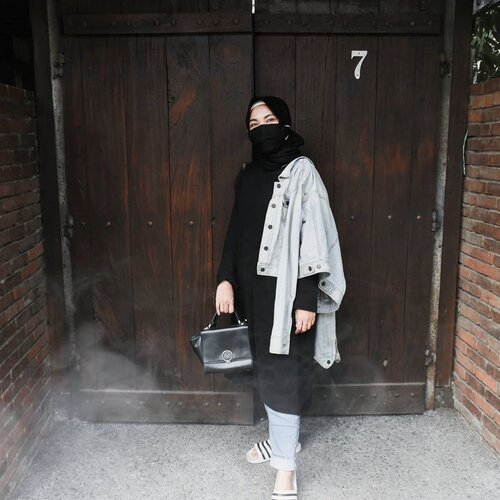 + View more details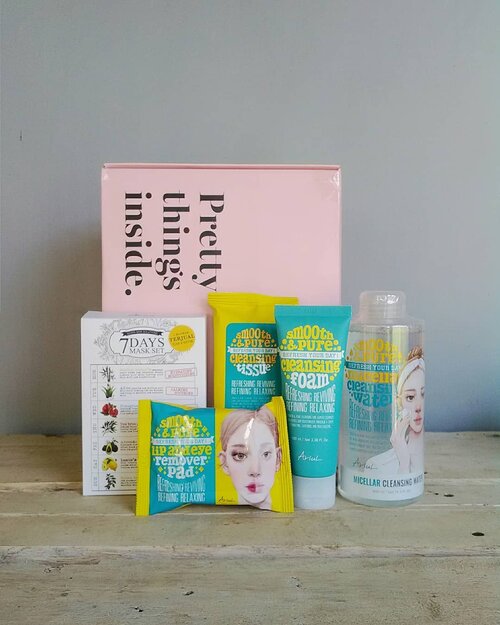 Seneng banget beberapa hari yang lalu aku dapet paket dari @ariul_id dan @sociolla @beautyjournal yang isinya rangkaian Ariul Smooth and Pure Series.
.
Isinya macem-macem nih :
1. Ariul Smooth and Pure Cleansing Foam
Sejenis sabun pembersih wajah yang harus dibilas dengan air. Kalo lagi dirumah aja dan nggak pake make up sama sekali, biasa aku pake cleansing foam aja sih buat bersihin wajah.
2. Ariul Smooth and Pure Micellar Cleansing Water
Sejenis pembersih make up yang butuh bantuan kapas buat aplikasiinnya. Kalo abis pergi-pergian atau abis pake make up aku biasa pake micellar water karena ampuh banget ngangkat sisa make up, debu, dan kotoran diwajah.
3. Ariul Smooth and Pure Lip and Eye Remover Pad
Sejenis pembersih make up khusus bagian mata dan bibir. Biasanya formulanya lebih lembut karena kulit bagian mata dan bibir kan emang lebih tipis. Lip and Eye Remover ada yang bentuknya cair ada juga yang bentuknya pad kaya punyanya Ariul ini.
4. Ariul Smooth and Pure Cleansing Tissue
Sejenis pembersih make up siap pakai yang bentuknya lembaran kayak tisu basah. Aku biasa bawa ini kalo lagi traveling karena lebih simpel dan nggak takut tumpah-tumpah di dalam tas.
5. Ariul 7 Days Mask Set
Nah kalo yang ini sheet mask atau masker siap pakai. Sheet mask ini punya 7 varian, tapi nanti aku bikin postingan terpisah khusus sheet mask ini.
.
Nah ngomongin soal pembersih wajah, biasanya temen-temen lebih seneng dan sering pake pembersih wajah jenis apa nih? Kalo aku sih, menyesuaikan kondisi, hehe.
.
.
Oh iya, kalo mau beli rangkaian produk pembersih @ariul_id Smooth and Pure Series bisa banget beli di @sociolla dan biar dapet diskon pake kode voucher aku : ARLXSBN049
🔹 Diskon 30% (max. cashback Rp 15.000)
🔹 Minimal pembelian Rp 50.000
🔹 Berlaku tanggal 18 Mei - 18 Juni 2020
🔹 Pembelian hanya secara online di sociolla.com
.
.
#clozetteid
#sociolla
#beautyjournal
#socobeautynetwork
#sociollabloggernetwork
#ariul
#ariulsmoothandpure
#waktunyaariul
#ariuldimanamana
#cleansingfoam
#micellarwater
#lipandeyeremover
#cleansingsheet
#sheetmask
#skincare
#review
#beauty
#blogger
#mantrianarani

+ View more details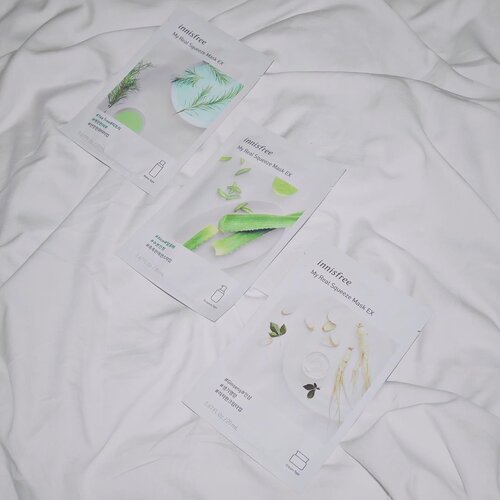 Well well well . . .I must say that MY REAL SQUEEZE MASK EX from Innisfree helps me to reduce breakouts. @innisfreeindonesia @innisfreeofficial •Terus ada yang baru aku sadar sekitar tahun lalu. Sheet Mask dari Innisfree ini punya 3 tipe 'liquid' di dalamnya ;- WATER Type, Tea Tree. teksur cair cepet banget meresap di kulit. Tapi tetep kasih kelembaban.- ESSENCE Type, Aloe. menurut aku masih cenderung cair tekstur. Walaupun agak sedikit beda dari yang water type.- CREAM Type, Gingseng. Teksur yang paling 'thick' di antara mereka. Yess, agak sedikit kental tapi tetap cantik meresap di kulit. Another plus point, gak lengket di kulit.••
#ClozetteID
#SOCOBeautyNetwork
#innisfree
#innisfreeindonesia
#innisgram
#sheetmask
#facemask
#acne
#acnefighter

+ View more details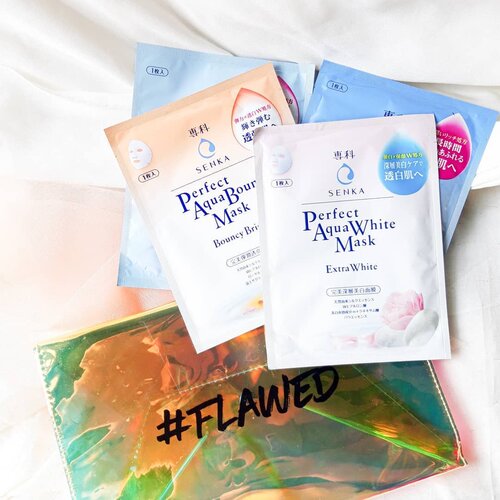 #SheetmaskSundaySenka
is famous for its Perfect Whip cleanser. But they also have sheet mask range. I have several variants of Senka perfect mask. If you want to try you can choose variant that will suit for your skin needs.The first one I decided to try is Bouncy Moist when my skin was dehydrated and few days later I tried Soothing Aloe mask.The material isn't thick and it fits my face. The essence is lightweight, quickly absorbed and leaves my skin so moisturized and bouncy. Perfect for dehydrated skin. I also love the soothing effect from the Aloe mask.I noticed that their mask doesn't contain essential oil, because usually sheet mask still uses EO.I also checked that their ingredients doesn't contain fragrance on the list, so thats why their scent is minimal. Fragrance Free, Colorant Free, Alcohol Free, Allergy tested 🖤I really recommend this sheet mask for you guys. Worth to try! 🙋‍♀️ Have you tried this brand or their sheet mask?Last, happy selfcare Sunday!
+ View more details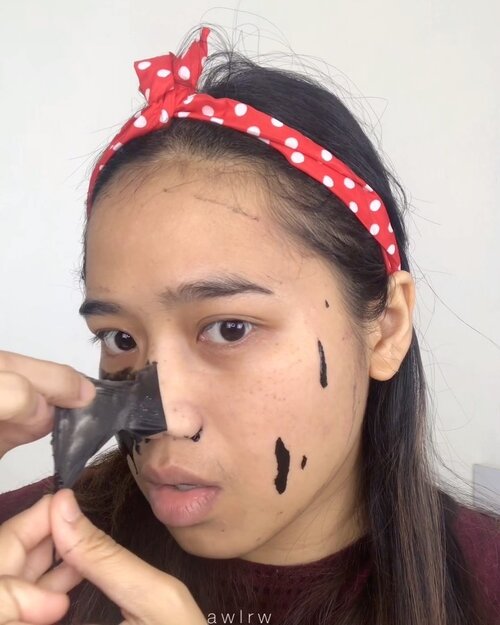 #ReviewMaskerAul
@madame.gie Nama: Madame Gie Peel OffVarian: Bamboo Charcoal & Black SugarNetto: 7gHarga: 2,000-3,000-an (sekali pakai)Kemasan: kemasannya tuh cuma buat sekali pakai, ukurannya kecil minimalis. Jadi yaudah pas gitu. Informasinya juga lengkap di kemasan kok.Tekstur & Aroma: teksturnya kental banget, tapi engga terlalu tebal ya masih agak cair dikit. Aromanya yang bikin pusheeenk, alkohol sekali bunda dan tercium sampe dia kering🤝Kesimpulan: jujur aromanya itu menganggu bangetttt hampir blin menangys. Aku jga ga ada ekspektasi apa apa sih sama peel off ini karena pada dasarnya engga suka peel off🤣 dibaurinnya agak tricky dibagian jidat karena netes gitu loh mungkin agak cair dia kan. Setelah nunggu beberapa lama, wajahku engga begitu ketarik. Masih tolerable lah. Ngeleteknya enak karena dia agak tipis kan eh gak nyangka aku dia bisa angkat komedo!! Padahal teksturnya tipis hahahha worth to try sih murah juga kan...Pemenang dr video kmrn: @niin_ainin22..Yuk pilih lagi masker mana yg harus aku review selanjutnya?lea, medi heal, joefie, cocottePenjawab yg beruntung akan aku kirimkan 3 peel off madame gie + varian masker di video selanjutnya. (Ongkir ditanggung aku 10,000 saja)
#maskermadamegie
#madamegiepeeloff
#peeloffmadamegie
#tampilcantik
#cchanelbeauty
#clozetteid
#beautiesquad
#madamegie
#bloggerceriaid
#cchanelfellas
#bloggerperempuan
#skincarevideo
#beautyvideo
#peelofflokal
#maskerpeeloff
#sheetmask
#ReviewMaskerAul_MadameGie
+ View more details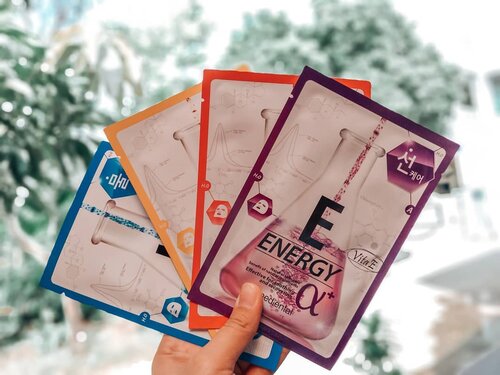 MEDIENTAL ALPHA MASK
.
.
Ngubek2 sheetmask, ternyata aku masih punya sheet mask koleksi dari Mediental Alpha Mask ini. Beli sheetmask ini karena variannya macem2, variannya ada 5, yaitu Vita A, Vita B, Vita C, Vita E dan Vita K. Lucu aja varian sheetmasknya ada kandungan vitaminnya. Dan fungsi dari sheetmask ini adalah memberikan energi pada kulit kita.
Mediental itu kepanjangan dari Medical Oriental. Salah satu produk keluarannya adalah Medical Alpha Mask. Waktu pertama kali lihat namanya, jujur aku agak susah membacanya.
Kandungannya aura-alpha complex, arbutin, extract pearl, sodium ascorbyl phospate.
Bagian belakang packaging sih tulisannya bahasa Korea semua, karena memang dikembangkan di Korea.
Lembar sheetmasknya menurutku mayan tebal, jadi gak gampang robek. Trus ada pattern DNA nya gitu si lembar sheetmasknya, lucu deh 😊 kayaknya dari packaging luar aja udah menggambarkan sih 😊
Bagian lubang mata, hidung and bibir ini pas buat wajah aku.
Untuk wanginya ada yang blg ada wangi2 kimia gitu, tapi aku sih gak masalah sama wanginya.
Essencenya cukuplah buat semuka, aku gak suka yang berlebih2 😊
Aku belinya udah lumayan lama di @aeonstorejgc waktu ada promo.
Kalian udah ada yang nyoba pakai sheetmask ini? 😊
.
.
#skincareobsessed
#bodycare
#ClozetteID
#photooftheday
#iloveskincare
#selfcare
#skincareobsessed
#hijabstyle
#beautyproducts
#dewyskin
#makeupjunkie
#instabeauty
#healthyskin
#wakeupandmakeup
#beautystuff
#glow
#beautytips
#beauty
#Sheetmask
#medientalmask
#mediental
+ View more details

loading ...
Back To Top