loading...
Search
5 RESULTS FOR SKNGOA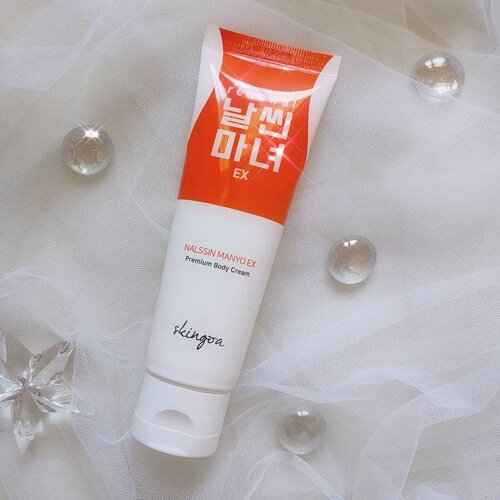 #Repost
from Clozetter @Mgirl83.
Body cream that helps you tone up? It's a yes for me!
I've been loving this Renewal Nalssin Manyo EX Super Multi Body Cream from @skingoa , i like to use it both when i'm staying still but even more so when i'm about to work out!
Some people finds it hard to sweat even when they are working out (personally i'm in the middle as i do sweat, but not as much as i'd like) which makes the calorie burning not maximized, i believe this hot body cream would help as it has a thermal warming sensation even just by applying it. It help makes me sweat in the area that i apply it to (mostly thighs and arms as they are my trouble areas) even when i'm not doing anything and it makes me sweat twice as much when i am doing some work out!
There are a few things you need to note before trying it out :
• Try using a little bit first and see how your skin reacts to it. I have thin skin so if i use too much, i would get a burning sensation that could be too much for me. So i use just a little bit and already feel its full strength.
* If you have thin skin, be careful of your palm too. Try not to apply directly with your hand, i tried it before and my palm really hurts 😭😭😭. Now i always use a massaging tool, it would also help your blood circulation and the cream to work better by massasing it in!
* If you are a contact lens user, make sure you already put your contacts in before applying and don't touch your face (esp eyes area) if your hands come into contact with the cream.
If you use the right amount for your skin, it would give you a very pleasant, warm, almost therapeutic feeling, but it definitely can hurt if you use too much.
I also love how it doesn't only have slimming effects, but also moisturized and nourishes your skin at the same time.
You can grab yours at my Charis Shop (Mgirl83) for a special price or type
https://bit.ly/HotCreamMindy83
To directly go to the product's page 😉.
@hicharis_official @charis_celeb @charis_indonesia
#skngoa
#NalssinManyo
#HotSlimmingCream
#charisceleb
#charis
#hicharis
#reviewwithMindy
#beautefemmecommunity
#koreancosmetics
#clozetteid
#sbybeautyblogger

+ View more details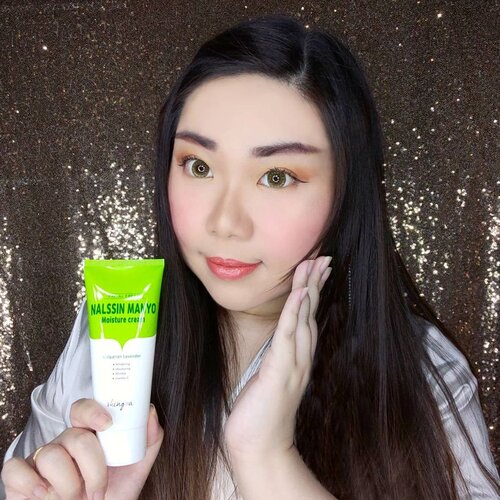 My skin been loving this lately : @skingoa Nalssin Manyo Moisture Cream!
It's a deep moisturizing, lavender scented (i used to dislike lavender scents but i have gradually accept it better hehe) cream moisturizer that has a light cream texture (you can see from the close up pic of the texture that it's not too thick so it's easy to get absorbed into the skin) that keeps my skin deeply hydrated and improve my skin texture to be suppler and mochier.
It is suitable for all skin types - even sensitive skin, both dry/dull skin and blemish prone skin can benefit from this cream. I have oily skin and i do find this cream to make my skin feels a little greasy so i prefer to use it at night as i find it too heavy for day use, especially under makeup. Another proof that it's super moisturizing is how i used it all over my face (including my eyelids haha. I do this with some Korean creams that can be used in all parts of your face) and within a week it gets rid of all dry spots from my lids and i actually notice my lids become oily for the first time in a long long time (it's apparent when i used eyeshadows) 😳😳😳.
With key ingredients like Hyaluronic Acid, Adenosine, Shea Butter, Niacinamide, Vitamin C and E, Centella Asiatica and Lavender to moisturize, brighten and reduce signs of aging like wrinkles, Nalssin Manyo Moisture Cream is also free from harmful ingredients making it super ideal and safe to use!
It's a very no-nonsense type of moisturizer that (who dislike too many steps in my skincare routine) works like a charm and i find to be very convenient to use. Trust me, it'll make your life (or at least your skin care routine) easier!
You can get yours with special price at my Charis Shop (Mindy83) or type
https://bit.ly/nalssinmanyoMindy83
to get directed to the page directly.
@hicharis_official @charis_celeb
#skngoa
#NalssinManyo
#CHARIS
#hicharis
#charisceleb
#kbeauty
#clozetteid
#sbybeautyblogger
#BeauteFemmeCommunity
#reviewwithmindy
#skincare
#koreancosmetics
+ View more details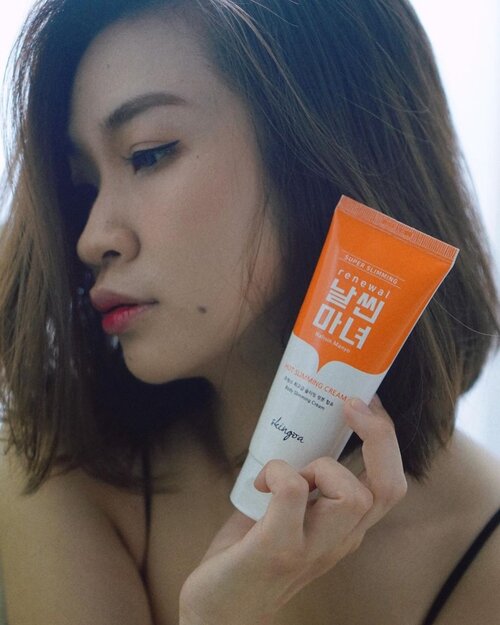 + View more details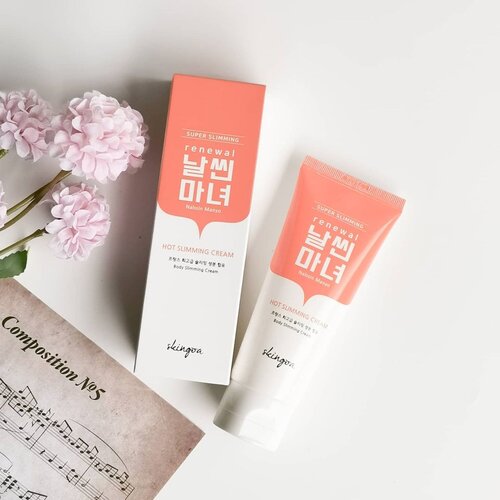 Have u ever tried slimming cream?2 minggu yang lalu aku dapet Nalssin Manyo Hot Slimming Cream, ini adalah produk dari Skingoa, a Korean brand. This is not my first slimming cream, aku pernah mencoba beberapa merk sebelumnya but mostly mereka terasa kayak balsem 😂. How about this product? Apakah bakal sama saja seperti balsem? Let's find out!Produk ini mengandung French Premium ingredient "Bodyfit" yang merupakan patented ingredient for slimming by reducing fat cells, cellulites & swelling.Bagaiamana cara kerjanya? meningkatkan metabolisme tubuh dengan cara memberikan efek hangat sehingga membuat temperatur badan meningkat yang mana itu bisa membantu untuk membakar lemak. Disarankan untuk memakai cream ini sebelum workout supaya hasilnya lebih maksimal. Hari pertama aku memakainaya di malam hari atau disaat tidak melakukan banyak aktifitas & ternyata aku tidak merasakan efek panas maupun hangat sama sekali. Next day, aku pakai sebelum workout & aku merasakan efek hangat yang cenderung terasa pengap sehingga membuatku berkeringat sangat banyak. Semakin aku banyak gerak suhu bagian tubuh yang aku olesin cream semakin meningkat. Hari ke 3 aku coba memakainya sebelumw beraktifitas seperti mencuci baju & menyapu. Hasilnya, sama seperti ketika aku melakukan workout. Intinya produk ini hanya akan bekerja ketika kita beraktifitas. Tekstur creamnya lembut agak balmy, tidak lengket dan baunya enak, perpaduan eucalyptus & lavender, tidak ada kesan bau balsem. I've been using this product for 2 weeks, aku fokus gunakan di area paha dan lengan untuk mengurangi selulit. Di area tersebut juga ada garis-garis gelap seperti stretchmark, ini muncul karena berat badanku naik sebanyak 14kg. Hasil yg sementara ini bisa ku lihat adalah, area tersebut jadi agak cerah & garis gelap sedikit pudar, sepertinya ini karena kandungan vit C didalamnya. Aku akan update lagi di blog setelah berhasil menghabiskan 1 tube. Where to buy?
https://hicharis.net/yourwilddaisy13/1tqg
#CHARIS
#skngoa
#NalssinManyo
#HotSlimmingCream
@hicharis_official @charis_celeb @skingoa
#kbeauty
#slimming
#slimmingproduct
#workout
#slimbody
#bodygoals
#clozetteID

+ View more details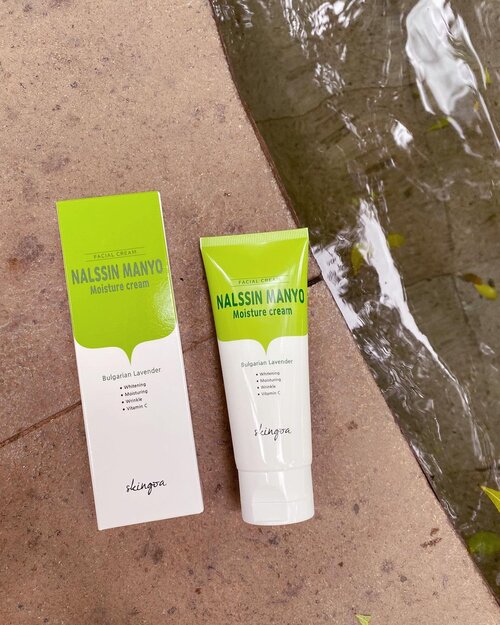 Nalssin Manyo Multi-Purpose Moisture Cream with Bulgarian Lavender yang highly moisturizing, mengandung vitamin C, E, shea butter, adenosine, niacinamide, centella asiatica, hyaluronic acids, etc, that helps retain moisture, dan menggunakan bahan-bahan yang aman.🌿whitening🌿moisturizing 🌿anti wrinkleMade for:☺️ dry skin😳 sensitve skin😶 dull skin🤫 blemish prone skin🤗 loose and wrinkle skinContain NO:❌ parabens❌triethanolamine ❌phenoxyethanol❌artificial colours ❌mineral oil ❌synthetic fragranceHow to use:apply the cream liberally on clean skinNalssin Manyo Moisture Cream bisa dibeli di,
https://hicharis.net/carnellin/1ulgseharga
Rp.270rb
#CHARIS
#skngoa
#NalssinManyo
@skingoa @hicharis_official @charis_celeb
#skincare
#moistskin
#lavender
#igreview
#koreanskincare
#koreanbeauty
#beauty
#igers
#pelembabwajah
#kulithalus
#kulitcerah
#beautyvloggerIndonesia
#pelembabalami
#vitc
#sehat
#kulitsehat
#healthyskin
#love
#clozetteID
#trend
#musttry
#antiewrinkle
#bebaskeriput
#flawless
#rekomendasiskincare

+ View more details

loading ...
Back To Top