loading...
Search
946 RESULTS FOR SOOTHING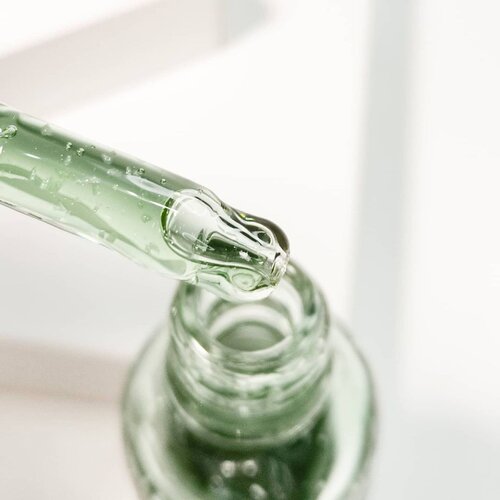 WellDerma - G Plus Silver Peptide Ampoule for
#texturetuesday
Pertama kali menerima produk ini aku merasa agak geli melihat tekstur didalamnya, karena ada silver flakes yang bentuknya hampir mirip cacing kecil-kecil 🤣. But ended up, aku keenakan pakai sampai lupa belum review dan belum foto! Panik ga? Panik lahh, aku sering bilang kalau wajib banget foto produk pas baru dateng, biar kemasannya masih bagus dan isinya terlihat banyak. Nahh, ini bisa kelupaan karena saking menikmatinya.
What is it? A nourishing ampoule that helps to rejuvenate and improve skin elasticity with silver ingredient and 6 Peptide Complex.
6 peptide complex, apa saja itu?
💚 Hexapeptide-2 : prevent skin oxidation
💚 Acetyl Hexapeptide-8 : prevent anti-aging
💚 Tripeptide-3 : skin soothing & protection
💚 Tripeptide-1 : improve skin elasticity
💚 Hexapeptide-9 : giving skin vitality
💚 Copper Tripeptide-1 : strengthening skin barrier
Teksturnya kental banget, kayak gel yang kemudian mencair ketika diratakan dan cepet terserap kulit. Warnanya hijau, ini natural dari ingredients didalamnya. Baunya quite refreshing, ada sedikit hints eucalyptus & tea tree.
Kenapa aku menyukai ampoule ini?
Pertama aku suka teksturnya (tadi katanya geli 🙄) ringan, cepat terserap, finishnya bikin kulit nampak plumpy. Efek lembap dan hidrasinya bagus, trus kulit jadi terasa lebih kencang.
Oh iyaa, kandunga silver yang kayak cacing itu juga langsung melts ketika diratain, jadi jangan khawatir dia bakal nyumbat pori-pori. So far ampoule ini nggak bikin jerawatan or memperparah jerawat yg udah ada.
Kekurangannya apa? Agak pricey, 300ribuan gitu harganya untuk 30ml.
Where to buy?
https://hicharis.net/yourwilddaisy13/1wen
#wellderma
#PeptideRepairMoisturizingEssentialAmpoule
#peptideampoule
#charisceleb
#charis
@hicharis_official @charis_celeb @wellderma_global
#kbeauty
#skincare
#koreanskincare
#skincareroutine
#skincarelover
#skincareaddict
#skincarecommunity
#beauty
#beautycommunity
#beautyblogger
#beautyreview
#beautytips
#koreanbeauty
#clozetteID
#antiaging

+ View more details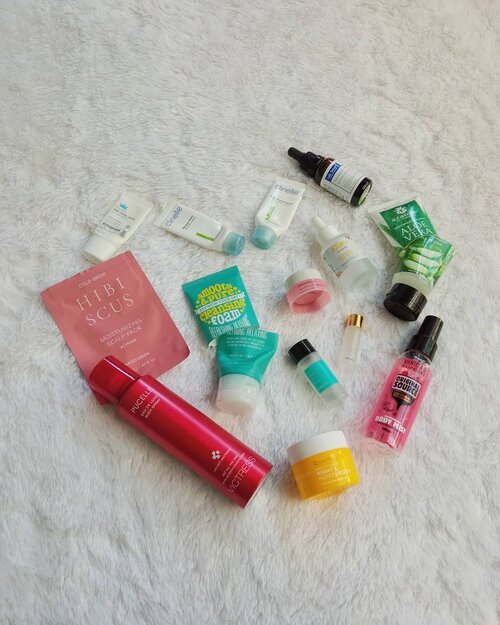 #ProductEmpties
kali ini aku ngabisin beberapa produk ukuran travel size dan beberapa lainnya ukuran full size. Kalo yang ukuran travel size sih karena ukurannya kecil jadi dalam waktu sebulan juga udah pasti abis, tapi kalo yang ukuran full size bisa sampe tiga bulanan atau lebih abisnya.
Ini dia
#ProductEmpties
yang berhasil aku habiskan :
✔ @rated_green Cold Brew Hibiscus Moisturizing Scalp Pack with Honey 50ml [Travel Size]
✔ @ariul_id Smooth and Pure Cleansing Foam 100ml [Full Size]
✔ @clinelleid Deep Cleansing Gel 20ml [Travel Size]
✔ @cosrx_indonesia Two In One Poreless Power Liquid 20ml [Travel Size]
✔ @crystallurebywardah Supreme Activating Booster Essence 6ml [Travel Size]
✔ @dr.hsieh.id Lab Smart Tranexamic Acid Essence 30ml [Full Size]
✔ @azaleabeautyhijab Amazing Brightening Face Serum 30ml [Full Size]
✔ @innisfreeindonesia Jeju Cherry Blossom Jelly Cream 10ml [Travel Size]
✔ @clinelleid Moisture Glow 20ml [Travel Size]
✔ @snpofficial.id Perfect Air Cool Sun Gel SPF 50+ PA++++ 15ml [Travel Size]
✔ @azarinecosmeticofficial C-White Perfect Radiance Night Moisturizer 25gr [Full Size]
✔ @azarinecosmeticofficial Soothing and Hydrating Aloe Vera Gel with Honey All In One 100ml [Full Size]
✔ @originalsourceid Refreshing Body Mist Vanilla and Raspberry 100ml [Full Size]
✔ @pucelleid Eau De Luxe Body Spray Victress 150ml [Full Size]
Jangan abaikan produk ukuran travel size, karena bisa jadi itu langkah awalmu menuju kulit glowing 😁
#ClozetteID
#beauty
#blogger
#lifestyleblogger
#mantrianarani

+ View more details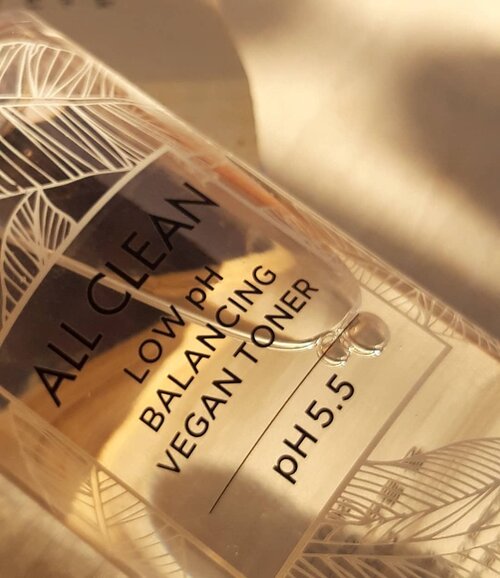 |Heimish All Clean Set|A close up and golden hour shots of Heimish Vegan Toner & Essence. I've been using four products of Heimish all clean set for almost two weeks. After a long time didn't participate in Try Me Review Me program, I'm happy that I could participate again.What are products in this set? A vegan toner, essence, cleansing balm, and blemish cream as moisturiser.What surprise me is their set is fragrance-free, vegan, alcohol-free & cruelty free.💡𝗛𝗲𝗶𝗺𝗶𝘀𝗵 𝗔𝗹𝗹 𝗖𝗹𝗲𝗮𝗻 𝗟𝗼𝘄 𝗽𝗛 𝗕𝗮𝗹𝗮𝗻𝗰𝗶𝗻𝗴 𝗩𝗲𝗴𝗮𝗻 𝗧𝗼𝗻𝗲𝗿This toner type is subacid & mild toner. It claims able to soothe, moisturize, and hydrate the skin. This toner has a watery texture, lightweight, and enough to hydrate my skin. As I said before, this toner is fragrance free and I don't smell anything. Formulated with 20 plant extracts, quite a lot, right? Thats why they say this is a vegan toner.Apart from plant extracts, this toner also contains mild AHA / PHA, Panthenol, Tocopherol, and Ceramide NP. This toner is easy to absorb to the skin. Even though it contains AHA / PHA but this is quite hydrating for my oily skin. Leaves no dryness on the skin. My skin feel better prepared for the next skincare step.Have you ever tried Heimish product? Which one is your favorite?〰️@stylekorean_global @heimish_cosmetic
+ View more details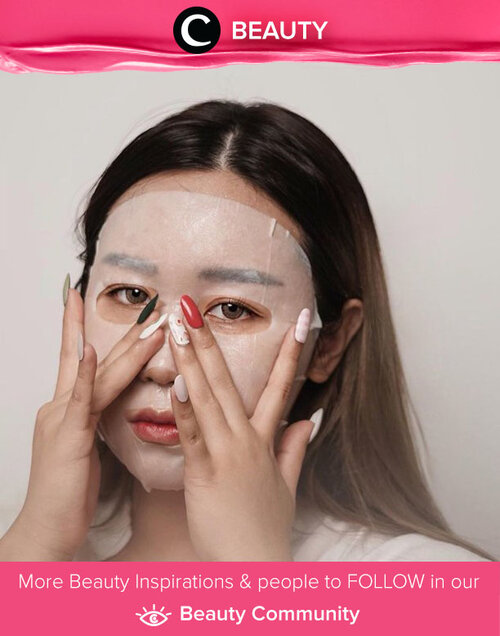 Brand lokal Airnderm punya sheet mask yang ampuh memberikan efek soothing di kulitmu. Sudah coba belum, Clozetters? Image shared by Clozetter @beatricenathania. Simak Beauty Update ala clozetters lainnya hari ini di Beauty Community. Yuk, share produk favorit dan makeup look kamu bersama Clozette.

+ View more details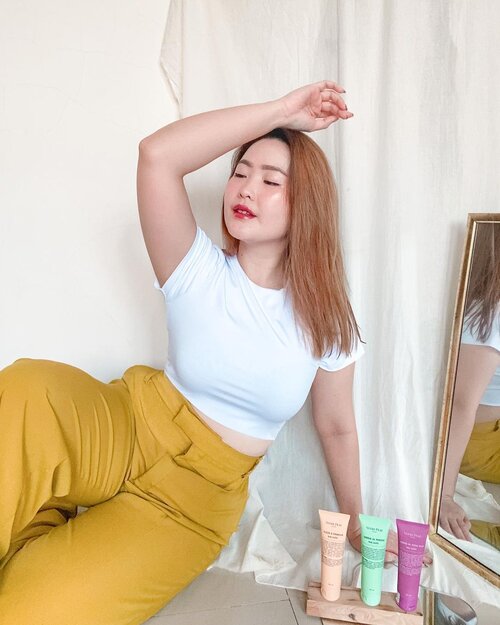 Merawat kulit wajah emang penting, tapi jangan lupa buat merawat kulit tubuh juga ya 🥰Belakangan ini lagi suka pake Body Soufflé dari @votre_peau 🙌🏻Ada 3 varian nih :🍊 Fleur d'orangerWangi nya bener2 orange banget, fresh gitu, ada citrusnya. Pastinya untuk hydrating dan regenaris kulit tubuh kita🌿 Jardin de mimosaWangi nya kayak nature gitu, fresh, complex dan jujur my favorite karena unik banget. Berfungsi untuk hydrating dan nourishing kulit kita💜 Jardin de votre peauWanginya musk, light wood. Ini wanginya lebih strong gitu, but i also like it hehe. Berfungsi untuk hydrating dan nourishing kulit Teksturnya kayau soufflé lembut dan gampang menyerap di kulit. Ga lengket sama sekali loh! Terus tahan juga seharian. Anyway semua body soufflé ini mengandung skincare grade olive oil & tocopheryl acetate yang bisa soothing dan calming our skin ✨☀️ di pakai pagi hari sebelum beraktivitas🌙 di pakai malam hari sebelum tidur ya
#CalmInsideOut
#clozetteid
#jakartabeautyblogger

+ View more details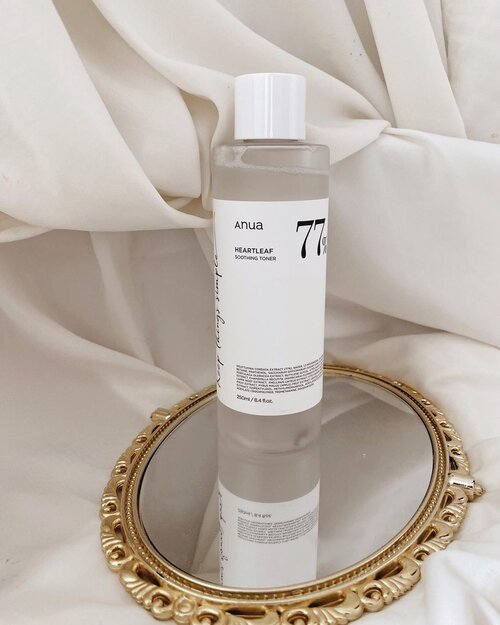 Korean skincare that can be used for body too!!
-
After weeks using this soothing toner from @anua.skincare, I feel my skin hydrated more than before. I feel it refresh enough on the skin and there is no dry feeling after using it.
This toner contains 77% heartleaf extract to soothe skin and balancing the moisture and natural oil on the skin. This also good for you who have acnes, it soothe and also help to get rid the old dead skin cell.
-
Okay what I really like about this toner are:
1. It's not have any kind of perfumery smell it just like a pure water
2. The texture is watery, so its really not greasy and sticky
3. It as easy as pure water on the skin in one wipes
-
You can use this soothing toner for your body, especially in dry part.
Would you like to try it?? :))
#anua
#skincare
#kulitbagus

+ View more details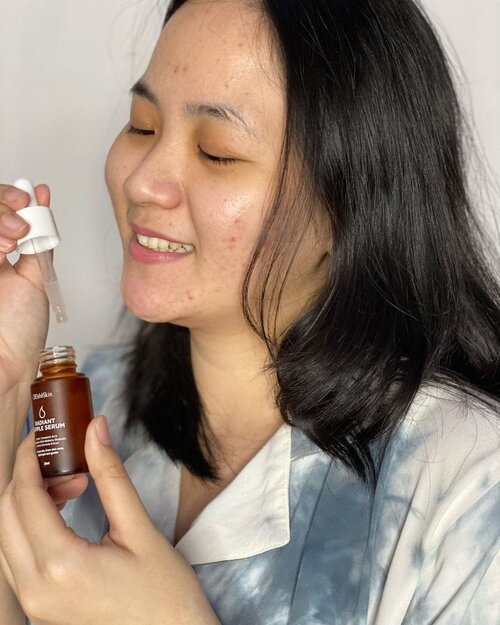 Serum buat kulit sensitif cheeeckkk! Wajib cobain Radiant Supple Serum nya @elsheskin ✨ ..Serum ini bagus buat yang: Kulitnya kusamWarna kulit ga rata (banyak bekas jerawat kayak aku)Anti aging..Kandungannya juga mantep! Mulai dari mulberry extract, sirsak, centella asiatica, arbutin, niacinamide, tranexamid acid, dan bisabolol. Concernnya memang buat soothing, hydrating, dan meratakan warna kulit. Makanya bisa buat semua jenis kulit 🙌🏻..Ohiya jangan lupa buat pake serum pagi & malem yaah! 🥰....
#jbbinsider
#jakartabeautyblogger
#jakartabeautybloggerfeatelsheskin
#bekindtoyourskin
#clozetteid

+ View more details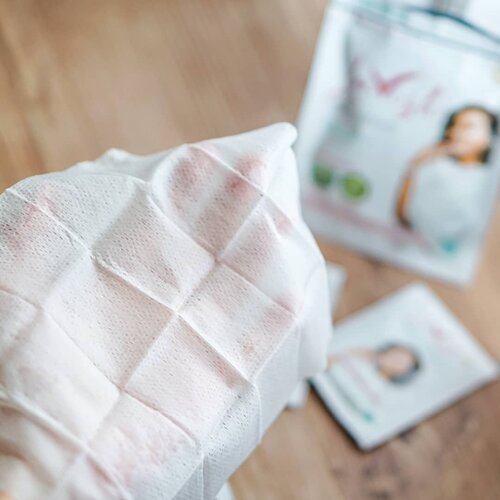 Bukan sekedar tissue basah 🤏🏻
Ini feminine wipes untuk area miss v tapi dipack dalam individual pack jadi lebih higienis.
Tissuenya lembut banget dan wanginya fresh, mirip teh chamomile. Mengandung aloe vera juga jadi soothing banget di kulit. Habis pake berasa adem, seger, dan nyaman.
Perfect buat on the go, habis ngegym atau kalau lagi padat aktivitas, terutama saat lagi period.
Minusnya karena packingnya individual gini jadi agak sayang makenya karena banyak bungkusan yang terbuang tapi utk special occasions ok banget karena ga cepat kering.
Bisa dibeli di @sociolla
DISKON 25rb dengan KODE DISKON SBN082420 untuk pembelian pertama
#lavishwipes
#beautyreview
#beautyjournal
#sociollabloggernetwork
#baliblogger
#Clozetteid
#NoWorriesWithBeautyJournal
#NOWORRIESKIT
+ View more details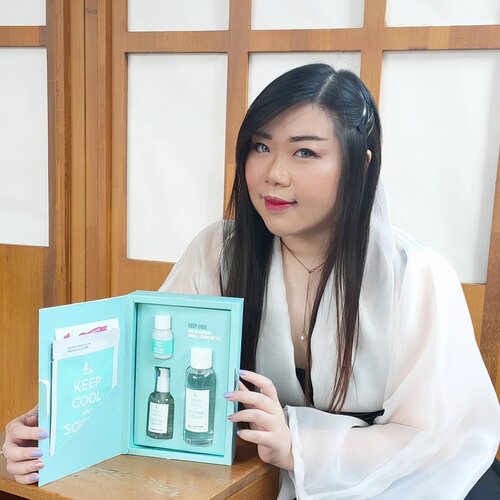 Have sensitive skin? I have a recommendation of one of the most gentle skin care line i've ever tried 🙂 : @keepcool_global Soothe Bamboo series!I've actually used the serum and toner in the past (and reviewed it on my blog, you can read it here :
http://bit.ly/keepcooltonerandserum
) and had a great experience with them so i definitely have no problem revisiting and using them again.The toner and serum are just like how i remember them, super gentle, super soft, calming and deeply hydrating. The toner is the type that after washing your face and using it, your skin will already feel super hydrated even before putting anything else on while the serum is super light and gets absorbed easily but leaves skin super soft and moisturized.The new items from this gift set that i tried for the first time are the lotion - which is also very light but very hydrating, if you have oily skin like me you'd probably find it making your skin quite greasy after a few hours, but it doesn't cause any whiteheads or any other side effects that usually occurs when i use products that are too rich - and the sheet mask.The sheet mask is the super soft, super thin sheet type with plenty of essence but minus the dripping that i hate haha, the essence is thick enough for the sheet to hold and it gives a cooling, calming sensation when used. It leaves my skin feeling very hydrated, supple and soft but without the stickiness that i dislike from most sheet mask.All and all, i like every single product from this line and i am highly recommending them for all skin types, dry, oily, sensitive - i think they would work well for everyone!Special thank you to @bazzaal_🙂.
#reviewwithMindy
#beautefemmecommunity
#koreancosmetics
#clozetteid
#sbybeautyblogger
#koreanskincare
#keepcool
#keepcoolbamboo
+ View more details

loading ...
Back To Top