loading...
Search
62 RESULTS FOR SPECIALEFFECT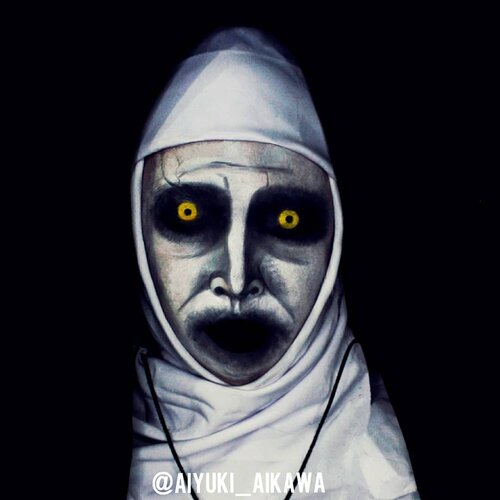 + View more details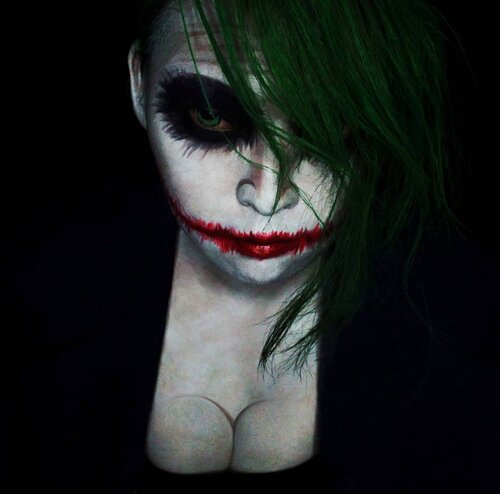 They Laugh At me Because I'm Different. I laugh At Them Because They're all the same. Whatever doesn't kill me. As you know, madness is like gravity, all it takes is a little push - Joker.Joker, tiap detail tatapan sadis dan senyum jahatnya, makes me fall in love with him 💕 Sekali lagi saya bergairah untuk bermain dengan cat pada subuh itu, dan memunculkan sedikit sosoknya pada wajah saya. Entah kenapa tokoh villain selalu lebih menantang dan berkesan bagi saya. Ada suatu kepuasan tersendiri ketika saya bisa menjiwai dan menampilkan karakter yang banyak dibenci dan dicintai tersebut. Tak sulit meng-kreasikan wajah Joker, asalkan kita bisa benar2 melukiskan karakternya pada setiap goresan kuas dan tatap jahat yang menurut saya sangat memikat dan menggairahkan. Tanpa terkecuali. - Aiyuki 2019 - Lady Joker. Hello again Octoboo! My favourite month.Saya sering berandai2, kalau saja saya bisa memilih tanggal lahir, sudah pasti saya akan memilih utk lahir pd tgl 31 Oktober tepat pd saat perayaan Halloween dan berzodiak kalajengking, dengan segenap filosofi desain yg saya kagumi. . Ok, kembali ke Octoboo, saya akan banyak memunculkan karya2 yg mind-blowing dan antimainstream untuk bulan spesial ini. Boo~ . Btw, sudah siap nonton Joker? Ada yang mau nemenin saya nonton dan mengagumi tatapan seksi sang legend? :p..
#Beauty
#style
#sfxmakeup
#joker
#art
#facepainting
#specialeffectmakeup
  #モデル  #メイク  #メイク  #かわいい
#girl
#beauty
  #ファッション  #コーディ  #ガール
#clozetteID
#specialeffect
#indonesiabeautyblogger
#undiscovered_muas
#sfxartist
#halloweenmakeup
#halloween
#ハロウィーン
#undiscovered_muas
#31daysofhalloween
+ View more details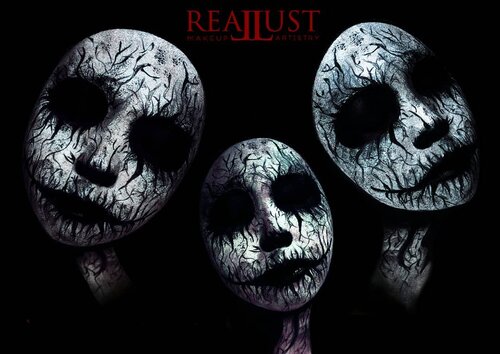 Pembicaraan singkat dalam sebuah sesi : .💬Murid : 'bikin ini susah nggak kak?' 💬Saya : 'nggak sama sekali. Justru ini kreasi yg paling mudah'💬Murid : 'kok kayaknya susah ya kak?....'💬Saya : 'Iya, yg susah adalah bagaimana mengekspresikan seluruh emosi, luka, dan passion yg berkecamuk, intinya setiap karya yg kamu hasilkan harus memiliki jiwa, harus bernyawa. Itu baru seni. Kalau tak memiliki makna, itu bukan seni namanya. Seni itu harus bisa dirasakan'.💬Murid : 'caranya gimanya kak?'💬Saya : 'just follow your heart. Feel your emotions, and paint!'.I can say this is the most easiest and the hardest facepainting creation. I just need to play around with black and white facepaint and put on my face. The hardest part is to express the wounds from the demon inside through every random line that full of emotions. I have to express and shows the emotions through the line - show 'that worse feeling' of being broke, create the nuance, show the pain, and every details trying to tell the world that its ok to being broke. As long as i give an impact to everyone, through my spirit, artwork, passion, and life's story..Gloomy Sunday, 23.35Paint the palette black and gray..Stary-Stary Night (a song for my muse, Vincent Van Gogh) resound in my room. Without the light. Nothing more comfortable than to stay in the darkness - all alone. Because inspirations and ideas just pop-up when i'm alone. I fell in love with solitude. Hiraeth. A loner. I don't like crowded place - At all. It makes me feel dizzy, and then i feel like i lost myself. And i will look like a grumpy cat behind my fake smile..REALLUST MAKEUP ARTISTRY[ I N N E R D E M O N ].They say don't let them in. They say it won't be hard. But when i'm turn away, the demon seems to stay.Angel please keep on fighting. Angel don't give up on me today.'cause the demon stay all there, they just keep fighting. The Demon don't play by the rules...
#Beauty
#fashion
#style
#sfxmakeup
#artist
#art
#facepainting
#specialeffectmakeup
  #モデル  #メイク  #ヘアアレンジ  #オシャレ  #メイク  #かわいい 
#instastyle
#girl
#beauty
#kawaii
  #コーディネート  #ファッション  #コーディ  #ガール
#clozetteID
#specialeffect
#SFXartist
#makeup
+ View more details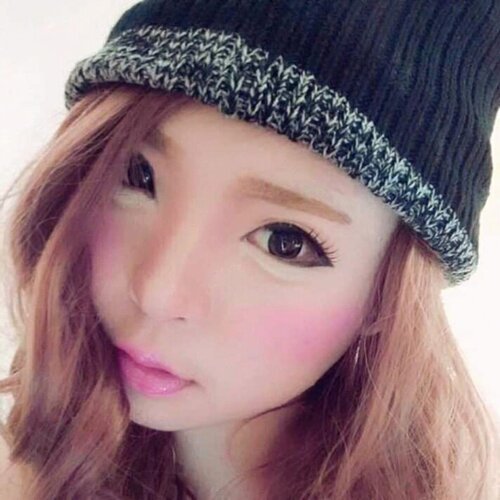 + View more details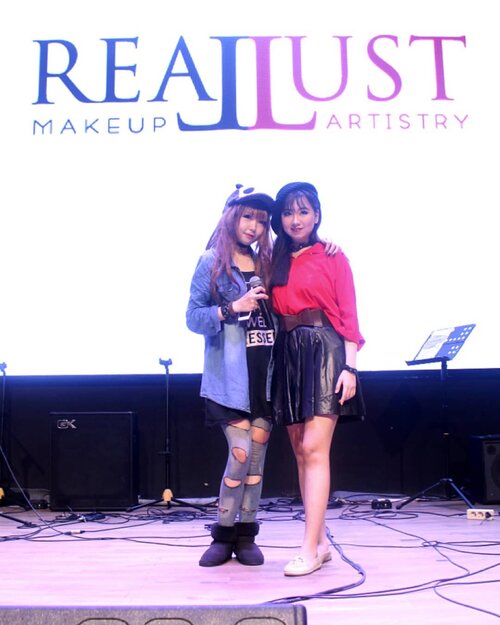 Masih inget dulu pertama kali nyolek makeup, kagok kaga paham apa2 smp pake bulumata palsu di alis, untung ga di hidung🙏 maapkeun sy yg dulu. Pake eyeshadow ky mata bonyok abis ketonjok plus ketjebur got, tp ga pernah sekalipun Yuki nyerah belajar sendiri smp bisa mekap normal smp abnormal dan jd inspirasi buat para beauty-enthusiast lainnya. Sbnrnya kaga prnah nyangka Yuki yg dulu hahok bgt soal mekap dan tomboy kebangetan malah bs berdiri buat sharing
#sombongkalikao.
Eh, tp ini crt inspirasi cui, bkn cerita kesombongan diri. Yuk lanjut...
.
Pd setiap sesi yg sy bawakan, sy sll mnyertakan 'Teori 10.000 Jam' yg terinspirasi dr buku favorit sy, 'Outliers' by Malcolm Gladwell. Seketika pula mereka terheran2 akan makna dibalik teori tsb. Begini, intinya km tdk akan mjd seorang profesional sebelum menghabiskan 10.000 jam utk memelajari suatu bidang (murni 10.000 jam tdk trmasuk wkt makan, mandi, tidur, dll). Misalnya, kalau sehari sj kamu hny brlatih selama 2 jam = 10.000 : 2 = 50.000 --> 50.000 : 365hari = 13.6 th. Kesimpulannya adalah : dibutuhkan sktr 13,6 th utk seseorang bnr2 mjd master di bidangnya.
.
Seseorang dikenal krn karyanya. Sebuah nama diingat krn apa yg dilakukannya. Jdikan mereka mngingatmu krn bidang yg km lakoni. Krn prestasi, bukan sensasi. Murah...
.
Dikenang krn prestasi mmg membutuhkan wkt lama, ksabaran super ekstra, mental baja, creative mindset, superpower utk stand up kmbali setiap kali merasa down, dan yg plg penting konsisten & persisten. All your effort, blood, tears, patience will be pay off. Not only for a short time. But forever, Your passion will lift and live your life forever.
.
Pasang kacamata kuda, fokus pd proses dan tahapan goal jangka pendek yg membentuk anak tangga yg akan mngantarmu perlahan menuju goal jangka pnjang. Toleh kanan-kiri hny utk mencari inspirasi dan koneksi. Don't care about the toxic. They're everywhere. Stand up for yourself, krn tdk ada yg mngerti kamu selain drimu sdr.
.
.
#FashionBlogger
#BeautyBlogger
#ART
#ARTist
#chic
#instastyle
#facepainting
#sfx
#specialeffect
#fashion
#Beauty
#beautystagram
  #モデル  #メイク  #ヘアアレンジ
#instaphoto
#makeup
#lady
#instagram
#style
#girl
#kawaii
  #ファッション 
#clozetteID
  #かわいい
+ View more details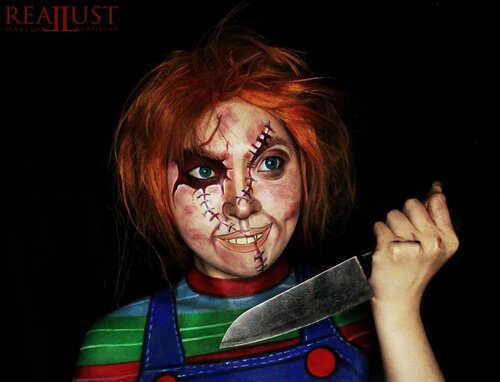 + View more details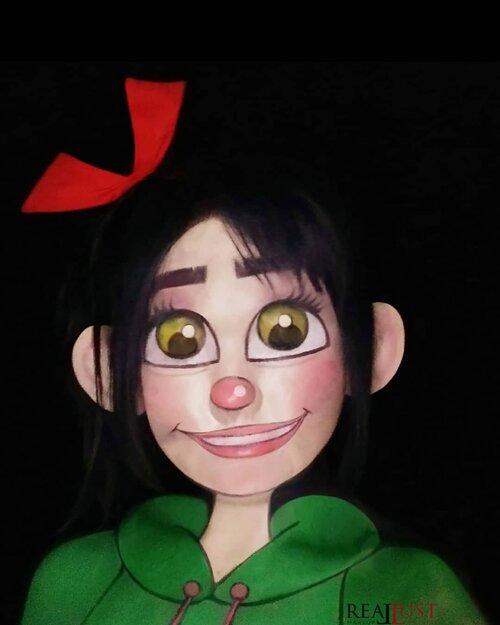 "Sweet mother of monkey milk! I did it!"Vanellope von Schweetz @sarahkatesilvermanFrom @wreckitralph 💙💚💛💜..Behind the scene (bahasa) :.Hiyaaaa, akhirnya ya Gustii! eke bisa pegang kuas dan ngecat lagi (setelah sekian lama ga sempat bikin karya facepainting dan makeup ilusi lagi karena berbagai kesibukan lain dan segudang dedlen yang berbisik manja. Sampe guatel banget ini jiwa membara pengen cemong2an lagi..Baydewey, ini poto penuh perjuangan dibanding poto karakter lainnya. Lha wong mata merem, idung disumpel kapas cem mayat (biar ga keliatan lubang idung, lalu kapasnya dicet warna kulit juga). Terus mulut kudu mingkem (lha kalo ndak, kan keliatan ilusi senyum sumringahnya). Jadi pas cekrak-cekrik ya kudu tahan napas, sambil sesekali break berapa detik buat ambil napas dari mulut cem ikan mujaer mangap2 ya lorddd 🐟
#sumpah
, bisa bernafas dengan leluasa itu merupakan suatu kebahagiaan yang haqiqi. Makae, ojo ngersulo urip kuwi..Intinya : selalu ada derita dibalik asa
#prikitiuw!Selalu
ada pengorbanan di balik sebuah karya..Ora gampang rek mbangun fondasi. Perlahan tapi pasti, dan last forever, gak cuma sementara. ..Ya sudah, begitulah... Sampai jumpa di karya saya yang berikutnya! Stay tuned lho, karena saya telah berikrar janji didepan saksi utk lebih aktif, produktif dan konsisten lagi untuk bikin karya yang lebih emejing dan awsem di tahun 2019 ini dan selamalamanya..Jangan lupa staytuned juga di blog aku : aiyukiaikawaii.blogspot.com untuk berbagai tips, review, dan tutorial makeup biar tampilan makin ketje. .........
#venellope
#venellopevonschweetz
#ralphbreakstheinternet
#wreckitralph2
#Beauty
#beautystagram
#fashion
#style
#sfxmakeup
#artist
#art
#beautyinbeingunique
#facepainting
#specialeffectmakeup
  #モデル  #メイク  #ヘアアレンジ  #オシャレ  #メイク  #かわいい 
#instastyle
#girl
#beauty
#kawaii
  #ファッション  #コーデ
#clozetteID
#specialeffect
#SFXartist
#makeupillusions
+ View more details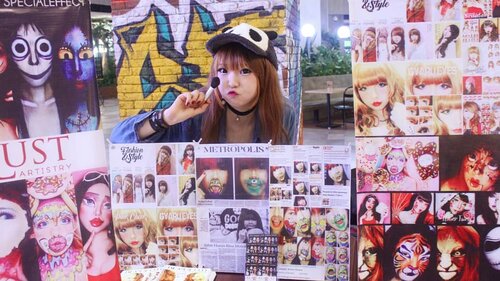 + View more details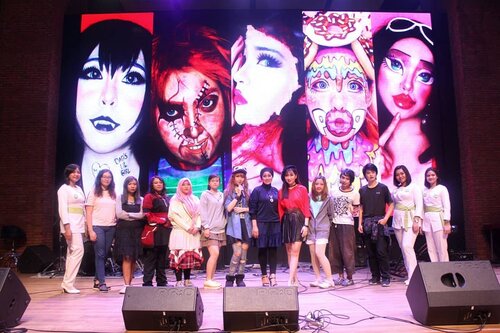 + View more details

loading ...
Back To Top