loading...
Search
53 RESULTS FOR TEATREE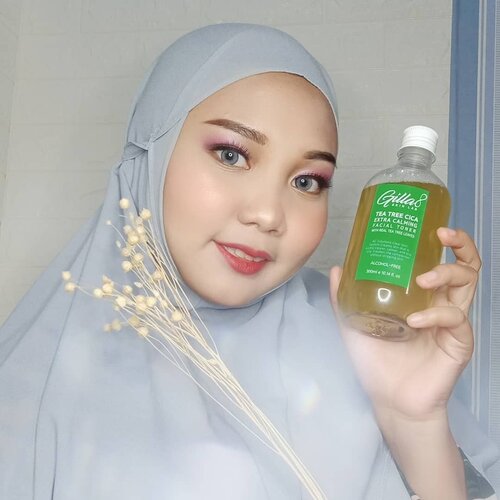 𝙍𝙚𝙫𝙞𝙚𝙬 @gilla8indonesia 𝙏𝙚𝙖 𝙏𝙧𝙚𝙚 𝘾𝙞𝙘𝙖 𝙀𝙭𝙩𝙧𝙖 𝘾𝙖𝙡𝙢𝙞𝙣𝙜 𝙁𝙖𝙘𝙞𝙖𝙡 𝙏𝙤𝙣𝙚𝙧-So far I have been using this toner for a few weeks & I love it! Seperti yang kalian tau, Toner merupakan salah satu skincare routine yang paling aku suka dan gak boleh di skip-Yang unik dari @gilla8.official 𝙏𝙚𝙖 𝙏𝙧𝙚𝙚 𝘾𝙞𝙘𝙖 𝙀𝙭𝙩𝙧𝙖 𝘾𝙖𝙡𝙢𝙞𝙣𝙜 𝙁𝙖𝙘𝙞𝙖𝙡 𝙏𝙤𝙣𝙚𝙧 ini, karna mengandung ekstrak daun tea tree (daunnya bahkan bisa kalian liat dicairan tonernya) 😍 dan juga mengandung centella asiatica yang dapat membantu memberikan soothing and calming effect pada kulit ~~ yang selalu aku notice, produk dari 𝙂𝙞𝙡𝙡𝙖8 ini tidak mengandung alkohol, sehingga aman untuk kulit sensitive 😊 dapat mengatasi berbagai skin problem! seperti jerawat, big pores, kulit kusam dll-Tekstur tonernya cair, tidak lengket dan gampang menyerap dikulit. Aku suka banget kompres kulitku pakai 𝙂𝙞𝙡𝙡𝙖8 𝙏𝙚𝙖 𝙏𝙧𝙚𝙚 𝘾𝙞𝙘𝙖 𝙀𝙭𝙩𝙧𝙖 𝘾𝙖𝙡𝙢𝙞𝙣𝙜 𝙁𝙖𝙘𝙞𝙖𝙡 𝙏𝙤𝙣𝙚𝙧 ini .. seperti klaimnya, dia bener2 menenangkan kulit ❤️-𝙒𝙝𝙚𝙧𝙚 𝙏𝙤 𝘽𝙪𝙮 :
https://hicharis.net/anisa/KEa
#charis
#charisceleb
#gilla8
#hicharis
#charisindonesia
#teatree
#teatreecicaextracalmingfacialtoner
#cica
#centellaasiatica
#toner
#realteatree
#calmskin
#purifypores
#kbeauty
#kskincare
#clozetteid

+ View more details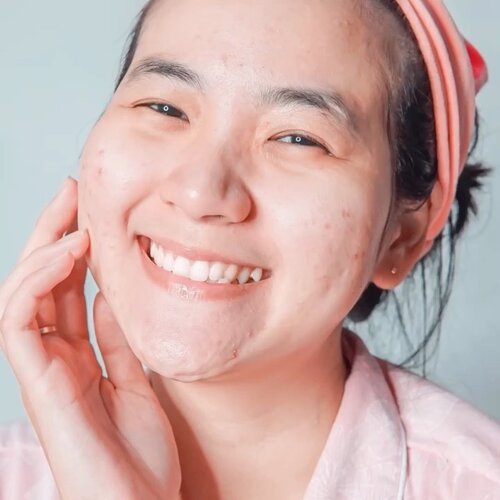 Udah guling guling dari ujung keujung tapi masih siang🤣 rebahan aja pegel ceunah. Akhirnya pampering yeeey🥰✨
#cantikdirumah
edisi skincarean. Nikmat juga bisa maskeran peel off gini, ngupasnya ituloh nikmat, kayak pake masker2 mevvah, 真棒!🤪 ..Ini pake sabun teatree & masker kopek alias peel off mask tea tree nya @thebodyshopindo soalnya lagi jerawatan bingit akutu, keliatan lahya banyak merah2 diwajah. Biar jerawatnya sembuh, kulit happy cicireceh happy🥰 ..semakin happy karena skincarenya diskon HAHA semuanya ini cuma 180ribuan trs maskernya bisa buat berdua (yang jomblo maskeran sampe duaminggu lumayan wkwk)..After effectnya pastinya ngebersihin minyak diwajah & kulit tetep lembab. Yum! Yg mau cobain juga bisa beli di websitenya bodyshop / whatsapp personal shoppernya (berasa sultan beb pake personalshopper, bisa tanya2 juga, bahagya)🥰...
#clozetteid
#cicireceh
#collabwithjenntan
#tbsbabes
#tbsbeautybae
#homeexperience
#teatree
#skincarejerawat

+ View more details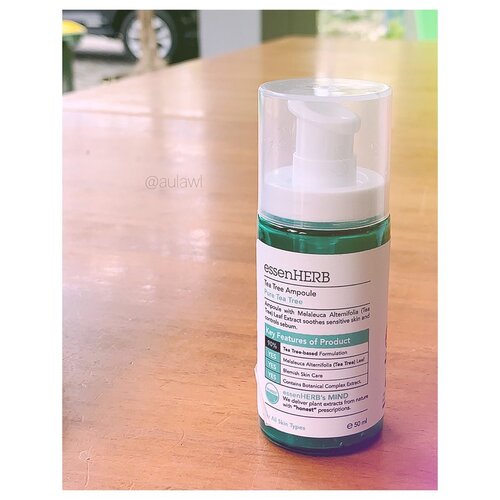 This is one of my best ampoules. EssenHerb @essenherb Tea Tree Ampoule with Pure Tea Tree.If you have sensitive skin and prone to acne, you may follow my trick. Always use ampoules with anti-irritation / anti-inflammatory properties or both that can help soothe your skin whenever your skin is sensitive, so it can reduce redness and uneven skin tone.Back to this ampoule. For those of you who have normal skin or even a "badak" (not sensitive) skin, you may not feel significant results using this kind of product.I myself, as long as I use this ampoule, don't feel any superb changes or improvements on my skin. But, as soon as I stopped using this ampoule, my skin immediately protested. Small pimples appear, stinging red, the texture becomes uneven and goes the list.So if I like this ampoule? The answer is definitely YES! I bought it at Sociolla, they're frequently discount their item, so happy hunting! 😆..
#idskincarecommunity
#ampoule
#soothing
#teatree
#awlserumrev
#awlminireview
#pkubeautyblogger
#beautybloggers
#beautyenthusiast
#essenherb
#kbeauty
#sociolla
#clozetteid
#green
#intothegloss
#fightacne
#byeacne
#sensitiveskin
+ View more details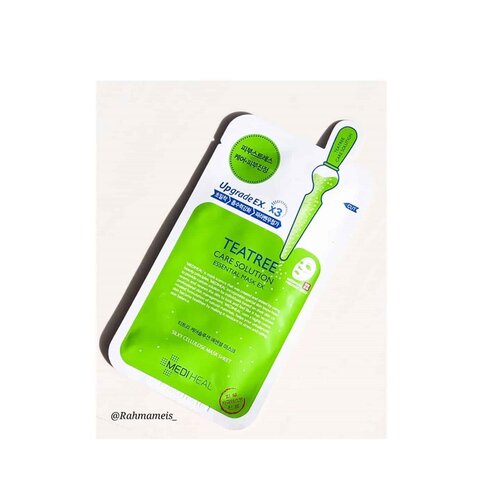 #reviews
MEDIHEAL "Care Solution Essential Mask EX"...Teatree Mask is a mask that can irritate and refresh the skin without feeling sticky after you use it... 💦TEXTURE AND SCENT: In terms of texture, this mask is white like a wet tissue and has a clear, rather thick essence... 📦PACKAGING: In terms of packaging the mask is wrapped in green and white plastic, according to the color of the tea. Good size and practical. 🍃 HOW TO USE: Rub the toner on the face that has been cleaned. Remove and remove the mask from the package, and put the sheet on the face. Rest comfortably for 10 - 20 minutes then take off the mask...🍁Review: Masks are very useful masks to overcome skin problems such as acne and oily skin. I wear this when the skin is problematic, the effect of moisturizing and calming the skin is very felt. The essence that I use a lot after wearing these masks, is applied over the surface of the mask for maximum results. I recommend using this mask for oily skin with extra tea tree which is known to be able to control excess oil... 🌿INGREDIENTS: Water, tea tree leaf oil, tea tree extract, willow bark extract, centella asiatica extract, hottuynia cordata extract, soybean seed extract, pea extract, sage extract, lavender extract, matricaria extract, rosemary extract, cymbopogon schoenanthus extract, Boswellia serrata resin extract , glycerin, propanediol, 1,2 hexanediol, xanthan gum, butylene glycol, panthenol, trehalose, betaine, carbomer, allantoin, polysorbate 80, arginine, disodium EDTA, dipotassium glycyrrhizate, tocopheryl acetate...🙌🏻 Attention: The above review is based on my experience, and the results depend on each of your skin...🙏 How about you? Attracted to try it ???... 🌟 Rate: 5/5..🔖 Buy at @altheakorea
+ View more details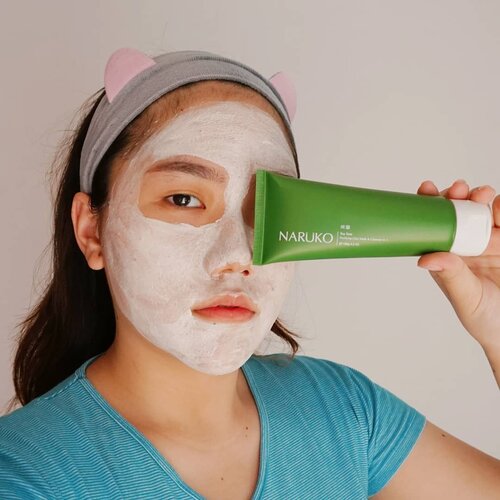 Udah lama gak clay mask-an 😆 This time aku pakai @naruko.indonesia tea tree purifying clay mask and cleanser in 1. Jadi produk ini tuh bisa jadi facial foam dan clay mask. Cocok untuk yang kulitnya berminyak dan berjerawat. Kalau jadi clay mask, pas dibilas bisa sambil dipijit karena ada butiran halus yang bisa ngangkat kulit mati. Pas apply ke kulit ada tingling sensationnya dan dingin, fresh banget! Ini aku pakai abis baru bangun tidur langsung melek deh 💚 Abis dibilas rasa dinginnya masih stay jadi next skin care step seger banget dan lebih cepet absorb ke kulit. Produk ini bisa kalian dapatkan exclusive di tokopedia @naruko.indonesia~.
#narukoindonesia
#naruko
#teatree
#clozetteid
+ View more details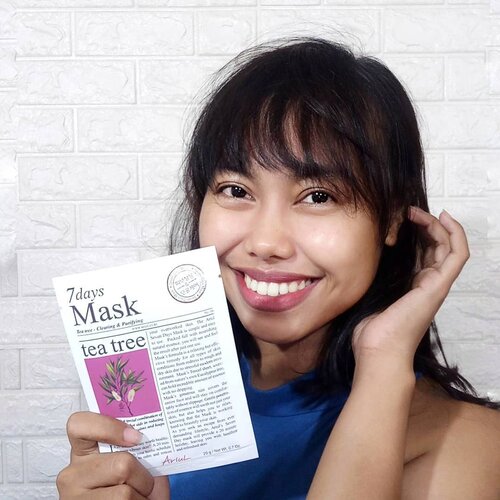 DAY 2
#Ariul7daysMask
hari kedua aku pilih cobain sheetmask @ariul_id yg varian
#teatree
🌱🍃First impression aku saat pakai masker ini, ada aroma herbal yg keciun tapi aku ga tau itu aroma tea tree ✌🏻😅 yg pasti aromany ga nyengat dan ga ganggu pas aku pakai sheet mask nya. Ga kaya lemon yg ada sensasi pedihnya, kalo yg ini aman2 aja selama aku pakai. 👍🏻👍🏻👍🏻🌱🍃After pemakaian yg langsung keliatan khasiatnya guys, pori2 aku di area pipi deket hidung dan dahi mengecil!! Beneran kaya manekin yg ga ada pori2. Aku jadi kepo kalo dipakai rutin efeknya bisa permanen apa ga ya ? 🤭Buat kalian yg punya pori2 gede, kalo mau make up buat event penting aku saranin buat pake sheet mask ini. Karna membantu banget buat ngeblur pori2 kalian...Sekian first impression aku kali ini. Besok aku akan coba varian lainnya dan shared first impression aku after pemakaiannya.. See u 😘...
#AriulMaskLemon
#ReviewSkinCare
#tipswajahglowing
#lfl
#sheetmask
#teatree
#bareface
#barefacechallange
#beautyjournal
#tipsputih
#ClozetteID

+ View more details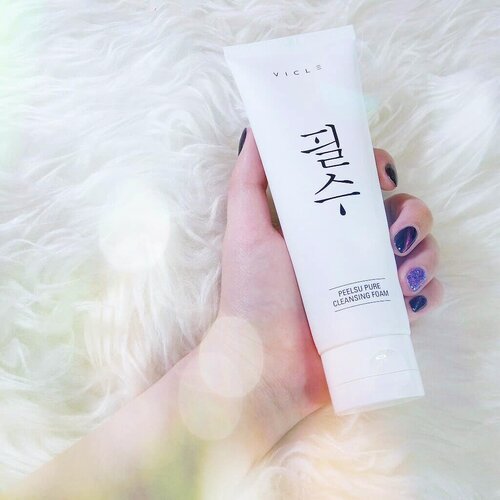 [[Facial Foam Untuk Si Kulit Kering & Sensitive]].Hi, MiLuvs~Apakah produk untuk cuci muka kamu bikin kulit terasa ketarik, kering & kaku?Nah, itu artinya produk tersebut memiliki pH Basa/Alkaline yang dapat menyebabkan kulit terasa kering tersebut & bisa juga menimbulkan iritasi jika digunakan terus menerus..Idealnya pH kulit adalah 5.5 (weak acid). Cleansing foam dengan pH ideal ini biasanya tidak memiliki banyak busa & waktu dibilas kulit tidak terasa keset..Aku mau rekomendasiin cleansing foam dari @vicle_cosmetic ini, PEELSU PURE CLEANSING FOAM. Sebetulnya udah agak lama punya ini, tapi aku baru review sekarang karena aku mau bener2 pakai & lihat hasilnya dulu..Karena memiliki weak acid 5.5, selama pakai ini kulitku ngga terasa kering setelah cuci muka. Malah yang ada jadi lebih lembab & halus yet feels really clean. Sejauh ini aku pakai juga ngga ada reaksi alergi/iritasi..Selain itu kandungan yang ada di dalamnya mild & aman untuk kulit seperti: Lemon Peel Oil, Marticaria, Calendula Extract, Lavender Oil, Eucalyptus Leaf Oil & Teatree..Bisa kamu dapatkan di Charis Shop aku (LINK ON BIO). Produk ini dari Korea tapi sudah available untuk local shipping ya, jadi ongkir tidak mahal seperti kalau beli dari Korea langsung..
#VICLECOSMETIC
#PEELSU
#PURECLEASINGFOAM
#CHARIS
#CHARISSTORE
#charisAPP..........
#ivgbeauty
#indobeautygram
#makeuptutorial
#wakeupandmakeup
#undiscovered_muas
@tampilcantik
#tampilcantik
#ClozetteID
#tutorialmakeup
#ragamkecantikan
@ragam_kecantikan
#inspirasicantikmu
@zonamakeup.id @makeup.tutorial.asian
#indovidgram
@indovidgram

+ View more details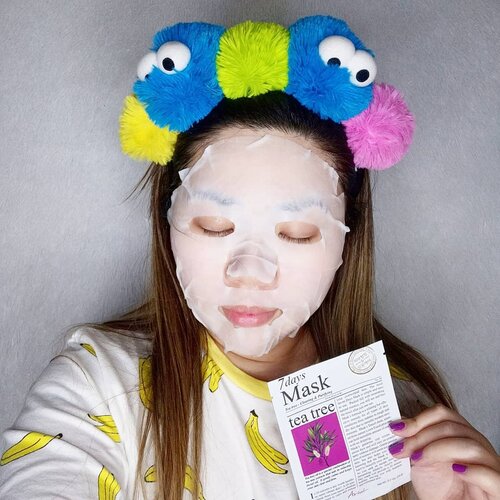 + View more details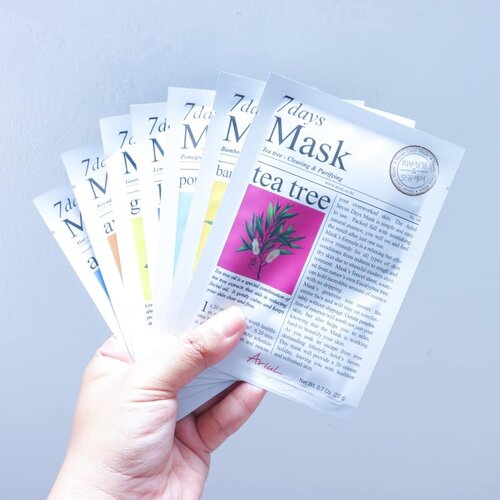 Sudah hampir seminggu pakai
#7daysmask
@ariul_id ada 7 varian pas untuk 7 hari dapetin kulit wajah sehat dan lembab 🏖
Pertengahan jalan pakai, engga ada yang favorit banget tapii varian
#TeaTree
aku cukup suka 🏞
Wanginya lembut dan ngga menyengat ngga kaya 4 yang udah pake sebelumnya ✔
Cukup melembabkan kulit aku yang lagi sementara sembuh dari dehidrasi tapi 1 memang ngga akan cukup 🌛
Sayangnya essencenya menyerap sedikit ke
#sheetmask
jadi agak berasa kering. Selain itu bolongan mata sheetmasknya kekecilan jadi essencenya agak masuk mata perih.
Tapi ukuran sheetmasknya pas di wajah dan ngga melorot jadi nyaman dipakai buat apa aja 🤩
Thanks to @sociolla dapet kesempatan nyobain
#7daysmask
ini 😊❤
#beautiesquad
@beautiesquad
#setterspace
@setterspace
#clozetteid
#kbbvid
#fdbeauty
#beautyjournal
#sheetmask
#skincareregime
#skincareroutine
#skincare
#skincareaddict

+ View more details

loading ...
Back To Top