loading...
Search
7 RESULTS FOR THESKINHOUSE_OFFICIAL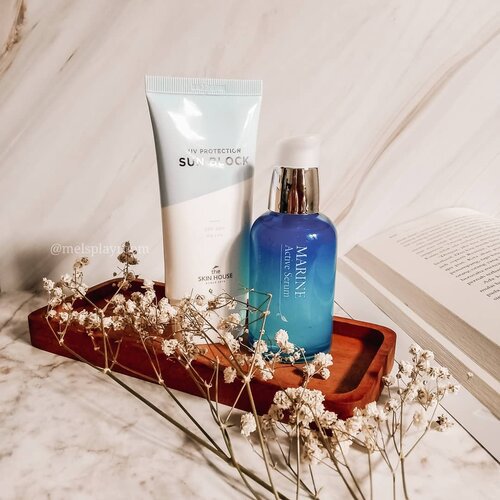 Today, I'd like to share you my first impression regarding 2 products from @theskinhouse_official. 💦 MARINE ACTIVE SERUMEnriched with mineral of sea water, this serum is claimed as a hydrating and moisturizing serum for dry skin type. When I applied this serum, I do feel the hydration is enough but the moisturizing seems a bit less. The texture is in gel type but quickly melted when it touch the skin temperature. Pretty easy to absorb without leaving any tacky or greasy feeling. However, my skin quite likes this serum and there is no negative effect after using this for 2 weeks approx.The packaging somehow reminds me to the other well know korean brands. But the skin house one's is more elegant since it comes in glass bottle.A little note that this product still contains alcohol in upper row of the list. The serum also has strong scent which gradually disappear after applied.🌞 UV PROTECTION SUN BLOCK SPF 50+ PA+++Another hybrid sunscreen in my stash. Contains micro particle of titanium dioxide and zinc oxide as its main protection. The texture comes in white cream and needs few minutes to blend well on the skin. Its texture is similar with the local brand one that I posted the review recently.It does leave a slight whitecast but disappear in later minutes. The sunscreen has no tacky or greasy feeling afterwards and adheres well under makeup after it fully blended.What I love is this sunscreen is already protect our skin from UVA and UVB rays. Suitable for those who spend most of the time in outdoor area. However, the texture feels slightly bit thick and it takes time to blend and absorb in my combi to dry skin
[email protected]
_official is also a sister brand of @xycos_official...
#sunscreen
#minimonday
#skincareflatlay
#skincareblogger
#skincaredaily
#koreansunscreen
#kskincare
#kbeautyblog
#skincarecommunity
#kbeauty
#kbeautyaddict
#igskincare
#igtopshelfie
#itgtopshelfie
#skincareflatlay
#skincarereview
#365inskincare
#takecareofyourskin
#skinfirst
#iloveskincare
#skinfluencer
#hygge
#slowlife
#beautefemmecommunity
#idskincarecommunity
#jakartabeautyblogger
#clozetteid
+ View more details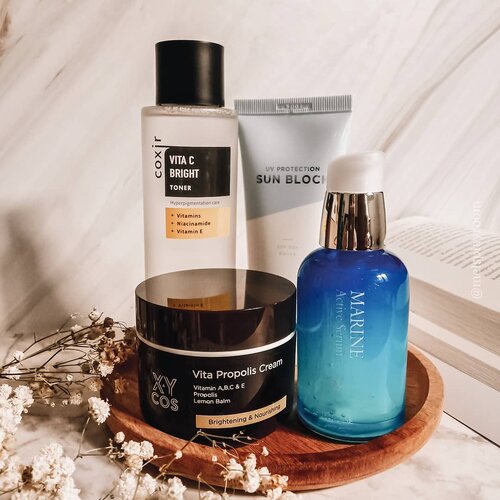 + View more details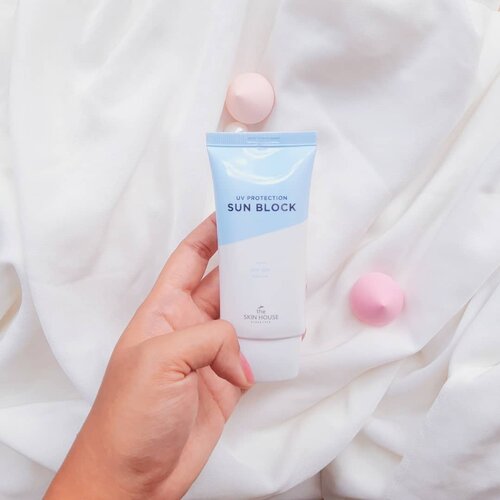 The Skin House UV Protection Sunblock SPF 50 PA+++🌞🌞🌞What is it? a lightweight and quick-absorbing formula provides protection against UV rays. Its perfect for all skin types, even the delicate or sensitive skin. This product has a high sun protection factor SPF 50+ PA +++~~🌤Texture and ScentThis sunblock has a white color. It has a light fresh aroma and a delicate creamy consistency, so that the process of applying it turns into a pleasure. This cream claims to prevents the appearance of age spots and freckles, and also starts the skin regeneration process (i feel its like a tone up cream hehe)~~🌤IngredientsIts a physical sunblock, the key ingredients are micro particle titanium dioxide, micro particle zinc oxide. Titanium dioxide only provides protection from UVB, and part of the UVA spectrum, whereas, zinc oxide is able to provide protection against the entire UVA and UVB spectrum.Its also contains extracts of mallow (Malva Sylvestris), Edelweiss, etc. Prevent the appearance of oily sheen of the skin, while providing a mild soothing effect.~~🌤🌞I really like this sunblock! When I open the tube, the scent is not so strong and fresh. Creamy texture that blend easily to skin. Although there is a little bit whitecast, after some time it even blends with my skin. I love it! This sunblock give a moisture feeling, not sticky and I dont feel greasy after use. Even it does not give a matte finish, it doesnt make my face more oily when I use this compare to another uv protection product before.I feel well a balanced skin in the morning. The packaging is very good and minimalist. It does not cause breakout due to incompatibility.I would recommend this product for u guys! Head up to their instagram and official website 🌞🌼 @theskinhouse_officialPrice: $18 / Rp. 255.000
#theskinhouse_official
#coxir_official
#coxir
#sferangs
#kbeauty
#koreancosmetics
*PR but honest review 🧚‍♀️
#ReviewByArum
#clozetteid
+ View more details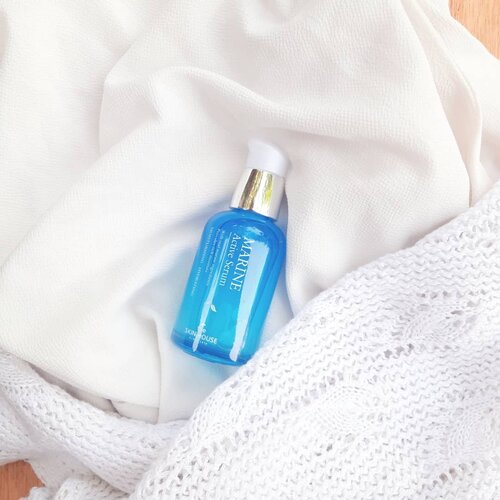 Hello everyone! I hope you guys are doing great. Todays another review of The Skin House product which is Marine Active Serum 🧚‍♀️~~💧What is it? Gel Moisturizing Serum contains hyaluronic acid, which moisturizes the skin and keeps the skin's moisture level constant throughout the day. Seawater and various algae extracts create an abundant moisturizing effect, while minerals and vitamins help the skin to become radiant and clean again. Contains ceramides that prevent water loss from the skin and help the skin stay moisturized deep inside for a long time.~~💧Key IngredientsIf you take a look at the ingredients, you'll notice its like long list. But the key ingredients to notice are, Seawater, Pearl Extract, Brown Algae (Ecklonia cava) Extract, Turmeric (Hizikia fusiforme) Extract, Green Algae (Codium tomentosum) Extract, Red Algae (Gelidium cartilagineum) Extract. And yes it contains alcohol.~~💧Texture and ScentA gel serum, lightweight with a mild scent like flowery scent. I use this after essence and use one pump of it, following with sunscreen as the last step (sometimes I skip my cream because i really feel moisturised when I use this serum)~~💧My experienceThe packaging is pretty and made from glass. The pump make it more hygienic as you no need to open the cap. I only use this one pump, because if I use 2 pumps it will be too heavy for my skin. Absorbs well, very easy to blend with my skin. I like soft skin feeling after use, it's moisturizing and makes my skin smooth and plumpy. I like this serum and did not cause any skin problem. I could skip my moisturizer when I feel I've reached optimal hydration 💧☀️ I can recommend this serum for you guys who have dry skin or dehydrated skin, it will be good for you. But all skin types can use this who needs a good moisturizing product which is worth for the price🌞~~💸Price: $26 / Rp. 368.862*Product is provided, but honest opinion from me 🧕
#theskinhouse_official
#coxir_official
#coxir
#sferangs
#kbeauty
#koreancosmetics
#clozetteid
+ View more details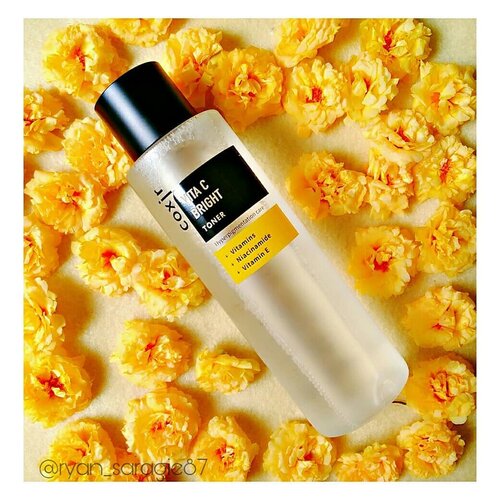 Sore Guys, setelah absen beberapa dari IG karna lagi sakit. Hari ini aku mau share ratjun produk skincare lagi nih ke kelen semua dari brand @coxir_official. So...brand ini merupakan sister brand dari @theskinhouse_official & @sferangs_korea yg merupakan salah satu brand skincare dari Korea yang baru dilaunching sekitar tahun 2018 silam.Brand @coxir_official sendiri fokusnya ke produk face skincare & mereka punya beberapa line skincare seperti Green Tea series, Black Snail Collagen series, Vita C Bright series, dan kebetulan aku dikirimin toner dari seri Vita C Bright ini.Toner ini dikemas kedalam botol plastik transparan dengan berat 150ml. Dan dibagian lubang tonernya diberikan protektor untuk mencegah isinya aga gak mudah tumpah. Untuk info penting semacam klaim, ingredients, cara pemakaian dan lain sebagainya tertera dibagian box. Dan Vita C Bright Toner ini punya kandungan Vit C, Niacinamide atau Vit B2 serta Vit E yang berguna untuk meratakan skintone, mengangkat sel sel kulit mati, menenangkan & melembabkan kulit serta membuat kulit cerah bercahaya.Texturnya mirip dengan toner essence dari Korea kebanyakkan, sedikit lebih kental tp cepat meresap & gak lengket sama sekali. Untuk wanginya samar banget bahkan saking samarnya hampir gak keciuman sam sekali 😀.Di aku toner ini bagus banget soalnya lebih gampang saat membersihkan wajah & meringkas pori pori udah gitu hemat lagi cos pake sedikit hasilnya udah mantul banget selain itu toner ini memberikan efek adem gitu diwajah, melembabkan tapi gak memompa minyak diwajahku dan bantu mencerahkan wajahku walopun cuma sedikit. Dan poin plusnya toner ini tetap okey aku gunakan meskipun wajahku sedang berjerawat bahkan dia mampu meredakan beberapa jerawat juga 😀.Meskipun begitu aku masih penasaran banget sama produk Anti Acnenya. Smoga mereka mau kirimin seri itu juga ke aku
#modus
😄😄.
#coxir
#coxir_official
#kcosmetic
#kskincare
#kbeauty
#kbrand
#kproduct
#toner
#vitac
#vitactoner
#bright
#soothe
#moist
#hyperpigment
#skincarejunkie
#bblogger
#pmroutine
#abcommunity
#gift
#instabeauty
#instablogger
#instaskincare
#instagift
#instaasia
#beautyinfluencer
#qupas
#clozetteid
#코시르 #토너
+ View more details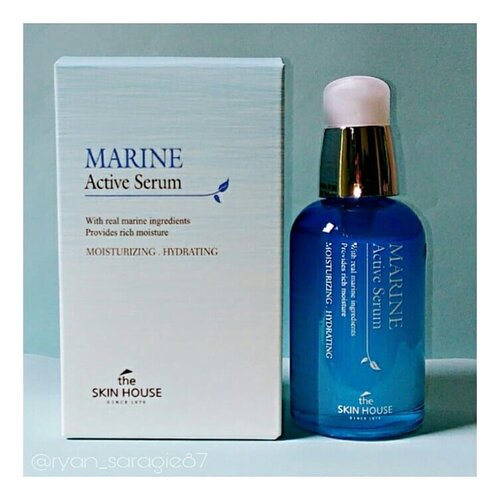 Hari ini aku bakalan ngebahas produk skincare kedua yg aku punya dr brand @theskinhouse_official yaitu The Skin House Marine Active Serum.So...serum ini dikemas kedalam botol plastik berwarna biru dengan mengusung konsep birunya air laut 💦💦. Untuk sebotol serumnya ini punya berat 50ml dengan menggunakan pump sebagai aplikatornya. FYI dibagian pumpnya diberikan pelindung gitu, agar isinya gak tumpah keluar.Serum ini punya kandungan real marine / nutrisi dari laut seperti Sea Water, Pearl Extract, Ecklonia Cava Extract, Hizikia Fusiforme Extract & Codium Tomentosum Extract yg secara efektiv bantu melembabkan, menutrisi dan menghydrasi kulit wajah.Texturnya perpaduan antar cream & gel berwarna sedikit putih kusam, yang sangat ringan, gampang dibaurkan, mudah meresap dan memberikan efek yg sejuk gitu dikulit tapi sedikit terasa agak lengket sih dikulit. Untuk aromanya cukup kuat tapi sumpah nyegerin banget mengingatkan aku sama wangi salah satu produk eskulin gel gitu 😊.Dan...sekitar 4 hari pemakaian serum ini sukses bikin wajahku breakout parah 😭 awalnya aku kurang tau ini dampak proses adaptasi sm skincare baru or emang kandungannya ada yg gak cocok buat aku. Akhirnya aku stop sekitar 5 hari untuk sembuhin semua jerawat lebih dulu. Dan setelah itu aku coba gunakan lagi & Alhamdulillah serum ini mulai bekerja dengan baik diwajahku, so...kulitku terasa lebih lembab & juga kenyal. Aku cuma gunakan serum ini saat malam hari saja🌛 cos oil controlnya kurang bagus buat wajah oily sepertiku.Serum ini cocok digunakan untuk semua jenis kulit tapi lebih prefer digunakan untuk kalian yg punya kulit kering atau gampang dehydrasi.Nah...buat kalian yg lagi serum utk melembabkan & menghydrasi kulit, Marine Active Serum cocok banget buat kalian gunakan.
#theskinhouse
#theskinhouseserum
#marineactiveserum
#kbeauty
#kcosmetics
#kskincare
#skincare
#skincarelovers
#serum
#moisturizer
#hydrating
#skincarecommunity
#abcommunity
#bloggercommunity
#pmroutine
#bblogger
#clozetteid
#qupas
#gift
#hijabblogger
#influencermarketing
#더스킨하우스 #세럼 #세럼추천 #스킨케어 #선물 #뷰티그램 #뷰티블로거
+ View more details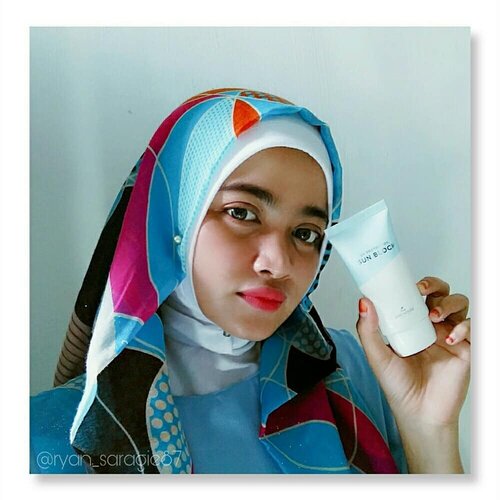 Guys, kenalin sahabat baruku yuk nama UV Protection Sun Block SPF 50+ PA+++ dr brand @theskinhouse_official .Sunblock ini dikemas kedalam tube plastik dengan berat 50ml. Dan klaimnya dengan formula yang sangat ringan, cepat meresap, melindungi dr paparan sinar UV & cocok utk semua jenis kulit, bahkan untuk kulit sensitiv sekalipun.Untuk texturnya berupa cream berwarna putih susu yg sedikit powdery (seperti ada tambahan bedak di dlm nya) yg cukup ringan, mudah diblend serta cepat meresap. Tapi setelah meresap sunblock ini bakalan kasi efek lengket gitu diwajah, so...buat kalian yg gak suka pake makeup tinggal di set aja pake bedak tp kalo kalian pakein makeup sunblock ini cocok dijadikan sbg primer base cos efek lengketnya bagus buat makeup jd lebih menempel dgn mudah.Dan untuk hasilnya produk ini bakalan bikin wajah jd cerah seperti menggunakan tone up cream dgn hasil yg natural & gak bikin efek whitecast sama sekali. Dan untuk hasil akhirnya lebih kearah glowy finish selain itu dia ga bikin break out atau menyumbat dikomedoku sama sekali.Tp sayang bgt oil controlnya kurang bagus buat wajah berminyak sepertiku, sekitar 2 jam wajahku udah dipenuhi minyak.FYI kalo @theskinhouse_official merupakan brand kosmetik Korea yg udh ada sejak tahun 1979 loh...selain itu brand ini juga punya 2 sister brand lainnya seperti @coxir_official & @sferangs_korea.Kalo kelen apa sunblock paporitnya guys?.
#theskinhouse
#theskinhouse_official
#coxir
#sferangs
#kbeauty
#koreancosmetics
#cosmetics
#sunblock
#sunscreen
#skincare
#bblogger
#beautyreviewer
#bblogger
#beautyreviewer
#kbeautycommunity
#idskincarecommunity
#clozetteid
#qupas
#더스킨하우스 #선블럭 #선크림 #코스메틱 #스킨케어 #화장품 #수분충전 #고덕 #뷰티 #뷰티그램 #뷰티블로거
+ View more details

loading ...
Back To Top