loading...
Search
1,228 RESULTS FOR THOUGHTS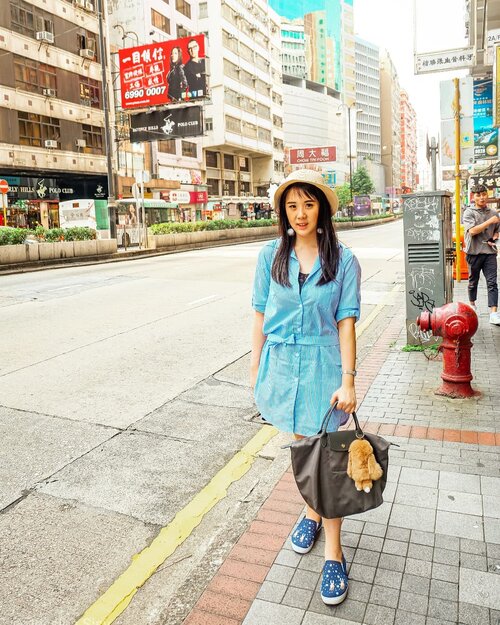 + View more details
#Repost
from Clozette Ambassador @TitazTazty.
Yes, I did it!
.
Surf is one of my life bucket list. After long 'maju mundur syantiek', finally I started to learn in the end of February
.
My 1st day is not easy. Cannot stand on the board and always falling down. But never give up on 2nd day. I learn to know which foot that better, change from right to left foot and found out that I'm gufi. Something that I never thought hahaha.
.
My 1st and 2nd day learn is really tough, coz it's raining and the wave is big, well for me who still on pre-basic level :D My leg bruises, my knee was bleeding from the rubbing of the sand on the board, plus pegeeel gilaaaaaaa bucet deh! Long boardnya berat boo
.
These pics is from my 3rd day this weekend. Off course still falling down many times and still need to learn how to stand on the board gracefully hahahaha. But I like it and curious to learn more
.
Like my friend said to me, enjoy the process! Yes, I will! 😎
.
.
.
📸 @ssurf_school_bali
#stylieandfoodie
#livelovelifelaughlust
#blogger
#bloggerceria
#tetapsemangat
#ootd
#clozetteid
#stylie
#fashionblogger
#styleblogger
#style
#fashion
#fashionbloggerindonesia
#jakarta
#bali
#surfing
#surfgirl
#learning

+ View more details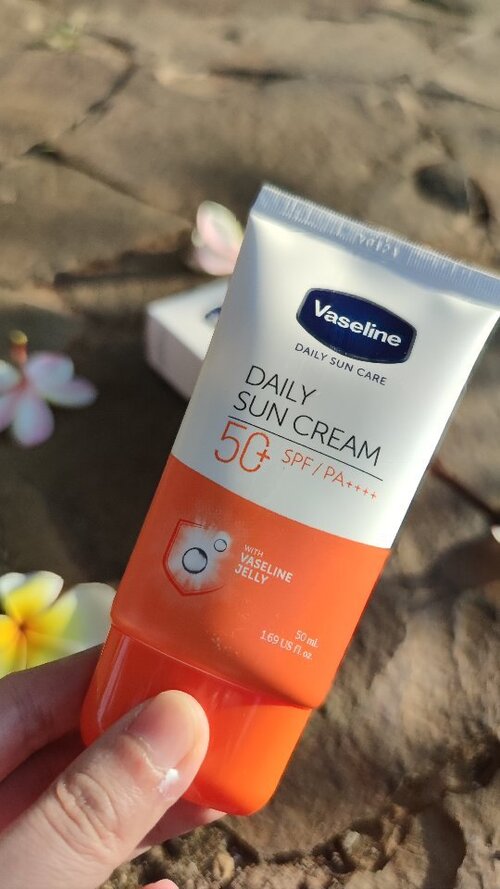 Haiyoo siapa yang masih suka males pake sunscreen karena di rumah aja?
Better NO ONE ya!
Karena penggunaan sunscreen itu sangat amat penting. Mungkin bagi sebagian orang, efeknya ga berasa saat ini, tapi pasti akan keliatan nanti kalau usia sudah lebih dewasa ☺️.
Sekarang ini sudah banyak sekali sunscreen yang tersedia, tinggal disesuaikan dengan jenis kulit dan budget tentunya.
Nah salah satu produk sunscreen terbaru adalah dari @vaselineid.
Aku sudah pakai sekitar 2 minggu dan ready to share my thoughts.
Skin Tpe : Oily Combination
Produk ini mudah menyerap di kulit, sama sekali tidak lengket, dipakai seharian juga terasa ringan dan tidak membuat tampilan wajah menjadi berminyak.
Dilengkapi dengan formula Vaseline Petroleum Jelly yang membentuk lapisan yang melembabkan kulit & terasa lebih halus.
Dan karena mengandung SPF 50/PA++++ tentu mampu mencegah kerusakan kulit akibat sinar UV.
Jadi sunscreen ini cocok banget untuk digunakan sehari-hari.
Size : 50ml
Harga : 90-100rb
Made in Korea
Semoga review ini bisa membantu teman-teman yang sedang mencari sunscreen yang ringan tapi tetep ampuh ya dalam memproteksi kulit.
@firstaromadhoni
@septrianadiaz
@tabithaps
#HTCIDxVaselineDailySunCream
#VaselineDailySuncare
#ChinUpUnderTheSun
#ProtectandHydrateYourSkin
@hometesterclubid
@vaselineid
+ View more details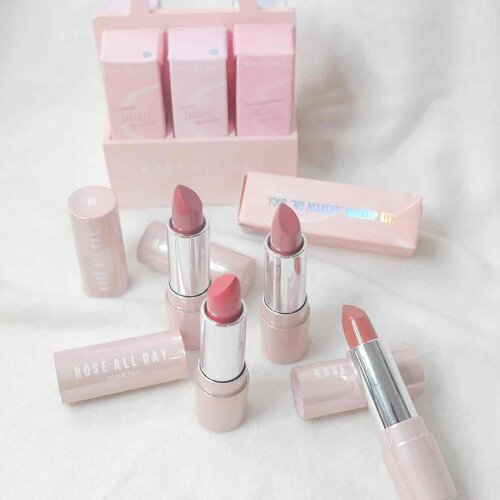 I've been using these @roseallday.co Juicy Lip Balm for a few months and i can say I LOVE THEM!
Packaging wise ya Rosé All Day always nailed it, poke kak @sjwijaya
Product nya sendiri setelah gue pake selama sekitar 2,5 bulan, gue bisa bilang kalau gue suka banget dan ini cocok di bibir gue yg sensitive & kering
Juicy Lip Balm ini mengandung:
✅ Vitamin E
✅ Vitamin C
✅ Ester Oil
✅ Octinoxate (sun protection / UV Filter)
Gue pake Juicy Lip Balm ini on daily basis, selain warnanya cantik2 banget bikin happy liat nya ya lip balm ini membantu banget melembapkan bibir gue yg kering. Bibir lembap + warna bibir jd cantik = mood booster ❤️✨
It took me a while buat kasih my final thoughts karena emang gue bener bener cobain dulu gimana performa nya di bibir gue satu satu. Overall, semua warna formula nya sama konsisten nya. Dipake seharian pun masih ada stain walau udah makan & minum
Oiya, karena ini udah ada Octinoxate (sun protection / UV Filter) nya jadi gue enggak perlu pake lipbalm sun protection yg terpisah, beneran praktis deh si Juicy Lip Balm ini 👌🏻
#clozetteid
#AmigalGang
#MomBloggerIndonesia
#JBBinsider
#JakartaBeautyBlogger
#BEAUTIESQUAD
+ View more details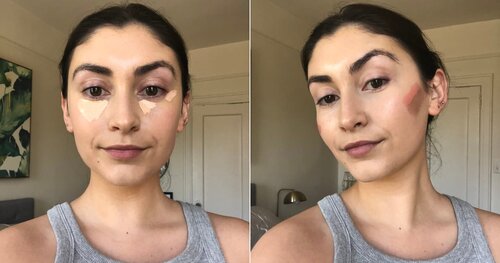 I tried applying my concealer using the viral TikTok makeup hack for an instant facelift. See my before-and-after pictures.
Simak juga artikel menarik lainnya di Article Section pada Clozette App.

+ View more details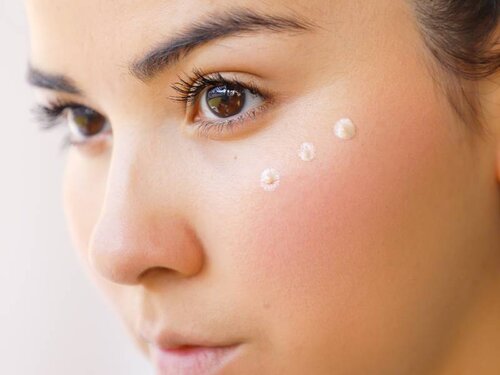 Swiping highlighter on your cheekbones is obvious, but adding some shimmer to these unexpected spots will amp up your glow in seconds.
Simak juga artikel menarik lainnya di Article Section pada Clozette App.

+ View more details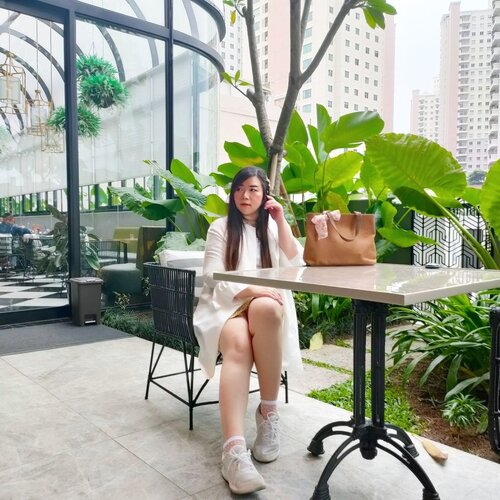 Got some questions about my bag in previous photo, it's my mom's (she gave me a lot of her old bags, all them are branded but not all of them are in good condition 😂. But she actually store them well already i guess she just used them not-so-gently 😂) and when i saw the design i thought it was a Bonia (which is probably her fave brand and the one i always associated her with as she has a LOT of Bonia bags, but apparently she used a lot more variety of brands wheb she was younger) but recently when i checked inside... It's Vintage Balenciaga wth 😳😳😳.
Now i feel bad for storing it the way i did (i shove everything together, all my branded bags with my pasar malam/shopee bags 🤣 that's why i feel like there is no point in buying super expensive bags anymore because i seem to care as much for the branded ones as the super cheap ones - which is not very much 🤣🤣🤣) and i think i should bring it for repaid because boy, she had it rought. Melting leather works, ballpoint stains all over the fabric..
Anyway, swipe to see my partner in crimes who helped took all these nice pics!
PS : 📍@tobysestateid Pakuwon Mall (which is very hard to find lol, but totally worth the hassle) as i still got questions about the location although i tagged them in my pics 😐.
#ootd
#ootdid
#clozetteid
#sbybeautyblogger
#BeauteFemmeCommunity
#notasize0
#personalstyle
#surabaya
#effyourbeautystandards
+ View more details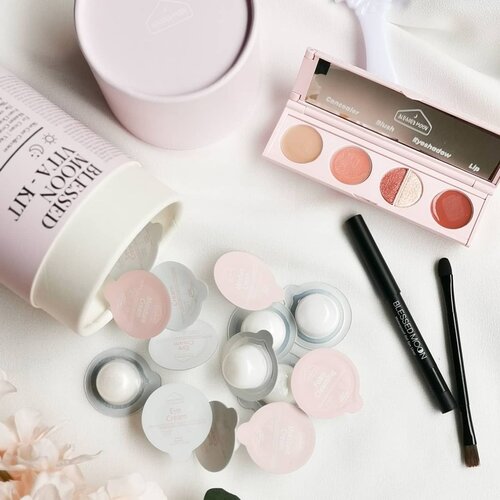 Part 1/2 NND x Blessed Moon (Vita Kit)
Blessed Moon adalah Korean beauty brand yg berdiri sejak tahun 2018. Mereka memiliki produk makeup & skincare yang menurutku desainnya sangat unik serta travel friendly.
Konsepnya "For the blessed women" Blessed Moon aims to raise the level of beauty life for women around the world through fresh challenges in various fields in order to maximize their natural beauty.
I got the opportunity to try their makeup & skincare products, but today I'd like to share my thoughts about the skincare first.
💕 The Blessed Moon Vita Kit
Dalam 1 tabung berisi 3 jenis produk dengan kandungan berbagai vitamin, yaitu Foam Cleansing (11pcs), Moisture Cream (10pcs) & Eye Cream (10pcs). Dikemas dalam individual pack berbentuk mini cup yang didesain untuk sekali pakai, tapi jiwa hemat atau miskinku ini bisa memakainya hingga 3x 😁.
Foam Cleansing (contain Vit C) : pembersih muka dengan tekstur stretchy dan busa lembut. Baunya enak, flowery scent. Busa yang dihasilkan cukup banyak tapi ga bikin iritasi. Tidak meninggalkan kesan ketarik setelah dibilas. So far ini sangat nyaman dan ga ada masalah untuk kulit sensitifku.
Moisture Cream (contain Vit B) : teksturnya mencair ketika menyentuh kulit, ini enak banget! Baunya perpaduan bunga & buah manis, I love it. Memberikan kesegaran sekaligus kelembapan yang bagus. Tidak lengket maupun berminyak, finishnya bikin kulit nampak supple.
Eye Cream (contains Vit B, C, E) : ini teksturnya lebih rich jika dibandingkan dengan moisture cream. Warnanya milky white dan memiliki aroma buah yg agak samar. Bisa dipakai day or night, karena meski sedikit rich dia tetep nyaman. So far, efek yang aku rasakan ini bagus buat melembapkan & memghidrasi area kulit sekitar mata.
Dari ke 3 produk aku paling suka moisture creamnya, aku berharap mereka membuatnya dalam ukuran besar, hehe.
Where to buy? Lazada NEAR&DEAR
@nearndear.official
@blessedmoon_cosmetics
#nearndearid
#nnd
#blessedmoon
#kbeauty
#koreanbeauty
#makeup
#cosmetic
#skincare
#skincareroutine
#beauty
#beautycommunity
#skincarecommunity
#skincaretips
#skincarereview
#clozetteID
#travelkit
#vitakit

+ View more details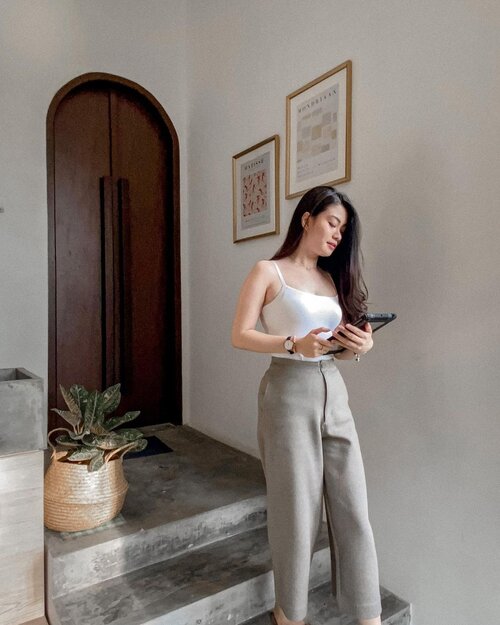 Candid poseee 🤌🏻 malah bagus 😳 yuyur aku di rumah jg paling seneng pake tanktop sama celana panjang. Persis kyk gini tp bahannya aja yg lebih adem huheuhue
Kalo kalian lebih suka pake kaos atau tanktop? // Oyaaa btwbtw mau kasih current fav quoteskuu:
Train your mind to see the good in everything. Positivity is a choice. The happiness of your life depends on the quality of your thoughts. ♥️

Hihi semangaaaat untuk this whole weekendd! ✨

+ View more details

loading ...
Back To Top