loading...
Search
180 RESULTS FOR VANITY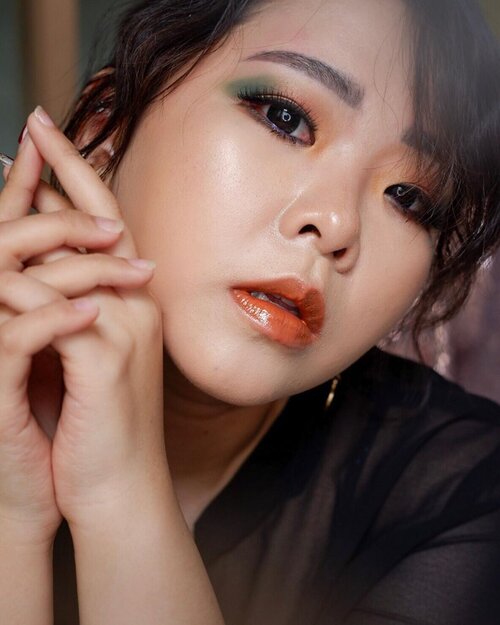 + View more details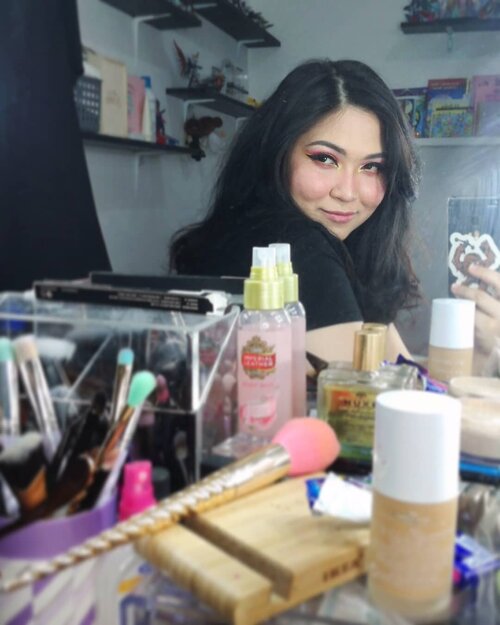 + View more details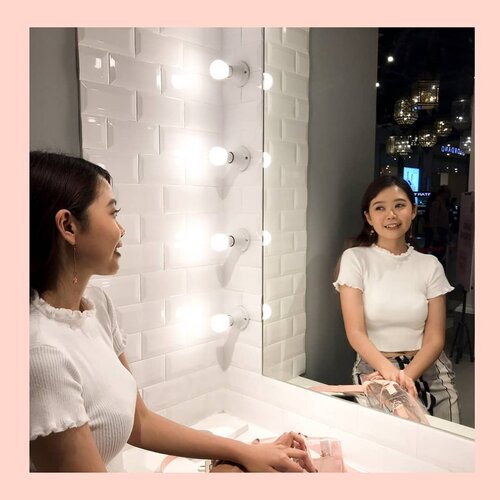 + View more details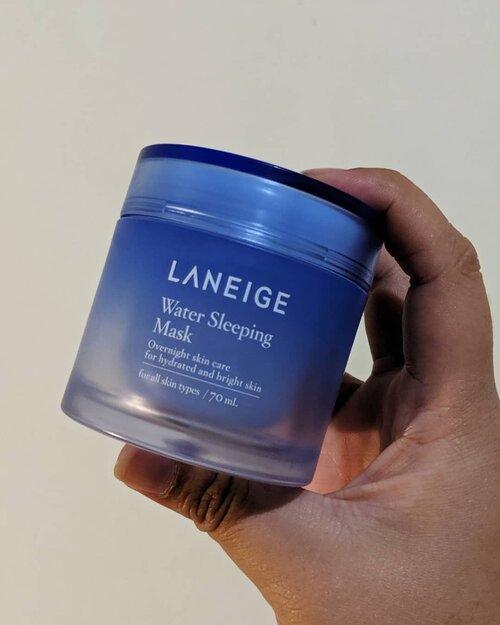 + View more details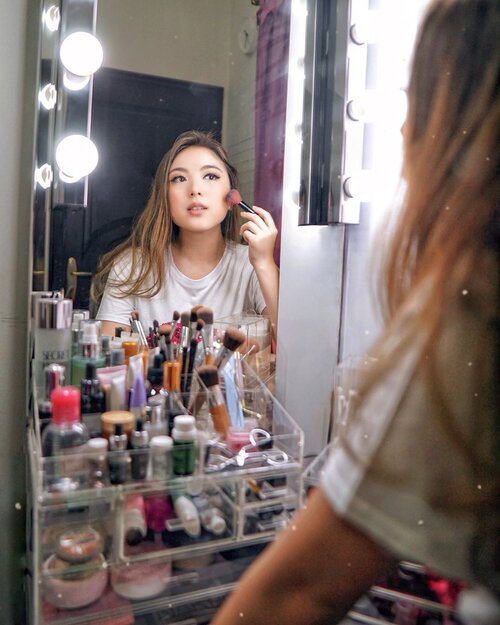 + View more details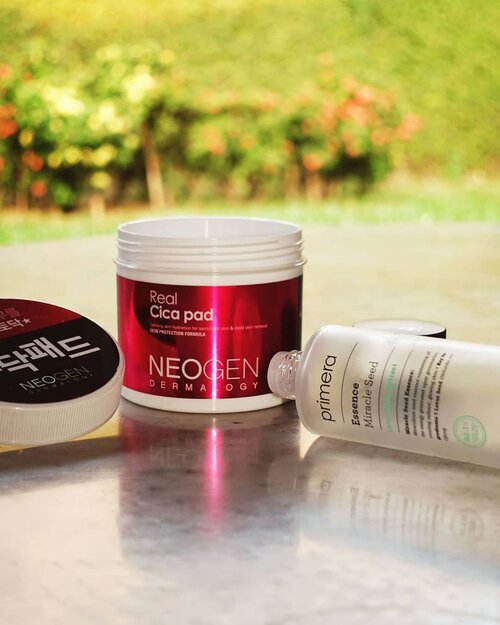 [LONG CAPTION - MINI REVIEW ALERT]
Hurrahhh for Another
#MissionEmpties
from
#DinsVanityDesk.
Thank you for took care my skin well
#alaKonMari
These two are still a new comer, I am still on the first bottle. While I use them, I don't have negative reaction, quite good actually I do add them to the list of my next beauty buys (repurchase alert!)
I notice I rarely suffer break out or pimple, very rare. I assume the regular exfoliate by
#NeogenDermalogy
really helps.
I believe is the calm siblings of the Bio-peel Siblings, way more calm, no harsh exfoliation, super mild! Sensitive skin would appreciate this version better as the exfoliation very gentle. And the
#RealCicaPower
ingredients (hello centella asiatica and madecassoside!) helps my skin barrier instead of the redness I usually have after exfoliation.
The next additional is
#Primera
Essence Lotus Seed, also a new comer, but as a first essence, I do enjoy this better than mighty Japanese brand with pitera! Works well prepared my skin for the rest of my skincare regime, building hydration layer by layer. Skin feel so good with these two 😍
So do you have any good new comer on your beauty regime too? Please do share with me!
#SkincareEmpties
#BeautyAddict
#ClozetteID
#Clozette
#BeautyGram
#InstaBeauty
#BeautyProducts
#ipreview
@preview.app
#aColorStory
#FDBeauty
+ View more details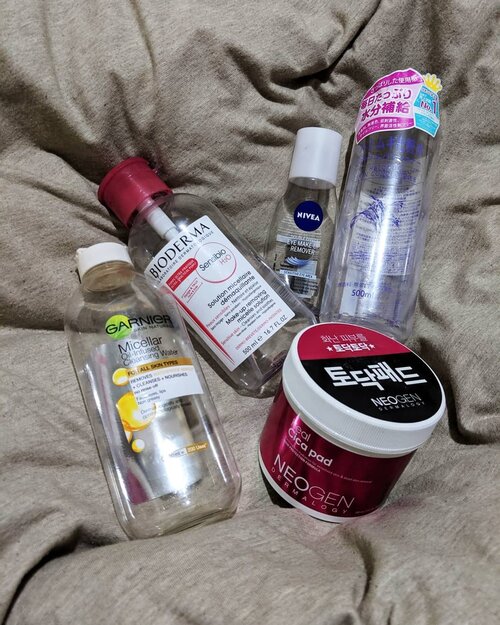 [LONG SKINCARE RANT ALERT]The follow up story from
#DinsDayOff
cleaning, I've gathered around many Summer Graduate from
#DinsVanityDesk
(in clockwise)1. @nivea_id Eye Make up Remover2. Hatomugi Skin Conditioner3. @neogen_global Cicapad4. @garnierindonesia Micellar Oil-infused Cleansing Water5. @bioderma_indonesia Sensibio Micella WaterAsk me again why do I have so many cleansers? Cleansing (including facial wash) has been my skincare religion since day one. It all from my father (yes, I got my skincare basics from my father) who always insist that I must always cleanse my face when come home or before sleep. Finding the most suitable cleanser for your face is the paramount of your skincare (insert drama sound effect here). I use them all repeatedly, they all frequent visitors of the vanity desk. But mind you, I didn't use them all at once but more on rotation whenever I saw fit.As for the Cicapad, I'd say this is my most favourite version of all the Neogen Pads, and my skin agreed with that.
#SkincareEmpties
#BeenThereDoneThat
#MissionEmpties
#Cleansers
#ipreview
via @preview.app
#clozetteid
#MakeupAlley
#SummerCleaning
#SummerBreak
+ View more details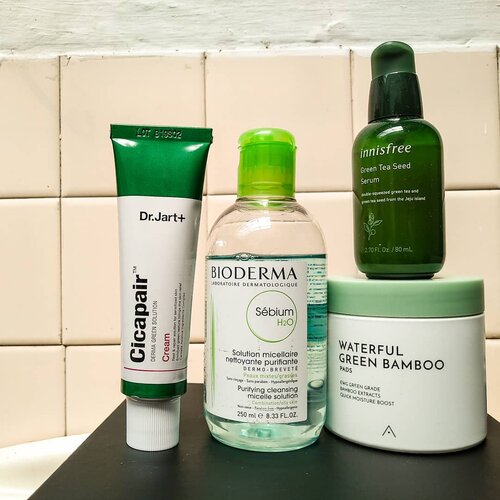 Walau
#instagramdown
aku akan tetap upload
#VanityIca
🌿Skincare Ijo-ijo yang lagi sering dipake🌿 ☘️Dr.jart+ Cicapair Derma Green Solution: pelembab yang punya warna agak ijo ini teksturnya berat dan lengket. Agak susah diratakan dan setelah diaplikasikan pada kulit "gerah" banget rasanya namuuun kulit aku lembap seharian! Buat kemerahan sedikit bisa reda cuma Aku paling sadar kulit lembap lebih lama. ☘️Bioderma sebium H2O: wanginya ena, aku mulai pakai varian yang ini semenjang jerawat menyeraaang. Lembut dan gak perih! ☘️Althea Waterful Green Bamboo: pads yang punya essence yang bisa menjadi pengganti hydrating toner atau sheet mask ini punya wangi yang calming banget. Essencenya cair dan padsnya jenis kasa sih bukan kapas. Enak deh gak lengket. ☘️Innisfree Green Tea Seed Serum: SUMPAH w bingung sama produk ini. Sekali pake bagus ngeredain jerawat malah, kedua kali pake muncul jerawat. Diem seminggu, pas nyoba lagi bagus... Eh dua hari setelahnya jerawat baru. Aku tuh suka serum dengan tekstur ringan kaya gini cuma aku masih ga yakin aja sama ini hm.
#Clozetteid
#bandungbeautyblogger
#tribeposts
#beautiesquad
#kbbvfeatured
#kbbvfeature
#cicapair
#drjart
#biodermaindonesia
#Althea
#altheakorea
#AltheaAngels
#innisfree
#skincarereview
#skincareblogger
#skincaredaily
#skincare
+ View more details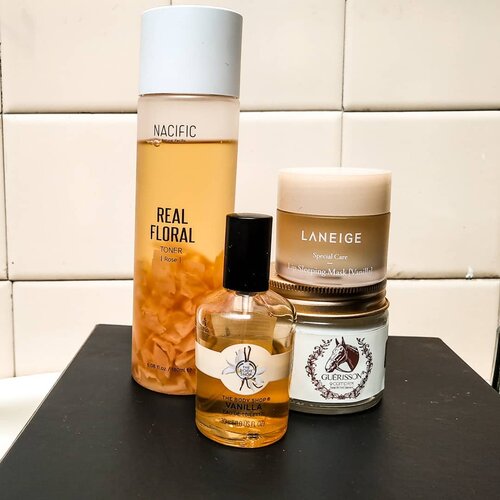 Aku kayanya akan mulai segmen baru di instagram yang berisitentang produk yang rutin Aku pakai yaitu
#VanityIcaDi
post pertama
#VanityIca
ini, Aku mau bahas produk-prouk dengan warna senada dulu nih. Dua diantaranya punya wangi yang Aku suka banget yaitu VANILLA! 🍁Nacific Real Floral Toner (Rose): Hidrating Toner yang terdapat kelopak bunga mawah di dalamnya ini punya tekstur yang caiiir banget sampai Aku takut produknya jatoh saat mau pakai di wajah. Baru coba dua minggu ini tapi masih belum dapet celah bagian enaknya sebelah mana. Aku perlu pakai 3-5 layer untuk menghasilkan wajah yang lembap. Karena saking cepetnya kering, kadang Aku kombinasiin (jadi laye pertama Nacific layer selanjutnya produk lain) hydrating toner yang sedikit lebih kental.🍁Laneige Sleeping Mask Vanilla: Fungsinya dipake malem aja kan, cuma Aku lebih suka pakai ini buat daily juga. Soalnya kalau pakai ini cuma buat malem. KAPAN ABISNYA BAMBANG🍁Body Shop EDT Vanilla: Wanginya enak ga ada celah mayan awet lah 5-6 jam. Jadi ingin beli body mistnya.🍁Guerisson 9Complex Lifting Cream: Moisturizer yang Aku dapet dari Althea, isinya banyak packagingnya berat. Tinggal setengah nih pusing ga abis-abis, mungkin akan ku kasih ibu hehe.Nah, kira-kira kalian punya rekomendasi produk body care apa yang punya wangi vanilla. Share doong~
#ClozetteID
#BandungBeautyBlogger
#Beautiesquad
#kbbvfeature
#kbeauty
#skincarelover
#skincarejunkie
#skincareaddict
#abskincare
#skincarereview
#treatyourskin
#instaskincare
#loveyourskin
#koreanskincare
#ausbeautybabes
#skincareroutine
#bodyshop
#vanilla
#altheakorea
#althea
#altheaangels
+ View more details

loading ...
Back To Top