loading...
Search
27 RESULTS FOR WOODY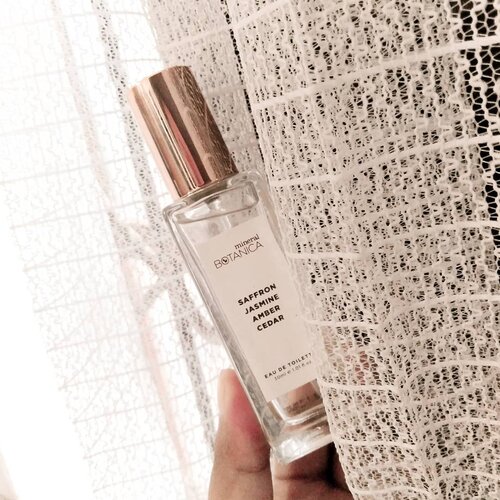 Selama beberapa tahun setiap beli parfum seringnya yang aroma vanilla. Tapi beberapa pekan lalu gak sengaja baca kaitan parfum dengan kepribadian, dari beberapa sumber digambarkan aroma Vanilla itu orangnya 𝘭𝘪𝘷𝘦𝘭𝘺, 𝘦𝘯𝘦𝘳𝘨𝘦𝘵𝘪𝘤, 𝘭𝘰𝘷𝘦 𝘮𝘦𝘦𝘵𝘪𝘯𝘨 𝘯𝘦𝘸 𝘱𝘦𝘰𝘱𝘭𝘦. Oh wow sangat berbanding terbalik dengan aku 🙃---Ya udahlah iseng nyari parfum baru. Belum berani ke mall jadi memutuskan beli online saja😹. Ta..tapi kan kalau beli online takutnya gak sesuai yang ada dibayangan aromanya, pilihlah parfum yang harganya ramah di kantong biar kalau gak cocok gak menangis---EDT nya @mineralbotanica ini tahan lumayan lama sih sampaib10 jam kalau kegiatan indoor aja, tapi kalau aktivitas outdoor selama beberapa hari ini coba hanya bertahan 3 jam. Untuk wanginya manis-asam dan agak woody setelah beberapa lama (bingung gak sama penjelasannya 😂?). Okelah aku bisa terima wanginya, dibanding parfum dengan aroma rose yang sampai saat ini aku belum bisa suka---Hmm tapi yaudahlah mau balik ke aroma vanilla dan yang manis2 lagi, dari brand lokal ada Oullu - Arcana dan Carl & Claire - Beautiful Life di wishlist. Ada yang punya wishlist parfum dari brand lokal juga gak? 😃.....
#clozetteid
#beautybloggerindonesia
#mineralbotanica
#localbrandid
#brandlokalindonesia
+ View more details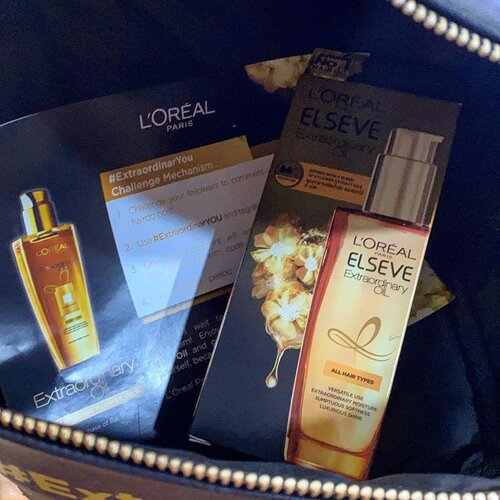 + View more details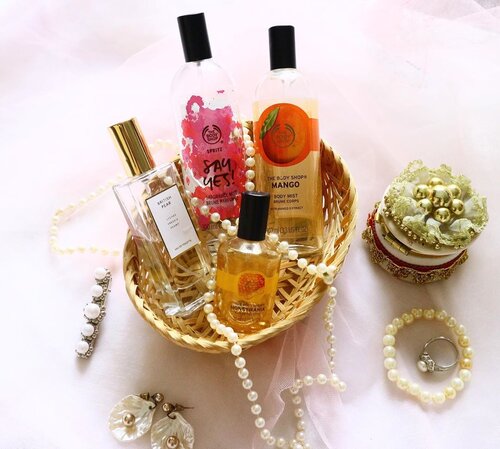 Let's talk about body mist/ eau de toilette 🌸🌸_Setiap orang punya preference wangi yang mereka suka dan wangi tersebut juga bisa jadi signature bahkan menggambarkan kepripadian seseorang lho. Aku sendiri engga begitu tau banyak tentang wewangian tubuh. Yang jelas untuk sehari-hari aku lebih memilih memakai body mist dengan alasan lebih ekonomis dan memakai eau de toilette (EDT) untuk special occasion. Bedanya body mist dengan EDT adalah dari segi ketahanan wangi. Body mist dapat bertahan 1-2 jam tetapi EDT dapat bertahan 4-5 jam. Beda lagi sama Eau de perfume, EDP dapat bertahan lbh lama lagi sekitar 6-7 jam. Makanya hargnya pun tidak murah 😬_Untuk preference wangi aku lebih ke floral and fruits yg wanginya juga engga terlalu strong. Also, sorry to say but I'm not into super sweet smells like vanilla, caramel, strawberry as well as woody smells bcus it makes me dizzy 🤔 _My frequent body mist to use :🌺 TBS - Say Yes Spritz🥭 TBS - Mango 🌸 Fresh & Natural - Love Angel Music (not in pic)_EDT:🍯 TBS- Honeymania🍐 Miniso - British Pear ( katanya ini dupe nya Jo Malone yg British Pear and Freesia 😁)....
#ellskincaregame
#perfumeflatlays
#skincarebloggers
#slaytheflatlay
#bodyfragrance
#bodymist
#clozetteid
#beautybloggers
#instabeautyblog
#abcommunity
#thebodyshop
#perfumecollections
+ View more details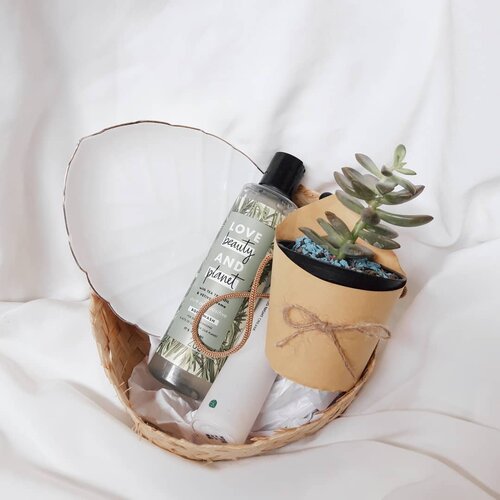 My current body wash product is @lovebeautyandplanet Tea Tree and Vetiver Aroma. It has fresh, woody, natural scent. It has clear gel color, it doesnt use artificial color. I think the scent of this body wash is pretty good, and the foam is also enough, I dont need to squeeze one more pump. It leaves my skin smooth and clean well. I feel like this product does not stripping skin's natural oil and good for dry skin. Have you tried anything from @lovebeautyandplanet ? ☀️✨🌏•••••........
#clozetteid
#soconetwork
+ View more details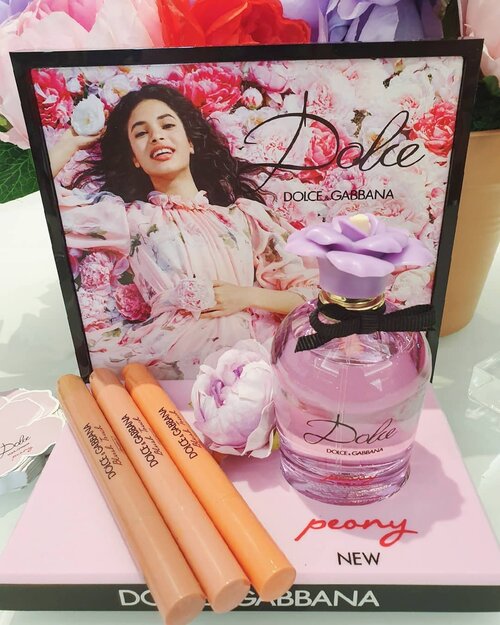 + View more details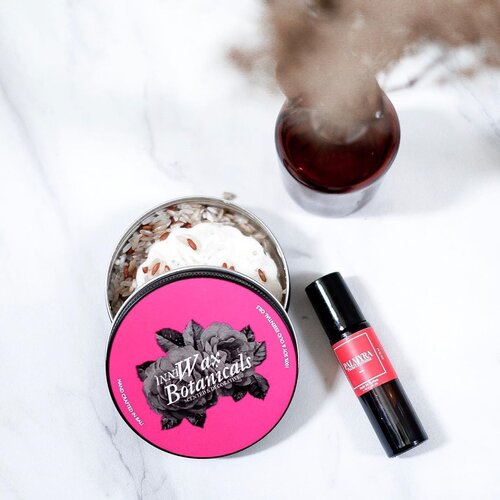 @inni.collection Palmyra pocket perfume, my current on-the-go perfume. The packaging might be little but the scent is strong! No joke. Always ada di tas gue soalnya kecil enggak makan space dan enggak takut tumpah juga. Bentuk nya roll on gitu, praktis. the Palmyra scent ini aroma nya woody yet refreshing. They have various scent, you guys can check on their instagram.———the Wax Botanicals (scented decorative) is also one of my new fav. I put it on my drawer. Jadi ini wax yg ada scented nya, bisa buat pajangan or taruh di drawer / lemari biar wangi gitu. Kalau untuk ruangan sih wangi nya kurang wow so i prefer put this one on my drawer. Besides, i have two toddlers so its safer to put this wax in a place that unreachable by them 🤣
#clozetteid
#beautybloggerindonesia
#mombloggerindonesia
#momblogger
#twinmama
#twinmom
#twinsmom
+ View more details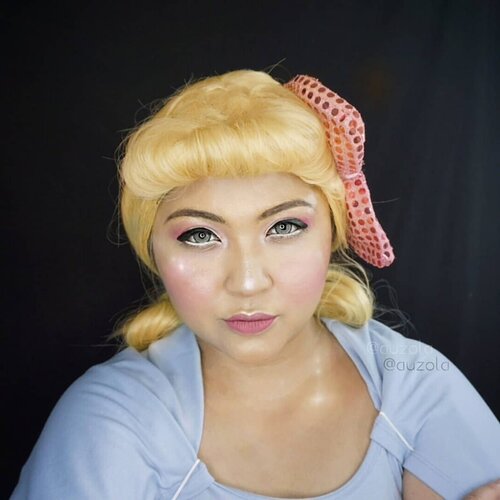 + View more details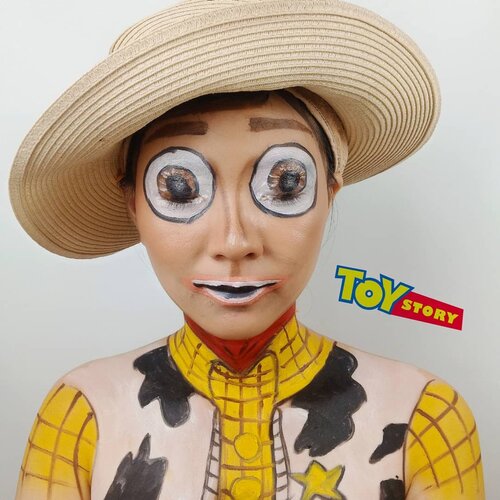 + View more details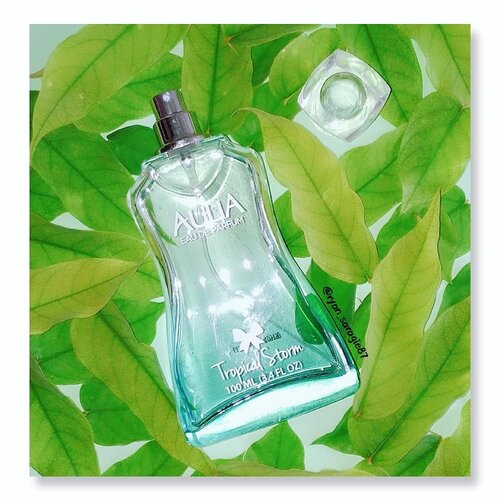 Aulia Eau De Parfum Tropical Storm.Malam Alls, so...hari ini aku mau share mini review dari produk wewangian tubuh yang aku baru aku beli beberapa hari lalu.Price :Under 50K IDR.Packaging :Dikemas kedalam botol kaca (sama seperti EDP kebanyakkan) berwarna hijau tosca transparan. Dibagian botolnya gak berisik soalnya gak banyak tulisan yang tertera. Aku pilih scent Tropical Storm dengan berat 100ml. Sayangnya...EDP aku terima dalam keadaan "telanjang" gitu tanpa segel ataupun box (upss) 😀 so...aku kurang tau apa aja Top Note, Middel Note serta Base Note dari scent Tropical Storm.Scent :Karna gak ada keterangan, finally aku coba gugling apa sih aroma sesungguhnya dari Parfume ini. Dan berikut penjabarannya ⏬ ..Dengan pilihan aroma eksotis yang tahan lama, senantiasa meninggalkan kesan menawan yang tak terlupakan. Kesegaran Buah-buahan yang berpadu dengan aroma Woody menghasilkan wangi yang unik. Aulia Eau De Parfum ini memiliki aroma Oriental yang berpadu dengan kesan hangatnya Hutan Tropis. ..First Impression :Kesan awal aku sama Aulia EDP Tropical Storm ini, aromanya aku suka cos seger banget udah gitu gak nyegrak sama sekali dihidungku. Saat disemprotkan isinya mudah keluar dan kalo posisi botolnya tertidur atau saat kita bawa ditas isinya tetap aman & gak meleber dari sisi botolnya. Selain itu gak bikin noda apapun dibaju berwarna putih atau warna terang..Tapi...sayangnya wangi si Aulia EDP ini kurang tahan lama, apalagi kalo kita beraktivitas dioutdoor terus tutupnya kurang rapat gitu guys jadi mudah copot dari botolnya tapi wajar aja sih cos harganya juga gak nyampe 50K.So...buat kalian yang lagi nyari Body Fragrance dengan wangi ala ala kesegaran hutan tropis gitu atau buat kalian yang punya kesibukkan padat tapi gak sempat mandi (curcol) si Aulia EDP Tropical Storm ini boleh banget jadi pilihan loh...FYI selain Tropical Storm ini @auliacosmeticofficial masih punya 5 pilihan scent lainnya.
#aulia
#eaudeparfum
#edp
#parfume
#fragrance
#minyakwangi
#womenneeds
#clozetteid
#flatlay
#flatlays
#flatlayphotography
#대일리 #일상그램 #얼스타그램 #뷰티블로거 #뷰티스타그램 #팩스타그램
#ll
맛팔 #화장품 #고덕 #뷰티 #퍼퓸

+ View more details

loading ...
Back To Top