loading...
Search
2 RESULTS FOR ZEROSTEPTONER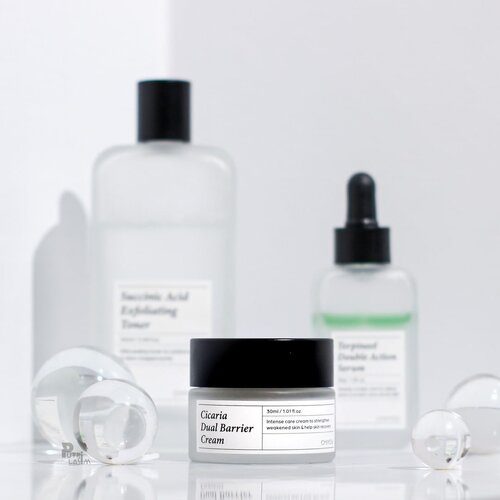 Kalau kalian punya kulit sensitif, kemerahan, atau kadang-kadang kulit kalian ngalami peradangan aku rekomendasiin banget line skincare dari CHIYOU ini.
Jadi sebenarnya kulitku tuh cenderung kering, namun aku beberapa kali ngalami kemerahan atau peradangan bada jidat bagian kiri, nah penolong aku banget line skincare dari CHIYOU ini. kedua produknya sudah pernah aku bahas jadi bisa cek dipostingan aku lainnya, kali ini yang mau aku bahas yang 𝗖𝗛𝗜𝗬𝗢𝗨 𝗖𝗶𝗰𝗮𝗿𝗶𝗮 𝗗𝘂𝗮𝗹 𝗕𝗮𝗿𝗿𝗶𝗲𝗿 𝗖𝗿𝗲𝗮𝗺
𝗖𝗛𝗜𝗬𝗢𝗨 𝗖𝗶𝗰𝗮𝗿𝗶𝗮 𝗗𝘂𝗮𝗹 𝗕𝗮𝗿𝗿𝗶𝗲𝗿 𝗖𝗿𝗲𝗮𝗺 memiliki kanmdungan utama Cicaria dimana Cicaria ini adalah microbiome yang dapat membantu menyembuhkan luka, tekstur dari cream ini menurutku agak thick jadi pakainya tipis-tipis aja, aku sih suka pakenya di line skincare malam karena menurutku agak sumuk klo dipake pagi, dan lembapnya sih menurutku juga nampol tahan lama
@hicharis_official @charis_indonesia @chiyouskin
#CHARIS
#chiyouskin
#unniesmakeupmusthaves
#zerosteptoner
#confidentwithchiyou
#chiyouskin
#EverydaySkinShield
#SkinImmunityBooster
#TrendyIngredient
#SkinProtector
#InandOutcream
#charisceleb
#storyanandadppl
#ClozetteID

+ View more details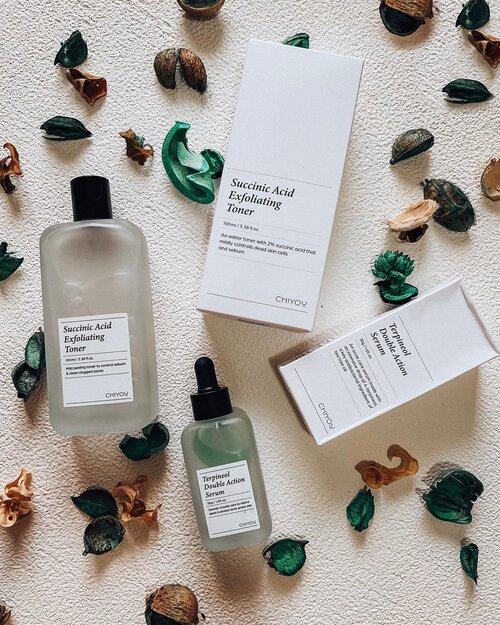 #Repost
from Clozetter @yurikristia. My first introduction to @Chiyouskin includes these two products on the first photo, but today I want to focus more on the Toner.
The Chiyou Succinic Acid Exfoliating toner is great for your 2nd step of double cleansing, and also great for daily 𝗲𝘅𝗳𝗼𝗹𝗶𝗮𝘁𝗶𝗻𝗴 𝘁𝗼𝗻𝗲𝗿 because 𝑠𝑢𝑐𝑐𝑖𝑛𝑖𝑐 𝑎𝑐𝑖𝑑 is the mildest acid for exfoliating. So this is also perfect for you who can't use AHA or BHA.
This toner helps control excessive sebum and get rid of dead skin cells for that Korean glass skin secret 😉 I always enjoyed using this morning and night because it made my skin feels moist and plumped. Love the thick watery non-sticky texture, and the cool looking bottle looks good on my vanity! ✨
❥ PS: Will review the Terpineol Serum soon!
❥ ❥ PSS: You can get this toner (it's on discount!) from my Charis link on bio OR type the link below on your browser:
http://hicharis.net/yurishop/1NQn
.
#chiyouskin
#UnniesMakeUpMustHaves
#SkincareAfterFriedFood
#SkincareDetox
#AcneToner
#AcneCare
#ZeroStepToner
#CharisCeleb
@hicharis_official

+ View more details

loading ...
Back To Top