loading...
Search
2 RESULTS FOR ABIBSHEETMASK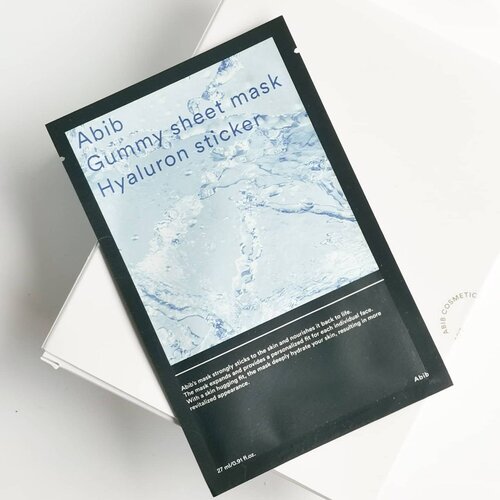 Abib - Gummy Sheet Mask (Hyaluronic Sticker)
Ini adalah variant terbaru dari Abib Gummy Sheet Mask. Fungsi utamanya adalah untuk deeply hydrate, menjaga kelembapan serta elastisitas kulit.
Main Ingredients
💦 Triple Hyaluronic Acid : provides deep hydration
💦 Blue Agave Extract : keeps the skin moisturized
💦 Centella Asiatica : wound healing properties
Material & fit
Seperti variant lain dari Gummy Sheet Mask Line, masker ini bahan lembarannya terbuat dari microfiber yang super lembut dan nempel dengan kuat. Bisa dibilang ini bahan lembaran terbagus yang pernah aku coba. Sayangnya, aku merasa ukuran lubang mata, hidung & bibirnya lebih kecil dibanding variant lain. Untungnya bahan masker ini elastis, jadi bisa aku tarik supaya pas.
Texture & scent
Memiliki essence yang cair, bening dengan sedikit kekentalan dan terasa ringan. Agak slippery tapi ga lengket maupun berminyak. Baunya enak, ada hints milky and creamy.
My experience
Aku gunakan masker ini setelah mengaplikasikan hydrating toner dan dalam keadaan kulit lembap/ sedikit basah. Bahan lembarannya yg bagus terasa sangat nyaman dikulit, semakin lama digunakan dia semakin melekat seiring terserapnya essence. Jadi, pas lembaran diangkat kesannya kayak nglupas stiker.
Hasilnya kulit jadi super lembap & well hydrated. Nampak plumpy, permukaannya halus dan glowing. I really love this mask, bisa jadi skin saver pas kulit dadakan butuh kelembapan or hidrasi ekstra.
@abib.global
#abib
#abibsheetmask
#kbeauty
#sheetmask
#skincare
#skincareroutine
#sheetmaskreview
#maskreview
#sheetmasklover
#sheetmasking
#beauty
#beautycommunity
#beautyreview
#skincarereview
#clozetteID

+ View more details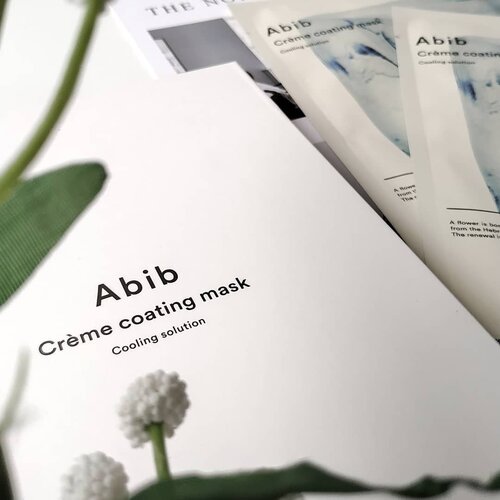 Abib Crème Coating Mask - Cooling Solution
.
Another unique mask that I discovered earlier this year. What's the uniqueness of this mask? The regular sheet mask is submerged in essence, while this mask is coated with cream essence. This is certainly more practical and reduce the mess due to the drippings essence.
.
This cooling solution variant claims to cool down your skin temperature & soothe irritated skin, it seems to be very suitable for use during summer & for sensitive skin.
.
Packed in plastic which is bigger than the usual sheet mask packaging. When I opened the packaging, I found another clear plastic package inside. 2 pieces type, each sheet are protected with film. When I open the protective film, it feels like peeling off a sticker and then sticking it on my face. It felt very strange at first, but later I found out that this was a fairly easy and practical way, and no more messy essence.
.
I thought that this mask would have a cooling sensation, seeing some soothing ingredients like Centella Asiatica & Tea Tree, but apparently during the use I didn't feel any cooling sensation.
.
After 20 minutes I took the mask and the cooling sensation suddenly appears and I love it! when I massage the remaining creamy essence it turns into water droplets, and it's so soothing!
.
How was the results? As its claim! This mask instantly reduces the redness and cool down my irritated skin, besides that my skin feels moist and well hydrated.
.
I highly recommend this mask, for those of you who don't like "wet" sheet masks and need a good mask for skin irritation.
.
I'll be back with the other variant, the tone-up solution, see ya 😏
.
.
#abib
#creamecoatingmask
#abibmask
#abibsheetmask
#kbeauty
#koreanbeauty
#kskincare
#koreanskincare
#koreanmask
#koreansheetmask
#clozetteID
#bloggirlsid
#kbbvmember
#beauty
#beautyblogger
#beautyreview
#beautycommunity
#skincare
#skincarereview
#skincarecommunity
#skincareroutine
#skincarediary
#skincarelover
#sheetmask
#sheetmaskreview
#mask
#maskreview
#sheetmasklover
#sheetmasksddict

+ View more details

loading ...
Back To Top