loading...
Search
3 RESULTS FOR RASIANCOMMUNITY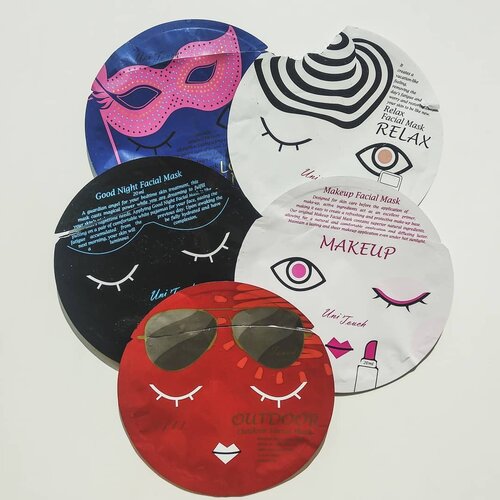 🤸 @unitouchindonesia MISS O SERIES*..Say hello to new luxury sheet masks from Taiwan that is launched today! Here's my two cents:.🤸 Good Night Mask: My favorite from all of the above! Perhaps because I rarely use black sheet mask, or it stick very well like another layer of my skin. It fit perfectly on my face! I don't have massage the leftover essence. After taking it off, you'll be very happy with your moist skin! Rating: 4/5.🤸 Long Night Mask: The fiber of this sheet mask is the thickest among all of them. There is a holder for the ear, so you could use it for long night without falling. I used it only about 30 minutes. I dislike it. The mask doesn't properly stick. The eyes are slightly pierced, while the mouth area is covering my lips. Rating: 3/5.🤸 Makeup Mask: Along with Relax, this is a sheet mask with a quite thin fibers. In accordance with its purpose, this mask is needed for giving enough moisture to my skin, so the makeup could sit perfectly on top of my face, without cracking and creasing! Rating: 3/5.🤸 Relax Mask: It used after you're tired all day long! The fiber is thin and sticks well so it could be used while resting. Rating: 3/5.🤸 Outdoor Mask: I don't understand the essence of distinguishing Relax and Outdoor Mask except for gimmicks. Well the fiber is thicker, the ingredient list is longer, but those could give the same effect after you are being exposed to UV light. So, meh, it is just the same. Rating: 3/5..INGREDIENT ANALYSIS:🤸 All if them contains essential oil and plants/flower extract, beware if you have any allergy .🤸Lactobacillus ferment doesn't trigger fungal acne.🤸 But only one sheet mask, Relax Facial Mask, which is quite safe to use if you have fungal acne .🤸 All of them are heavy with humectant. So if you're a lazybones, skip toner and essence if you're wearing Miss O Series, voila, you could directly use moisturizer/sunscreen! .*For review purpose
#unitouch
#unitouchindonesia
#sheetmask
#naturalskincare
#skincareregime
#skincareblogger
#rasiancommunity
#rasianbeauty
#sheetmask
#insommiareview
#clozetteid
+ View more details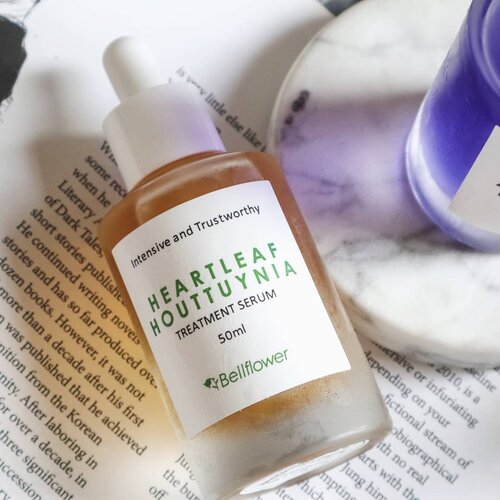 🌼 SERUMAfter one month of use, this is my impression to @bellflower_global Heartleaf Houttuynia * :.🌼 TEXTURE & DURABILITY .Has a runny watery texture, yellowish, with a little hint of natural fragrant herbs. PAO of this product is 12 M. Although there is no preservative, you don't need to store in the fridge; but because I have one, I also like it to use it when it is cool, I store all of them there. There is no particular sequence you need to obey in skincare routine steps; but usually I use it after toner.🌼 INGREDIENTS.The content of ingredient lists is quite minimalist. There is alcohol placed in 4th. Alcohol itself is a solvent that can give soothing sensation to the skin, even when I have taken from the fridge for a long time. There is rosemary leaf oil that might trigger allergy for some people. Rosemary itself is believed could be a cure for acne.🌼 WHAT I THINK.Claimed to be able to fight pimples, I do think it is more suitable to make reddish skin improved. Yes, centella asiatica is good for acne, but not to kill all at once. It is better to prevent P.acnes breeding in one or more place.Although it does not provide significant results for pimples, it is suitable if you have sensitive skin.RATING3/5.WHERE TO BUYFor about 175k, you could buy it @keranjangmica.*Gifted
#koreanskincareroutine
#skincareregime
#skincareblogger
#skintalk
#pimples
#acnetreatment
#oilyskin
#normalskin
#dryskin
#skincareaddict
#bellflower
#kbeauty
#abcommunity
#abbeatthealgorithm
#rasiancommunity
#rasianbeauty
#insommiareview
#idskincarecommunity
#clozetteid
+ View more details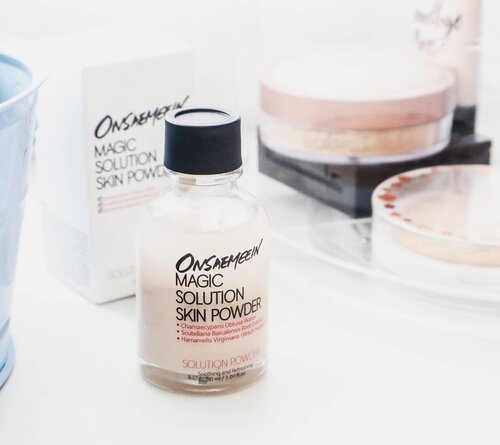 🌱 Saya jarang jerawatan. Namun kira kira 3 minggu lalu, saya akhirnya mencoba produk dari @onsaemeein_official, karena sempat mendapatkan hasil positif ketika mencoba produk serupa dari @rojukiss_korea
.
🌱 Nah, tapi ketika saya membaca ingredients list (IL), ada yang berbeda dengan Rojukiss
.
🌱 Onsaemeein mengusung 3 bahan utamanya: salicylic acid, witch hazel extract, dan dryopteris crassirhizoma extract. Sementara Rojukiss menggunggulkan calamine, grapefruit extract, dan salicylic acid. Ini fungal acne friendly!
.
🌱 Tiap kali pakai Rojukiss, perubahan pada jerawat bisa terlihat kira kira 2 hari kemudian. Dengan catatan, untuk jenis jerawat cystic, produk ini tidak bekerja semestinya. Karena setahu saya memang lebih ngefek untuk pimples .
.
🌱 Sayangnya, ketika saya coba Onsaemeein, enggak begitu banyak perubahan. Malah pimples masih nangkring anteng di area pipi kanan. Untuk Rojukiss, rasanya masih manjur. Saya sempat tersugesti bahwa calamine memang yang bikin pimples mereda setelah 5 hari pemakaian 🤔
.
🌱 Kalau dibilang, produk produk semacam ini enggak wow banget. Rasanya saya lebih percaya dengan penggunaan acne patch dan salicylic acid 2% semacam Erha
.
Overall rating: 2/5. Rasanya lebih baik di-preloved saja
.
.
#insommiareview
#insommiaskinformation
#pimples
#acne
#whiteheads
#blackheads
#calamine
#salicylicacid
#skincareregime
#skincareblogger
#abcommunity
#koreanskincareroutine
#koreaskincare
#rasianbeauty
#rasiancommunity
#abbeatthealgorithm
#igbeauty
#igbeautyblogger
#instaskincare
#skincaregram
#clozetteid
+ View more details

loading ...
Back To Top