loading...
Search
9 RESULTS FOR RASIANCOMMUNITY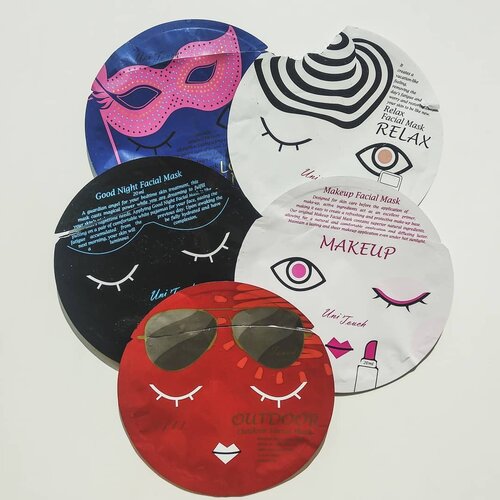 🤸 @unitouchindonesia MISS O SERIES*..Say hello to new luxury sheet masks from Taiwan that is launched today! Here's my two cents:.🤸 Good Night Mask: My favorite from all of the above! Perhaps because I rarely use black sheet mask, or it stick very well like another layer of my skin. It fit perfectly on my face! I don't have massage the leftover essence. After taking it off, you'll be very happy with your moist skin! Rating: 4/5.🤸 Long Night Mask: The fiber of this sheet mask is the thickest among all of them. There is a holder for the ear, so you could use it for long night without falling. I used it only about 30 minutes. I dislike it. The mask doesn't properly stick. The eyes are slightly pierced, while the mouth area is covering my lips. Rating: 3/5.🤸 Makeup Mask: Along with Relax, this is a sheet mask with a quite thin fibers. In accordance with its purpose, this mask is needed for giving enough moisture to my skin, so the makeup could sit perfectly on top of my face, without cracking and creasing! Rating: 3/5.🤸 Relax Mask: It used after you're tired all day long! The fiber is thin and sticks well so it could be used while resting. Rating: 3/5.🤸 Outdoor Mask: I don't understand the essence of distinguishing Relax and Outdoor Mask except for gimmicks. Well the fiber is thicker, the ingredient list is longer, but those could give the same effect after you are being exposed to UV light. So, meh, it is just the same. Rating: 3/5..INGREDIENT ANALYSIS:🤸 All if them contains essential oil and plants/flower extract, beware if you have any allergy .🤸Lactobacillus ferment doesn't trigger fungal acne.🤸 But only one sheet mask, Relax Facial Mask, which is quite safe to use if you have fungal acne .🤸 All of them are heavy with humectant. So if you're a lazybones, skip toner and essence if you're wearing Miss O Series, voila, you could directly use moisturizer/sunscreen! .*For review purpose
#unitouch
#unitouchindonesia
#sheetmask
#naturalskincare
#skincareregime
#skincareblogger
#rasiancommunity
#rasianbeauty
#sheetmask
#insommiareview
#clozetteid
+ View more details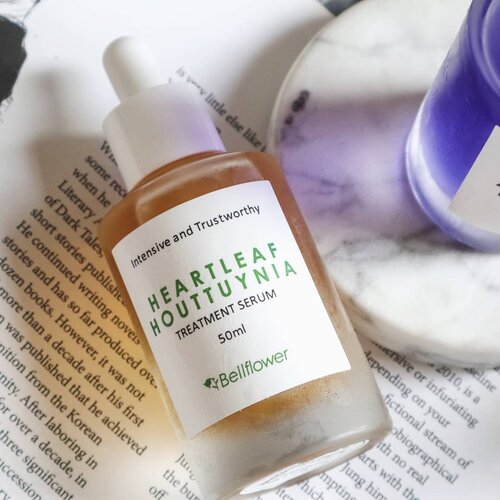 🌼 SERUMAfter one month of use, this is my impression to @bellflower_global Heartleaf Houttuynia * :.🌼 TEXTURE & DURABILITY .Has a runny watery texture, yellowish, with a little hint of natural fragrant herbs. PAO of this product is 12 M. Although there is no preservative, you don't need to store in the fridge; but because I have one, I also like it to use it when it is cool, I store all of them there. There is no particular sequence you need to obey in skincare routine steps; but usually I use it after toner.🌼 INGREDIENTS.The content of ingredient lists is quite minimalist. There is alcohol placed in 4th. Alcohol itself is a solvent that can give soothing sensation to the skin, even when I have taken from the fridge for a long time. There is rosemary leaf oil that might trigger allergy for some people. Rosemary itself is believed could be a cure for acne.🌼 WHAT I THINK.Claimed to be able to fight pimples, I do think it is more suitable to make reddish skin improved. Yes, centella asiatica is good for acne, but not to kill all at once. It is better to prevent P.acnes breeding in one or more place.Although it does not provide significant results for pimples, it is suitable if you have sensitive skin.RATING3/5.WHERE TO BUYFor about 175k, you could buy it @keranjangmica.*Gifted
#koreanskincareroutine
#skincareregime
#skincareblogger
#skintalk
#pimples
#acnetreatment
#oilyskin
#normalskin
#dryskin
#skincareaddict
#bellflower
#kbeauty
#abcommunity
#abbeatthealgorithm
#rasiancommunity
#rasianbeauty
#insommiareview
#idskincarecommunity
#clozetteid
+ View more details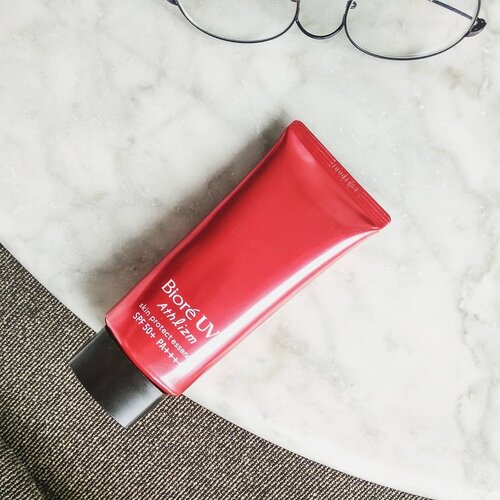 🌥️🌤️SUNSCREENFinally revealing the newest, strongest, and most long lasting UV protection in the Biore UV lineup! .TEXTUREI pick water based sunscreen (Biore UV Athlizm Skin Protect Milk is for normal-oily skin) because of my combination skin. Is has refreshing, similar like Biore UV Aqua Rich but different in color. This has a whiter shade.UV FILTERThere are four UV filters: Octinoxate, Uvinul T150, Uvinul A Plus, and Tinosorb S. All of them are my fave ♥️; all formulations are quite friendly for sensitive skin. The UV filters are similar to Biore Aqua Rich Watery Essence.DIFFERENCE🌤️ Alcohol is placed second, meanwhile in the 2017 version of Aqua Rich doesn't contain any.🌤️ Athlizm is designed for outdoor use in the summer. Its durability is certainky better than Aqua Rich. At the 6th hour, I barely notice oil secretion on my face! This proves that it used the latest technology so it is long lasting until the 8th hour. Also, Athlizm is super waterproof, with the estimate it can last up to 80 minutes..WHAT I THINK🌤️ This also claimed to be formulate to inhibit acne. Athlizm is more to my liking than Klairs Soft Airy UV Essence! ..PRICE🌤️ 1500 yen, cheaper! It cost about 295k for 50ml, if you are doing preorder at La Boum Shop (Shopee only) .RATING5/5
#japanskincare
#bioresunscreen
#sunscreen
#skincareblogger
#skincareregime
#rasiancommunity
#rasianbeauty
#skincareobsessed
#asianbeauty
#asianskincare
#abbeatthealgorithm
#skinhealth
#oilyskin
#insommiareview
#idskincarecommunity
#clozetteid
+ View more details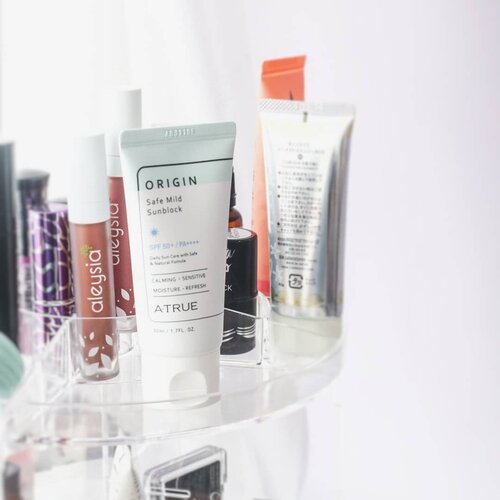 🇺🇸
[email protected]
is currently happening. I must admit it is quite pricey, in the similar range from Klairs. Atrue is a physical sunscreen. This is my impression after a month usage:
.
✨ You'll love Atrue if you like to wear foundation daily. This is my first matte sunscreen. I think it is most suitable for combination-oily skin .
✨ It turns out that it could be a little better than Canmake Smooth Skin Primer 🤔. When I tried wipe my nose with oil paper in the 4th hour, I catched oil only on my nose. Excess sebum appears on the 6th hour on my forehead and cheek
.
✨ I feel like I'm wearing a mask. Yes, because of Zinc oxide and Titanium dioxide have original white color, this is the cause of whitecast. Those two ingredients are safe for sensitive skin and suitable during pregnancy
.
✨ If you want to reapply, you should clean your face first. I feel like I'm the Joker if I don't do this 😂
.
✨ Its texture is thick. I recommend using a moisturizer first before applying Atrue
.
Overall:4/5
.
Where to buy: @keranjangmica
_______________________________________
🇮🇩 Sunscreen dari Atrue ini sifatnya matte. Kamu yang punya kulit kering enggak akan begitu suka, tapi ini cocok buat pemilik kulit kombinasi-berminyak. Pakai bedak aja nampol banget, apalagi foundation. Masa coba ini lebih bagus dari primer Canmake, tahan sampe 6 jam saat saya ngantor! ✨
.
Teksturnya agak kental, jadi sangat disarankan pakai moisturizer dulu. Ketika mau reapply, mending cuci muka dulu daripada jadi kayak pakai topeng Joker
.
Rating: 4/5 .
Beli di: Mbak Mica
.
#koreanskincareroutine
#koreanskincare
#atrue
#sunscreen
#koreasunscreen
#abbeatthealgorithm
#abcommunity
#rasiancommunity
#skincareregime
#skincarejunkie
#igbeauty
#igbeautyblogger
#skinhealth
#physicalsunscreen
#veganskincare
#naturalbeauty
#insommiareview
#idskincarecommunity
#skincarecommunity
#clozetteid
+ View more details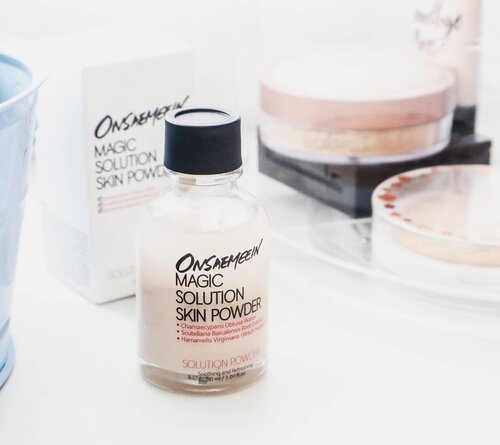 🌱 Saya jarang jerawatan. Namun kira kira 3 minggu lalu, saya akhirnya mencoba produk dari @onsaemeein_official, karena sempat mendapatkan hasil positif ketika mencoba produk serupa dari @rojukiss_korea
.
🌱 Nah, tapi ketika saya membaca ingredients list (IL), ada yang berbeda dengan Rojukiss
.
🌱 Onsaemeein mengusung 3 bahan utamanya: salicylic acid, witch hazel extract, dan dryopteris crassirhizoma extract. Sementara Rojukiss menggunggulkan calamine, grapefruit extract, dan salicylic acid. Ini fungal acne friendly!
.
🌱 Tiap kali pakai Rojukiss, perubahan pada jerawat bisa terlihat kira kira 2 hari kemudian. Dengan catatan, untuk jenis jerawat cystic, produk ini tidak bekerja semestinya. Karena setahu saya memang lebih ngefek untuk pimples .
.
🌱 Sayangnya, ketika saya coba Onsaemeein, enggak begitu banyak perubahan. Malah pimples masih nangkring anteng di area pipi kanan. Untuk Rojukiss, rasanya masih manjur. Saya sempat tersugesti bahwa calamine memang yang bikin pimples mereda setelah 5 hari pemakaian 🤔
.
🌱 Kalau dibilang, produk produk semacam ini enggak wow banget. Rasanya saya lebih percaya dengan penggunaan acne patch dan salicylic acid 2% semacam Erha
.
Overall rating: 2/5. Rasanya lebih baik di-preloved saja
.
.
#insommiareview
#insommiaskinformation
#pimples
#acne
#whiteheads
#blackheads
#calamine
#salicylicacid
#skincareregime
#skincareblogger
#abcommunity
#koreanskincareroutine
#koreaskincare
#rasianbeauty
#rasiancommunity
#abbeatthealgorithm
#igbeauty
#igbeautyblogger
#instaskincare
#skincaregram
#clozetteid
+ View more details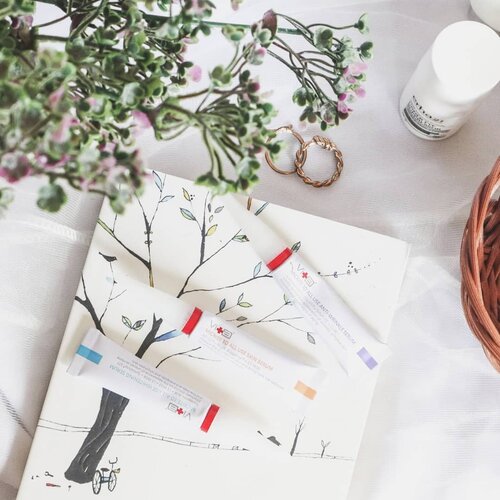 My last product I received from @allyoung.id is Swissvita Micrite 3D All Use Anti Wrinkle Serum*! This is just a sample so it must be used in the long run. There are some ingredients I could highlight:✔️ Retinyl palmitate, a vitamin A derivative, very useful as an antioxidant and antiaging.✔️ Palmitoyl tripeptide-5 is claimed to be able to penetrate into our dermis. It could help skin tissue growth and stimulate production of collagen. Palmitoyl tripeptide-5 is one of matricins peptides. Little info in in vivo efficacy data shown the actual effect; in addition, in many cases, it is still unclear in the individual improvement. Improving cosmeceutical function might lead to reclassification from cosmetic to drug category, which is often not desirable, so it limits possibilities for development (Schagen, 2017).✔️ There's also Palmitoyl dipeptide-5 diaminobutyroyl hydroxythreonine a type of synthetic peptide which is claimed good for antiaging.So far the serum is quite comfortable to use, but hasn't provided significant results. My rating is 3/5.*Gifted by @allyoung.muslima .
#allyoungmuslima
#allyoungmuslimasquad
#skincareblogger
#taiwanskincare
#taiwancosmetics
#asianskincare
#abcommunity
#abbeatthealgorithm
#rasianbeauty
#rasiancommunity
#skincareregime
#skincareobsessed
#antiagingskincare
#antiaging
#clozetteid
+ View more details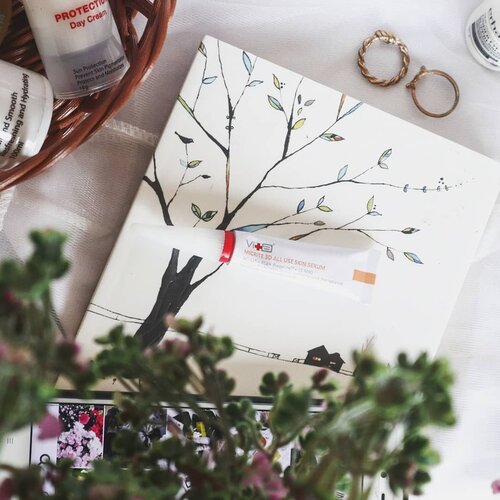 + View more details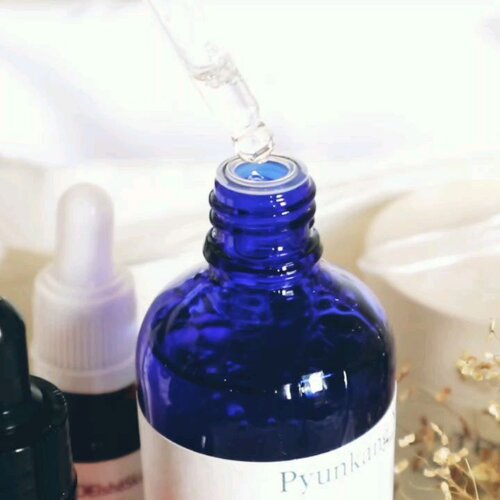 🇺🇸☄️ My third
#texturetuesday
! Sorry guys because there was a problem before, I couldn't write any post on my blog 🥺, I had fixed it but somehow I have to complete a job this time right now so enjoy how sticky @pyunkangyul 's ampoule!..☄️ I got this from @altheakorea surprise birthday for
#altheaangels
, thank you 😆😆; I picked randomly without knowing what Pyunkang Yul Moisture Ampoule gonna be like. There is no humectant at all to the best of my knowledge when I read the IL 🙊. I still don't have the explanation why the texture is so gluey, I don't like it at first.☄️ I'll do the review next week! Are you curious with this? About their essence toner, I already wrote a blogpost, you could read by searching at insommia.net (I wonder why there is, yes, there is someone who isn't so bright knowing that he or she could just click my link bio to read my blog 🤔) _____________________________________🇮🇩 ☄️ Texture Tuesday ketiga! Maaf ya harusnya saya review produk Althea, tapi ada sedikit masalah jadinya saya baru bisa posting di blog besok 😭.☄️ Saya beli Pyunkang Yul Moisture Ampoule di Althea Korea. Ini kurang populer, jadi mungkin masih banyak yang belum tahu. Sepengetahuan saya nggak ada humektan sama sekali di sini, jadi masih mengira ngira... kenapa begini? Teksturnya sticky banget kayak lem. Dulu saya udah pernah pakai Essence Toner (yang mostly 90% silikon) tapi enak dipakai; jauh sebelum semua orang sekarang pake 😜, kalo kepo saya udah nulis di link bio. Pakai bahasa Inggris. Mudah kok, kalo gak ngerti kan tinggal copas ke Gugel Translet. Jangan bikin hidupmu susah dengan nangis meler bilang ke saya gak ngerti bahasa Inggris, minta dilempar ya kamu sama koin Galleon. Udah 2019, gak ngerti bahasa Inggris... terus ngapain main IG.☄️ Saya bakal bikin review Moisture Ampoule minggu depan, stay tune. Iya iya pake bahasa Indonesia 😛, gak usah bawel
#koreaskincare
#rasiancommunity
#beautycommunity
#pyunkangyul
#abcommunity
#abbeatthealgorithm
#skincareregimen
#koreabeauty
#skincareblogger
#igbeautyblogger
#skinhealth
#dryskin
#veganskincare
#naturalbeauty
#clozetteid
+ View more details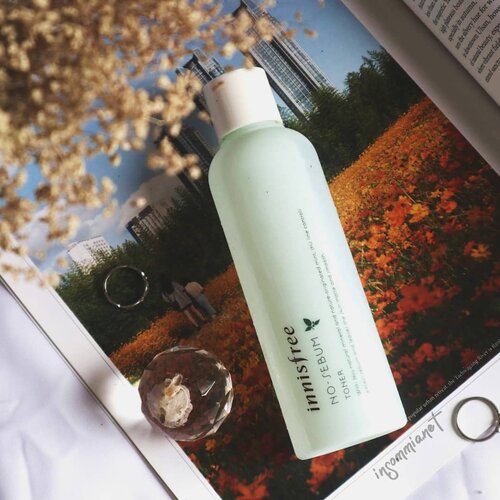 + View more details

loading ...
Back To Top