loading...
Search
10 RESULTS FOR SKINCAREEMPTIES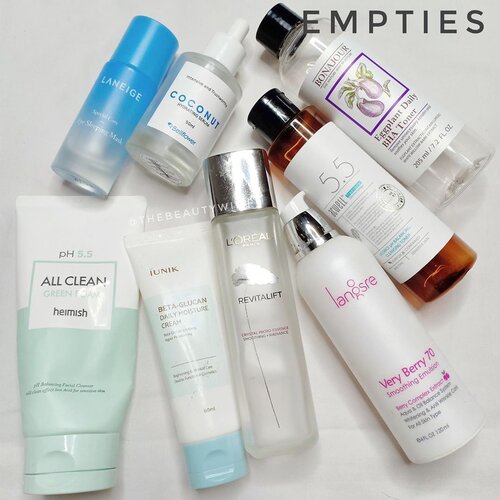 + View more details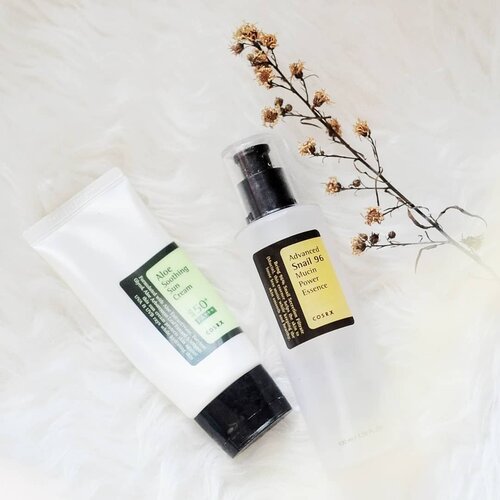 HAI MALEM MINGGU PADA NGAPAEN NEH?? Kalo diriku sleeping beauty seharian ini setelah kurang tidur seminggu🥰 wkwkwk
#bangga.
Karena skrg udh seger gue mau share ulasan singkat tentang produk skincare yang sudah gue pakai sampai habis. Kali ini dari brand @cosrx ❤..1. Aloe Soothing Sun Cream SPF 50+ PA+++CINTA BGT SAMA SUNSCREEN INIII OMG maap lebay tp emang seenak itu dipakenyaa😭❤. Sunscreen biasanya kan terasa oily bgt, tp ini engga. Teksturnya thick warna putih tp terasa ringan di kulit. Cocok jg utk kulit kering nih soalnya ada kandungan Aloe Vera-nya. Sedikit white cast tp i dont mind with that karena ujungannya bakal bedakan jugak hehe. Bikin kulit keliatan glowing juga wkwk jd bs sekalian sbg base utk dewy makeup🥰. Awalnya rada takut karena ada fragrance, tp alhamdulillah di gue ga bermasalah samsek. Pastinya akan beli lagi hahah😍..2. Advanced Snail 96 Mucin Power EssenceWEH INI JUGA BAGUS BANGEDD!! Wkt itu beli krn penasaran aja, lg diskon pula. Awalnya tkt bakal ga cocok di kulit gue yg oily, tkt over aja lembapnya. TERNYATA PAS BGT LEMBAPINNYA😭❤. Teksturnya beneran kayak lendir, pake dua pump aja cukup utk seluruh muka gue. Somehow bikin kulit gue jd jarang jerawatan sejak rutin pake ini. Mungkin karena kulitnya jd well hydrated bgt. Abis pake ini kulit rasanya lembap dan kenyal. Duh parahsih cinta bgt, ini essence kudu selalu ada di skincare regime gue. Dan udah gue repurchase dong hahaha sebab sengaruh itu di kulit gue🥰..Pokoknya dua produk ini recommended bgt dah! 😍😍..
#Clozetteid
#emptiesuti
#skincareempties
#skincarereviews
#cosrx
#cosrxindonesia
#crueltyfreebeauty
+ View more details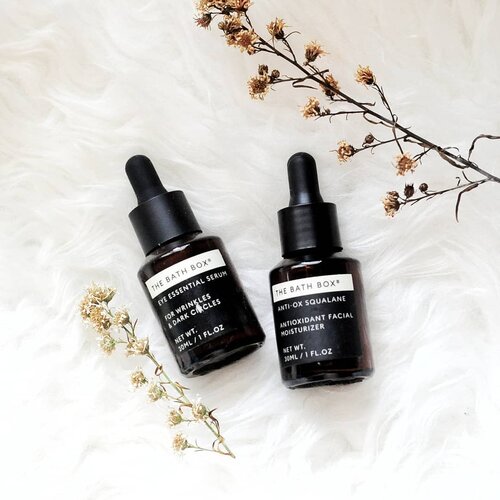 Sesuai janji gue bakal share pengalaman gue pakai skincare yg beberapa bulan terakhir ini gue habisin heheheh. Yukmari kita mulai dari dua produk ini.
.
1. @thebathbox Anti-Ox Squalane
Sprt yg kalian tau, gue cinta bgt sama Squalane sebagai pelembap. Karena dia nggak nyumbat pori2, cepat meresap, ringan, dan ga bikin makin berminyak. Cocok bgt utk kulit oily-acne prone kayak gue. Kalo Squalane dr TBB yg gue coba ini ada anti oksidannya, pgn tau aja apa bedanya hehe. Tp kalo dirasa2 sih sama aja, paling dpt benefit dr antioksidan-nya itu. Efeknya di kulit gue pun sama, bikin lembap dan glowing tanpa terasa over oily. Pokoknya Squalane itu pelembap paling aman deh buat kulit gue yg gampang jerawatan ini wkwk. Mungkin nanti akan repurchase, tp pgn nyobain pelembap lain heheh.
.
2. @thebathbox Eye Essentials Serum
Wkt itu beli karena diskon, dan merasa area mata gue butuh treatment bgt. Teksturnya kental berwarna putih tanpa aroma apapun, satu tetes cukup utk seluruh area mata. Efeknya area mata jd adem bgt, super soothing dan ngelembapin jg. Dia mengandung Niacinamide yg bs utk mencerahkan area mata. Tp gue sendiri ga gt meratiin ngaruh atau nggaknya soalnya area mata gue ga terlalu gelap eheuehue. Prnh baca review org sih ada yg ngaruh katanyaa. So far i like it BUT, ga enaknya paling kl pakenya agak kebanyakan (pas malem ya) bangun2 area mata jd kayak flaky gitu macem belek wkwkwkwk. Jd kl bs pakenya jgn napsuan kyk gue yaa hehe secuil saja cukup kok👌🏽. Gatau akan repurchase atau ngga, kayaknya mau nyobain skincare mata lain biar bervariasi💖.
.
Tp yg jelass pastinya pgn cobain skincare-nya The Bath Box yg lain. Dari dulu zaman2nya ngetren Sugar dan Scary Face Cleanser udah cinta bgt sama TBB. Seneng skrg makin banyak pilihan buat nyobain skincare lainnya🥰.
.
#emptiesuti
#Clozetteid
#skincareempties
#crueltyfreebeauty
#beautyreview
+ View more details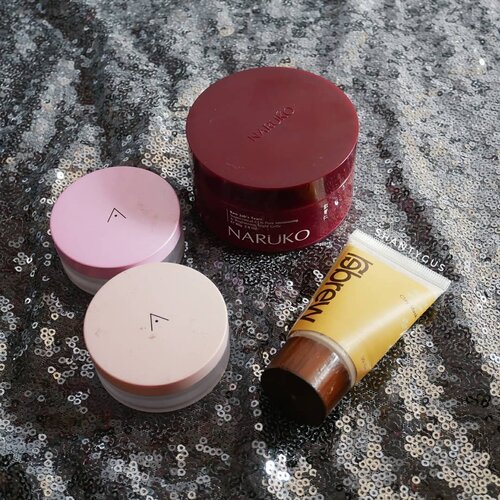 September Empties✨Berhubung lagi jrg sheetmask-an jadi belum kekumpul sheetmask emptiesnya, kali ini skincare&makeup empties dl ya! Ini jg ngumpulinnya lumayan lama krn aku orgnya bosenan suka gonta ganti produk dan akhirnya gak abis abis. Kalo ada produk yg berhasil diabisin berarti memang aku suka😝Pertama, ada dua Petal Velvet Powder dari @altheakorea. Ini shade yang translucent dan yg pink. Aku suka bgt sih sama yg translucent soalnya bedaknya bener-bener soft dan hasilnya juga natural. Keduanya bisa dipake utk daily, untuk ngeset cushion atau bb cream karena nggak ada warnanya.Kedua, ada Naruko Raw Job's Tears Night Gelly. Menurutku ini efek melembutkan dan mencerahkannya ada bgt sih. Dulu pas pake ini, skincare2 lainnya yg aku pake bersamaan lebih concern utk ilangin jerawat, nggak ada yg untuk mencerahkan. Tapi gradually kulitku makin cerah sedikit demi sedikit.Skrg aku lagi coba night gelly yg trea tree dari @naruko.indonesia juga☺️ Terakhir, ada Clay Mask dari @rebrewlifestyle. Akhirnya ada masker yg abis juga😂 Aku suka sama masker ini, krn menurutku clay mask tuh lebih berasa membersihkan aja dan lebih berasa maskerannya dibanding yg peel off atau cream mask. Masker ini serius lembut bgt! Wangi kopinya juga enak dan nggak over. I enjoyed this mask so much, terlebih lagi ini produk local yg punya visi baik utk lingkungan♥️ Ada produk kesukaan km juga nggak diatas?😊
#productempties
#skincareempties
#makeupempties
#empties
#skincareproducts
#skincareaddict
#skincaretips
#makeupaddicts
#reviewmakeup
#reviewkosmetik
#clozetteid
#theshonet
#idskincarecommunity
#beautynesiamember
#sociollablogger
#cchannelbeautyid
#tampilcantik
#indobeautygram

+ View more details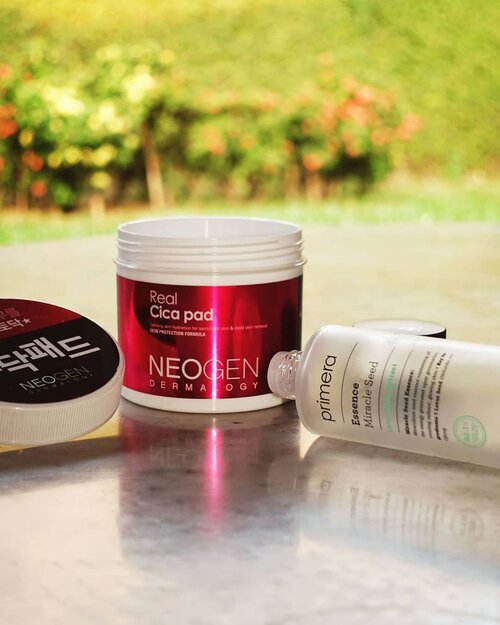 [LONG CAPTION - MINI REVIEW ALERT]
Hurrahhh for Another
#MissionEmpties
from
#DinsVanityDesk.
Thank you for took care my skin well
#alaKonMari
These two are still a new comer, I am still on the first bottle. While I use them, I don't have negative reaction, quite good actually I do add them to the list of my next beauty buys (repurchase alert!)
I notice I rarely suffer break out or pimple, very rare. I assume the regular exfoliate by
#NeogenDermalogy
really helps.
I believe is the calm siblings of the Bio-peel Siblings, way more calm, no harsh exfoliation, super mild! Sensitive skin would appreciate this version better as the exfoliation very gentle. And the
#RealCicaPower
ingredients (hello centella asiatica and madecassoside!) helps my skin barrier instead of the redness I usually have after exfoliation.
The next additional is
#Primera
Essence Lotus Seed, also a new comer, but as a first essence, I do enjoy this better than mighty Japanese brand with pitera! Works well prepared my skin for the rest of my skincare regime, building hydration layer by layer. Skin feel so good with these two 😍
So do you have any good new comer on your beauty regime too? Please do share with me!
#SkincareEmpties
#BeautyAddict
#ClozetteID
#Clozette
#BeautyGram
#InstaBeauty
#BeautyProducts
#ipreview
@preview.app
#aColorStory
#FDBeauty

+ View more details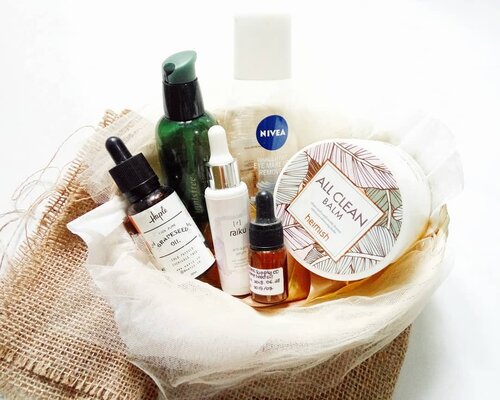 + View more details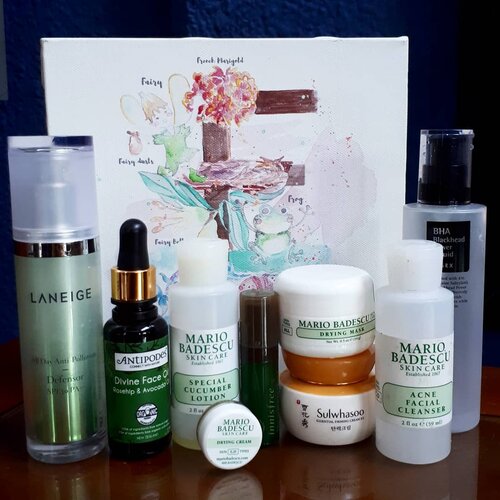 + View more details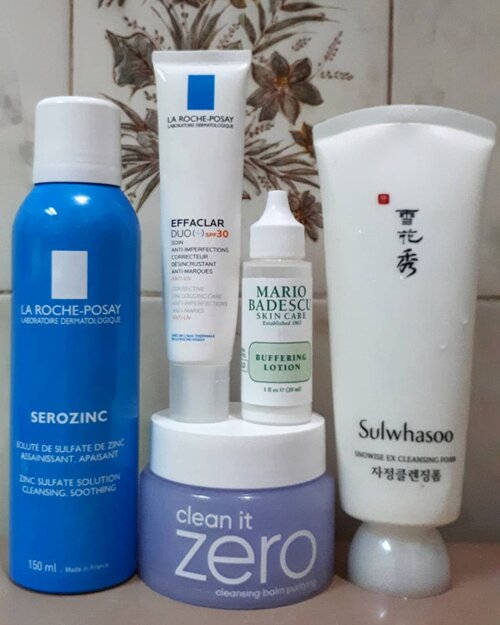 #empties
🎀🎀🎀@larocheposay Serozinc is a toner mist, absorbs my excess sebum very well and gives matte finish.🎀🎀🎀@larocheposay Effaclar Duo (+) SPF 30 is a cream with SPF for unclogged pores and corrective. Matte finish. It has niacinamide for reduce marks,but for me the results is so so. 🎀@mariobadescu Buffering Lotion. It is an acne spot treatment. It doesn't work for my acne. It dries only on the surface area of my acne, but not from inside. 🎀🎀🎀@sulwhasoo.official Snowise EX Cleansing Foam. It is a non stripping facial foam. It doesn't dry out my skin. I use it for 8 months.🎀🎀🎀@banilaco_official Clean It Zero Purifying. Personally, this is my second purchase. It really melts my makeup, dirts and dust. No fragrance and this new version is no mineral oil. But, if I wanna choose for first cleanser, I always prefer a cleansing oil. Well, human! Sometimes, I'm too lazy for opening jar and scooping the balm with spatula.
#skincarereview
#ribbonskincarereview
#skincareaddicted
#skincareempties
#skincarejunkie
#skincarehaul
#skincarecommunity
#skincarediaries
#beautybloggerindonesia
#indobeautygram
#indobeautysquad
#beautynesia
#ClozetteID
#bloggermafia
+ View more details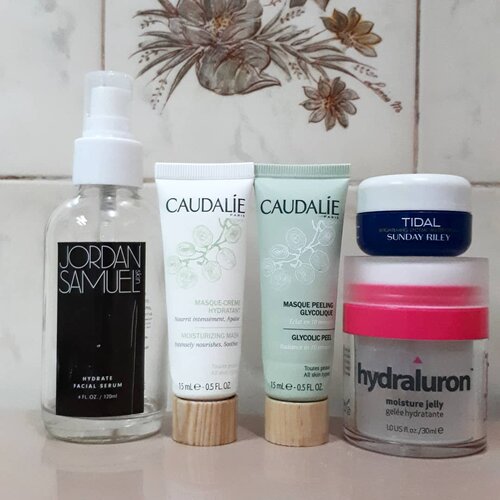 + View more details

loading ...
Back To Top