loading...
Search
3 RESULTS FOR KOKOAMORE_REVIEWPROGRAM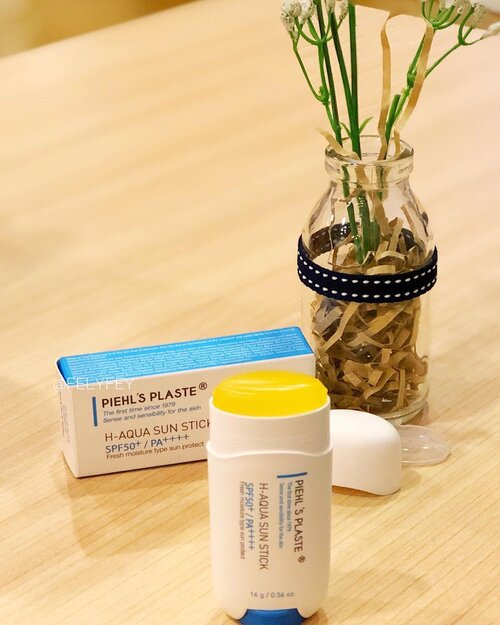 SUN STICK ALERT 🚨
PIEHL'S PLASTE H-AQUA SUN STICK SPF50 PA++++ @piehls_plaste
Honestly, this is the first sunstick I have. For people who are used to using sunscreen type lotion, the stick type sunscreen is interesting to my heart 😍
Comes with a combination of white and blue color packaging, stick packaging that is innovative, easy to hold, must always be in the makeup pouch. How to use the product? by turning the bottom, then the product will stand up. The texture : Transparent yellow, odorless, non-sticky and very easy to apply. Have SPF 50 PA ++++ is a perfect sun stick ❤️ I always carry it and it's always on my makeup pouch, when I have to reapply this sunscreen product is very easy to use. This is how I use a sunstick, I apply the product on the right and left cheeks, forehead, chin, and nose. I rub as much as 4x then I flatten and mix evenly on the face can use fingers or I use a cushion puff. So Easy !
If you think this sunstick will feel sticky and oily, it's not at all! This sunstick is comfortable to wear, non-sticky and oily. Acne prone sensitive combination skin like me, love this product❤️ I recommend this sunstick because it's comfortable and I love it
Who is curious about sunstick? You have to read my review and try the product then you will thank me 🦋
#sunstick
#piehls_plaste
#piehlsplasteaquasunstick
#skincare
#makeup
#clozette
#clozetteid
#kokoamore_reviewprogram
#abskincare
#abcommunity
#idskincarecommunity
#skincarecommunity
#kbeauty
#skincareblog
#skincareblogger
#bloggerskincare
+ View more details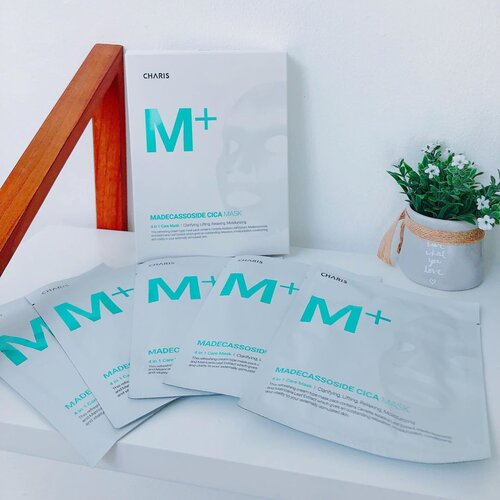 ACNE FIGHTER WEAPON 🦋
4 in 1 exellence ~ Clarifying, Lifting, Relaxing, Moisturizing
Refreshing cream type mask pasck contains Centella Asiatica Leaf Extract, Madecassoside, and Matricaria Leaf Extract witch gives an outstanding relaxation, moisturizayion, conditioning and vitaly to your externally stimulated skin
I have used M + cream and I really like it, sheetmask M + is also my weapon which I always provide at home to treat my hormonal acne
The essence in this sheetmask is very much 28 ml and I will use the rest of the essence for me to use as a serum and moisturizer, if you have a compress sheet mask, you can use it
what I feel ? of course we all know that using sheetmask is me time and I feel relaxed, the aroma is soft, I feel my stressed skin is much calmer, redness on my skin is reduced, and acne are much calmer
after 20 minutes, the skin will feel moist and the essence is still on the face, I will tap and I lock it with M + cream. and will be absorbed both my skin becomes more supple and of course the inflamed will be far more calm
M+ Madecassoside Cica uses pure ingredients only ☘️
People with sensitive and sensitized skin & acne prone skin is super recommend using M+ Madecassoside Cica Mask and Cream ☘️ You can buy this sheetmask at my Charis shop, click the link at my Bio Profile 🛒
#acne
#aging
#pores
#makeupdisturbance
#trouble
#irritation
#scars
#charis
#hicharis
#hicharis_official
#clozette
#clozetteid
#beauty
#skincare
#makeup
#idskincarecommunity
#kokoamore_reviewprogram
#abcommunity
#abskincare
+ View more details
#glutanexgiftedme
@glutanex.official their products. I got 3 products, they are mask, night serum, snow white cream for day time.
Now i want to review about Glutanex Snow White Mask ✨
~~
Glutanex mask was engineered to reveal a brighter and more radiant skin. This mask promotes whitening, hydration, nourishment and skin clarity to help achieve the dazzling look in just 15 minutes. It suggested to keep refrigerated to get full snow white effect
This mask made from cupra sheets, cupra sheets are made from pure natural cotton and maintain all serum perfectly for the skin. The fit was perfect for my face and look transparent.
~~
The star ingredient is Glutathione, a tripeptide comprised of three amino acids (cysteine, glutamic acid, and glycine), which work in unison to offer skin-restoring and brightening benefits when used in topical products.
The key ingredients are Glutathione, collagen, hyaluronic acid, sodium hyaluronate, niacinamide.
~~
The essence is not too much and has clear color, it scents like fresh flower and for me doesn't sting at all. When wearing this, the scent doesn't stay longer after sometime. The texture of the essence is watery but not slippery, I like this one. I keep this refrigerated as I follow the instruction, so when Im using it, I feel cool and so nice for relaxing. I let this mask on my face for 20 mins, while im doing something and for the last 5 mins I used my amethyst roller ❤ and patted the remaining essence on my face.
~~
After using this mask for four times with the night serum, I feel brighter effect for my skin and effect for my hyperpigmentation is good. I feel glowy and well-hydrated after use.
But for effect that immediately looks white after using it once, I don't feel it.
Overall, this mask is good when you want to have an instant boost for the next day and very good to use it with their another product 👍
.
.
.
.
#soconetwork
#clozetteid
#beauty
#kokoamore_reviewprogram
#glutanex
#glutanexcare
#glutanexjourney
+ View more details

loading ...
Back To Top