loading...
Search
13 RESULTS FOR SHEEMASHERRYSAILORMOON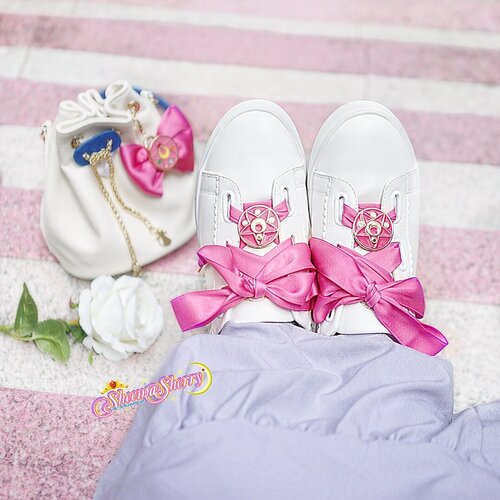 Things that Spark Joy ✨💗🌙💖⭐️
#SheemasherrySailorMoon
.
Do you follow accounts that mostly post cute or aesthetic objects or
#flatlays
on them? I'm following LOTS of that kind of accounts. Some of them post their
#SailorMoon
collection, some post their makeup or skincare products, toys or action figures, journals or diaries, food or drinks, or aaaany objects from any angles they find cute / aesthetic around them.
.
Probably if you play
#tumblr
or
#pinterest
, you have saved / reblogged / pinned that kind of cute photos too.
.
You know, I really love seeing that kind of photos. I feel like they bring some kind of happiness to people who enjoy beauty like me. Yea, I'm a person who can stand still and silently watch something for quite a long period of time just to admire its beauty. I can also be so chatty about it, while probably other people don't find the beauty in the thing that catches my attention.
.
These accounts I'm talking about, they motivate me to capture beauty in anything I see / I have too. I've practiced making flatlays, decorating objects, choosing angles, etc... etc... taking photos of them... editing them, which means, playing with colours (OH I LOVE THIS)... and posting them, sharing them with everyone, because I love expressing my passion about beauty and cuteness (a.k.a KAWAII-ness) into a visible form, and also in hopes that you also see and enjoy them the way I do!!
.
Now, I actually want to know, do you like seeing photos of the cute stuff, like my Sailor Moon stuff, or other objects that I've shared so far? Don't worry, It doesn't matter what you think, because at the first place I do it for self-expression, but it's nice to know what you think too, even though I'm not sure you will even read this caption until the end... 😂😂😂😂
+ View more details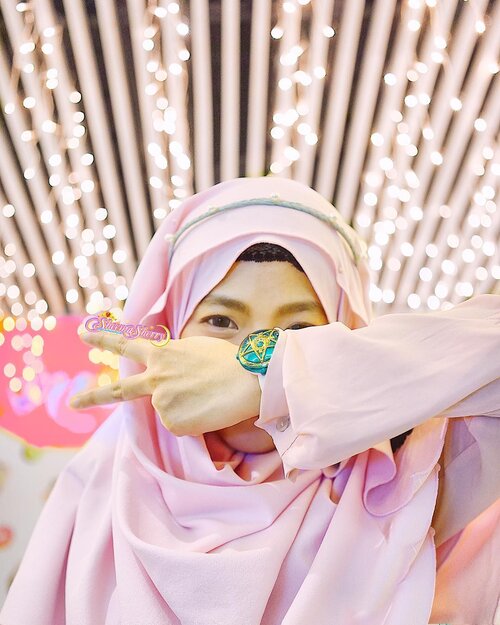 Assalaamu alaikum. This is the Sailor Mercury lip balm watch from my
#SheemaSherrySailorMoonCommunicator
set. In case you want to see how the colour looks like in real life. The blue has a bit of green hue, making it look a bit of Aqua Blue colour, unlike Sailor Mercury's real color which is "just" Blue. I usually only consider buying items of
#SailorMoon
/
#PrincessSerenity
, but the 5 of the Sailor Moon Lip Balm watches come in a set, so that's why I can have this
#SailorMercury
item, hehe...
#sheemasherrysailormoon
+ View more details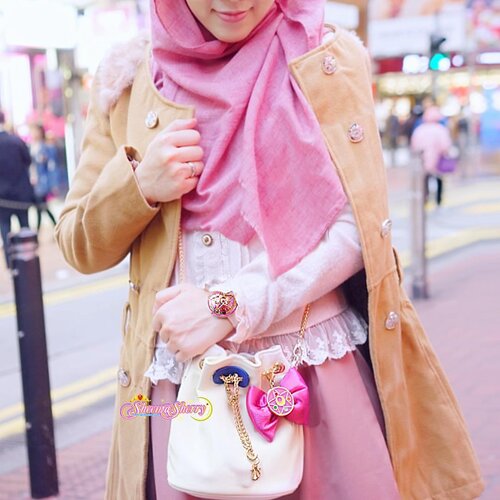 + View more details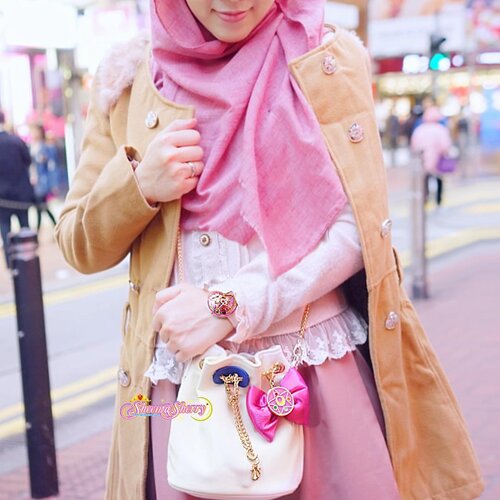 Maa Shaaallaah 🌹🌸🌙💖🌟
"No matter what pinch I find myself in, I'll never give up,
That's right! That's the lovely maiden's policy!
For the one so precious to me, who I'll surely meet someday,
I'll lift my face up high, and plunge forward 🌙💖 — "The Maiden's Policy" [Sailor Moon OST] .
.
#sheemasherrysailormoon
#sherryfindspink
+ View more details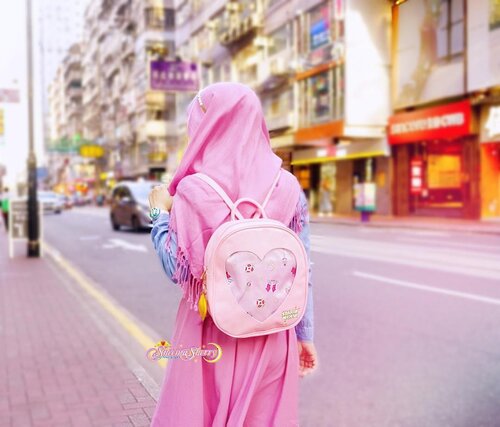 "Ah, girls have some invincible weapons
They are a gentle gaze to embrace weakness
And strength to accept everyone" — Moon Pride, Sailor Moon Crystal.
#SheemaSherrySailorMoon
#ItaBag
🎒🌙💖
+ View more details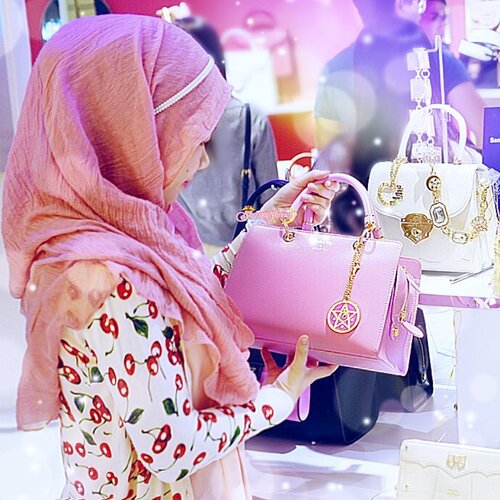 checking out genuine
#samanthavegasailormoon
bags ⭐️💖🌙👜 So many bootlegs of bags and wallets from this collaboration in Sailor Moon Fandom! And some of them have great—and if I may say, well—similar quality with the ones I held in this pic! I bought one (the black Luna backpack design) around 3 years ago for around 500.0000 or 600.00 IDR I forget, and as an immitation, it was not really cheap either, but the quality was really similar to the genuine one, also the price was of course sooo far from the genuine one (The white one in this pic is even 22.000.000 IDR!). But I don't think I want to buy something like that again as I am learning to appreciate copyright hence trying not to support fake / unlicensed products (the temptation is really BIGGGGGG because they're cute they're cheap they're everywhhheeere so I understand if ppl still go for them as I want them too lol 😭❤️).HOWEVER, there STILL are other fashion brands x sailor moon collaborations which have more affordable items like bags, shoes, etc, and I hope there will be more in the future too... because some of them are limited items and once they're sold they're gone forever 😅
#sheemasherrysailormoon
finding
#sherryfindspink...
#SailorMoon
#creerbeaute
#PrettyGuardianSailorMoon
#SailorMoonCollection
#SailorMoonCollectibles
#UsagiTsukino
#PrincessSerenity
#sailormoonhk
#komunitassailormoonindonesia
+ View more details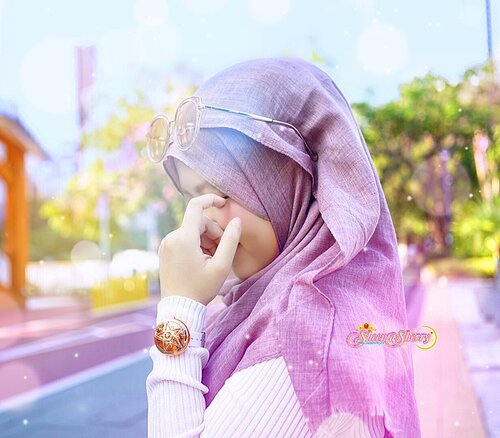 + View more details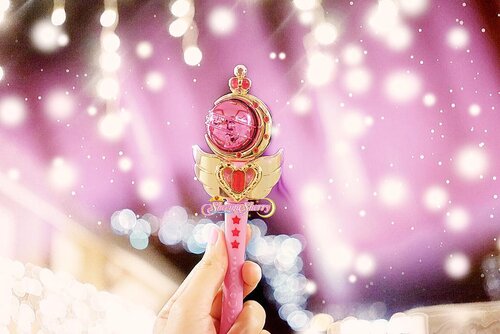 + View more details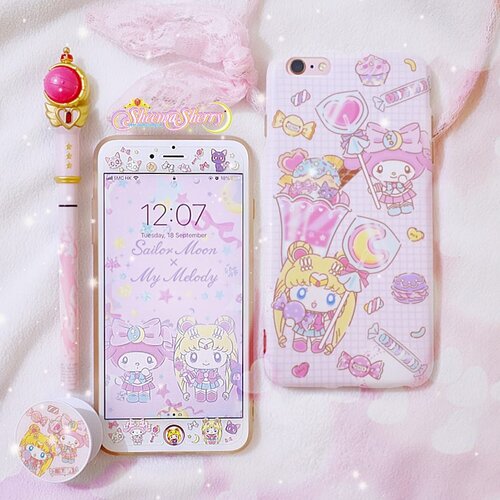 Here's my 2.5-year-old phone, currently covered in sailormoon x my melody unlicensed accessories 😭💖 (cry because they're unlicensed but they're so cute and practical)
.
I wish the next time I need to replace them, I'll find some sailor moon official accessories that fit my phone and my style!
.
PS: I actually prefer sailormoon-ish aesthetic design, without really having the picture of sailor moon as a person in it. As for these ones, I just happened to find them as a set (case, screen protector, home button sticker, pop socket) in a thrift shop when I was really in need to replace my broken phone case & screen protector because I already saw scratches on my phone and couldn't wait any longer😭
.
.
#sheemasherrysailormoon
+ View more details

loading ...
Back To Top