loading...
Go Back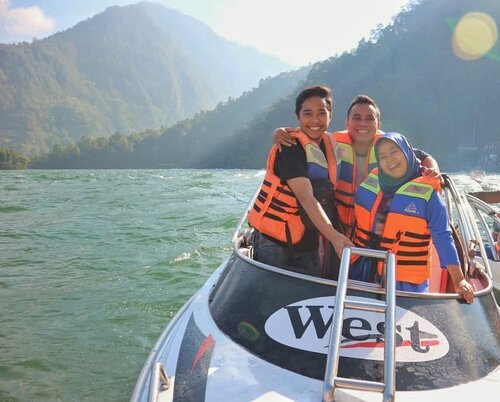 Sarangan Rasa Switzerland Part 1 😂😂😂 .
The weather was super nice so we decided to take the speedboat around the lake with hubby and bro in law 😁😁 Bisa tebak Rio dimanaaa? 😂😂 Telaga Sarangan ini salah satu tempat favorit untuk liburan dari kecil, tapi baru kali ini balik lagi setelah ngedate di tahun 2011 wakakakakakak. Lama banget yak! Ternyata banyak banget perubahan ke arah positif disini, udah lebih tertata. Meskipun masih ada yang ga sadar kingkungan dan buang sampah sembarangan ewr. .
Jaraknya sekitar 30 km dari Madiun, tapi tadi kesana hampir 3 jam 😩 efek Lebaran x weekend kali ya. Jangan lupa makan sate kelinci dan minum jeruk baby peras disini. Oiya foto di telaga is a must apalagi kalau cuacanya lagi bagus banget kaya tadi sore. ❤❤❤ .
-------
.
#family
#vacation
#clozetteid
#clozettedaily
#speedboat
#lake
#sarangan
#telagasarangan
#magetan
#visitmagetan
#exploremagetan
#visiteastjava
#exploreeastjava
#exploreindonesia
#adventuretime