loading...
Go Back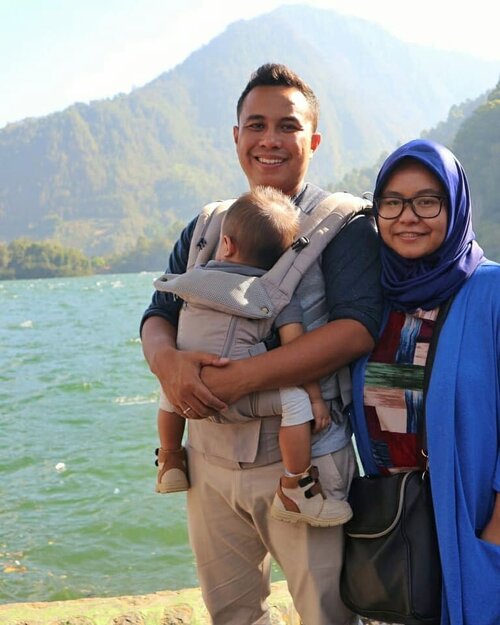 Sarangan Rasa Switzerland Part 3 😂😂😂 .
Mandatory family pictures coming up from yesterday's short trip. Who can resist to take pictures from these awesome spots 😍😍 Oiya dibelakangnya yang foto rame sama orang, kuda dan sepeda motor mondar mandir. Jadi memang perlu angle yang pas dan background yang sip biar terlihat back to nature ala ala seperti di kawasan Alpen 😂😂 .
FYI one of our favorite babygear to bring everywhere is our Soft Structured baby carrier from @lumiere_baby. Secara kita belum tau medannya oke buat ngeluarin stroller atau nggak jadi ya pake si baby carier ini. Tips dalam memilih baby carrier? Buat saya sih yang :
✔ TICKS
✔ kalau bisa masuk Hip-Healthy Product dari the International Hip Dysplasia Institute (banyak listnya disana)
✔ versatile dan banyak kantong buat printilan jadi tetap rapih (nah loh banyak maunya)
✔ lightweight dan ga terlau bulky untuk travel
✔ YANG PENTING BAPAKE SI BAYI MAU PAKAI HAHAHAHA .
Ini beli dimana? Di amazon ada dan alhamdulillah dulu dikadoin 😇😇 Anyway, ga harus yang import, merk lokal sekarang udah banyak yang cakeps cakeps dan oke punya kok 😍😍 This is one of the best investment in babygear IMHO karena gendongan ini aja kepake dari Rio 6 bulan. So what's yours favorite babycarrier? .
-------
.
#family
#vacation
#clozetteid
#clozettedaily
#lake
#sarangan
#telagasarangan
#magetan
#visitmagetan
#exploremagetan
#visiteastjava
#exploreeastjava
#exploreindonesia
#adventuretime
#satriorazendriapradana
#thepradanasfamily
#reviewibufaradila