loading...
Search
2,836 RESULTS FOR BEFORE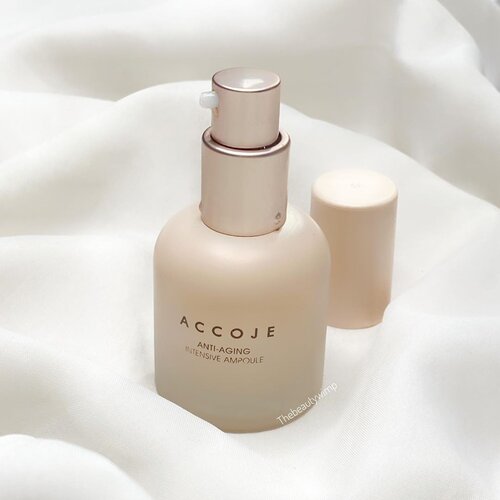 𝐀𝐜𝐜𝐨𝐣𝐞 𝐚𝐧𝐭𝐢 𝐚𝐠𝐢𝐧𝐠 𝐢𝐧𝐭𝐞𝐧𝐬𝐢𝐯𝐞 𝐚𝐦𝐩𝐨𝐮𝐥𝐞
.
𝘗𝘪𝘯𝘬 𝘡𝘰𝘯𝘦.
According to Accoje, Pink Zone is the plump area around the eyes, cheeks, & mouth that makes the skin looks youthful.
Thus, they created a product that provides daily care focused in anti-aging with highly luminesence volume capsules.
--
In a split second I thought this is a serum, but It is more of a lightweight ampoule with more concentrated formula to boost skin elasticity to create the "pink zone" itself.
It has a nice silky gel texture , (slide 2) containing micro capsules that penetrate deep into the skin.
--
This is how it works ;
The retinyl palmitate, two types of peptides, marine collagen ( Ecklonia Cava Extract ) are capsulated to stabilize the active ingredients.
(Slide 2 & 3)
The capsules burst instantly as we rub the product , and release the active ingredients .
--
Feels on skin :
The formula is non-tacky that it absorbs very quick into the skin. I barely smell anything though, that it doesnt contain iritating fragrance. To my surprise, it is also Silicone Free! However I feel my skin is so smooth after application. It is a nice booster, before your next serum as it nourishes and preps the skin vvvvery well. It provides just a right amount of hydration that I skip my hydration serum then jump right away to moisturizer .
.
.
.
#beautygoersid
#instamakeup
#makeuptutorial
#beautyenthusiast
#100daymakeupchallenge
#makeupfeed
#unleashyourinnerartist
#creativemakeup
#makeuptutorial
@setterspace @tampilcantik @cchanel_beauty_id @tips_kecantikan @popbela_com
#makeuplooks
#wakeupandmakeup
#clozzeteid
#sigmabrush
#clozetteid
#slave2beauty
#wake2slay
#eyeshadowtutorial
#amrezyshoutouts
#undiscovered_muas
#inssta_makeup
#makeupaddict
#featuremuas
#morphebabe
#beautyunderyourinfluencer
+ View more details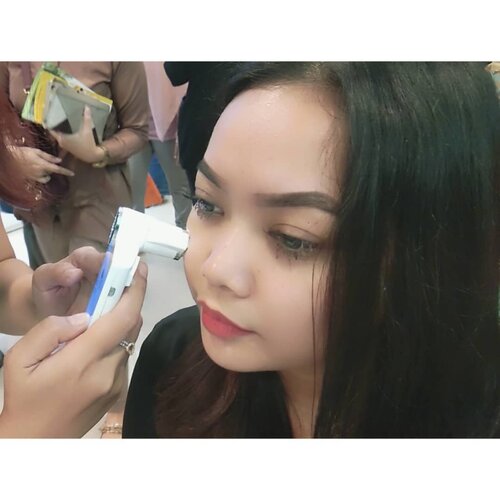 Guys, tau ga apa hal yang paling berharga? Jawabannya adalah waktu. Karena kalo keluarga itu adalah harta yang paling berharga 😂 Beneran dah, waktu itu adalah hal yang paling penting & krusial dalam hidup kita. Karena waktu itu ga kerasa, cepet banget, tau2 udah umur segini aja. Selain itu waktu itu gabisa kita percepat, kita buat mundur, kita stop sementara, ataupun kita putar ulang waktu. Oleh sebab itu, kita harus rajin2 merawat diri kita, terutama kulit, karena waktu tuh ga kerasa, tau2 udah umur segini aja, tapi belum mulai pake anti aging skin care. Jadi untuk siapapun yg belum mulai, gaada kata terlambat, lebih baik start dari sekarang, dibanding menyesal di kemudian hari, karena waktu tidak bisa diputar kembali..Well, kalo kelyan inget, beberapa hari lalu aku abis skin check di @guardian_id Kota Kasablanka. Untuk liat proses nya, bisa cek highlights "CLINELLE". Nah, kali ini aku mau share hasil before-after skin check aku, dengan penggunaan skincare Clinelle Age Revive. Zuzur, aku pake nya rada ga rutin, suka bolong2, karena tau sendiri Judith ketiduran Cholya 😂..Kelyan bisa swipe foto nya ya, disitu ada grafik elastisitas kelembaban. Hasil before-after aku sama2 bagus, yaitu moisture 99 di rata2 55, & elasticity nya 100 di rata2 60..Setelah itu untuk pori2 aku sendiri jadi lebih baik, yg tadinya bintang 4, pore aku jadi bintang 5. Tadi nya nilai pore aku tuh 25 dari rerata 20, nah skrg pori2 ku udh lebih membaik, nilai nya jadi 20..Next, ada melanin, ini parah banget sih, masa aku cuma dapet bintang 1 😂 Rata2 orang tuh tingkat melanin nya cuma 18, lah aku masa dapet nilai 90, 5 kali lipat itu mah wkwk tp untung nya setelah itu melanin aku better, jadi dapet bintang 2 haha..Terakhir bagian wrinkle, secara nilai, wrinkle ku masih oke sih, baik before maupun after sama2 bintang 5. ..Nah, untuk produk2 Clinelle Age Revive, step nya begini:- Step 1: Lifting Cleanser- Step 2: Lifting Lotion- Step 3: Lifting Eye Serum- Step 4: Lifting Youth Essence- Step 5: Lifting Emulsion & Lifting Cream..
#mybeautifulhealthyage
#Clinelleagerevivexclozetteid
#Clozetteid
#Clozetteidreview
#tiktok
#clinelle

+ View more details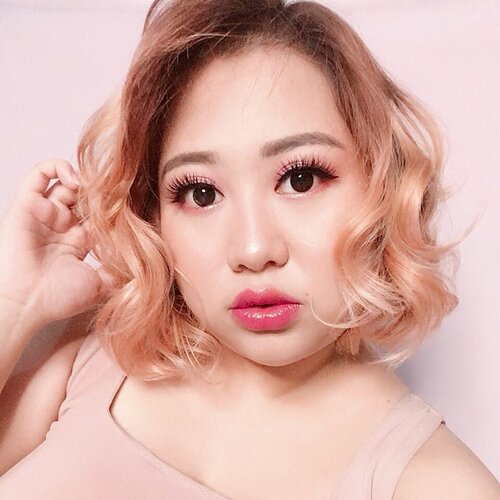 Good makeup day start from Great skin 💖✨ Jadi udah dua mingguan ini aku nyobain 4 produk dari variant terbarunya @clinelleid yang Age Revive ✨Dan aku juga skin check before afternya, aku sampe syoook! Gila semua nya langsung naik setingkat pdhl baru 2 minggu 😱😱 Tapi sungguh ga boong, kerasa banget bedanya. Kulit aku jadi lebih lembap, kenyel, pori2 mengecil, kerutan & flek aku berkurang. Makeup juga jadi lebih nempel dan awet 💞Buat hasil maksimal cobainnya minimal 2 bulan yaa, biar mantepp 👌🏻
#mybeautifulhealthyage
#clinelleagerevivexclozetteid
#clozetteid
+ View more details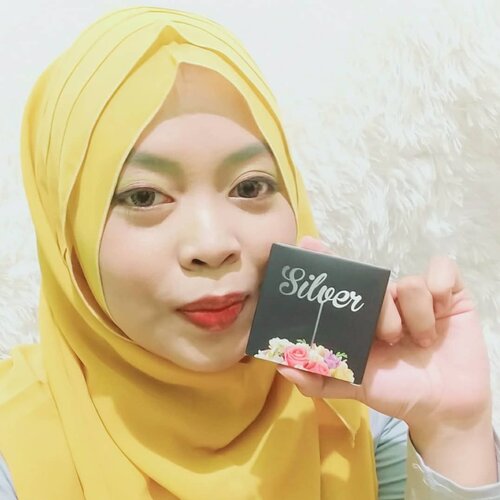 Use
#softlens
really helpfull for me before do a make up, in special event,
#cosplay
or just hangout with bff. Do you think so?I wanna recommended @spexsymbol for you, who like me~Because this softlens fullfill with water, easy to use & make your eye to be big round like a pretty doll & increase your confidence🌹Here my tips to use Contact lens:🌼 Learn the different types of soft lense that U need🌼 Lens duration that U can use🌼 Washing your hands before handling lenses can reduce this risk (Clean is must!)🌼 Of you feel ur eye dry add a soft lens water.Happy birthday @beautyfeat.id 💃
#spexsymbol
#1stannivbfid
#spexsymbolxbeautyfeatid
#clozetteid
#love
#lfl
#selca
#kawaii

+ View more details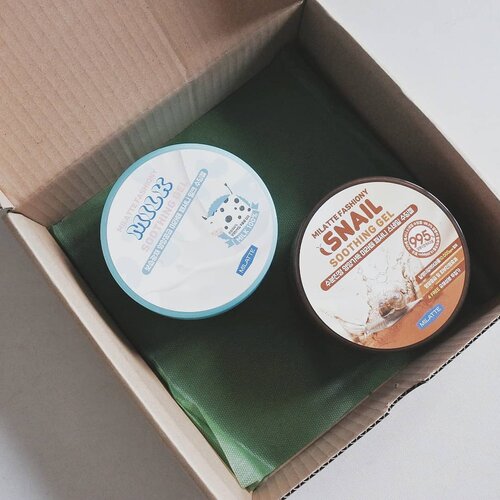 The soothing gel hype isn't over! Beside the infamous Aloe Vera Soothing Gel, @sunhyang_cos Milatte Fashiony has another variant such as Tomato, Snail, and Milk Soothing Gel.
I've tried the Milk & Snail one. Here's my quick review on them ⭐ • Packaging • They comes with a big, bulky 300gr jar packaging, enough for 3 to 4 months usage. Include a plastic separator inside but no applicator such as spatula. You can depot the inside on smaller jar for traveling. • Texture • I could say it's a gel type, but the consistency is not watery like another soothing gel. It sits perfectly on your skin and easy to spread. Swipe to see the details on the texture. • Fragrance • Not really my cup of tea. The Milk Soothing Gel smells like yoghurt, but it's pretty artificial. The smell of the Snail Soothing Gel is rather subtle. • Aftermath • After application, my skin feels a little bit tacky. The sensation disappear after a couple of minutes. There is no cooling sensation, but they could work better if stored on refrigerator before. I love using them on my body and as a hair mask rather than applied them directly to my face.
If you are looking for light moisturizer, Milatte Fashiony Soothing Gels is perfect for you. Buy them on my Charis Shop here
https://hicharis.net/annisapertiwi/JNm
😊
#milatte
#fashiony
#soothinggel
#CHARIS
#hicharis
@hicharis_official @charis_celeb
#charisceleb
#vsco
#clozetteid
#skincarereview
#skincareenthusiast
#skincarejunkie
#beautyblogger
#beautybloggerindonesia
#kbeauty
#kbeautyenthusiast

+ View more details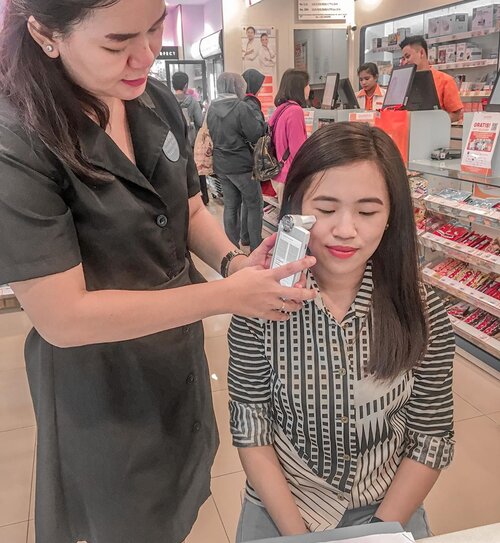 [REVIEW]
Udh pd tw belom product skincare Clinelle ? Clinelle adlh brand skincare dari Malaysia, tpi skrg udh dijual di Indonesia jga dgn berbagai varian (bisa cek di @guardian_id ) , nah bbrp wktu lalu @clinelleid baru aja keluarin varian baru 'Clinelle Age Revive' yg terdiri dari 6 products : .
.
2 weeks ago, ak sempat pegi skincheck (before) di booth nya Clinelle di Guardian @kotakasablanka , based on hasil skincheck, aku di ksih rangkaian product baru Clinelle Age Revive (travel size) dari terdiri dari 4 products : ✨ Lifting Cleanser ✨Lifting Lotion ✨ Lifting Cream ✨ Lifting Eye Cream .
.
.
Ak pke tiap hari (day - night) , menurutku productnya sendiri ringan banget dan cepat menyerap, cmn wanginya aja yg tllu strong pas awal pake .. Then, after pemakaian 2 minggu, ak balik lagi utk skincheck (after).. surprisingly, hasilnya oke banget 😍 tipe kulitku yg cenderung Normal-to-Dry , skrg bener2 berasa lebih lembab dan kencang 😊 walopun msh ada bbrp part yg perlu perawatan extra .. but overall i love the progress 🥰
FYI, sesuai dgn namanya 'Age Revive', product ini mengandung anti-aging , which is good buat qt yg usianya 20++ 😁😁
.
.
👉🏻 Swipe to see the result (before-after) .. 🤩 Baru pke 2 minggu aja udah begini, gmn klo lebih lama ??
#MyBeautifulHealthyAge
#ClinelleAgeReviveXClozetteID
#ClozetteID
.
.
.
.
.
#HappySkinHappyFace
#ClinelleIndonesia
#minireview
#skincare
#skincarejunkie
#likes
#skincarelover
#beautyaddict
#indobeautysquad
#indobeautygram
#honestreview
#makeuplover
#likeforlikes
#likeforfollow
#reviewalacicilivie
#instagood
#sparklingsquad
#instagram
+ View more details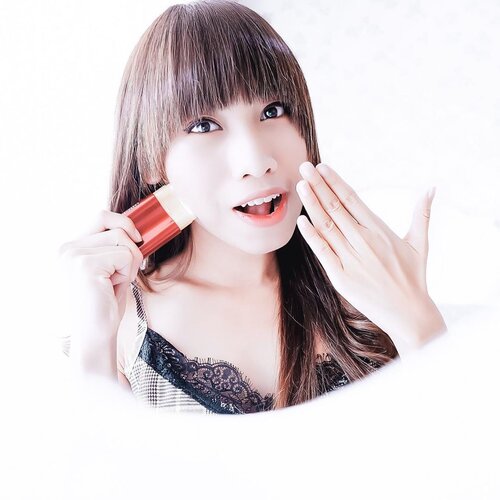 + View more details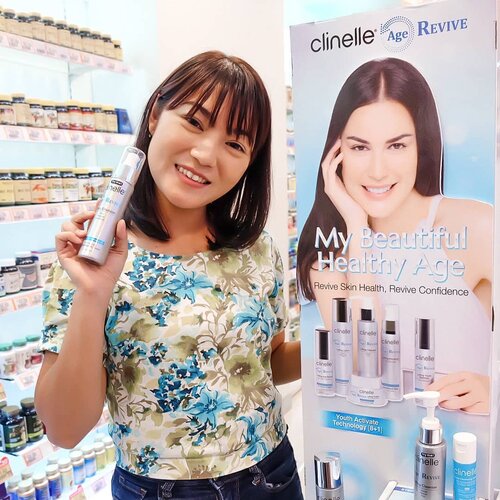 Beruntung bgt bisa kenal @clinelleid Age Revive di saat yg tepat ✨
.
Jadi, krn faktor U aku udah hampir nyerah sm kondisi kulitku yg makin lama makin tandus 🌵 belum lagi masalah kerutan yg udah mulai kelihatan kasat mata 😭
.
Akhirnya ikutan challenge dr @clinelleid dan @clozetteid buat nyoba pakai Clinelle Age Revive selama 2 minggu dan inilah hasilnyaaaaa...
Slide 2: waktu skincheck pertama kali di tgl 2 Februari 2020
Slide 3: rangkaian produk trial size dr Clinelle Age Revive yg aku coba selama 14 hari
Slide 4: foto saat skincheck kedua kali di tgl 16 Februari 2020
Slide 5&6: hasil score dan hasil foto bare face aku before dan after penggunaan Clinelle Age Revive
Slide 7: Rangkaian produk Clinelle Age Revive
.
Yang aku rasain kulit tambah lembab dan lembut aja sih tapi ga nyangka kalau score dan penampakan kulitku saat skincheck berbeda jauh, jauh lebih baik lho maksudnya..
Akhirnya aku sadar, klo penggunaan skincare kadang ga bs kita rasain secara langsung tapi butuh presistence, butuh proses dan yg pasti pilih skincare yg sesuai dg kebutuhan kulitmu...
Masih perlu bukti?? Kalian bs cek lgsg di Highlight Story ku yg judulnya "Clinelle" disitu bakal lbh jelas sekalian sm tips cara pakai skincare dari aku...
.
Semoga sharingku kali ini bermanfaat yah... Akupun seneng bgt sama kondisi kukitku yg sekarang 🥰🥰
.
#MyBeautifulHealthyAge
#ClinelleAgeRevivexClozetteID
#ClinelleAgeRevive
#clinelle
#skincare
#beauty
#anitamayaadotcom
#bloggerslife
#ClozetteID

+ View more details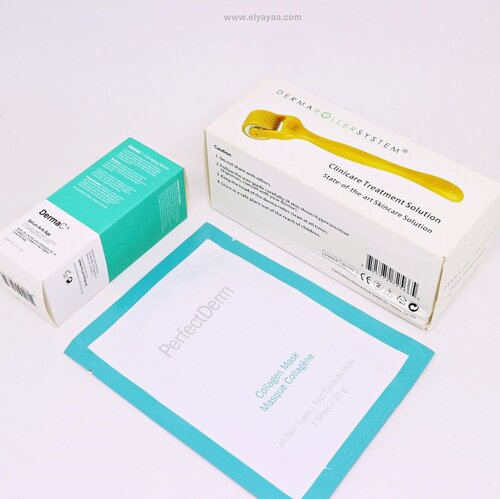 Derma roller at home, can we do that?
_
Yes, definitely!
Back then I know this kind of procedure only can be done with dermatologist as it could cause pain and bleed around the treated areas. We also need to apply numb cream before doing the treatment. In my experience of having mirconeedling, It takes a lot of time 🤔 but having
#dermarollersystem
at home can be different case.
_
We don't need to apply numb cream, and we can just do it at home. You save time as well as money. Not forget to mention, it gives bearable pain as you roll 200 needles on the skin surface to stimulate the collagen production. This treatment actually make wound on your skin so it can heal by itself and make new skin cell which is create healthier skin tissue...and you would experience your skin red, stink, and in my case it would feel hot but, it's only right after the treatment. Using anti-aging serum, sheet mask or skincare that have shooting effect could help that.
_
If u do the treatment in the proper way, you would see lil bit differences in the next morning. Of course you will see the huge skin improvement if you use it regularly once a week in several months.
_
You can see my skin improvement on the 3rd slides. I'm struggling with acne scars, it takes a year sometimes to make them disappear even tho I use brightening serum, but it doesn't have so much help. From using
#dermarollersystem
I could conclude that my skin cell turn over become faster so I could have better looking skin in the term of tone, texture and elasticity.
_
Expressing my experience with this scary looking tool in ig post wouldn't be enough. You can see the update on my ig story ( check on the hilight) and full review in bahasa Indo can be read at
www.elyayaa.com
.
.
.
.
.
.
#skincare
#skincarebloggers
#indonesianbeautyblogger
#ellskincaregame
#clozetteid
#idskincarecommunity
#dermaroller
#microneedling
#skincarejunkie
#skincareaddict
#abcommunity
#skincareblogger
+ View more details

loading ...
Back To Top