loading...
Search
794 RESULTS FOR ARTIST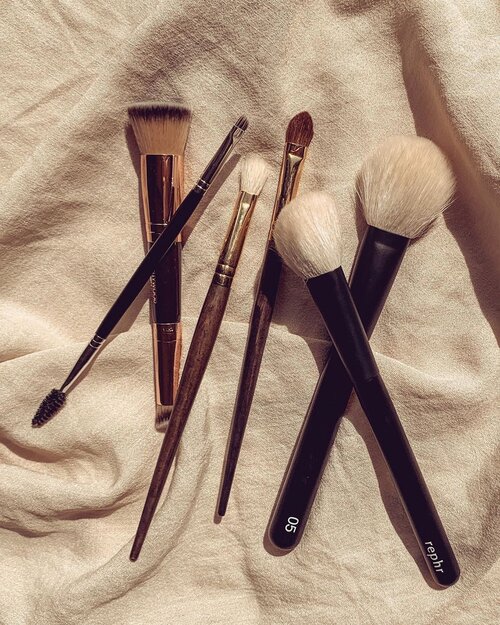 What are your must-have makeup brushes? I have a lot of friends asked me which makeup brushes they should get for their collection. I always recommend getting just the essential brushes first, from whatever brands suit their budget.
⠀⠀⠀⠀⠀⠀⠀⠀⠀
As a makeup artist, I have plenty of brushes and if you've seen my collection, you'd noticed that some of the brushes that I owned are in duplicates. So, I've narrowed it down to these 6 essential brushes.
⠀⠀⠀⠀⠀⠀⠀⠀⠀
These are the brushes that I think would be a great start to your collection. Out of the 6, the Fluffy Blending brush is probably the one that I owned the most & the one that I recommend to people the most as well.
⠀⠀⠀⠀⠀⠀⠀⠀⠀
In picture:
• Foundation/Concealer brush.
• Eyebrow brush with Spoolie.
• Fluffy Blending brush.
• Flat eyeshadow brush.
• Contour Brush.
• Powder/Blush brush.
⠀⠀⠀⠀⠀⠀⠀⠀⠀
You can find variation of these brushes from different brands. Again, buy from whichever brand suits your budget. I've owned brushes from high end brands to drug store to no brands to the free ones they give with the palettes! As long as you know how to handle them, they all do the same job.
⠀⠀⠀⠀⠀⠀⠀⠀⠀
If you don't know where to start in terms of brands, I'd suggest @maccosmetics @maccosmeticscanada @makeupforever for pro quality brushes. For budget friendly brands, I love @realtechniques , @sigmabeauty & @sephora @sephoracanada brand brushes.
⠀⠀⠀⠀⠀⠀⠀⠀⠀
⠀⠀⠀⠀⠀⠀⠀⠀⠀
⠀⠀⠀⠀⠀⠀⠀⠀⠀
⠀⠀⠀⠀⠀⠀⠀⠀⠀
⠀⠀⠀⠀⠀⠀⠀⠀⠀
#makeupflatlay
#clozette
#makeupbrushes
#flatlayphotography
#flatlayoftheday
#flatlaynation
#flatlaythenation
#ctilburymakeup
#smithcosmetics
#bbloggersca
#clozetteid

+ View more details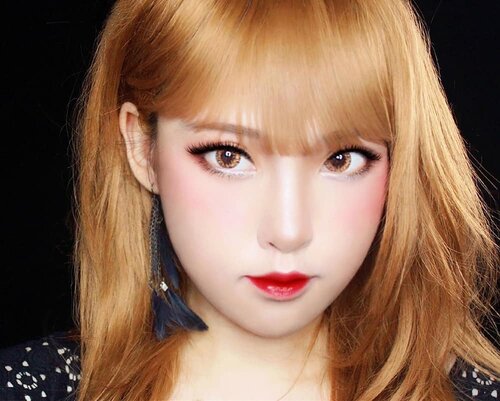 I've tried my best to prepare myself for higher education. i'll focus on my study in the future. I don't think i have enough time for everything that makes my daily schedule became super-hectic. But don't worry, i'm still an artist, and i'll became more productive to make an artwork. My field of study is still about art, and ofc my thesis too..I'm so excited to enter a new university, meet new people from other country, meet professor to guide me, find an international community and explore the ideas. I do really hope, my journey become an international artist will bring me to the next level. I've been through so many experiences that makes me feel so excited to make an artwork with 'international taste'. Several have been exhibited in International media and TV. .I'll work harder!.....
#Art
#Artist
#JapaneseStyle
#JapaneseMakeup
#Gyarumakeup
#GyaruGal
#Gyaru
#makeup
#可愛い #かわいい #ギャル
#JapaneseBeauty
#kawaii
#beauty
#girls
#fashion
#harajuku
#cchanelbeautyid
#japan
#モデル  #メイク  #ヘアアレンジ #オシャレ  #ギャルメイク #ファッション #ガール #かわいい
#clozetteid
+ View more details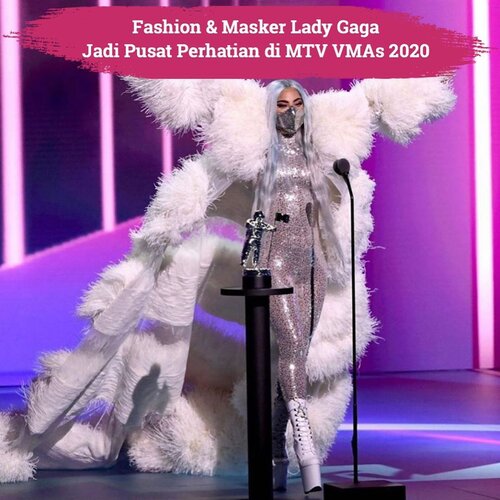 Penyanyi yang mendapat 4 penghargaan sekaligus dalam MTV VMAs 2020 menjadi pusat perhatian dengan fashion dan masker yang sangat unik dan stylish. Dalam ajang yang berkonsep social-distancing tahun ini, Lady Gaga memenangkan Artist of the year, Song of The Year, Best Collaboration dan Best Cinematography, congratulation!📷 @nicolaformichetti
#ClozetteID
#ladygaga
#VMAs
#MTV2020

+ View more details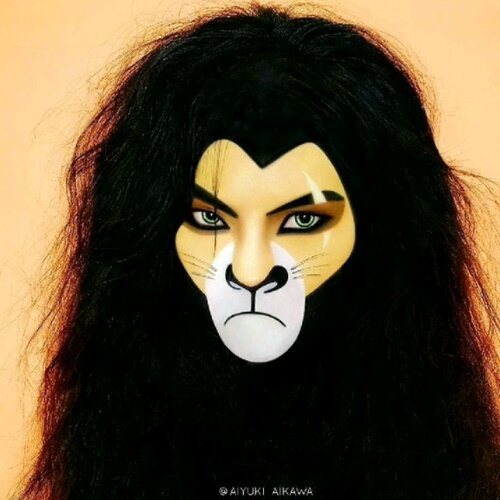 𝗦𝗖𝗔𝗥 (𝗧𝗛𝗘 𝗟𝗜𝗢𝗡 𝗞𝗜𝗡𝗚)
.
Mereka bilang setiap karakter yg saya buat seakan bernyawa. Kali ini sy akan bercerita ttg karya dan 6th sense yg diberikan semesta utk menghidupkan jiwa setiap karakter yg sy perankan
.
SCAR - One of Disney's Greatest Villain yg paling sy benci. Liat tingkahnya di movie pengen tak hiih! Gregetan. KZL. Namun ketika sy mncoba menangkap karakternya & 'memasukkannya' dlm jiwa sy, ada energi amarah yg luar biasa. Namun sesaat pula, ada rs kasihan. Mixed feeling. Tanpa sadar sy menangis, termenung beberapa saat sebelum mulai melukiskan rupanya di wajah sy. Ketika sy memejamkan mata, sy merasakan anger & jealousy, dan itu membuat sy merasakan goosebumps di sekujur tubuh utk wkt lama. (Goosebumps adalah respon fisik paling general ketika sy berhasil merasakan emosi suatu karakter)
.
Ketika sy sdh merasakan bgmn sosoknya, br kemudian mulai eksekusi. Prinsip sy : 'JIKA sy BELUM berhasil merasakan karakter yg sy perankan, MAKA SY AKAN GAGAL' - Krn 'Rasa'nya tak akan tersampaikan. Skrg kalian tau alasan knp sy selalu 'semedi' dlu sebelum eksekusi
.
Kepekaan ini membantu sy utk merasakan setiap detail terdalam. Sy tak akan membuat suatu karya jika sy belum mengenali & belum berhasil 'memasukkan' jiwa karakter yg sy akn perankan itu dalam diri sy
.
Itulah penjiwaan, tak bs dijelaskan hanya bs dirasakan. Mereka yg tak mengerti hanya akn menganggap sy seniman halu. It's ok, berarti org tsb cuma punya logika, tak punya rasa. Sy bersyukur atas 6th sense & kepekaan yg mengiringi perjalanan sy sbg seorang seniman. Yg penting karya2 sy mampu menyampaikan rasa
.
Dan rasa, hanya mampu dipahami oleh emosi, bukan logika. - AIYUKI
.
Bicara soal pengorbanan? Yes, sy sengaja ga keramas beberapa hari, gapake conditioner, hairmask, hairserum, biar gimbal. Jd pd saat eksekusi tinggal disasak biar kelihatan kasar kaya rambut singa. Ini namanya totalitas, bukan jorok yes 😉✌️
.
.
#SCAR
#TheLionKing
#LionKing
#Simba
#DisneyVillain
#DisneyVillainCollab
#MakeupArtist
#FacePainter
#FaceandBodyPainter
#SpecialEffectMakeup
#SFXMakeup
#FacePainting
#BodyPainting
#makeup
#可愛い
#cchanelbeautyid
#japan
#モデル  #メイク  #ヘアアレンジ #オシャレ  #ギャル #かわいい
#ClozetteID
#WaltDisney
+ View more details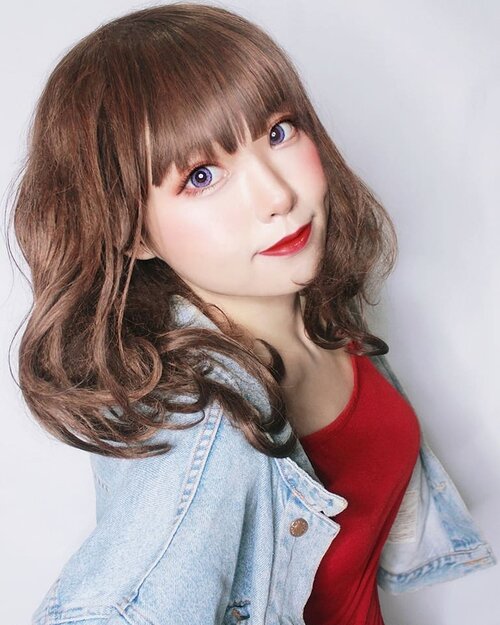 + View more details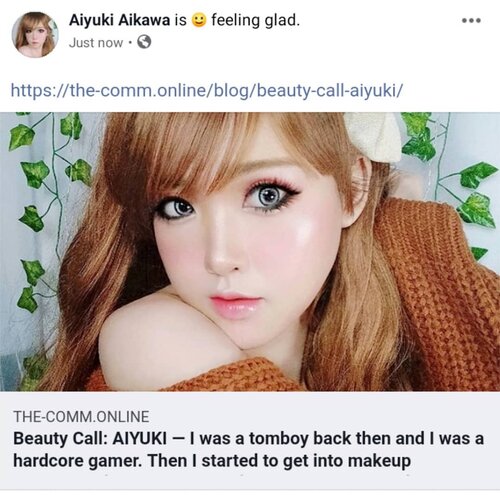 I''ve been contacted by international media a week ago, they want to feature me in their segment : 'Beauty Call'. Please check this out! My short Q&A with The COMM, an online magazine based on Tokyo & London which serves as a platform to showcase the talented creatives of the Japanese beauty & fashion lovers and unique individuals..I shared about my autenthic style and the meaning of beauty in my eyes. I love to share about ART & BEAUTY, and make people feel good to be their autenthic-self. Hopefully after this pandemic over, i could go back to Japan as a beauty artist, face & body painter and SFX Artist like the old days 😊.Beberapa waktu lalu, Yuki diwawancarai oleh salah satu media kreatif berbasis di Tokyo & London. Karena Yuki sedang tidak berada di Tokyo, maka liputan dilakukan secara online. Sebagai WNI yg berbakti, butiran bedak ini berjanji, akan terus membawa nama Indonesia melalui karya2 dan prestasi lintas negara. Pilihannya cuma 2 : Berkarya atau mati!.Pernah di media lainnya Yuki struggling banget karena artikel tentang Yuki di semua media Rusia ke-8 artikelnya diterbitkan dengan bahasa Rusia. Bahkan nama Aiyuki juga ditulis pakai bahasa Rusia. Pusing pala bebi..Yaudah, please enjoy Q&A singkat ini ya. Artikel2 lainnya will be airing soon 🥰Semoga setelah suasana kembali normal, Yuki bisa kembali ke Tokyo dan berkarir sebagai Beauty Artist, Face&Body Painter juga Special Effect Makeup Artist 😊...
#JapaneseMakeupArtist
#JapaneseStyle
#Gyarumakeup
#GyaruGal
#Gyaru
#makeup
#可愛い #かわいい #ギャル
#JapaneseBeauty
#ピンク
#kawaii
#kawaiigirl
#beauty
#girls
#fashion
#harajuku
#cchanelbeautyid
#japan
#モデル  #メイク  #ヘアアレンジ #オシャレ  #ギャルメイク #ファッション #ガール #かわいい
#clozetteid
#tokyo
#東京
+ View more details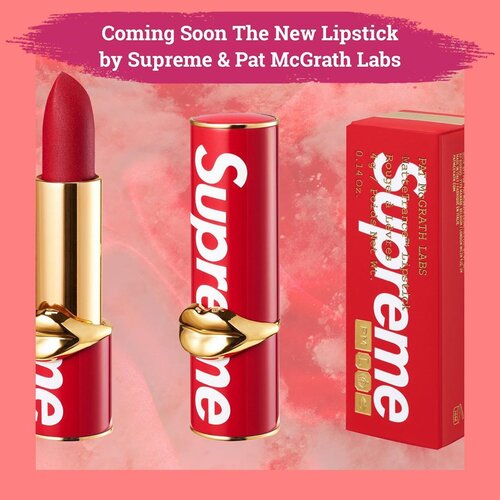 Kali ini Supreme berkolaborasi dengan make-up artist ternama, Pat McGrath, dan ini adalah kolaborasi pertama Supreme dalam kategori beauty, lho! Mereka akan meluncurkan the-first ever lipstick yang diberi nama Supreme®️/Pat McGrath Labs Lipstick: MatteTrance™️. Produk ini hanya memiliki satu shade: 'SUPREME' dengan warna merah yang memiliki hyper-pigmented formula.Lipstik ini dikembangkan secara eksklusif untuk koleksi Supreme New York Fall/Winter 2020. Untuk kamu yang mau memiliki lipstik ini, bisa membelinya di PATMcGRATH.COM .📷 allure.com
#patmcgrathlabs
#supreme
#ClozetteID
@patmcgrathreal @supremenewyork

+ View more details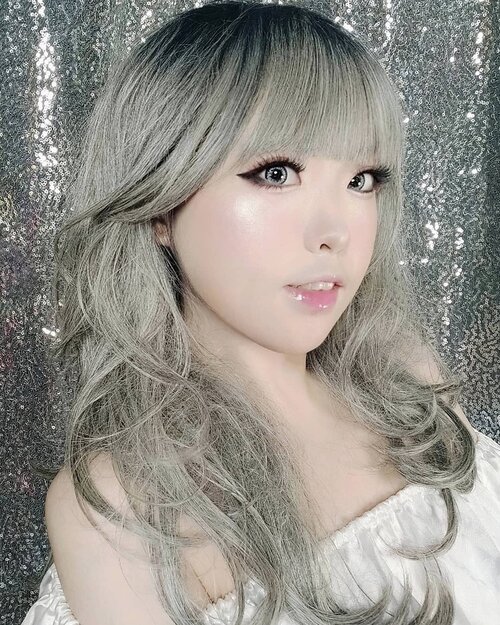 It seems like my signature makeup will fit perfectly for wedding makeup. It will keep you looking flawless - just focus on eye makeup & natural-glowing skin..*Tbh, i don't have an interest to get married in my 20's or early 30's bcs i'm too focus to improve myself & carreer. I don't think i have a time for romance. But if someday i decide to get married, i'm sure i'll do my own makeup & hairstyle, design & make my own wedding dress, write down the rundown, ask my sister to make a wedding cake (she is a professional chef & cake-art decorator 😘).My experiences tell me much about it all. I just need an event organizer to help me during the party 😌btw, garden party always be my fav one, with the closest family and friends. It's kinda private bcs i don't like too many guest. Such a waste if i invite too many people but i don't really knw them well. .I'll sing ballad love-song for my husband to be. 'You're the Inspiration' by Chicago (1984) is on the top on my list. Tbh, i have a high standart for a man i want to live with. Beside good looking, someone who will support me for everything i do, has a sense of art too, a deep thinker and open minded person. So, we can share about everything & make an artwork together. I don't want wasting time to have a small talk with wishy-washy kind of person. Career is my number one priority. I'll never trade every second of my life by living a fake love-live or be with someone that's not educated enough..I don't like a 'normal-boring' life like getting married-having baby-raise the kids-etc. I'm not gonna say it's wrong. Not at all, all people has their own choice, right? But i don't want to have that kind of life. Don't judge me bcs of my own choice. As an artist, i have my own life-goals, i prefer to live my life to th fullest & inspire the world with my artwork &ceativity.If someday i find someone who fill my expectations, has similarities and same way of thinking, i'll have no hesitation to living a marriage life and write down our planning to inspire others. But if not, it's not a big deal too. I never afraid to be alone. I enjoy it because i'm focus on what i can do to inspire others and living my thousand dreams
+ View more details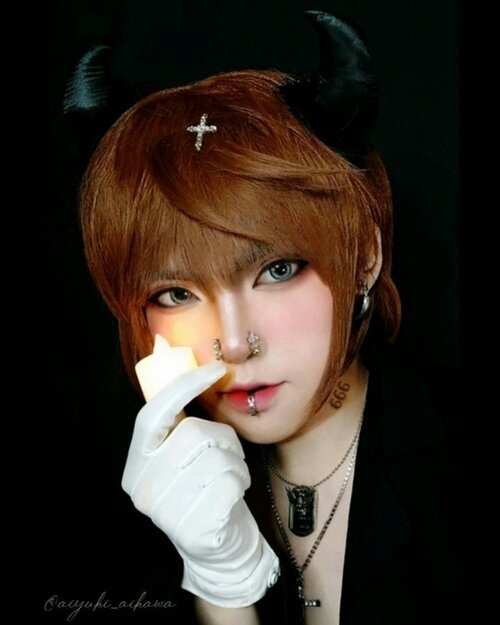 I've promised i'll tell you about my Lucifer's Makeup, right? .I need 1 hour to create this kind of makeup. Just using foundation, eyeliner, liptint, contouring and monochrome eyeshadow. Other than that, a skill, an intuition to create the image of Lucifer in my imagination. I have to create such a handsome face and evil side at the same time - so, my Lucifer will look so manly and elegant, so classy and dark. .Dangerous, but you want to down on your knees. Just like your feeling towards Demon : hate, but you never stop falling for them because they offer a worldly pleasure. It's not only about sex, but money, grudge, and everything that keeps you insane..As an Artist, concept is a MUST. And i'll put all my heart during execution, so don't ask me why i'm too serious if we talk about Artwork and originality. There is a pain, there is an effort behind every artwork i've made. There is no shortcut. There's a tears if i'm failed to give a soul into every role i play. I'm not lying. But as a perfectionist and detail-oriented person, i'll start from beginning again until i feel right. So you will enjoy the best from me, or i'll feel so guilty if i can't give my best artwork..Promise me : DON'T call me an artist anymore if i can't bring a nuance to my artwork. Promise me, DON'T call me an artist if i don't put my heart into it, DON'T call me an artist if i forgot to put my soul into every character i play. I dedicated my life for Art, i live because of Art. So, i better lose my soul than lose my intuition and sensitivity. A 6th sense to catch the meaning of every dark corner that normal people can't see..Stay tuned for the other madness, my beautiful creature ❤️ i promise i'll always improve my skill, my creativity, my quality, and everything.....
#Gyarumakeup
#GyaruGal
#Gyaru
#makeup
#可愛い #かわいい #ギャル
#JapaneseBeauty
#osharekei
#makeup
#kawaii
#kawaiigirl
#beauty
#style
#fashion
#harajuku
#イケメン
#japan
#モデル  #メイク  #ヘアアレンジ #オシャレ  #ギャルメイク #ファッション #ガール
#visualkei
#男性 #おしゃれ
#devil
#demon
#clozetteid
+ View more details

loading ...
Back To Top