loading...
Search
7 RESULTS FOR ISCHITANDMISSCHALLENGE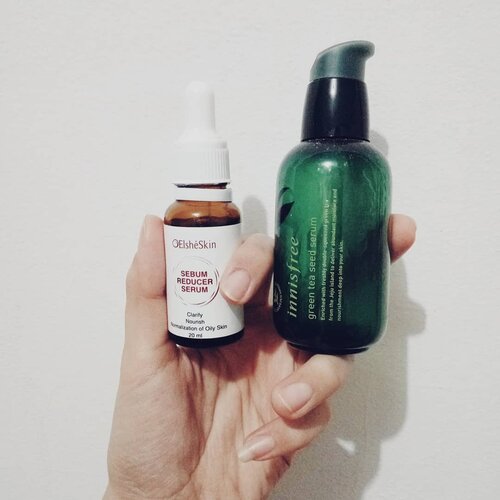 + View more details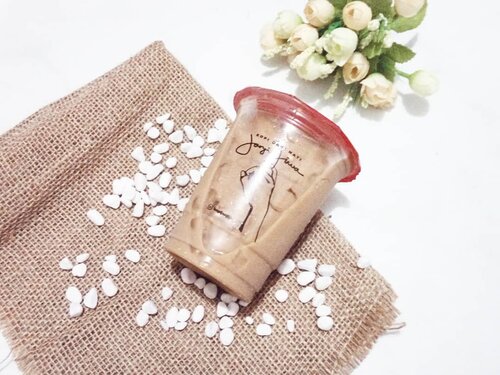 + View more details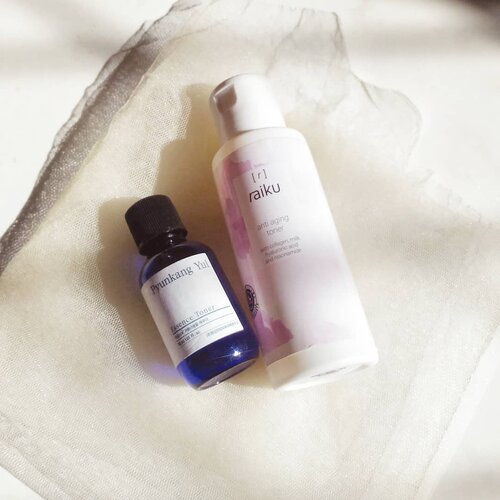 + View more details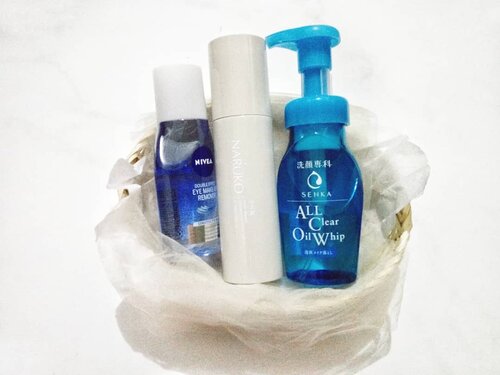 #ischitandmisschallenge
Today is supposed to post about the HIT SHEET MASK. Unfortunately, I'm not a fan of sheet mask though in several times I did it (especially when got samples or free stuff 😀). Sheet mask is good for its essence I admit it. Despite not a fan of them, since I have a daughter, I barely have time to do it. Mommies must know how it feels when you have a kid hahaha... So, to replace the post, let me welcome this three new babies that I bought from @sociolla. ➖
🍀 @nivea_id Double Effect Eye Makeup Remover
Please do not get bored seeing this in my post again hahaaa... I'm so damn in love with it. Just bear it guys! 😜
➖
🍀 @naruko.indonesia Magnolia Brightening & Firming Toner
Intrigued by seeing several reviews, I decided t give it a try since my goal this year is to lighten my skin and cast away those blemishes. I found out that it has Niacinamide in the first top ingredients so I want to see how it works on my skin.
➖
🍀 @senkaindonesia All Clear Oil Whip
After emptied out the 3rd jar of Heimish All Clean Balm, and seeing that Senka just launched its new product like this, I really want to adopt it. Clearly said, I'm not a huge fan of cleansing oil and haven't found any one that stole my heart, but this Senka come out with a new innovation: cleansing oil that turns to foam when the pump is pushed. Unique? That's why I'd like to give it a try. Could this oil replace my favorit Heimish? (the price is more affordable though). So, that's all three of my new babies. Oh well, the other one isn't new anymore. Hehe... Look forward for my reviews later. See ya and thank you for reading this long caption! Anyway, feel free to drop some comments below 😘
#makeupremover
#toner
#cleansingoil
#niveaid
#narukoindonesia
#senka
#taiwanskincare
#skincare
#skincarecommunity
#skincarejunkie
#skincareaddict
#skincarelover
#japanskincare
#abcommunity
#asianskincare
#abskincare
#abbeatthealgorithm
#discoverunder5k
#skincareblogger
#idskincarecommunity
#clozetteid
+ View more details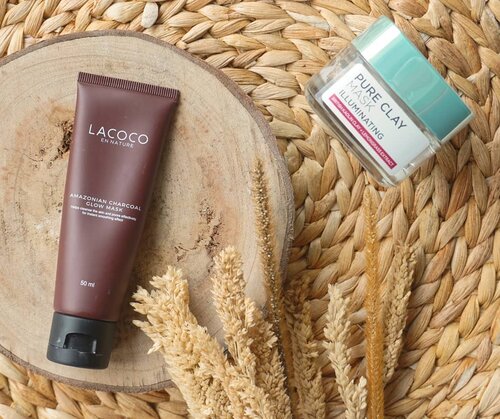 Sudah berminggu-minggu nggak eksfoliasi kulit pake masker. Ternyata, kulitku emang jadi kusam. 😌Setengah tahun ini aku sedang ngandelin dua masker ini bergantian. Terus, gimana feelnya di kulitku? Capcus markicus, kubahas dikit-dikit yak!1. LACOCO Amazonian Charcoal MaskMasker ini menurutku nggak menimbulkan efek kulit kering yang terasa mengganggu. Walaupun kandungannya ada arang bambu dan lumpur jeju. Dari list ingredients-nya juga kandungan kaolin menempati posisi kedua, tapi nggak membuat kulitku kering banget setelahnya.Masker ini menurutku nyaman dipakai, dengan catatan pakainya tipis aja biar efek dingin dari ekstrak mint-nya nggak terlalu kuat.Terus bilas saat setengah kering biar efeknya nggak bikin kulit terlalu kering. Masker ini bagus untuk nyerap produksi minyak yg berlebih.2. L'OREAL Pure Clay Mask IlluminatingMasker ini sudah aku coba dari pertengahan tahun lalu. Punya kandungan khas, British Kaolin Clay yang kadang disebut juga dengan White Clay. Kandungan itu dikenal bagus untuk membersihkan kulit karena teksturnya yg lunak dan kaolin juga dikenal sebagai bahan penyerap yg baik.Setuju kalau masker ini punya fungsi menyerap minyak di kulit dgn baik soalnya emang kerasa abis pakai itu kulit kesat! Tapi justru itu yg membuatku sempat stop memakai masker ini. Soalnya kulitku jadi kering banget. Dan kondisinya kulitku emang sedang kering. Kalau ingin mengurangi efek kering di kulit setelah pemakaian, maka basuh masker ini dlm kondisi setengah kering. Jadi efek kering cukup terminimalisir. Untuk efek membersihkan cukup terasa kok walaupun nggak sekejap bikin kulit kinclong ya! Tetep harus pake skin care lainnya sistur. Plus, abis pake ini wajib pake produk-produk yg fokus menghidrasi kulit.Kalo kemasannya sih, i like it! Suka aja, mantep gitu. Tapi nggak travel friendly.Sebenernya postingan ini tuh untuk
#ischitandmisschallenge
kemarin, e tapi keskip 😂 mohon maap. Semoga berguna ya short review aku!@idskincarecommunity
#clozetteid
#facemask
#ernysjournalreview
+ View more details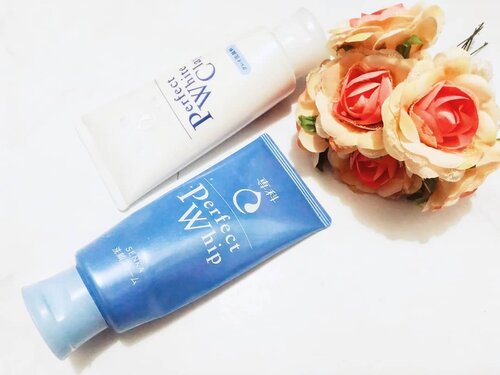 + View more details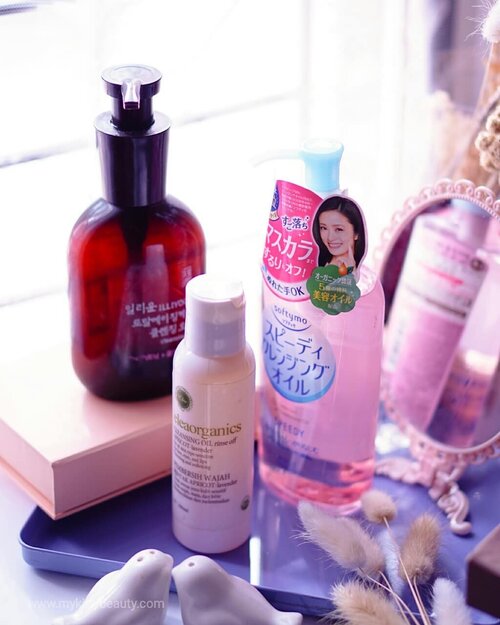 Is it too late to start
#ischitandmisschallenge
??Let me share you cleansers that l I've tried in 2018..🌱Illyon Cleansing Oil. It was recommended by my Instagram fellow. The texture is very decent and light. I've noticed it has fragrance. Not too strong but still fresh. It can clean the complexion properly, but I don't recommend you to use as a makeup remover. Not only because it can't be used to clean waterproof makeup such as lip cream and mascara, but also it can make a blurry vision. So I prefer to use a lip-eye makeup remover first. It also can be emulsified so nicely and hydrating enough for dry skin. But unfortunately, on the other day, when my skin felt more sensitive and irritated, this cleanser made my skin a little bit dryer...🌱Kose Cleansing Oil. I bought it while traveling because I forgot to bring my cleanser. The texture is so light, even it is lighter than Illiyon. Just like Illiyon, I've never used as a lip-eye remover. It also can be emulsified so easily. It doesn't dry out my skin. Overall, it has similar feel and performance with Illiyon. It just like a "dupe" for Illiyon...🌱Elea Organic. FYI, Elea Organic is one of Indonesia local product. It has two variants which are Tamanu Cleansing Oil and Apricot-Lavender Cleansing Oil. I've tried them both and I'm freaking love with this local product. It has a slight ticker texture than Illiyon. But I love it 💛!! It is a perfect texture to massage my skin while cleansing. Felling so nice. Easy to emulsify. And also it hydrating and doesn't drying out my skin. Plus it is suitable for my acne prone skin. 💛..I love the all! But among them three, Elea is the only one that I bought over and over again ☺ (ps: it is my third bottle 😅). So you my might be know which one is my favorite? ☺☺☺..
#mykittybeauty
#clozetteid
#fdmademebuyit
#abcommunity
#jogjabloggirls
#idskincarecommunity

+ View more details

loading ...
Back To Top