loading...
Search
2,195 RESULTS FOR FIT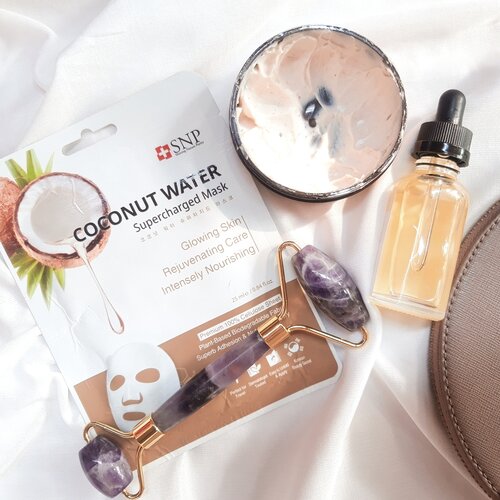 Happy Friday✨🖤
I just want to watch new episode of Nancy Drew and drink my favorite coffee tonight. Whats your plan? And yeay! tomorrow is weekend🙊
.
.
𝗦𝗡𝗣 𝗖𝗼𝗰𝗼𝗻𝘂𝘁 𝗪𝗮𝘁𝗲𝗿 𝗦𝘂𝗽𝗲𝗿𝗰𝗵𝗮𝗿𝗴𝗲𝗱 𝗠𝗮𝘀𝗸 🌴🥥💧
This mask is able to give the moisture balance back to weakened skin and softens rough, dry skin back to its original resilience. Star ingredient is Cocos Nucifera (Coconut) Fruit Extract (10ppm), deliver deep nutrients to the skin for a natural glow and some leaf extracts. It will leave your face hydrated, soft, and glowing.
.
.
The material is very soft, high quality material. Silky texture made of Cupra Sheet and 100% natural cellulosic sheet. Give perfect adhesion to the skin so it can delivers active ingredients directly to the skin. Fit perfectly for my face. It has a nice scent and not too strong. The essence is not runny. I left the mask on for about 20 minutes. It was still plenty damp when I removed it. It had left my face moisturized and refreshed. Feeling plumpy and calmed my skin. Its a great mask to use after long-tired day or as midday routine at home.
.
.
You can buy this product at @frmadcos 🛍 and use my discount code
Thank you @madforcos 🖤
@snp.korea
.
.
.
.
.
#clozetteid
#soconetwork
+ View more details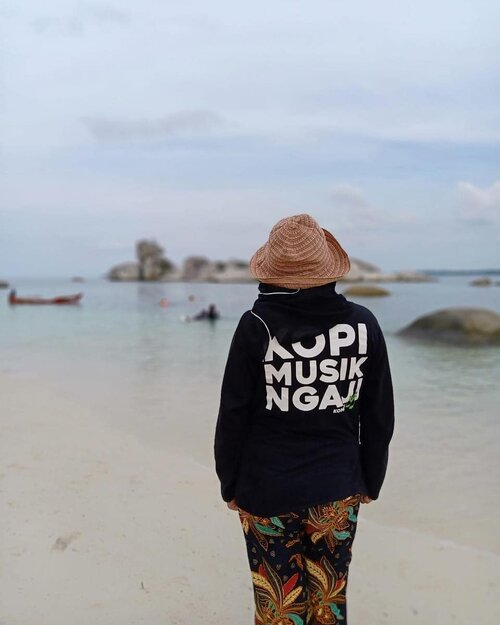 + View more details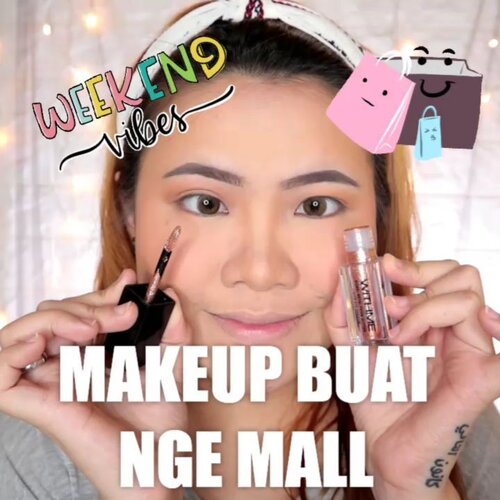 TGIF 🥳Hayooo udah nge list belom, weekend ini mau kemana aja?Kalo kalian pengen nge mol, coba nih meap super dempul versi gue 😹Dijamin yg jomblo dpt pacar di mol eaaaaMaap anaknya ga bs natural, nge mol aja tebel gini, iya tapi aq suqa , jadi bodo amat wk 😌.WEEKEND INI MAU JALAN SAMA SIAPA? COBA TAG ORANGNYA 🤪.• Foundation @benefitindonesia & @getthelookid• Concealer @thesaemid• Powder @maybelline Fit Me 10• Compact Powder @cnfstoreofficial Bellaoggi• Face Palette @flawedbeautyofficial• Glitter With Me Signal Metal Prism• Eyeliner @makeoverid• Lip @getthelookid Color riche matte 248 + @riveracosmetics Exotic Maroon.Spotted cewe2 cakeup @shantimutiaras @queendeeianna @nadadella ❤️....🎥Camera Canon EOS M100🎛️Edit with @vivavideoapp Pro🎶 I'll be there for you - The Rembrandts (Cover)....makeuptutorial
#tutorialmakeup
#indobeautygram
#makeupoftheday
#beautybloggerindonesia
#clozetteID
#cchannelid
#cchannelbeautyid
#flovivi
#indobeautygram
#indobeautysquad
@beautybloggerindonesia @cchannel_beauty_id @cchannel_id @tips__kecantikan @tampilcantik @clozetteid @popbela_com
+ View more details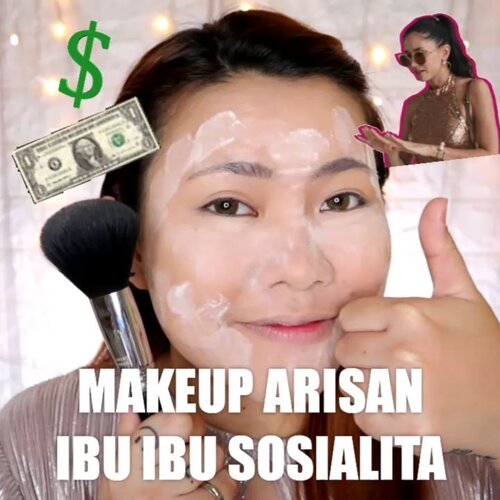 Walaupun aku bukan sosialita manjalita
Tapi aq teteup mau kasih tipzzz MAKEUP ARISAN ala IBU IBU SOSIALITA eymmm....
Biar dikira pake meap meap mahal padahal pake yg murce2 aja. Cucokkk meong... 😹
.
TAG TEMEN KAMU YG BPJS (BUDGET PASPASAN JIWA SOSIALITA) !!!!
.
Produk yg dipakai :
• @hicharis_official M+
• @banilaco_id Primer
• @maybelline Fit Me Foundation 125
• @getthelookid Concealer
• @makeoverid Transparent Powder & Powder Foundation C21
• @cnfstoreofficial Bellaoggi Contour
• @16.brand Blush (& used as eyeshadow)
• @artistry_indonesia Cream eyeshadow & Highlighter
• @eminacosmetics Creamatte shade 12
.
.
.
.
🎥Camera Canon EOS M100
🎛️Edit with @vivavideoapp Pro
🎶Love Don't Cost a Thing - JLO
.
.
.
.
#makeup
#makeuptutorial
#tutorialmakeup
#makeupoftheday
#beautybloggerindonesia
#indobeautygram
#tipskecantikan
#flovivi
#cchannelid
#cchannelbeautyid
#motd
#clozetteID
+ View more details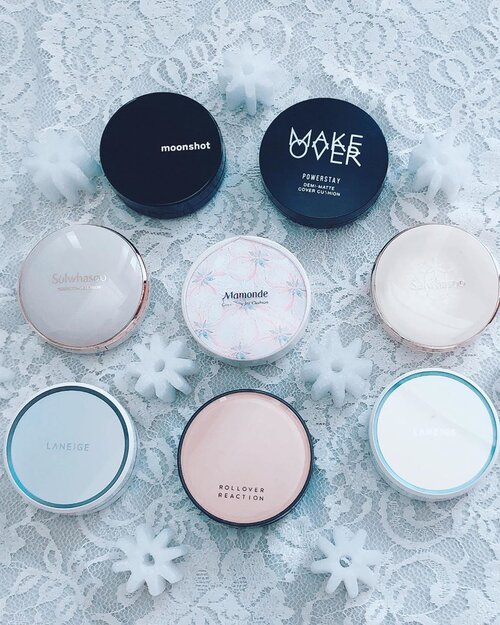 Cushion ~Pertamakali aku kenalan sama cushion itu di tahun 2012, 4 tahun setelah cushion pertama hadir di dunia. Cushion pertama didunia itu brand IOPE, brand yang dibawah naungan Amore Pacific ini memperkenalkan cushion ke dunia pada tahun 2008Brand cushion pertamaku itu Missha, karena dulu brand kosmetik korea belom sebanya sekarang, dulu aku coba yang menurutku affordable aja harganya dan Missha ini bagus dan cocok di aku. Tapi aku udh kehilangan produknya karena diambil mamaku 😢Taun 2014 aku kenalan sama Mamonde gara2 drakor Pinnochio 😆 jadi aku kenal mamonde itu udh more than 5 years. Pas aku beli itu seri spesial makanya pekejingnya cantik bunga bunga gini 😍 coveragenya sheer to medium dan aku suka banget ini shadenya fit banget di aku. Finishnya dewy buat tampilan matte bisa di pake sebum powder. Cocok buat daily dan eventPertamakali beli cushion fancy itu saat aku beli Sulwhasoo, penasaran sama cushion fancy itu bedanya apa sih sama yang affordable? Ternyata dari packaging, finish dan cushion puffnya beda emang. Cushion Sulwhasoo perfecting cushion ini dia yellow undertone sih di aku, alhamdulillah masuk2 aja dan meratakan banget uneven skintone aku. Coveragenya medium buildable. Dewy finish cocok buat daily dan event Siapa Laneige club? Aku dong ! 😂 iya sefanatik itu sama laneige haha. Aku punya 3 macem new era of cushionnya laneige Whitening, PoreControl, Anti Aging. Laneige aku yang iklannya Lee sungkyung ituloh 😆 cushion laneige itu yang belom aku punya yg pink itu yang Layering Cover Cushion. Soon kita lengkapi ya cushion laneige koleksiku. Laneige ini coveragenya sheer dan memberi keglowingan. Finisgnya dewy dong ya dan bisa banget pake sebum powder kalo kamu suka tampilan matte. Knp aku suka laneige ? Aku selalu cocok sama semua produk laneige ga ada yang fail di aku ❤️ cocok buat daily lookLanjut komen 👇🏻
+ View more details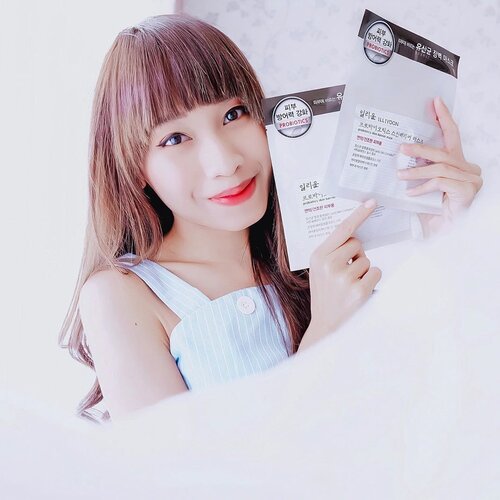 The first face mask with PREBIOTIC !-Sensitive skin must try it.I know, kulit sensitive tuh kena suhu extreme dikit uda merah. Kena product ga cocok dikit lgsg perih dan muncul redness. Aplg kalo d kondisi kering, muka merah" dan kering juga.Well, bbrp minggu lalu aku cobain masker ini dan kebetulan kondisi kulit aku lg banyak redness. This is my review :What's good?Suitable for sensitive skinHelp to reduce the redness on my skinHelp to reduce any irritationSmoothen and soften my skin textureThe essence super light and freshMask sheet super thin ! Easy to fit in on my face. In love it, really.Down side?So far is so good !-I think probiotics just good for our digestion. But now, probiotics can help everyone who have a sensitive skin with redness/irritate problem. I know, this is a good invention on beauty world. Good job @skincare.licious 👏🏻-Where's to buy?My @charis_celeb shop ofc
http://hicharis.net/tephieteph/GIZPlace
your order now or you'll cry latter. I really recommend this face mask and I Rate it 5/5 ! Full review will be up on my stories yesterday. Stay tune ☘️...
#clozetteid
#charis
#charisceleb
#hicharis_official
#illyoon
#illiyoonsheetmask
#prebioticmask
#sensitiveskincare
#rednessrescue
#facemask
#koreanfacemask
#bloggersurabaya
#bloggerjakarta

+ View more details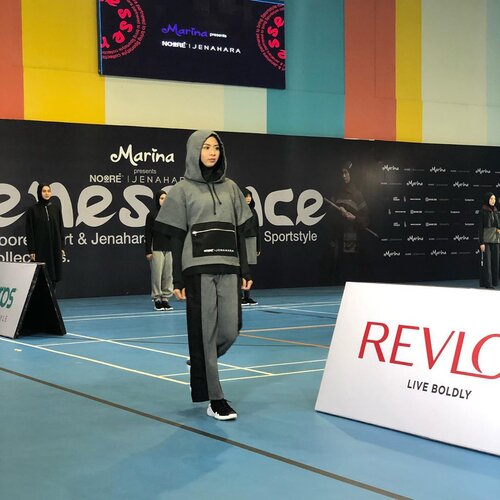 + View more details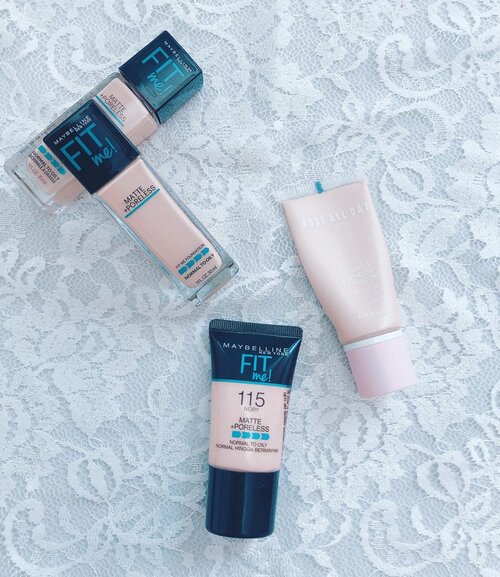 Foundation ~
Aku ini sebenernya bisa dikatakan jarang banget pake foundation, karena aku sadar diri punya tipe kulit acne prone yang takut banget clogged pores dan akhirnya bikin jerawatan 😖
Jadinya aku kurang berani buat explore soal foundation, nah yang aku punya ini adalah foundation Acne Prone Accepted 💜 karena aku udah coba sendiri dan rasakan aman aja di kulit acne proneku ini
Kekurangannya masalah shade aja sih, akutuh kesulitan bangeet milih shade yang tepat buat kulitku, 2 Maybelline Fit Me fuullsize ini shadenya masih kegelapan di aku, nah yg tube kecil ini lumayanlah ngepas banget di aku kayyanya aku emang 110 deh ya yang pas bgt sama kulitku
Btw, aku seneng bangeet sekarang Maybelline gampang ditemukan, kalo kalian ke Indomaret kalian bisa temukan ini 😍 seneng loh aku sekarang beauty product gampang ditemukan 😍😍 Rose all day ini, brand lokal nah aku suka juga karena dia ada zinc, hyaluronic acid, Vit C dan E dan aku suka shadenya masuk banget di aku 😍 aku pake shade Fair
Penganbtau dong foundation favorit kalian apa ?
#makeup
#beauty
#foundation
#clozette
#clozetteid
#makeuplife
#abcommunity
#idskincarecommunity
#abmakeup
#makeupaddict
#selflove
+ View more details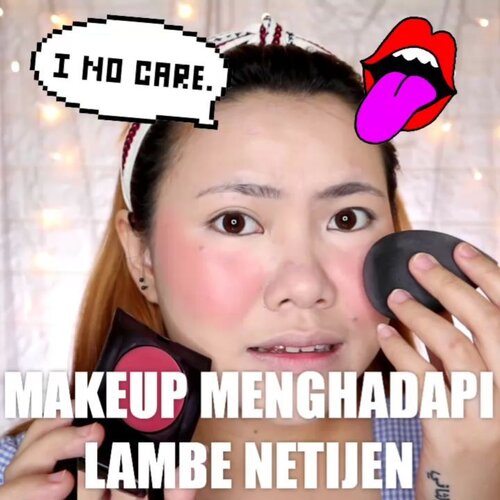 Dear Lambe Netijen... Silahkan kalo mau ngejulid soal aku 😂
Tapi jangan di sampein ke aku 😂
Simpen sendiri aja julid an nya 😂
.
.
Produk yg dipakai :
@hicharis_official M+ Cream
@lakmemakeup Cushion 01
@jafracosmetics Creme Blush On Mauve
@maybelline Fit Me Powder 10
@lakmemakeup Classic Reinvent Powder
@catrice.cosmetics Sun Glow Bronzer
@focallurebeauty Sunrise Palette
@madame.gie Highlighter
@getthelookid Color riche matte Lipstick 228
.
.
.
.
.
🎥Camera Canon EOS M100
🎛️Edit with @vivavideoapp Pro
🎶Fight Song - Rachel Platten (Remix)
.
.
.
.
#makeupoftheday
#makeuptutorial
#tutorialmakeup
#motd
#cchannelbeautyid
#cchannelid
#ClozetteID
#flovivi
#muajakarta
@tampilcantik @tips__kecantikan @beautybloggerindonesia @ragam_cantik @ragam_kecantikan
+ View more details

loading ...
Back To Top