loading...
Search
4,229 RESULTS FOR SOFT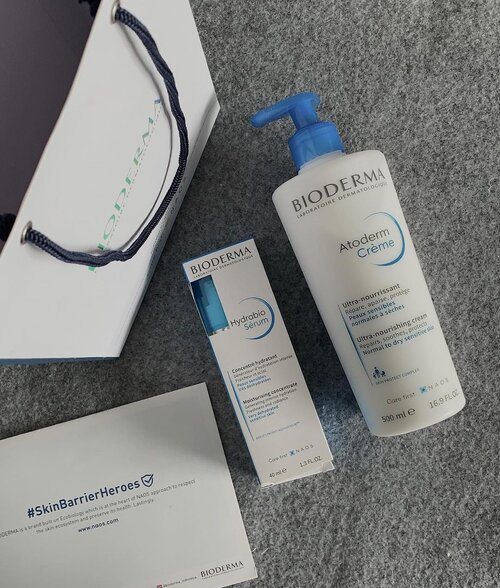 #Repost
from Clozette Ambassador @imeldaaf.
#SkinBarrierHeroes
🤍
Skin barrier has a huge role in ensuring the health of our skin, when it is healthy, the skin feels soft, smooth, radiant and plump. If it is damaged, then the skin may look dull and feel rough or dry, which lead to more serious skin problem, like Acne, Skin Sensitive, Early Aging, etc
Hydrate, hydrate, hydrate
menjaga kelembaban kulit adalah kunci supaya terhindar dari masalah kulit, thanks to @bioderma_indonesia yang bikin campaign
#SkinBarrierHeroes
dan juga reintroduce produk yang bisa membantu kita untuk menjaga kesehatan kulit. 2 produk ini jadi produk faforit aku untuk menjaga kelembaban kulit.
review lengkap dari aku bisa di lihat di blog (link in bio)
kalo kalian mau coba juga produk ini kalian bisa beli bundle nya dengan harga promo, detailnya ada di @bioderma_indonesia atau kalian bisa comment kenapa kalian mau coba produk ini dan tag 3 teman untuk dapetin giveaway produk dari Bioderma 🤍
#BiodermaIndonesia
#SkinBarrierHeroes
#BiodermaXClozetteID
#ClozetteID
+ View more details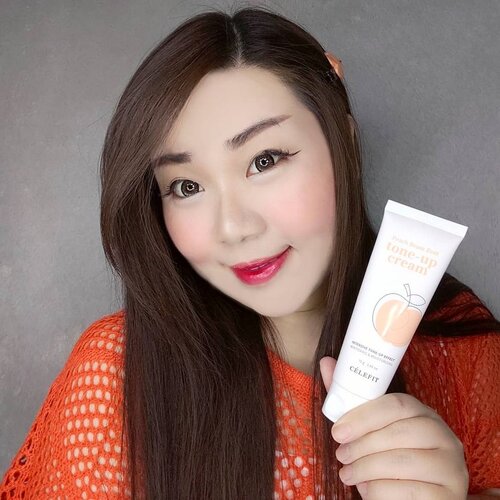 #Repost
from Clozetter @Mgirl83.
Currently in lurrveee with this tone up cream from @celefit_official Peach Beam Real Tone-up Cream !
I used a few tone up cream before and while i quite enjoy using them, none of them were very impressive for me so i didn't feel the need to use them all the time, but i feel differently for this one!
The first time i applied it, i was shocked when i saw my reflection in the mirror because my skin was immediately flawless and blurred, it was like i had a beauty filter on! My skin was also become more even and it managed to cancel redness as well (see slide 4 for the before - after). It also has a soft mattifying effect that works well for my oily skin as it helps keeping my extra sebum in check (for drier skin type, i suggest piling on highly moisturizing creams before hand to avoid any dry patches!).
I also like how the tone up cream makes my skin brighter but in a very natural way, it's probably the fact that it has a peachy (btw it contains real peach extract!) color so it's not stark white and won't make you look gray!
If that's not enough to convince you, they still have more plus points to win you over :
1. It is safe and non clogging, with skin care benefits and can be used even to bed (meaning you don't have to worry about removing it!)
2. It can be used on the body too so you don't need a separate product to brighten up both your face and body!
3. It works well as a makeup base, it blurs my pores and gives soft focus to my skin that i definitely don't feel the need to use extra primer.
Personally i like to use it as makeup base (before BB Cream/foundation. I've tried it with different products on top and it works well with them all!), but if you want to be faster you can actually add and mix it immediately to your foundation for days you want to have light but pretty makeup!
LOVE!
You can grab yours at my Charis Shop (Mgirl83) for a special price or type
https://bit.ly/peachbeamMindy83
To directly go to the product's page 😉.
@hicharis_official @charis_celeb @charis_indonesia
#celefit
#peachbeamtoneupcream
#charisceleb
#charis
#hicharis
#reviewwithMindy
#beautefemmecommunity
#koreancosmetics
#clozetteid
#sbybeautyblogger
#koreanmakeup
+ View more details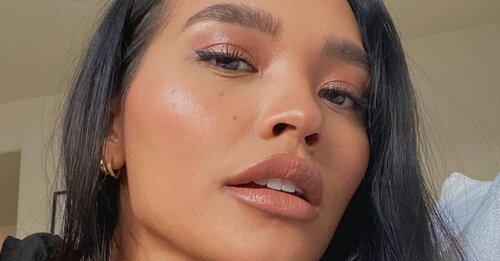 A subtler, more diffused take on contouring.
Simak juga artikel menarik lainnya di Article Section pada Clozette App.

+ View more details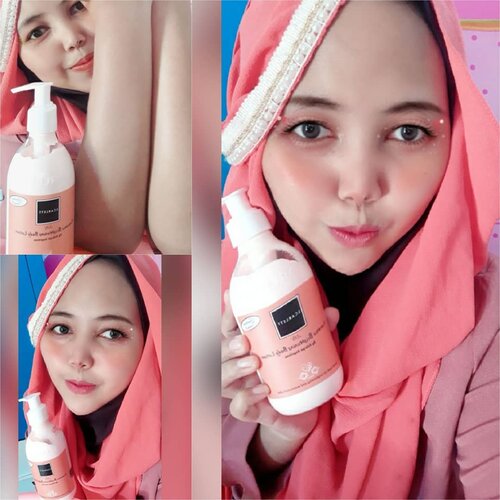 #Repost
from Clozetter @elvinautami.
Hello Beautiiess,, ada varian terbaru lohh dari Body Lotionnya Scarlett yaitu Jolly. Mulai launching sejak Mei 2021 kemarin. Buat pecinta Scarlett pasti penasaran donk dengan aroma yang dimiliki body lotion ini.    
Produk ini memiliki kandungan andalannya yaitu Perfume, Kojic Acid, Niacinamide, Titanium Dioxide, dan Glutathione. Untuk jenis alkoholnya menggunakan Cetearyl Alcohol dan Cetyl Alcohol yang tergolong aman untuk kulit karena kandungannya diambil dari tumbuh-tumbuhan, mampu melembapkan dan mencegah iritasi pada kulit.   
Teksturnya halus, creamy, dan sedikiitt lebih cair dari varian Freshy, sehingga saat dioles tuh meski hanya sedikit namun bisa menjangkau banyak bagian.    
Untuk aromanya, aku ngerasa kayak abis luluran gitu yang aromanya soft, bikin seger tapi lebih tahan lama pastinya dibanding pakai lulur, hheehee..    
Namun, kalau dicium-cium lagi emang kayak aroma parfum mahal gitu lohh bukan yang strong banget baunya kayak parfum biasa. Pantas saja ternyata Body Lotion varian Jolly dari Scarlett ini diklaim terinspirasi dari Yves Saint Laurent Black Opium Eau De Parfume.   
Untuk ketahanan harumnya, lotion varian Jolly ini masih kalah jika dibandingkan varian sebelumnya yang Freshy. Sehingga pemakaiannya mesti agak banyak. Alhasil setelah pakai baju, harumnya nempel lohh dan masih kecium sampai keesokan hari meski tidak menggunakan parfum tambahan.   
Review lengkap bisa cek link di bio yah Beauties 🥰   
🌸🌸🌸 
#scarlettwhitening
#scarlett
#reviewscarlettwhitening
#scarlettjolly
#scarlettfreshy
#beauty
#clozetteid
#skincare
#bodycare
+ View more details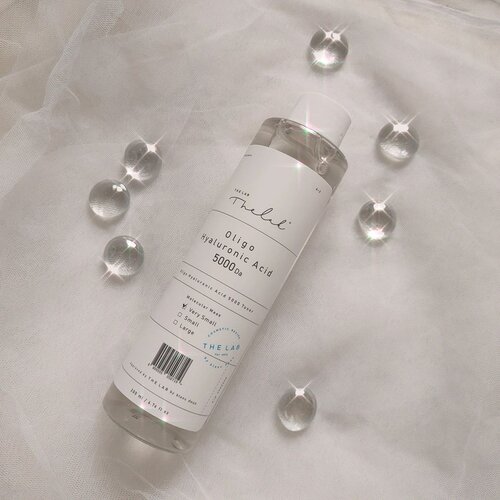 #Repost
from Clozetter @Mgirl83.
I talked about their facial pads before and now i've tried their toner : @thelabbyblancdoux Oligo Hyaluronic Acid 5000 Toner , and i also LOVE this one! I'd go as far as saying that it's one of my favorite soothing toner (and i only have ONE previously so it's a pretty serious one!).
Has a water like (i'd say just slightly thicker) consistency, it feels super soft and calming on the skin. Gives deep hydration and prep skin for the next step on your skincare routine without any stinging sensation. Also contains no fragrance (i truly prefer my skincare to be fragrance free) so it won't disturb anyone who has even the most sensitive nose.
I think most of you who are skincare lovers would be very familiar with Hyaluronic Acid and how it is a great ingredient for the skin (especially for anti aging), but apparently the molecular mass of the Hyaluronic Acid is another important point as the high molecular mass ones are hard to absorbed into the skin (it would just sit on top of dead skin so there's no point at all;), that's why The Lab's Oligo Hyaluronic Acid 5000 Toner comes with low molecular mass to make the Hyaluronic Acid gets easily and really absorbed into the skin and bring the ultimate hydration your skin needs.
Also contains Camellia extract that has soothing properties for heat irritated skin (important in current weather!), this toner also doubles as soothing mask - simply soak a few cotton pads with this toner and leave it on your skin for 10-15 minutes as a soothing moisturizing pack!
Personally i think this toner is super gentle and calming so it would work well for all skin types, it works wonderfully even for my oily - sensitive skin (i always look for products that gives me deep hydration but without making my skin anymore greasy than it already is).
You can grab yours at my Charis Shop (Mgirl83) for a special price or type
https://bit.ly/OligoTonerMindy83
To directly go to the product's page 😉.
@hicharis_official @charis_celeb @charis_indonesia
#thelab
#oligotoner
#hyaluronicacidtoner
#thelabtoner
#charisceleb
#charis
#hicharis
#reviewwithMindy
#beautefemmecommunity
#koreancosmetics
#clozetteid
#sbybeautyblogger
#koreanskincare
+ View more details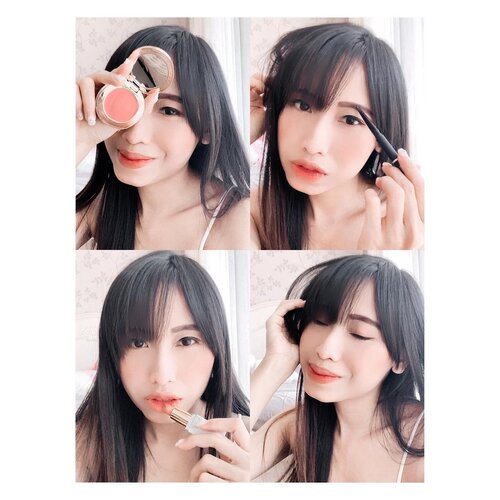 #Repost
from Clozette Ambassador @tephieteph.
Glow-Getter [noun]
A driven busy gal who strives to achieve her goals in life while attaining a beautiful glow both inside and out.
-
Keep your beauty with @madebyruna. Btw, please take a note about this :
• POLARIS - 3 in 1 brows pencil
[Shape, Fill, and Brush] in one. Available in 3 shade : Selene Gray, Europa Brown, Luna Latte (this color is mine).
• MOONFLUSH - Powder blus
Non waxy texture, good pigmentation, easy to blend, not sticky at all, soft silky natural finish. Available in 5 shades.
• LIP COLOR
A luxurious medium to full coverage lipstick with buttery texture and high moisturizer. Soft make finish and last up to 8hrs. Available in 5 shade.
-
Curious about @madebyruna products? Open your shopee app and type : MADE BY RUNA - Find the surprise ‼️ (disc up to 60%)
This is the one of local product which have a good quality and texture ☘️
#JakartaBeautyBloggerFeatMadeByRuna
.
.
.
#clozetteid
#madebyruna
#eyebrowtutorial
#eyebrowpencil
#powderblush
#lipcolor
#tephcollaboration
#influencerindonesia
#influencersurabaya
#influencerjakarta
+ View more details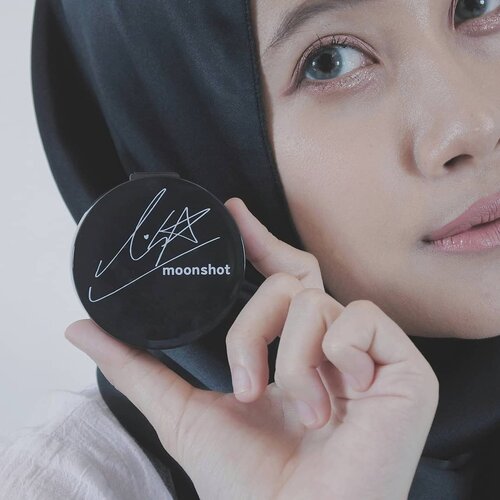 🌜 @moonshot_idn @moonshot_korea Powder Fixer Special Edition 🌛
Powder Fixer ini cocok banget buat kamu bawa di tas atau pouch buat touch up makeup. Praktis udah include cermin & mini pouch, ukurannya juga imut!
Finishingnya soft matte, ringan dan gak kerasa dempulan banget di kulit. Selain buat touch up, dipakai single use untuk complexion juga oke banget.
Tersedia dalam 2 shade, 201 Vanilla Beige & 301 Sand Beige. Ini aku pakai yang shade 201.
Sama kayak CC Cream yang aku share sebelumnya, ini juga di kemasannya ada signature dari @lalalalisa_m lho. Yuk yang mau kembaran sama Mbak Manoban bisa banget 🤣
⚠️DISKON 50% CUMA DI CHARIS SHOP AKU!⚠️
Powder Fixer Special Edition
https://hicharis.net/annisapertiwi/1yCx
#PowderFixerSpecialEdition
#moonshot
#charisceleb
#charis
@hicharis_official @charis_celeb
#koreanbeauty
#kbeauty
#koreanmakeup
#beautybloggerindonesia
#beautyenthusiastindonesia

+ View more details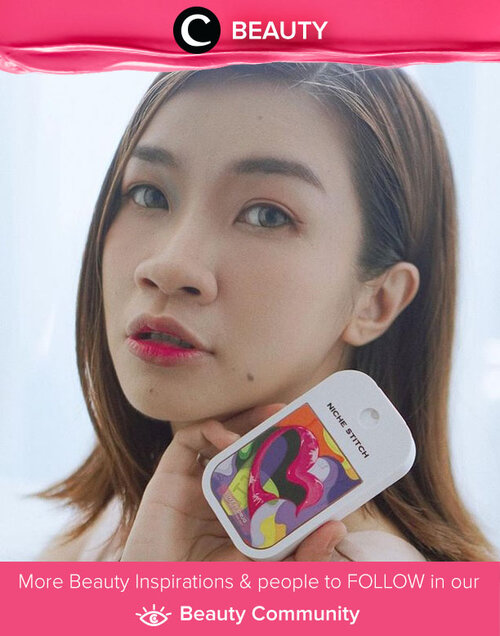 Pocket Fabric Pefume dari Niche Stitch Korea ini punya packaging yang aesthetic banget, ya! Aromanya yang soft juga sukses membuatmu semakin semangat WFH, Clozetters. Image shared by Clozette Ambassador @shanty_huang. Simak Beauty Update ala clozetters lainnya hari ini di Beauty Community. Yuk, share produk favorit dan makeup look kamu bersama Clozette.

+ View more details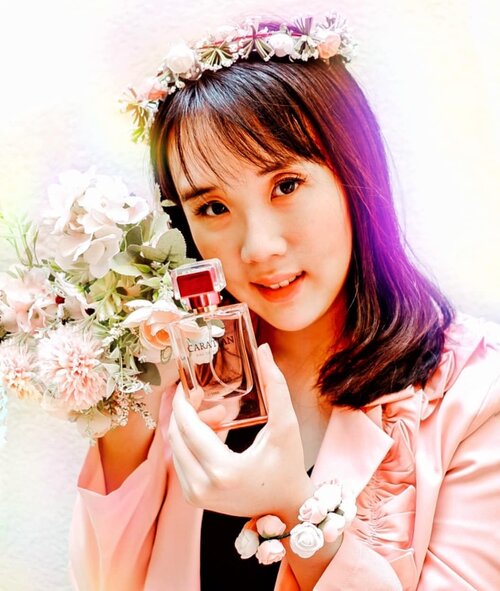 LOCAL BRAND PERFUME HQ✔
Bingung cari kado buat temen atau hampers
#ramadhan
? Beliin parfum @novallis.id aja karena kemasannya premium banget seperti parfum mahal. Wanginya enak dnan tahan lama (Eau De Parfum /EDP) selama 8 jam. Aku udah coba pake ini 5 hari  wanginya beneran enak, tahan lama dan ga bikin gatel kok. Kadang ada kandungan parfum yg bisa bikin kulitku iritasi, tapi Parfum Novallis jni beda. Walaupun harganya affordable bgt, kualitasnya premium👌 botol parfumnya juga bagus, mewsh, dan elegant.
Ada parfum utk wanita dan pria.
• Blooming : Original Perfume dari Novallis dengan wangi soft dan white musk di akhirnya. Cocok utk dipakai ke akntor atau kampus sehari2
• Gold Angel :wanginya rich,  elegant, dan cocok utk ke pesta.
• Caratian :aroma floral dan wood, sweet, cocok banget utk ngedate nih! Thus is my favorite one✔
Kalian bisa beli parfumnya di e-commerce, Ig, atau WA Novallis. Dijamin bakal jadi kado special utk teman atau kerabat di hari Raya ini❤
.
@novallis.id
Shopee : Novallis.id
Tokopedia : Novallis
WA +62 819-2888-3861
.
#parfum
#localbrandperfume
#perfume
#supportlocalbrand
#tiktokbeauty
#elegant

+ View more details

loading ...
Back To Top