loading...
Search
21 RESULTS FOR DISNEYVILLAINS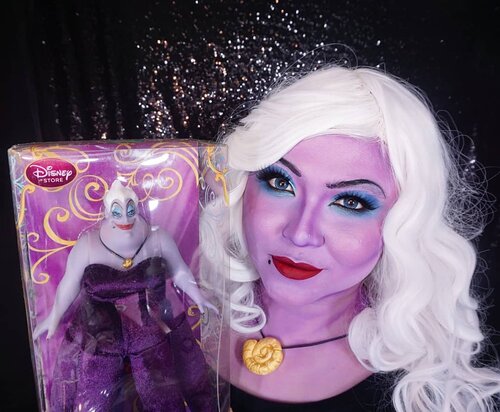 + View more details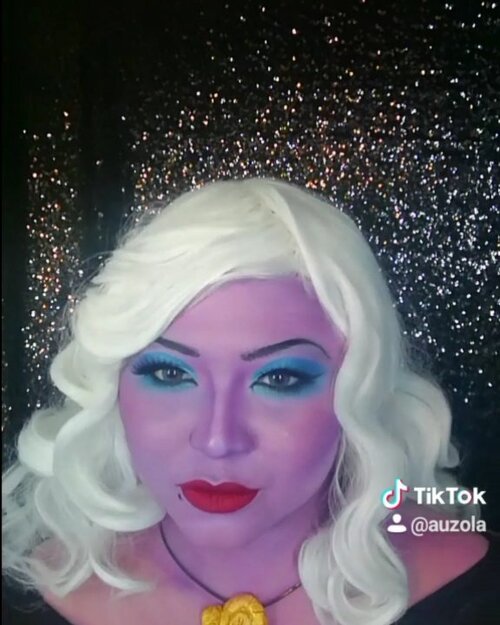 + View more details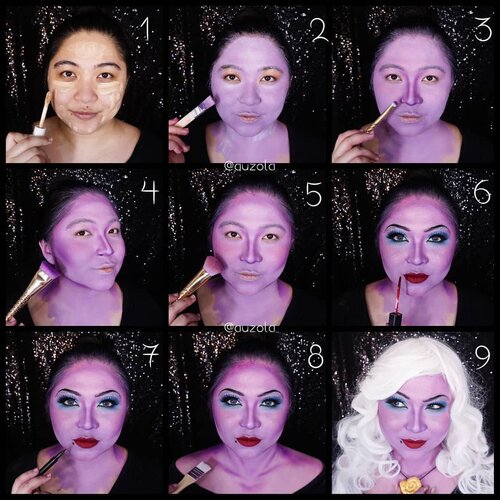 #auzolaTutorial
Ursula tutorial akhirnya baru kelar di grid lol. Nanti kalau sempat bikin videonya juga deh 😁
.
💜Face💜
1. Aku lebih suka pake concealer/foundie sebagai base sebelum menggunakan facepaint.
2. Gunakan facepaint ungu pada keseluruhan wajah dan leher. Aku mixed facepaint warna merah+biru+putih buat bikin ungu kaya gini. Bisa juga pakai eyeshadow ungu.
3. Shading bagian hidung dengan ungu yang lebih gelap.
4. Shading bagian pipi, rahang dan juga jidat.
5. Sapukan sedikit blush on berwarna pink.
6. Buat eyemakeup dan tambahkan lipstick merah gelap.
7. Buat beauty mark / tahi lalat di bawah bibir menggunakan eyeliner.
8. Warnai bagian bahu dan dada lalu shading dengan ungu yang lebih tua.
9. Gunakan wig putih dan kalung kerang. Done!
.
💜Eyes💜
1. Buat alis tipis dan menukik dengan eyeliner hitam.
2. Gunakan eyeshadow biru muda pada kelopak dan jangan dibaurkan. Biarin ngeblok eyelid.
3. Gunakan juga warna biru dibagian bawah mata dan baurkan ke arah ujung luar mata.
4. Tambahkan biru tua pada ujung luar mata dan juga pada garis atas kelopak mata.
5. Tambahkan glitter biru pada tengah kelopak. Setelahnya gunakan eyeliner.
6. Gunakan maskara dan tambahkan buli mata palsu.
.
.
.
.
#disneyvillain
#ursula
#thelittlemermaid
#ariel
#poorunfortunatesouls
#makeupforbarbies
#indonesianbeautyblogger
#undiscovered_muas
@undiscovered_muas
#clozetteid
#makeupcreators
#slave2beauty
#coolmakeup
#makeupvines
#tampilcantik
#mua_army
#fantasymakeupworld
#100daysofmakeup
#crazymakeup
#halloweencolor
+ View more details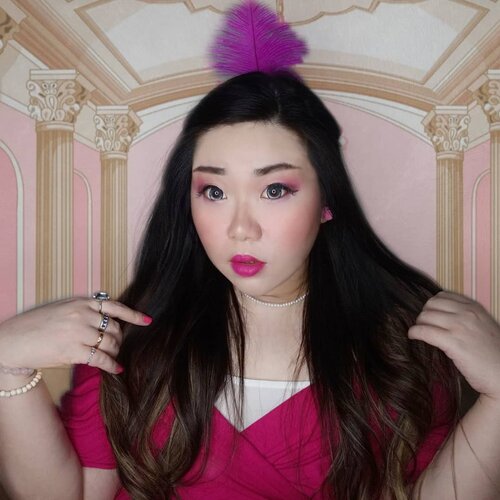 + View more details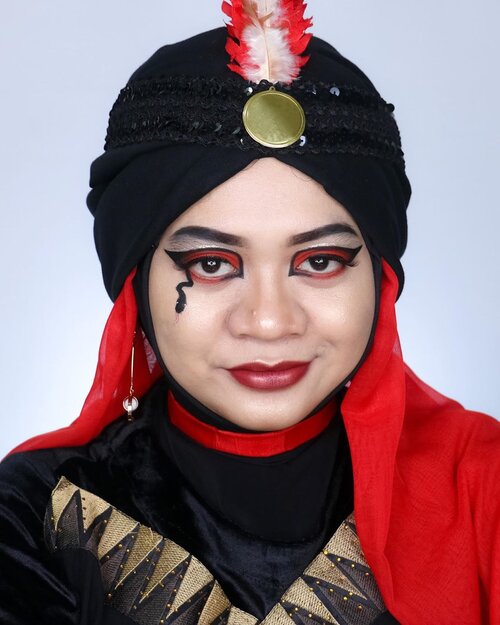 + View more details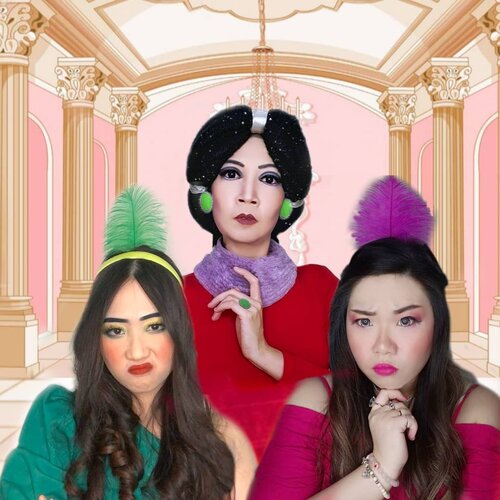 + View more details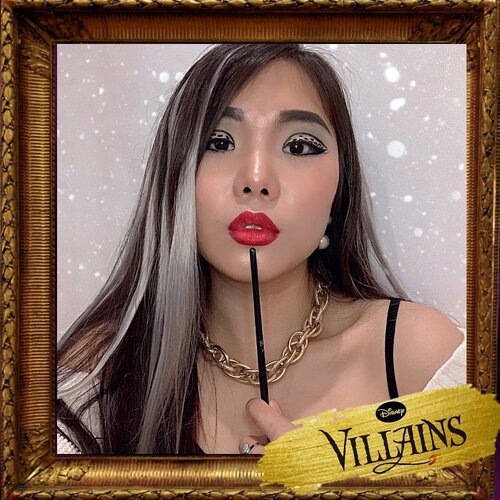 Fun (and clumsy) moment of this Disney Villains collaboration with my gorgeous, talented ladies!Clumsy because, I supposedly recreate Queen of Hearts, but then I mistaken it and did this instead! Can you guess who am I ? 😂.Special thanks and sorry to @banieun08 for duplicating yours! 😆❤️.
#disneyvillain
#disneyvillaincollab
#makeupcharacter
#disney
#ClozetteID

+ View more details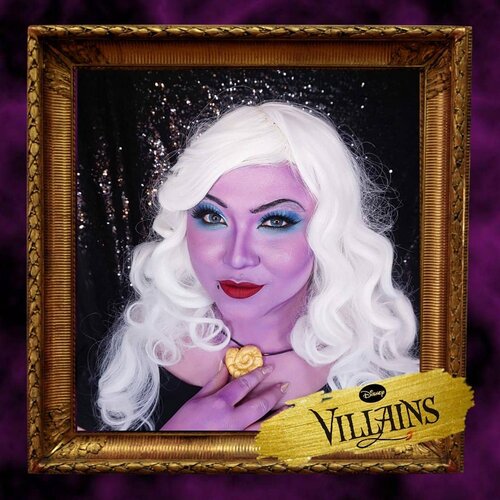 + View more details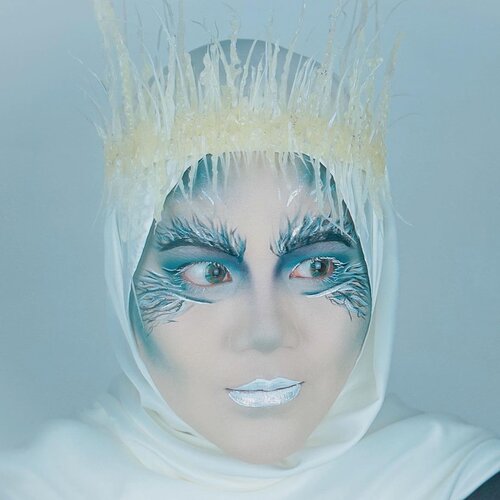 Disney Villain Edition..Kali ini aku jadi salah satu Villain dari Narnia ❄️ JADIS si White Witch 🌊 Karena aku berhijab jadi ga mirip klo aku terlalu ngikutin makeup looknya White Witch yang amat sangat NATCUREL 🙃 .. Jadi disini aku mewakili amarah dan kekuatan si White Witch di makeup aku. Senjata yang paling ditakuti adalah tongkat sihirnya, yang sihirnya mampu mengubah orang menjadi batu. Sisa-sisa musuh yang membatu menghiasi aula kastilnya. 🧝🏻‍♀️DISNEY VILLAIN1. @mgirl83 - Anastasia Tremaine2. @aiyuki_aikawa - Scar 3. @hincelois_jj - Sherekhan4. @auzola - ursula5. @banieun08 - Cruella6. @gadzotica - Jafar7. @leonita_wenny - Maleficent8. Lena - gothel9. @ochix_zakiyah -evil queen10. @chelsheaflo - Queen of hearts11. @cynthiansunartio - Drizella Tremaine (cinderella's step sister) 12. @anitaa_bee - Tamatoa13. Vannisa - White Witch14. @just_luthfii - Yzma15. @z3ndylicious - Lady Tremaine (ibu tiri)
#clozetteid
#disneyvillain
#disneyvillaincollab
#jadisnarnia

+ View more details

loading ...
Back To Top