loading...
Search
173 RESULTS FOR GLITTERY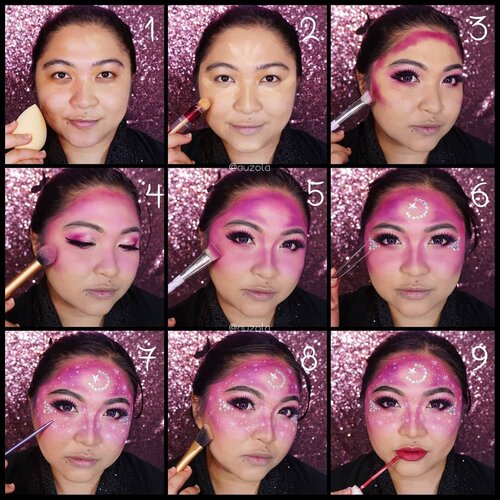 #auzolatutorial
ini dia tutorial look kemarin 💕
.
✨Face✨
1. Gunakan foundation seperti biasa.
2. Jangan lupa concealer pada bagian yang membutuhkan.
3. Aku biasanya lanjut ke eyemakeup dulu. Setelahnya baru balik ke wajah, yaitu menggunakan pink tua pada bagian luar biar sekalian contour.
4. Blend dengan pink muda.
5. Tambahkan pink/ungu tua senada sebagai shading tambahan pada bagian yang membutuhkan.
6. Tempelkan aksesori seperti blink bintang dan juga membentuk bulan bintang, atau simbol apa aja yang kamu mau.
7. Tambahkan gambar bintang2 menggunakan eyeliner/facepaint putih.
8. Shading bagian pipi dan dagu jika perlu.
9. Gunakan lipstick pink tua.
.
✨Eyes✨
1. Bentuk alis dengan warna gelap/hitam. Gunakan softlens jika perlu.
2. Gunakan pink muda pada keseluruhan kelopak sampai alis.
3. Tambahkan pink tua pada ujung luar mata dan blend.
4. Gunakan warna ungu tua senada dan blend untuk memperdalam lipatan.
5. Tambahkan eyeshadow pearl glittery pada bagian dalam kelopak.
6. Gunakan warna yang sama pada bagian bawah mata.
7. Aplikasikan eyeliner.
8. Gunakan maskara.
9. Aplikasikan fake eyelashes.
Doneee💕✨
.
.
.
.
#makeup
#ramadhan2021
#ramadhan
#star
#starmakeup
#mua_army
#cchannelbeautyid
#fdbeauty
#clozetteid
#happyramadan
#ramadan
#ramadan2021
+ View more details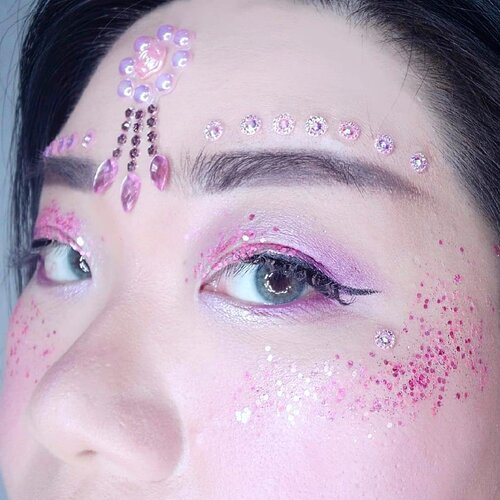 Glittery details.. It surprised me how much fun i had playing with glitters again, it's been a little while as i was taking a little break but i realize that i actually miss doing creative makeup! I was also excited that i had an excuse to use my chunky glitter palette again, i actually used 3 different glitter shades but they look so similar to one another hahaha.For the gems, i used ready to use ones (bought at @mrdiy.indonesia ! For creative content creator, Mr DIY is quire the heaven!) and the ones on my brows are strip one that i cut one by one (that's why in close up pics you can see the square cellotape 🤣😛🤣), i used the same strip to fake a diamente choker haha!Most asked question on the previous pic :1. Head piece is a headband from @hm .2. Hot pink hair streaks are hair clips from @stroberiteen , i also see them a lot at Shopee. No idea what "rambut palsu SD" everybody was referring to because i didn't play with them back then hahaha but mine is good quality, super soft ones!It's hard to catch all the glitters and gems in its original glory on cam so i filmed a video because i love the look so much it's be a shame not to!
#thematicmakeup
#pink
#glitter
#carnivalmakeup
#BeauteFemmeCommunity
#SbyBeautyBlogger
#clozetteid
#startwithSBN
#socobeautynetwork
#brazilcarnaval
+ View more details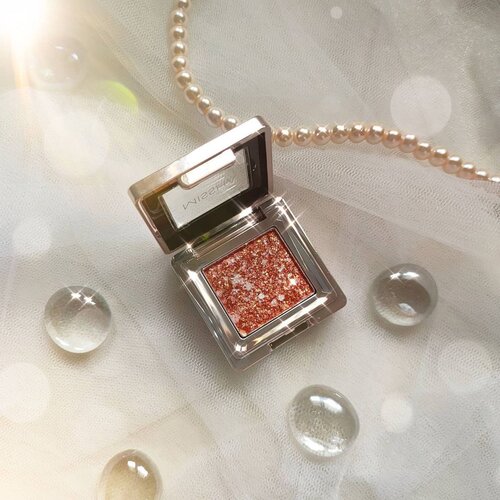 My love for shimmery Korean eyeshadow will never fade 🙈.I usually prefer eyeshadow palettes, but for micro glitter shimmery shadows, i don't mind singles - like this @misshaglobal.official Kodern Shadow Glitter Prism. Weirdly enough i cannot find the shade's name in the packaging (or it might only written in Korean, which i definitely cannot read) i thought it was Lucid but i dug up my old receipt (i got it from @altheakorea a while back) and turned out it's
#9
Dragon - which looks almost bronze-brick red in the pan but translate into a more Rose Gold shade when used.I was drawn to the unique presentation and it's actually hand made??? Which makes it all the more interesting for me. It seems like they combined and pressed several colors, shimmers and micro glitters for each shade and press them together, resulting in highly reflective, full dimensioned glittery, pigmented (the swatch only took me some light swipe okay) shadow. It's just simply beautiful, smooth (no grittiness whatsoever, the glitter particles are sooo fine) and easy to use. I am happy with the shade i chose, it's very easy to wear and pair with most shades and it's pretty enough to wear on its own (not many shades can be worn solo and not make my eyes looks smaller/weird) - but because it's soo pretty... I kinda want to collect all of the shades and there are quite a lot of them 😭. Price wise, it's not too expensive (78-120k, depending on the OS), but if you try to get them all, obviously they add up 🤣.I am obviously in love and that means i highly recommend it, even if you don't wear a lot of makeup and just want some color on your eyes and be done with it, i think you will appreciate this one. TAKE ALL MY MONEY!
#glitter
#eyes
#glittereyeshadow
#kbeauty
#clozetteid
#sbybeautyblogger
#BeauteFemmeCommunity
#shimmeryeyeshadow
#eyeglitter
#reviewwithMindy
+ View more details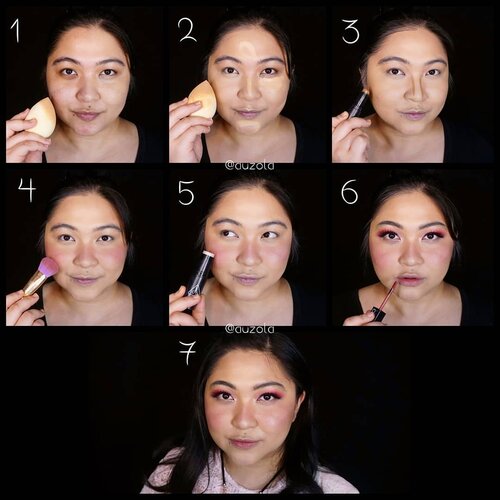 Ini dia tutorialnya! Oya ini produk yang aku gunakan yang dulu menang vote iseng2 di igs itu lho hehe
❤ @laneigeid bb cushion
❤ @maybelline age rewind concealer
❤ @3ce_official shimmer stick
❤ @mizzucosmetics blush on
❤ @esqacosmetics pink goddess palette
❤ @makeoverid intense matte lip cream.
.
Steps:
🌟 Face 🌟
1. Gunakan bb cushion, aku pakai sponge karena puff bawaan cushion ku rusak dimainin isa lol.
2. Aplikan concealer pada bagian yang membutuhkan, kaya undereye, tulang hidung, dagu dan jidat.
3. Shading bagian wajah, tapi tipis2 aja karena ini mau soft look gt.
4. Tambah blush on pink pada pipi dan juga batang hidung biar agak cute.
5. Tambah highlighter biar dewey gitu tampilannya.
6. Bikin eyemakeup dan Gunakan lipstick ala gradient lips.
7. Selesai dehhh.
.
🌟 Eyes 🌟
1. Buat alis tapi agak mendatar biar cute dan ga gitu galak.
2. Aplikasikan eyeshadow pink pada keseluruhan kelopak.
3. Tambahkan eyeshadow pink yang lebih gelap pada ujung luar mata dan blend.
4. Tambahkan eyeshadow shimmer/glittery berwarna terang pada ujunh depan mata.
5. Gunakan highlight/eyeshadow pink muda pada bagian bawah mata.
6. Aplikasikan eyeliner secukupnya aja.
7. Gunakan mascara.
8. Tambahkan bulu mata palsu biar lebih lentik. Done!
.
.
.
.
#valentinedaydatecollab
#makeupforbarbies
#softmakeup
#pinkmakeup
#valentineday
#valentine
#indonesianbeautyblogger
#undiscovered_muas
#fdbeauty
#cchannelbeautyid
@undiscovered_muas
#clozetteid
#makeupcreators
#slave2beauty
#coolmakeup
#makeupvines
#tampilcantik
#boldmakeup
#100daysofmakeup
+ View more details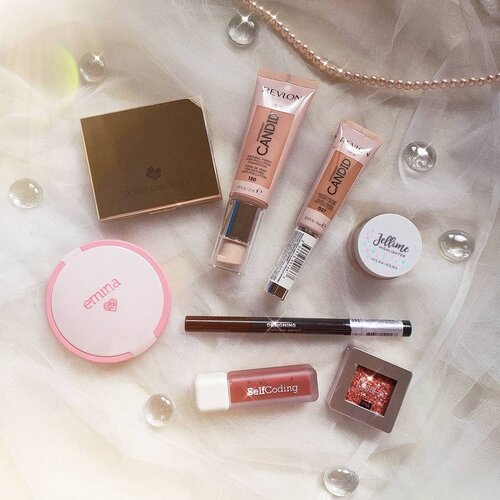 Products used in previous video and my first impression of them :1. @revlonid PhotoReady Candid Foundation (130) - very light, almost feels like a tinted moisturizer to me. Not my fave but imma try it again and see if it grows on me. Shade matches me pretty well.2. Revlon PhotoReady Concealer (027) - i like the packaging and the wand. It's good for my under eye but probably a bit thin to cover blemishes. I quite like it tho. Can go a shade lighter, but it's the lightest in my collection, i can make it work.3. @missha.official Modern Shadow Glitter Prism ⭐ (not sure of the shade coz i can't find it in the packaging, pretty sure it's
#1
Lucid) - it solidifies the fact that I LOVE KOREAN GLITTER EYESHADOWS ! Super duper pretty. Kinda dying to add every shade in my collection 😓.4. @thefaceshop.official Designing Eyebrow Pencil (03 Brown) - not a big fan, too creamy for my liking. I like that it comes with a spoolie tho.5. @holikaholika_official Jellime Highlighter ⭐ (01 Feel so Candy) - IT'S BEAUTIFUL 😳😳😳, was scared of the jelly/slime texture but it works well even over powder! It's glittery but not chunky and it's what every highlighter-obsessed girls' dreams are made of. The first wet highlighter that i actually love!6. @eminacosmetics Bare with Me Mineral Compact Powder (01 Fair) - it's okay, i prefer a bit more coverage from my compact powder but it's wearable. It works pretty well with the foundation tho, i enjoy how my complexion turned out yesterday.7. @poppydharsonocosmetics Perfecting Color Blush (02 French Rose) - it's a lot more pigmented than i expected and a little harder to blend, it's alright.8. @selfcoding.official Code Crush Matte Liquid Lipstick in
#Nostalgia
, it's my 2nd Code Crush lippie and i already know i like it, the shade is bolder than it appears on the tube (it looks more pale nude in the tube) and i like it better than i expected.Most of the products are just okay, 2 are super good tho - any product you want me to review in more detail first? I would probably talk about each in the future after a few more use!
#BeauteFemmeCommunity
#SbyBeautyBlogger
#clozetteid
#startwithSBN
#socobeautynetwork
+ View more details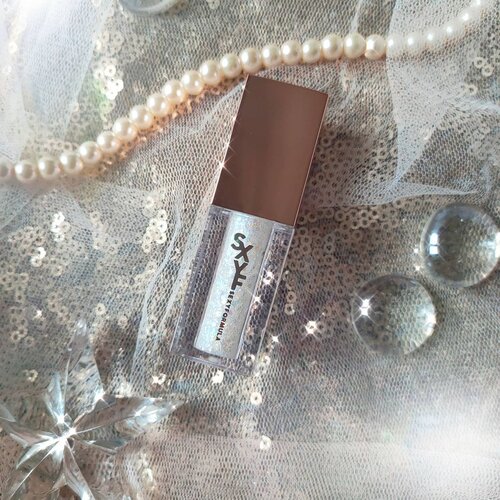 I think it's not a secret that i have a thing for shimmer and glitter, especially when it comes to eye makeup - i just love them so much! When it comes to shimmery eyeshadows, i would say that my favorite is definitely Korean ones, they are always so beautiful! But usually i stick to their pressed powder/cream based type and now for the first time i am trying out the liquid based glittery eyeshadow/topper from @sexy_formula !Jewel Key Eye Glitter Parts is a water-based glitter eyeshadow with both fine and chunky glitters i think most Korean makeup style lover would love. Currently only available in 01 Opal Crystal (the fact that it comes with a number makes me sure that they'd come up with other shades in the future), it's a iridiscent - or dare i say, holo (as it reflects and shift to all kind of colors when you move) white base topper that would match any eyeshadow you are wearing.My eyes are pretty sensitive and some liquid based eye makeup products can give me burning/tingling sensation, but this one is very gentle and i never experience any side effect whatsoever 🙂.Has a unique (newly improved) silicon applicator for a precise and easy application, it dries down pretty fast as long as you don't pile on too much (and if you have tapered eyelids like me, you might want to wait until it dries before opening your eyes too wide to prevent the chunkier glitters to move into your double eyelid 🙈), Jewel Key Eye Glitter Parts is perfect to jazz up your eye makeup and make them more dazzling in a few seconds!You can get yours with special price at my Charis Shop (Mindy83) or type
https://bit.ly/jewelformulaMindy83
to get directed to the page directly @hicharis_official @charis_celeb
#charisceleb
#sexyformula
#JewelKeyEyeGlitterParts
#glitter
#eyes
#CHARIS
#hicharis
#kbeauty
#clozetteid
#sbybeautyblogger
#BeauteFemmeCommunity
#eyeglitter
#eyeshadowtopper
+ View more details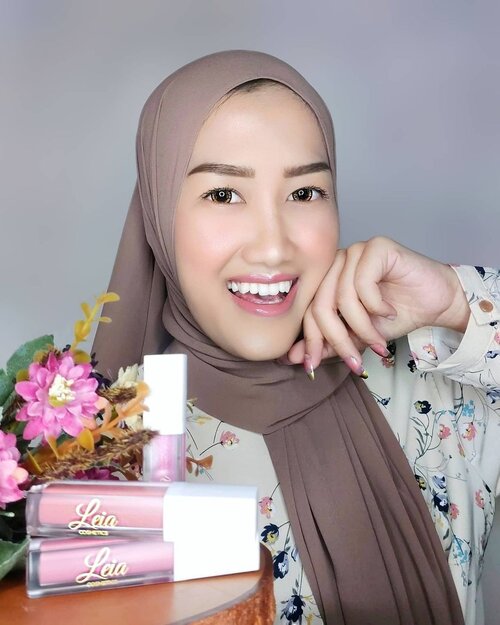 + View more details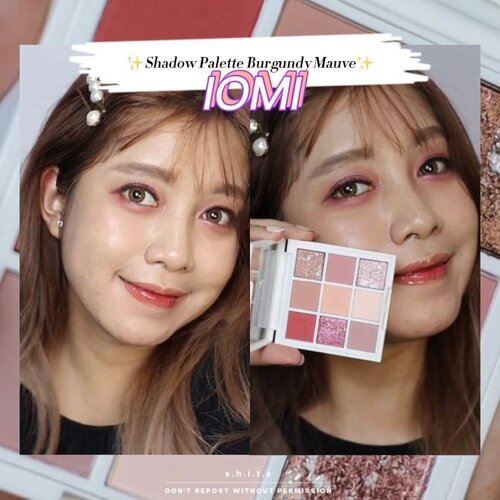 + View more details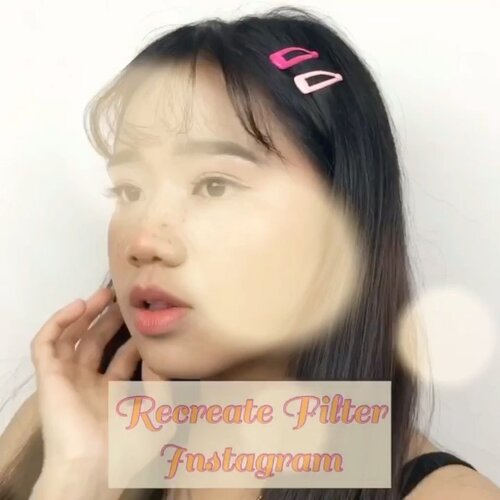 + View more details

loading ...
Back To Top