loading...
Search
348 RESULTS FOR INSTAGRAMMERS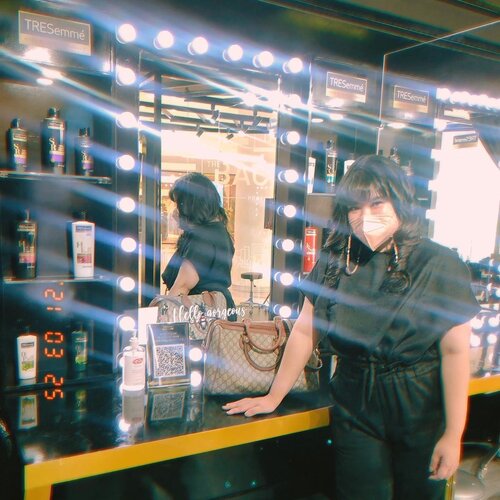 Setelah lumayan lama gak hair treatment ke salon, akhirnya aku main ke TRESemmé The Backstage Professional Hair Studio by @tresemmeid yang sudah buka untuk umum sejak 19 Januari lalu. ini adalah Pop Up salon ala New York Fashion Week dari TRESemmé yang pertama di Indonesia! Dengan pengalaman 13 tahun sebagai hair trendsetter di NYFW, kali ini TRESemmé menghadirkan secara langsung pengalaman hair styling ala model NYFW oleh professional hair stylist di Indonesia. Disini kita bisa wujudkan gaya rambut impian ala model bersama tim professional hair stylist TRESemmé. Yang bikin seru sih disini ada vending machine shampoo touchless pertama di indonesia, jadi kita bisa langsung beli produk favorit TRESemmé on the spot! Dengan beli produk TRESemmé di vending machine maupun di tempat lain, senilai 50rb aja, kita bisa langsung nikmatin treatment gratis lho! Bingung mau pilih hairstyle yang cocok gimana? Tenang aja, kita bisa eksperimen berbagai macam gaya rambut di virtual hair make over tool!. Kalau udah tau nih mau gaya rambut dan treatment seperti apa, tentunya tim professional hair stylist TRESemmé siap mewujudkannya buat kita dong ✨Mulai dari hair wash, hair cut, sampai hair styling bisa dipilih loh!. Tapi sebelum treatment, jangan lupa buat ke hair check corner biar tau kondisi rambut dan konsultasi langsung sama professional hair stylist dari TRESemmé ya!Dan gaperlu khawatir, karena TRESemmé The Backstage Professional Hair Studio sangat ketat buat protokol kesehatan. Mulai dari pakai masker & face shield, physical distancing, dan semua alat selalu disteril & disinfektan sebelum digunakan. Bahkan 1 sesi maksimal cuma menerima appoinment dari 4 pengunjung, aman banget kan? Nah.. buat temen-temen yang butuh perawatan rambut dari professional hair stylist, bisa langsung ke TRESemmé The Backstage Professional Hair Studio. Cukup book slotnya di website & tunjukin struk pembelanjaan produk senilai 50ribu. Yuk, cobain pengalaman treatment rambut kalian disini abis itu jangan lupa foto- foto di instagrammable corner! ✨👌
#clozetteid
#tresemmethebackstage

+ View more details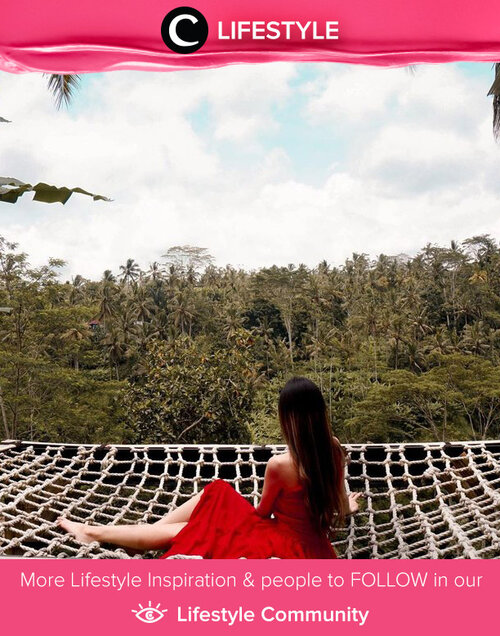 Hello from Sanggraloka Farm! Kebun dengan view natural ini tak hanya menyediakan spot Instagrammable yang memanjakan mata, tetapi juga hadir dengan restoran yang hidangannya lezat. Yumm! Image shared by Clozetter @jessica_ie. Simak Lifestyle Update ala clozetters lainnya hari ini di Lifestyle Community. Yuk, share momen favoritmu bersama Clozette.

+ View more details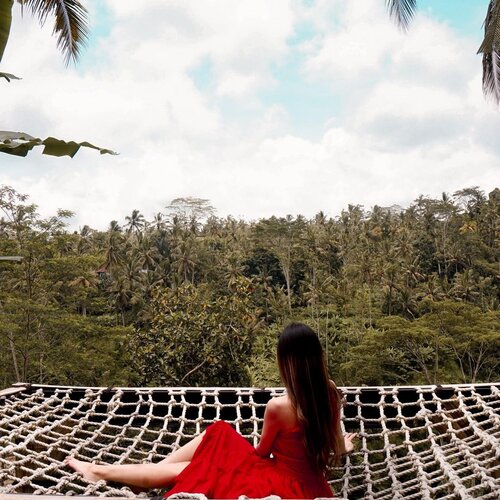 Farm tapi instagrammable? 😱 HONEST VIDEO REVIEW >> swipe left @sanggraloka_farm .Btw krn hampir semua ud dibahas di video, di caption ak bahas makanannya ya. 😁.Jadi aku kesitu dengan keluarga. Kita pesen:Pisang goreng (enak, ga kemanisan, disajiin sm madu)Banana split (enak juga. Pisangnya smp es krimnya semua enak!😍Meat lover pizza (pizza gepeng yg crunchy bgt pinggirannya, tengahnya mantul banget. Pepperoninya, saos tomatnya, kejunya semua berasa lumer di lidah🥺😍)Lumpia (sampe pesen dua krn laris manis di meja kita 😂)Rujak buah (cocok buat yg suka manis pedes. Buahnya ga pelit.😆)Mujair Nyat Nyat (ngga coba, punya mama aku. 😁)Plecing KangkungNasi Goreng (enaaak! Toppingnya banyak dan rasa nasinya ga keasinan, ga hambar pkoknya mantul. xD)Jus jeruk asli dan es teh.Can't wait to see what they'll have more in the future! That place has soooo much potential dan pastinya HTMnya ngga selamanya gratis loh. 😏Jd buruan visit ke sana ya, jgn lupa bawa masker. 🥰
#reviewbyjessie
#influencersurabaya
#influencerbali
#bali
#explorebali
#balilivin
#thebalibible
#clozetteid

+ View more details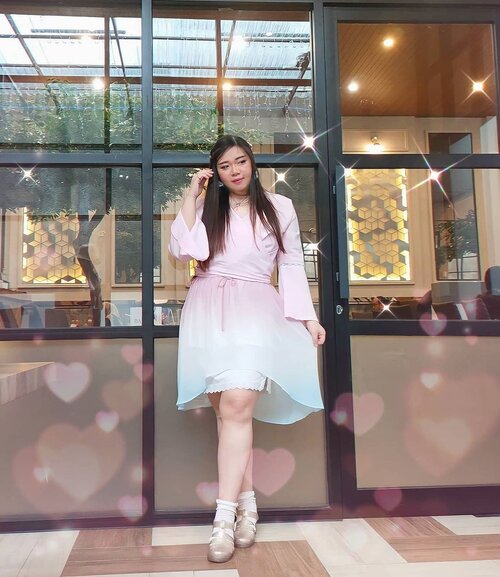 OOTD for our belated Galentine lunch 😁.
As Valentine's Day and CNY were so close together this year i was like, i should do OOTDs for both occasion! But then i was too lazy to bring change of clothes 🤣 (which happens 99% of the time), this is why i'm so impressed by those Instagrammers who would change multiple times in one day and cafe hop as i find it hard to find the motivation to do 🤣.
Anyway, i decided to go for Valentine's direction and wore pink but then i realized that the cut and the arm flare actually sends Hanfu vibes so i think i actually managed to accomplish my original plan? LOL.
Btw, some ppl who haven't met me in a while asked me if i lost weight (FYI, i HATE this question. If you think i lost/gain weight, keep it to yourself, i don't think talking about my physique is an interesting topic and it makes me feel uncomfortable), which i can't answer as i don't regularly weigh myself (it's a source of mental distress lol) but my clothes seem to confirm it as that skirt used to too tight and now it hangs super loose, which is weird coz i thought i would've quarantine weight gain as i don't do as much physical activities as i normally do and i binge eat sometimes 🤣. Well, i guess my unintentional intermitten fasting and detox are working somehow.
PS : i had to retype the whole caption because IG's acting up as usual, the draft works like shit nowadays and i keep on forgetting to back it up at notes!!! I hope some of you bother to read the the whole thing at least 🤣.
#ootd
#ootdid
#clozetteid
#sbybeautyblogger
#BeauteFemmeCommunity
#notasize0
#personalstyle
#surabaya
#effyourbeautystandards
#celebrateyourself
#mybodymyrules
+ View more details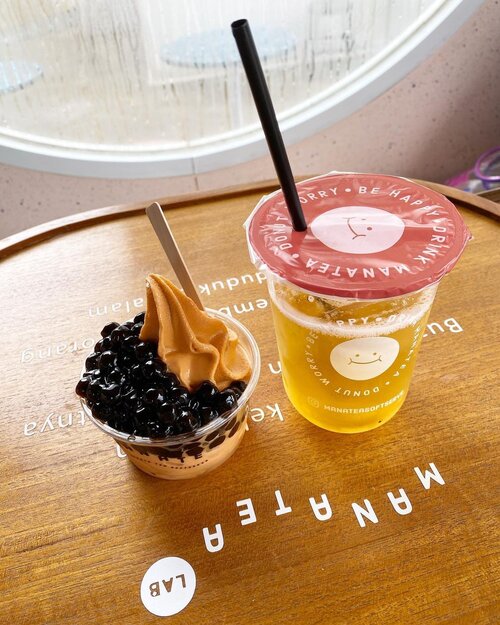 Hujan, dingin, lembab, entah kenapa nyarinya yg dingin-dingin dan seger 😌
@manateasoftserve ini enakkkkk deh.
Toko-toko di @kumuloconcept ini kecil-kecil, jadi cuma muat buat 1 group pf people, ada yang cuma muat 5 orang, ada yang berdua aja udah sempit banget.
Meski begitu, konsepnya seru dan cakep, instagrammable, dan mayoritas space nya outdoor.
And, as we're back to PSBB, jangan kemana-mana dulu ya,
#dirumahaja
#dessert
#yums
#softserve
#icecream
#bubble
#boba
#jasminetea
#tea
#icetea
#sweeicetea
#igstyle
#igdaily
#instadaily
#instagram
#igers
#sweets
#clozetteID
#love
#hello
#daytoday
#daily
#dailylove
#foodphotography
#foodstagram
#foodie

+ View more details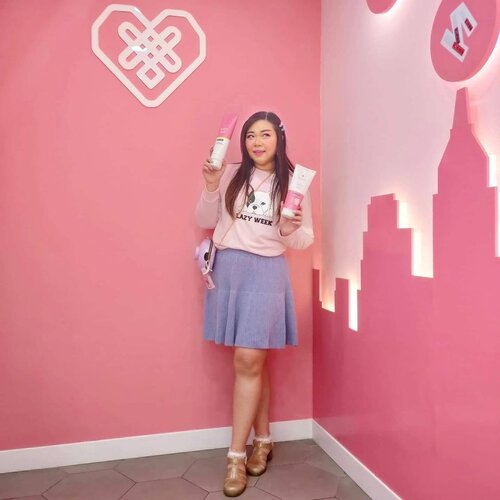 + View more details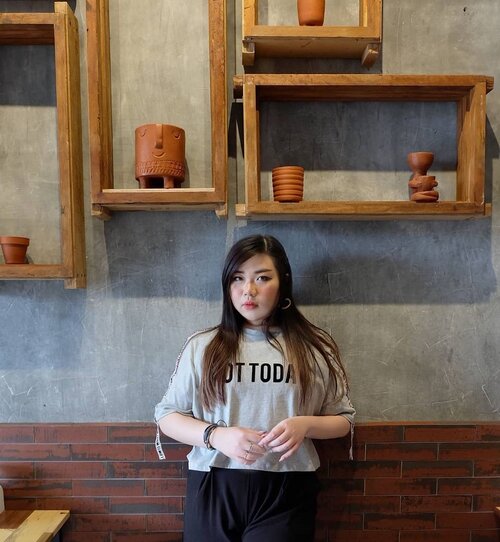 + View more details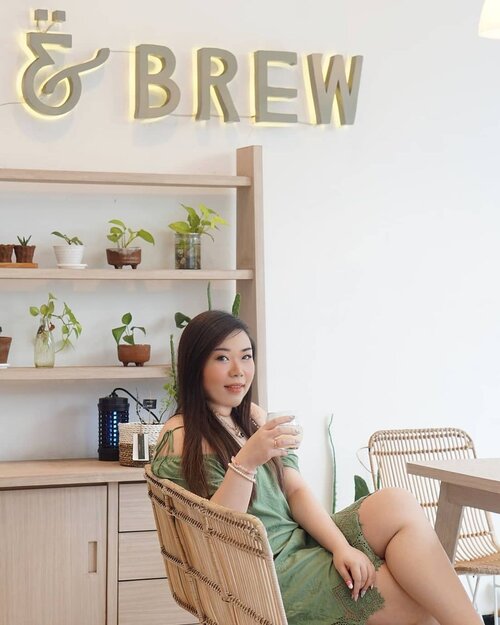 So happy that there are more and more Instagrammable cafes (that are content creator friendly) sprouting in East Surabaya area (it used to be so sparse in this part of the town), the recent one that i visited being @talkandbrew 😍.While the indoor area's very small, the outdoor is pretty spacious but most of the table would be closed if it's raining because there's no canopy. It's a simple but highly photographic place, with affordable price tag and friendly staff who wouldn't mind you taking endless pics (incl endorsement pics!).As always, when there are such pretty and friendly cafe, i ask for my fellow content creators to be respectful as well so they will continue to welcome us (i know there are a lot of mannerless selebgrams who gives all of content creator a bad name!!!!!). ORDER, help spread the word about them, tag them on your stories and photos, don't make other customers feel uncomfortable and if there are others waiting to take pics at the same spot, don't hoard it! Simple but it shows that we are educated, well mannered breed too. Capiche?Totally recommended and will be back for sure.
#beautefemmecommunity
#sbybeautyblogger
#clozetteid
#surabaya
#surabayacafe
#cafesurabaya
#cafesurabayatimur
#talkandbrew
+ View more details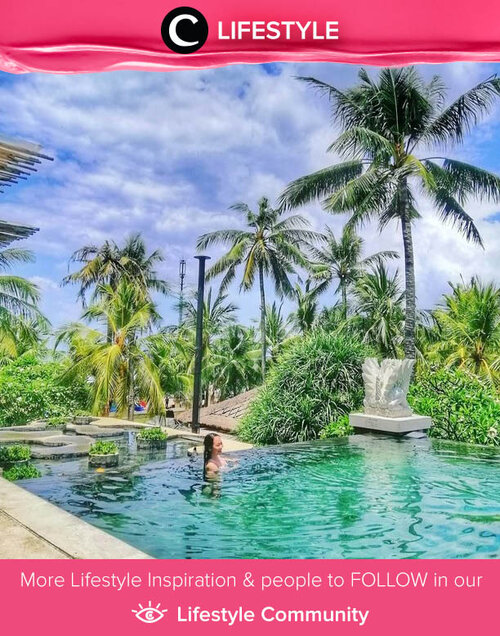 Clozette Ambassador @radenayu share tentang daftar hotel yang Instagrammable dan tetap affordable di Bali melalui link di Bio Instagramnya. Yuk, intip segera untuk lihat beragam opsinya. Simak Lifestyle Update ala clozetters lainnya hari ini di Lifestyle Community. Yuk, share momen favoritmu bersama Clozette.

+ View more details

loading ...
Back To Top