loading...
Search
201 RESULTS FOR UNDERTONE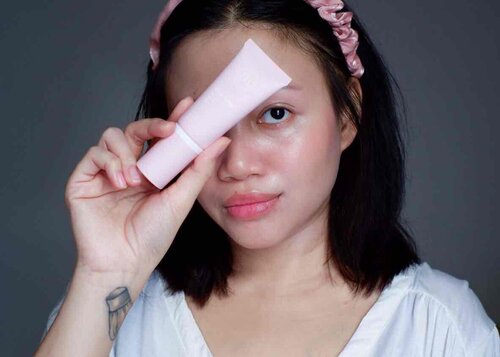 @beautyboss.co.id BB cream
Heylooo! Beauty Boss baru ngeluarin produk baru nih, setelah sukses sama sheet-mask nya yg fenomenal itu mereka sekarang launching BB Cream juga
Kemasan BB cream ini tube berwarna pink yg dilengkapi sama pump gitu
BB Cream nya beauty boss ini tersedia 3 shade:
Almond - Neutral Undertone
Rosie - Pink Undertone
Honey - Yellow Undertone
Coverage nya ini light to medium, buildable juga sih menurut gue. Tenang bund, BB Cream ini udah BPOM, Paraben Free, Cruelty Free dan Vegan jadi aman 👌🏻😌
Gue udah tulis lengkap loh di blog, ada foto before after plus gimana hasil nya di wajah gue setelah pemakaian kurang lebih 4jam dengan segala kegiatan ibu ibu ala gue~
Yuk ah link nya ada di bio ✨
#BeautyBossID
#BossBabeBBCream
#MakeupRasaSkincare
#clozetteid
+ View more details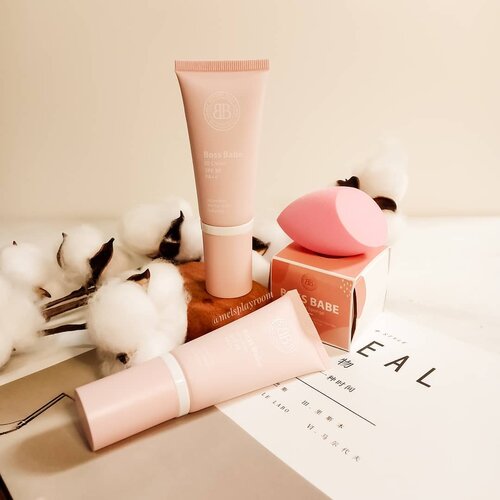 ✨ 𝐁𝐨𝐬𝐬 𝐁𝐚𝐛𝐞 𝐁𝐁 𝐂𝐫𝐞𝐚𝐦➖ A hybrid skincare and makeup in one product. Consist of 3 varians:- Rosie, pink undertone- Almond, neutral undertone- Honey, yellow undertone⭐ 𝐈𝐧𝐠𝐫𝐞𝐝𝐢𝐞𝐧𝐭𝐬Marrubium Vulgaris ExtractRed AlgaeCherry Blossom ExtractSqualaneVitamin ETitanium DioxideEthyhexyl Methoxcynnamate💧𝐓𝐞𝐱𝐭𝐮𝐫𝐞 & 𝐀𝐫𝐨𝐦𝐚The texture is very light yet good spreability. Absorb pretty quickly without much effort. It does have a pleasant aroma to my nose.👍 𝐋𝐢𝐤𝐞𝐬Comes in sweet and cute pink tube with airless pump applicator. Make it more efficient and hygienic to use.It has SPF 30 PA++ for skin protection so we can directly replace the sunscreen step with this BB Cream.Lightweight formula, good oil control, and staying power for about 5 hours.A hybrid sunscreen inside and the moisture effect thanks to Squalane and Vitamin E.The claim said that it has a dewy look finish but in my experience with my combination skin, the finish is in semi-matte look but still okay for me.👎 𝐃𝐢𝐬𝐥𝐢𝐤𝐞𝐬The coverage is sheer to medium and not buildable. So we still need pore primer and concealer to have a flawless look.❗Check my HL story for GRWM video or my link in bio to read a thorough review in my blog.🗒️ 𝐎𝐭𝐡𝐞𝐫 𝐈𝐧𝐟𝐨𝐫𝐦𝐚𝐭𝐢𝐨𝐧𝐬🏷️ 1̶8̶0̶k̶ ➡️ 153k ($$)🧴 30gr⏳ N/A📇 BPOM certified🐰 Cruelty free🍃 Vegan
#melsplayroom
#BeautyBossID
#BossBabeBBCream
#MakeupRasaSkincare
+ View more details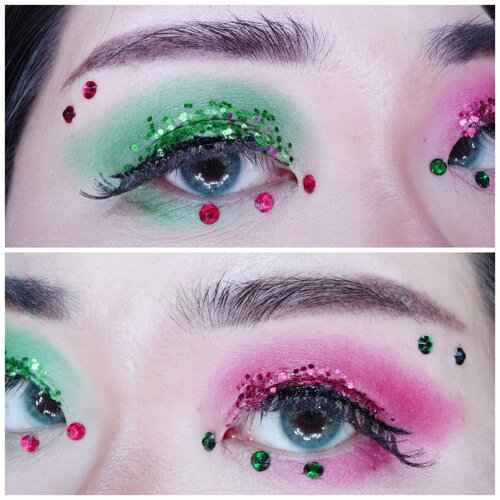 Details of my Christmas Tree look.
I used @viva.cosmetics cream eyeshadow for the red but personally i think it still looks a bit pink and not pure red like i want (i began to wonder if the problem is my skin tone 🤣, does it make reds look pink since i have a strong pink undertone) and it's also not super pigmented so i layered it with my usual red eyeshadow.
As for the super chunky glitter, i purposefully bought a glitter palette from a Chinese brand, i already expected them to be chunky honestly i wasn't expecting it to be THAT chunky! Definitely disco ball alert kind of thing. Plus its cream based and chunky cream based glitter is just not a great pair for hooded/tapered eyelid 🤣.
Still, i think i looked festive like how a Christmas Tree should be so i'm pretty happy with the result.
#clozetteid
#christmaslook
#christmastreemakeup
#BeauteFemmeCommunity
#thematiclook
#thematicmakeup
#sbybeautyblogger
#makeup
#ilovemakeup
#clozetteid
#sbybeautyblogger
+ View more details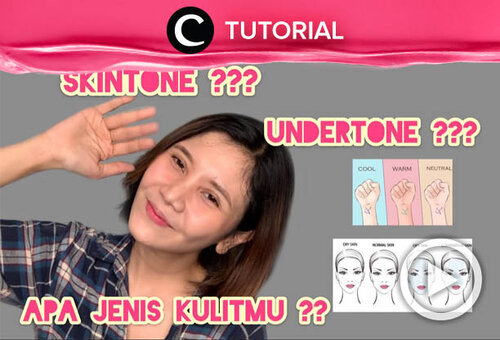 Masih bingung akan warna undertone kulitmu? Coba intip cara mengetahuinya di:
https://bit.ly/3gaZKLr
. Video ini di-share kembali oleh Clozetter @dintjess. Lihat juga tutorial lainnya yang ada di Tutorial Section.

+ View more details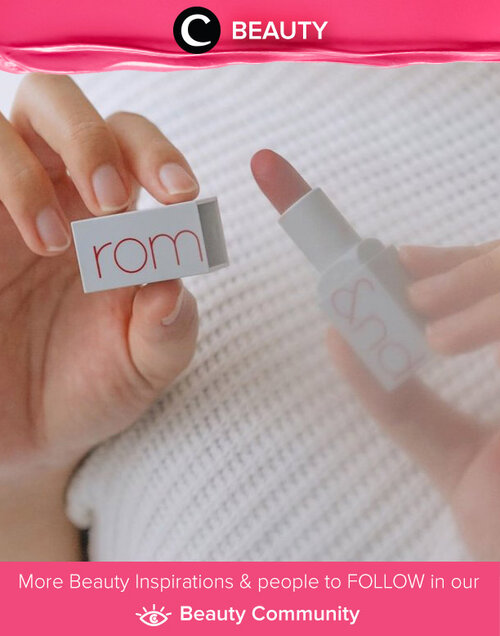 Ketika ditaya soal lipstik, Clozette Ambassador @vannysariz selalu memilih warna merah dengan blue undertone. Alasannya, warna ini membuat kulitnya terlihat lebih cerah. Termasuk lipstick Zero Gram dari Romand shade Red Carpet ini. Simak Beauty Update ala clozetters lainnya hari ini di Beauty Community. Yuk, share produk favorit dan makeup look kamu bersama Clozette.

+ View more details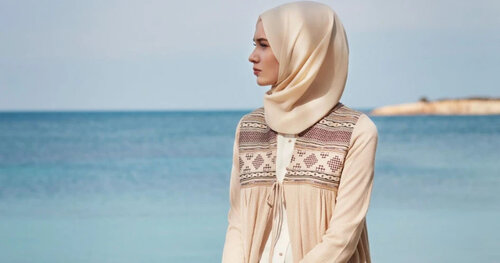 Sempurnakan penampilan dengan pilihan warna hijab yang tepat!...
Simak juga artikel menarik lainnya di Article Section pada Clozette App.

+ View more details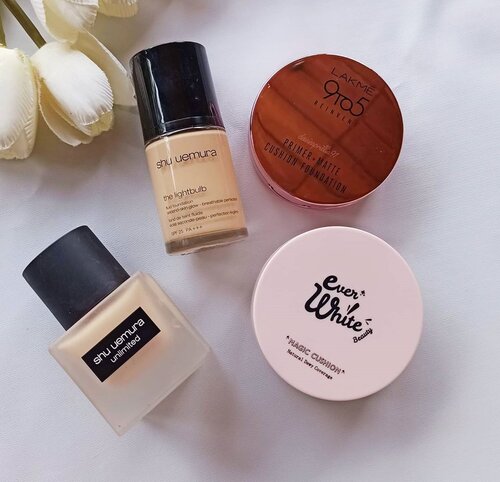 Complexion yang aku punya saat ini. Lainnya sudah aku buang. Tinggal 4 produk ini yang masih bisa dipakai dan selamat. 😅 Punya skin type dry-combination tuh agak picky. Sebenernya aku suka makeup yang glowing tapi ada saatnya pengen makeup matte.• ‌𝗦𝗵𝘂 𝗨𝗲𝗺𝘂𝗿𝗮 𝗨𝗻𝗹𝗶𝗺𝗶𝘁𝗲𝗱 𝗙𝗼𝘂𝗻𝗱𝗮𝘁𝗶𝗼𝗻 : Ini yang matte, sepertinya bakal cobain Unlimited Glow yang terbaru yang hasilnya lebih glowing. Shade 764 di shu unlimited lebih gelap tapi masih bisa masuk di skintone aku, hasilnya semi matte. Dan full coverage, beli ini emang niatnya buat nutup dosa-dosa wajah tanpa concealer udah nutup.• ‌𝗦𝗵𝘂 𝗨𝗲𝗺𝘂𝗿𝗮 𝗟𝗶𝗴𝗵𝘁𝗯𝘂𝗹𝗯 𝗙𝗼𝘂𝗻𝗱𝗮𝘁𝗶𝗼𝗻 : Shade 764 juga, warna shade nya sama seperti Petal Skin. Bedanya cuma di finishnya lebih matte dan coverage nya medium. Masih perlu concealer buat nutup dosa-dosa wajah. Aku lebih suka Petal Skin karena lebih lembab dan hasilnya glowing sehat.• ‌𝗟𝗮𝗸𝗺𝗲 𝗣𝗿𝗶𝗺𝗲𝗿 + 𝗠𝗮𝘁𝘁𝗲 𝗖𝘂𝘀𝗵𝗶𝗼𝗻 𝗙𝗼𝘂𝗻𝗱𝗮𝘁𝗶𝗼𝗻 : Shade Light Sand (02). Cinta banget sama cushion ini. Hasilnya semi matte tapi masih kelihatan glowingnya. Beli jg krn korban aplikasi orange pas flash sale tapi jadi cinta dan selalu repurches kalau habis+ada sale. Masih favoritku banget sampai saat ini.• ‌𝗘𝘃𝗲𝗿𝘄𝗵𝗶𝘁𝗲 : Beli di tokped pas awal launching dulu. Jarang aku pakai karena salah shade, Light Beige shade paling terang dan ternyata ini lebih cocok untuk pink undertone. Hasilnya glowing dan enggak lengket.Juaranya masih Lakme Cushion, meskipun semi matte finish masih keliatan glowing dan lembab diwajahku. Untuk saat ini belum pengen mau cobain complexion apa lagi karena jarang makeup full. :D
#ClozetteID
#beauty
#love
#makeup
#beautiful
#style
#instagood
#instagram
#follow
#picoftheday
#happy
#photo
#beautyblogger
#beautyblog
#beautyproduct
#beautygram
#shuuemura
#lakme
#everwhite
#foundation
#review
#blogger
#beautyblogger

+ View more details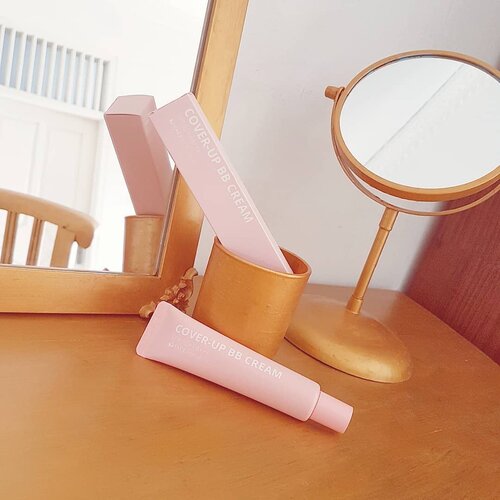 BB cream full coverage?! Yes, sekarang gak harus pakai foundation + concealer lagi kalau mau nutupin jerawat dan bekasnya ✨ Kulit juga tetap bisa nafas walaupun makeup-an pakai Face Republic Cover-Up BB Cream ini. Terus dia shadenya ini caramel beige tone jadi gak bakal keputihan di kulit dengan yellow undertone. Matte finish that gives you healthy complexion. Packagingnya juga enak banget buat dibawa-bawa. Apply pakai jari pun ok. Flawless skin anytime, anywhere ♡.
https://hicharis.net/dewiyang/P8P
.
#CoverUpBBCream
#charis
#hicharis
+ View more details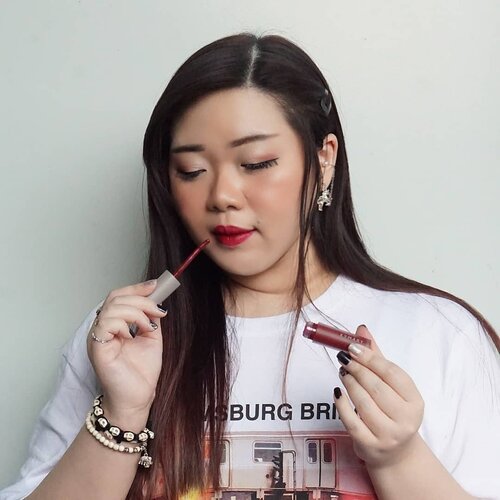 + View more details

loading ...
Back To Top