loading...
Search
462 RESULTS FOR HEALTHYSKIN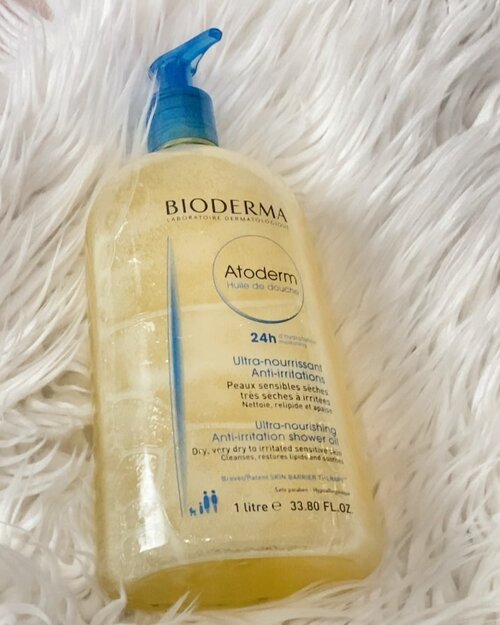 + View more details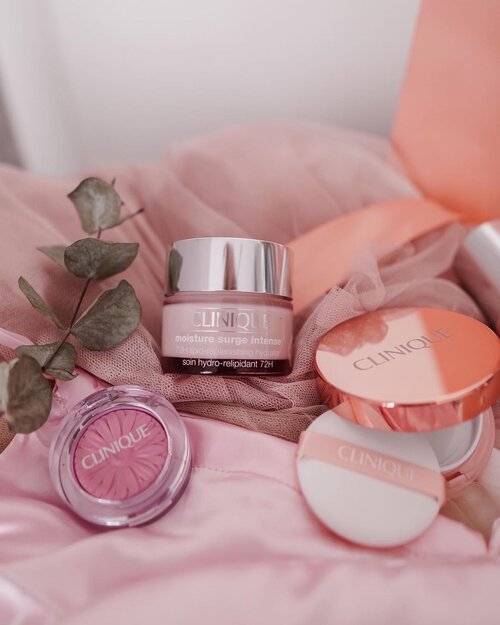 + View more details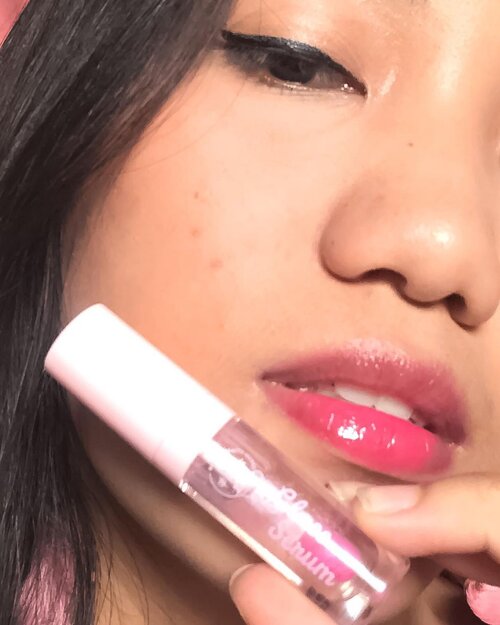 ✨🍃 OH MY SKIN! LIP AND GLOSS LIP SERUM🍃✨
(っ◔◡◔)っ ♥Jiwaku bergetar liat hasil swatch Lip serum ini di bibirku ~ ♥
Ini yang buat aku hampir ga perlu pake lipstick, karena packaging nya super mini gampang di bawa kemana aja, bahkan di kantong pun muat.
Warnanya yang natural , pink fresh gitu jg masuk banget ke bibir ku yang hitam , malah ga lebay jadinya , justru kelihatan natural dan simple .
Asli ini ga bikin kering , justru malah lembap, meskipun ini Lip serum tapi cukup tahan lama , dipakai beberapa jam masih stay aja , ga lengket super nyaman banget di pakai seharian☺️
Recommended banget buat siapapun yang pengen pake Lip product namun ga suka menor :)
Bikin lembap, bikin bibir sehat, glossy, tahan lama dan handcarry 🥰
Tenang aja, udah BPOM dan bisa dipakai oleh ibu hamil dan busui :)
Cuma 68ribu ajaaaaa!!
Udh punya kan?
#reviewbynm
#sotd
#skincarejunkie
#lipserum
#skinstagram
#textureshot
#tekstureshot
#reviewindonesia
#skincareindonesia
#skincarecommunity
#clozetteid
#clozette
#ohmyskin
#racuntiktok
#lipgloss
#healthyskin
#ohmyskin
#beauty
#makeup
#dailymakeup
#dailylook
#jakartabeautybloggerfeatohmyskin

+ View more details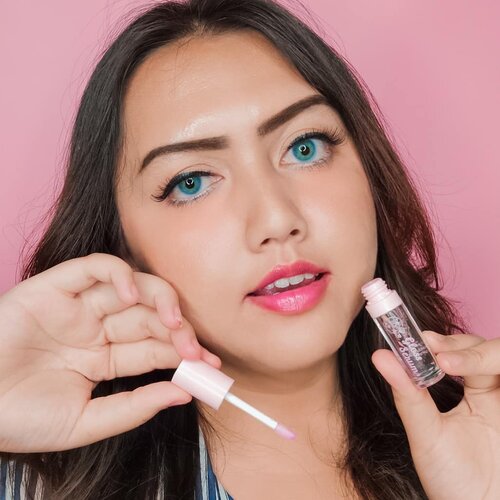 Finally found my february fav lip product❤️❤️
Ini adalah @ohmyskin.official LIP AND GLOSS HYDRATING SERUM
Seriously, semenjak ketemu produk ini, gue jadi ga repot touch up lipen berkali kali..
Why i love this product :
✨ Produk ini bikin bibir kering jadi lembab
✨ Mengurangi bibir pecah pecah
✨ Mencerahkan bibir yang gelap. Ga bikin bibir jadi hitam of course..
✨ Finishnya kaya glossy gitu tapi masih ringan dan ga lengket
✨ Ketahanannya oke walau dibawa makan dan minum ga langsung hilang
✨ Packagingnya lucu dan kecil jadi gampang buat dibawa kemana mana
✨ Bisa sebagai lip care juga, jadi sebelum tidur gue pake juga
✨ Udah BPOM
✨ Aman di gunakan untuk ibu hamil dan menyusui
✨ Harga affordable, 68k saja di Shopee nya Oh My Skin
Beneran sih, ini cuco banget buat yang males ribet akan dunia pergincuan.. Try this one deh.. Selain bibir jadi cantik, jadi sehat juga..
@ohmyskin.official @jakartabeautyblogger
#healthyskin
#ohmyskin
#beauty
#makeup
#dailymakeup
#dailylook
#JakartaBeautyBloggerFeatOhMySkin

+ View more details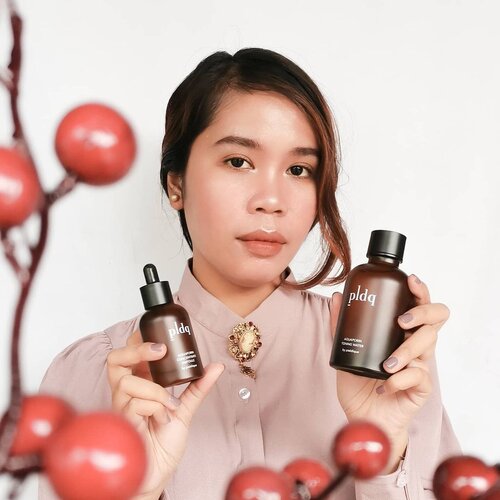 PLDQ - Aquaporin Line
Ini adalah skincare line pertama dari PLDQ, a new Korean brand. Line ini menggunakan 7 jenis Hyaluronic Acid + Aquaporin didalamnya. Kandungan ini bekerja dengan cara membangun moisture barrier layer by layer to create healthy skin.
Diformulasikan untuk menyuplai hidrasi, kelembapan & nutrisi bagi kulit. Good for all skin type, highly recommend for dry & scaly skin, jadi yang kulitnya kering parah sampe kayak bersisik gitu.
🍃 Aquaporin Toning Water
Toner low pH dengan water-like consistency, sangat bagus untuk menyeimbangkan pH setelah cuci muka. Teksturnya yg cair cepat terserap, tapi tidak meninggalkan kesan matte maupun lengket setelahnya, malahan dia cukup menghidrasi kulit combination to oily ku. Baunya enak, segar agak maskulin dan ada hints citrusy.
Toner ini aku pakai di slot hydrating toner, atau setelah memakai exfo. Aku sangat menyukai teksturnya yg ringan jadi meskipun pakai beberapa layers tetap terasa nyaman.
🍃 Aquaporin Concentrate Ampoule
Teksturnya kental & bening, dengan bau yg mirip dengan tonernya. Agak slippery jadi really satisfying to spread out. Lumayan cepat terserap & finishnya bikin kulit nampak glowing + kenyal. Memberikan kelembapan & hidrasi dengan sangat baik & tahan lama.
Ampoule ini aku gunakan setelah toner, both in am & pm routine, cukup 3 drops for my face & neck. Yang paling aku suka dari ampoule ini, dia ga hanya kasih kelembapan yg bagus tapi juga bantu meredakan kemerahan or iritasi dengan cepat
I've been using these products for 2 weeks, so far no bad reactions at all. Kombinasi keduanya bekerja dengan baik dan cocok dikulitku. See the before after pict on the last slide, kulitku lebih well hydrated sehingga membuatnya nampak halus dan sedikit lebih kencang dibanding sebelumnya. Untuk melengkapi Aquaporin line, I really want to try their cream ❤️.
@lynekorea @pldq_official @pldq_id
#PLDQKorea
#PLDQIndonesia
#PLDQ_id
#7xHyaluronicAcid
#LyneKorea
#kbeauty
#skincare
#koreanskincare
#skincareroutine
#skincarelover
#skincareaddict
#skincarecommunity
#beauty
#beautycommunity
#clozetteID

+ View more details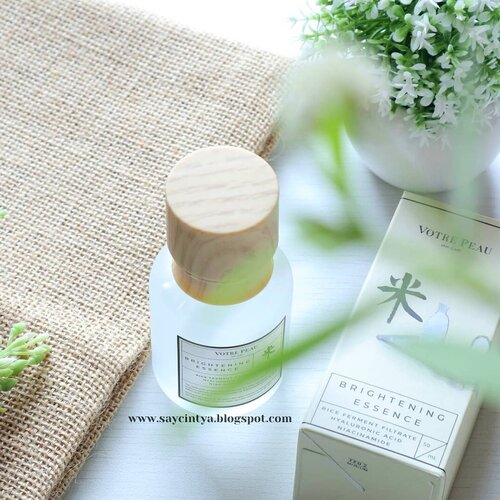 + View more details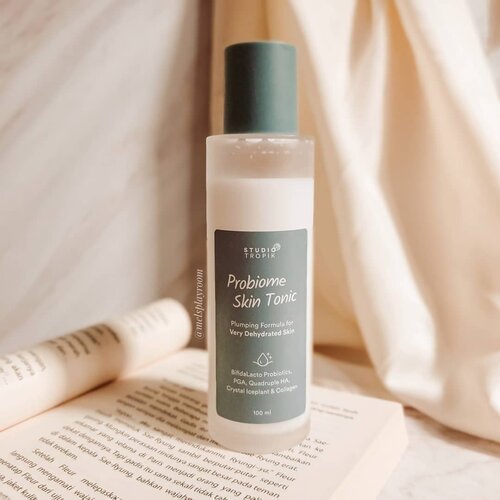 ✨ 𝐒𝐭𝐮𝐝𝐢𝐨 𝐓𝐫𝐨𝐩𝐢𝐤 𝐏𝐫𝐨𝐛𝐢𝐨𝐦𝐞 𝐒𝐤𝐢𝐧 𝐓𝐨𝐧𝐢𝐜✨➖ Toner lokal dengan probiotik untuk menghidrasi dan memperbaiki kulit kering-sensitif. Mengandung Exclusive Probiome Complex untik menyeimbangkan microbiome kulit.⭐ 𝐈𝐧𝐠𝐫𝐞𝐝𝐢𝐞𝐧𝐭𝐬• Bifida dan Lactobacillus ProbioticsMenghidrasi kulit, menyeimbangkan microbiome, dan mengoptimalkan kondisi kulit.• Polyglutamic Acid (PGA)Mempertahankan hidrasi kulit untuk mencegah TEWL, membuat kulit lebih sehat dan kenyal.• Quadruple HA4 jenis molekul hyaluronic acid untuk mengunci kelembaban maksimal kulit.• Crystal IceplantEkstrak tanaman yang menenangkan dan kaya antioksidan.• CollagenMeningkatkan elastisitas kulit💧𝐓𝐞𝐱𝐭𝐮𝐫𝐞 & 𝐀𝐫𝐨𝐦𝐚Tekstur: milky white creamy water dan memiliki daya lembab yang lumayan untuk kulit. Awalnya kukira bakal kurang nampol hidrasinya, tapi ternyata cukup nendang di kulit aku yang combi to dry.Setelah meresap, kulit akan terasa sedikit greasy tapi nggak mengganggu sama sekali. Lebih ke yang licin tapi lembab gitu.Bisa dipakai buat CSM juga. Mudah dilayer dengan skincare selanjutnya.Aroma: scentless👍 𝐋𝐢𝐤𝐞𝐬• Good ingredients• Alcohol free• Hydrating and moisturizing effect• Plumpy and healthy skin• Not irritating my skin• Sturdy bottle• Detailed information inside the carton box. So thoughtful to make it paperless👎 𝐃𝐢𝐬𝐥𝐢𝐤𝐞𝐬• N/A⚠️ 𝐂𝐚𝐮𝐭𝐢𝐨𝐧📣 Untuk kulit acne-prone skin bisa cek varian Herbitus🗒️ 𝐎𝐭𝐡𝐞𝐫 𝐈𝐧𝐟𝐨𝐫𝐦𝐚𝐭𝐢𝐨𝐧𝐬🏷️ 180k ($$)🧴 100ml⏳ 6 bulan📇 BPOM certified🤰🤱 Friendly
#melsplayroom
#studiotropik
#cheerstobetterskin
#hydratingtoner
#skintonic
#idskincarecommunity
#skincareroutine
#skincarereview
#racunskincaremakeup
+ View more details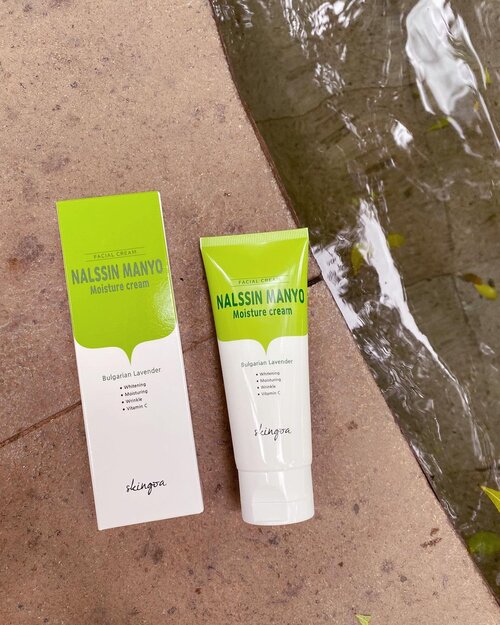 Nalssin Manyo Multi-Purpose Moisture Cream with Bulgarian Lavender yang highly moisturizing, mengandung vitamin C, E, shea butter, adenosine, niacinamide, centella asiatica, hyaluronic acids, etc, that helps retain moisture, dan menggunakan bahan-bahan yang aman.🌿whitening🌿moisturizing 🌿anti wrinkleMade for:☺️ dry skin😳 sensitve skin😶 dull skin🤫 blemish prone skin🤗 loose and wrinkle skinContain NO:❌ parabens❌triethanolamine ❌phenoxyethanol❌artificial colours ❌mineral oil ❌synthetic fragranceHow to use:apply the cream liberally on clean skinNalssin Manyo Moisture Cream bisa dibeli di,
https://hicharis.net/carnellin/1ulgseharga
Rp.270rb
#CHARIS
#skngoa
#NalssinManyo
@skingoa @hicharis_official @charis_celeb
#skincare
#moistskin
#lavender
#igreview
#koreanskincare
#koreanbeauty
#beauty
#igers
#pelembabwajah
#kulithalus
#kulitcerah
#beautyvloggerIndonesia
#pelembabalami
#vitc
#sehat
#kulitsehat
#healthyskin
#love
#clozetteID
#trend
#musttry
#antiewrinkle
#bebaskeriput
#flawless
#rekomendasiskincare

+ View more details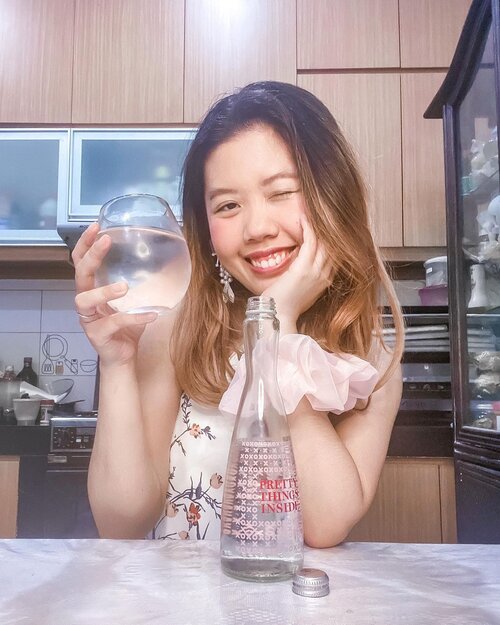 Proper hydration is the key to glowing healthy skin! Drinking more than 2 liters of water everyday doesn't just affected your skin on the surface, but also in the deeper layers where the skin could get more elastic, prevent wrinkle and rough skin texture. You could get better results by consuming high quality water with balanced minerals that comes from natural sources like AQUA Reflections. In their collaboration, Sociolla and AQUA Reflections delivers the message "Hydration All The Way, Inside and Outside" by combining good skincare products with best quality water. Checkout my full review on my blog! The combination of good skincare routine and high quality water would most definitely resolve your skin hydration problem. If you are interested on getting yourself products of AQUA Reflections X Sociolla collaboration, you could get them via link on my latest blogpost & also you could find them in all of Sociolla Offline stores.
#aquaxsociolla
#aquareflections
#beautyjournal
#hydratetoradiate
#aquareflectionsxsociolla

+ View more details

loading ...
Back To Top