loading...
Search
80 RESULTS FOR MARINE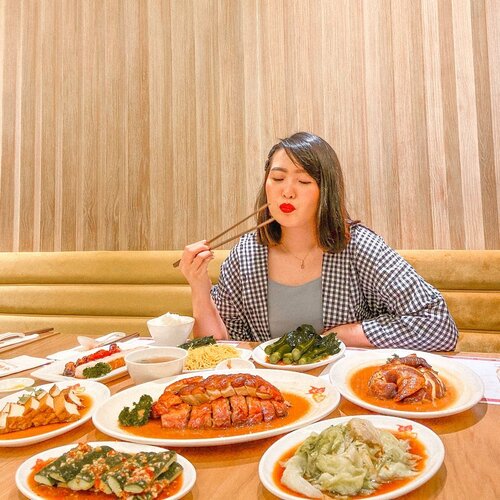 + View more details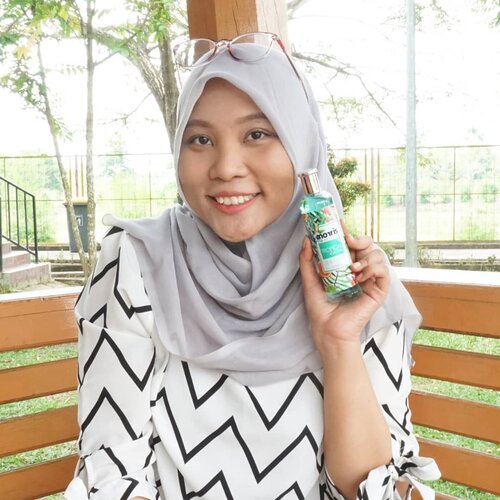 Udah pada tau dengan @morrisparfum belum? Parfum ini memiliki wangi yang bervariasi yaitu Romanca, Marine, Nature, Fruity, Floral dan Paradise. Yang lagi aku coba sekarang adalah varian Nature yang mempunyai aroma perpaduan buah-buahan dan green floral yang fresh. .Awal di semprotkan memang sedikit strong tapi beberapa menit kemudian wanginya lebih fresh dan soft. Lav~.Produk ini udah tersedia secara offline di DanDan, Watson, Carrefour dan GS Supermarket. Untuk online marketplace udah tersedia di JD.ID, Shopee, Tokopedia, Lazada, Bukalapak, Blibli, Zilingo, Elevania, Blanja dan Ralali🛍
[email protected]
#FreshMoreisMorris
#MorrisParfum
#MorrisTropical
#itsbeautycommunityxmorris
#ClozetteID

+ View more details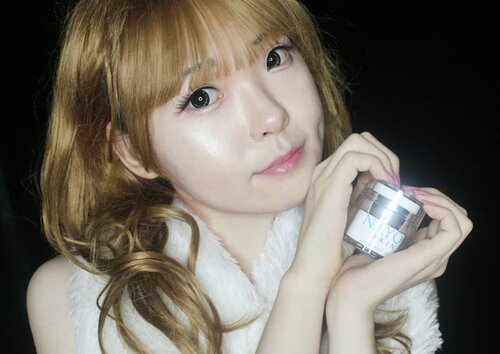 Setaun terakhir ini Yuki bener2 belajar tentang skincare dan berbagai ingredients yg baik utk kulit. Menginjak usia seperempat abad, harus banget concern dengan berbagai masalah kulit yg mulai muncul. Salah satunya adalah kurangnya kadar air yg membuat kulit nampak kusam dan menimbulkan banyak masalah kulit lain. ..Sudah semingguan ini Yuki mencoba @nayouskin Facial Night Emultion dengan kandungan Galactomyces Ferment Filtrate, Licorice, Bio Marine Collagen, Hyaluronate yg mampu mengikat kadar air 1000x dibandingkan bahan lainnya. Both Hydrating & Moisturizing ada dalam 1 produk...Teksturnya watery dengan aroma fresh bercampur aroma susu yg ternyata susu juga salah satu ingredientsnya. Cepat menyerap di kulit dan memberikan cooling effect sesaat setelah pemakaian. Mengembalikan kondisi kulit kusam karena efek radikal bebas...Setelah penggunaan sehari, kulit mulai terasa lebih glowing alami, terasa kenyal, lembab dan ternutrisi. Namun, untuk hasil maksimal, menyamarkan bekas jerawat dan flek hitam serta garis halus, gunakan selama 1 minggu...Aplikatornya unik dan higienis, cukup ditekan aja (foto ke-3), dan isi produknya udah langsung keluar deh... ..Full review will be airing soon on my channel 👆...
#myglowmyicon
#nayouskin
#bsidxnayouskin
#BeautyBlogger
#BeautyVlogger
#clozetteid
#BeautyBloggerID
#Makeup
#Cosmetics
#Cosmetic
#BeautyBloggerIndonesia
#style
#Blogger
#Blog
#Beauty
#Cute
#girls
#Japanesemakeup
#Kawaiimakeup
#fashion
#メイク  #ヘアアレンジ 
#makeup
#style
#kawaii
  #ファッション  #かわいい
+ View more details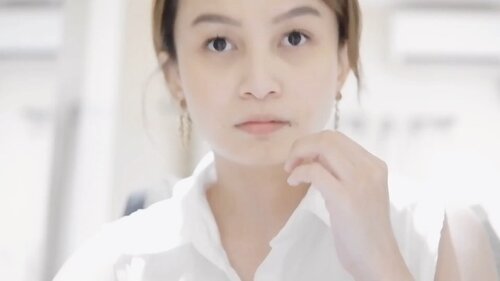 Tingginya AQI udara di Jakarta bisa ngaruh sama kulit lho gengs! Bisa ngerusak barier kulit dan mempercepat tanda penuaan.Salah satu hal yg bisa kita lakukan adalah ngga boleh lupa bersihin muka. Aku suka bawa micellar water atau tisu muka di tas kalo kepepet berasa kotor banget wajahnya. Biar kulit bisa nafas ngga ketutup debu polusi.Introduce you another preference of micellar water, NIVEA MicellAir Skin Breathe!!Ada 3 varian : Hydration, Pearl White dan Xpert.All of 'em are 0% Alcohol. My fave? NIVEA Micellair Skin Breathe Hydration! Dilengkapi dengan Hyaluronic Acid, Golden Algae, Hydra IW dan Marine Salt ❤@NIVEA_ID @clozetteid
#NIVEAMicellAIR
#ClozetteID
+ View more details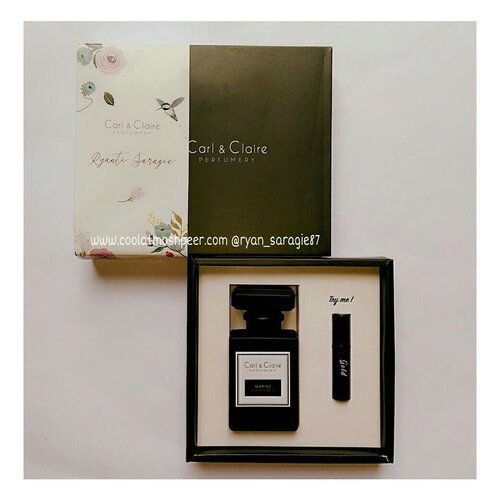 + View more details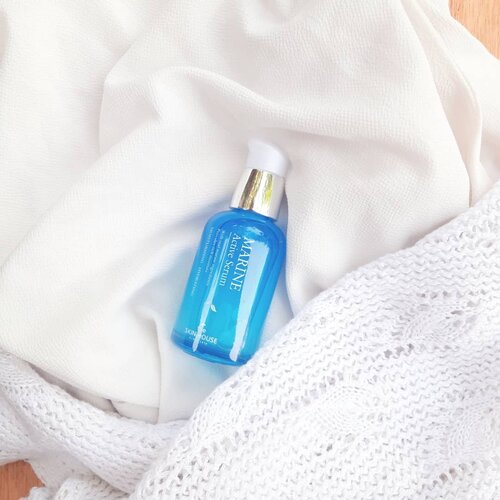 Hello everyone! I hope you guys are doing great. Todays another review of The Skin House product which is Marine Active Serum 🧚‍♀️~~💧What is it? Gel Moisturizing Serum contains hyaluronic acid, which moisturizes the skin and keeps the skin's moisture level constant throughout the day. Seawater and various algae extracts create an abundant moisturizing effect, while minerals and vitamins help the skin to become radiant and clean again. Contains ceramides that prevent water loss from the skin and help the skin stay moisturized deep inside for a long time.~~💧Key IngredientsIf you take a look at the ingredients, you'll notice its like long list. But the key ingredients to notice are, Seawater, Pearl Extract, Brown Algae (Ecklonia cava) Extract, Turmeric (Hizikia fusiforme) Extract, Green Algae (Codium tomentosum) Extract, Red Algae (Gelidium cartilagineum) Extract. And yes it contains alcohol.~~💧Texture and ScentA gel serum, lightweight with a mild scent like flowery scent. I use this after essence and use one pump of it, following with sunscreen as the last step (sometimes I skip my cream because i really feel moisturised when I use this serum)~~💧My experienceThe packaging is pretty and made from glass. The pump make it more hygienic as you no need to open the cap. I only use this one pump, because if I use 2 pumps it will be too heavy for my skin. Absorbs well, very easy to blend with my skin. I like soft skin feeling after use, it's moisturizing and makes my skin smooth and plumpy. I like this serum and did not cause any skin problem. I could skip my moisturizer when I feel I've reached optimal hydration 💧☀️ I can recommend this serum for you guys who have dry skin or dehydrated skin, it will be good for you. But all skin types can use this who needs a good moisturizing product which is worth for the price🌞~~💸Price: $26 / Rp. 368.862*Product is provided, but honest opinion from me 🧕
#theskinhouse_official
#coxir_official
#coxir
#sferangs
#kbeauty
#koreancosmetics
#clozetteid
+ View more details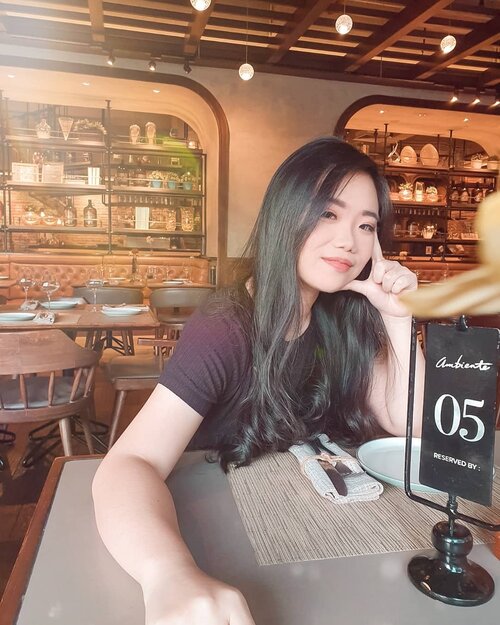 Let me take you through a tour of how @ambienteristorante at @aryadutajakarta could be the perfect place for your weekend destination, shall we? Swipe left! ..With their new Pork Special Menu;PORCHETTA (roasted pork belly marinated in Mediterranian Herbs, served with roasted potato and gravy)STINCO DI MAIALE (roasted pork knuckle served with gravy, mashed potato with pancetta)PIZZA PORCHETTA E FUNGHI (pizza with tomato sauce, mozarella, sliced porchetta and sauteed mushroom)PICI ALLA SAPSICCIA, BROCCOLI TALEGGIO E PEPE (homemade spaghetti sauteed with pork sausage, broccoli, taleggio cheese and black pepper)..Try try try, maybe this can be your next favorite place!
#jktgo
#clozetteid

+ View more details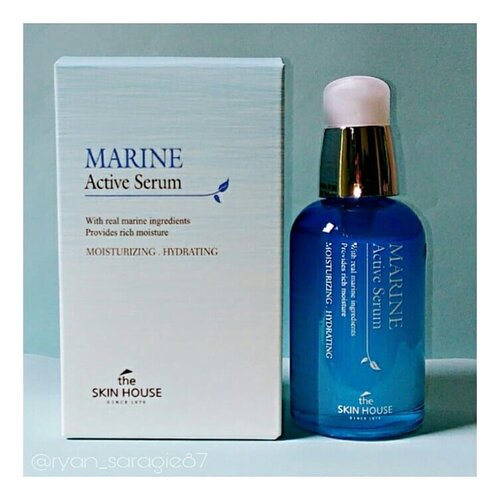 Hari ini aku bakalan ngebahas produk skincare kedua yg aku punya dr brand @theskinhouse_official yaitu The Skin House Marine Active Serum.So...serum ini dikemas kedalam botol plastik berwarna biru dengan mengusung konsep birunya air laut 💦💦. Untuk sebotol serumnya ini punya berat 50ml dengan menggunakan pump sebagai aplikatornya. FYI dibagian pumpnya diberikan pelindung gitu, agar isinya gak tumpah keluar.Serum ini punya kandungan real marine / nutrisi dari laut seperti Sea Water, Pearl Extract, Ecklonia Cava Extract, Hizikia Fusiforme Extract & Codium Tomentosum Extract yg secara efektiv bantu melembabkan, menutrisi dan menghydrasi kulit wajah.Texturnya perpaduan antar cream & gel berwarna sedikit putih kusam, yang sangat ringan, gampang dibaurkan, mudah meresap dan memberikan efek yg sejuk gitu dikulit tapi sedikit terasa agak lengket sih dikulit. Untuk aromanya cukup kuat tapi sumpah nyegerin banget mengingatkan aku sama wangi salah satu produk eskulin gel gitu 😊.Dan...sekitar 4 hari pemakaian serum ini sukses bikin wajahku breakout parah 😭 awalnya aku kurang tau ini dampak proses adaptasi sm skincare baru or emang kandungannya ada yg gak cocok buat aku. Akhirnya aku stop sekitar 5 hari untuk sembuhin semua jerawat lebih dulu. Dan setelah itu aku coba gunakan lagi & Alhamdulillah serum ini mulai bekerja dengan baik diwajahku, so...kulitku terasa lebih lembab & juga kenyal. Aku cuma gunakan serum ini saat malam hari saja🌛 cos oil controlnya kurang bagus buat wajah oily sepertiku.Serum ini cocok digunakan untuk semua jenis kulit tapi lebih prefer digunakan untuk kalian yg punya kulit kering atau gampang dehydrasi.Nah...buat kalian yg lagi serum utk melembabkan & menghydrasi kulit, Marine Active Serum cocok banget buat kalian gunakan.
#theskinhouse
#theskinhouseserum
#marineactiveserum
#kbeauty
#kcosmetics
#kskincare
#skincare
#skincarelovers
#serum
#moisturizer
#hydrating
#skincarecommunity
#abcommunity
#bloggercommunity
#pmroutine
#bblogger
#clozetteid
#qupas
#gift
#hijabblogger
#influencermarketing
#더스킨하우스 #세럼 #세럼추천 #스킨케어 #선물 #뷰티그램 #뷰티블로거

+ View more details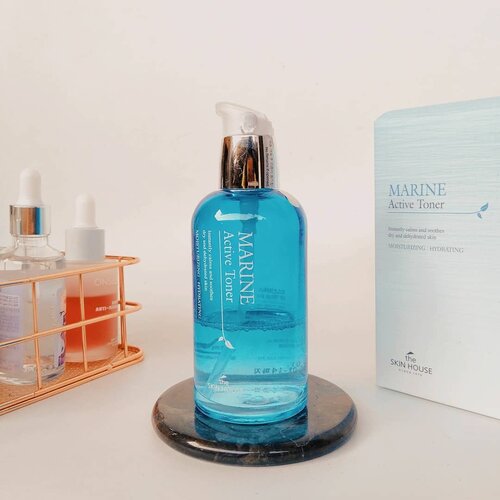 One of June fav item The Skin House Marine Active Toner comes in 130ml bottle glass. Contains nutrients of the sea provides sufficient moisture and nutrition to tired skin to make skin feel moist and well hydrated...📝RATING= 4/5...I have mixed opinion about the packaging :✔️Product description and ingredients available in English✔️Transparent bottle glass, I get to see how many liquids inside✔️Pump available, I can easily control the amount needed for each application❌Made from heavy glass, since I'm clumsy the possibility I drop this is very high (luckily I haven't dropped this so far)❌Not recommended to bring for traveling with..Now to the summary and my final opinion :〰️The amount of toner is full the first time I see this bottle〰️Soft and fresh scent like the sea and it will dissipate quickly 〰️The texture is watery with some viscosity〰️I use this twice a day, 2 pumps for my entire face. I apply 1 to 3 layer depends on my skin condition〰️Sinks quickly without leaving my skin tacky or sticky, when I check my face on mirror my skin looks more lively not tired and it hydrates my skin 〰️Contain alcohol, but I don't feel it drying out my skin the next few hours after I apply this (tested few times when I only stay at home, applied 3 layers of this toner without anything afterwards). You all know it's depends on the product formulation...No sign of irritation so far and it works well with other products in my routine 🙆•••‼️ Gifted in exchange for review
#clozetteid

+ View more details

loading ...
Back To Top