loading...
Search
78 RESULTS FOR ESSENTIALOILS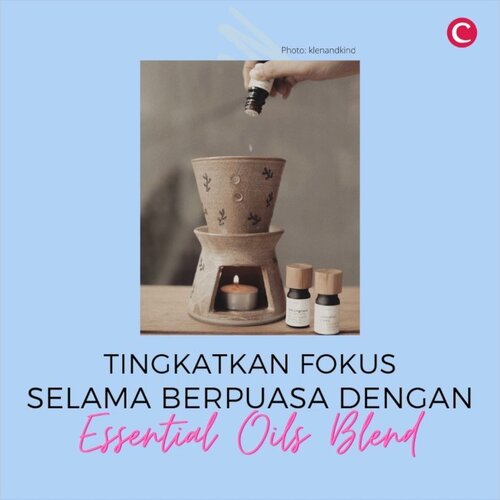 Work from home ditambah sedang berpuasa, 🕒 jam 3 sore ke atas biasanya konsentrasi sudah mulai buyar, nih. Tenang, coba pakai 5 essential oil blend ini yang bisa bantu meningkatkan mood dan konsentrasi kamu! ✨.Ngomong-ngomong, kamu tim EO yang langsung pakai di kulit, atau tim EO dengan diffuser/burner?
[email protected]
@klenandkind @organicsupplyco @natunaessential @rumahatsiri
#ClozetteID
#ClozeetteIDVideo
#EOBlend
#EssentialOilBlend
#EssentialOil

+ View more details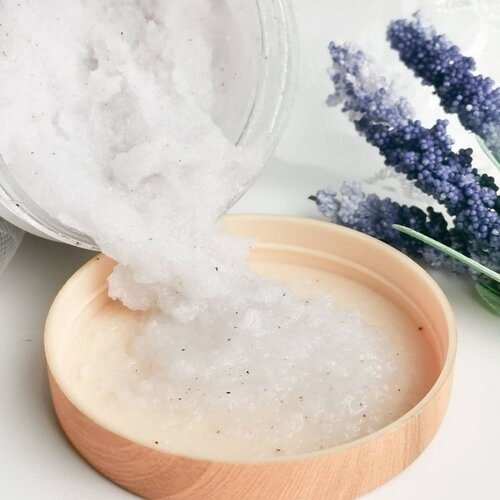 @sereneessential - French Lavender 3 in 1 Body Scrub
Scrub + Soap + Lotion dalam 1 produk? YES! This is Serene Essential 3in1 Body Scrub. Menurutku produk ini sangat praktis, terutama buat kamu mager kayak aku 😂 cukup pakai 1 produk sudah dapat 3 manfaat.
Scrub ini diformulasikan untuk exfoliate, deep cleansing and moisture your skin. Kandungan utamanya shea butter, beeswax & sweet almond oil. Kemudian untuk aroma yang dihasilkan didapat dari kandungan essential oil, no artificial-fragrance added. Untuk variant ini mereka menggunakan Lavender essential oil, I really love the smells, rasanya bantu banget buat relaxing setelah seharian melalui hari yang cukup berat seakan semua beban langsung hilang, trus pengen tidur 😁.
Bahan scrubs-nya terbuat dari perpaduan Epsom Salt, Castor Sugar & Apricot Seeds. Mereka nggak pakai plastic scrubs yaa, jadi ini environment friendly. Tekstur scrubnya tidak beraturan, ada yg halus dan ada yg agak besar, tapi sama sekali nggak melukai kulit. Ketika diratakan terasa sedikit berminyak but don't worry, karena ketika dibilas produk ini tidak meninggalkan residu greasy sama sekali, malahan kulit terasa halus, lembap & wangi banget!
How to use?
Basahi tubuh dengan air hangat, kemudian gosok lembut scrub ke seluruh tubuh dan diamkan selama 3 menit, lalu bilas. Tidak perlu menggunakan sabun or lotion lagi setelahnya. Oh iyaa, gunakan produk ini 2-3x aja seminggu.
Aku sudah menggunakan produk ini 4x and I really love it! Secara keseluruhan aku sangat menyukainya, mulai dari packaging, aroma, tekstur, sensasi saat menggunakan hingga hasilnya. Ini produk yang wajib kalian coba 🥰.
#serene
#sereneessential
#scrub
#bodycare
#lavender
#localbrand
#essentialoils
#texturetuesday
#indonesianproduct
#beauty
#beautycommunity
#beautyblogger
#beautyreview
#beautytips
#skincarereview
#clozetteID
#honestreview
#lavenderessentialoil
#bodyscrub
#botanical
#environmentfriendly

+ View more details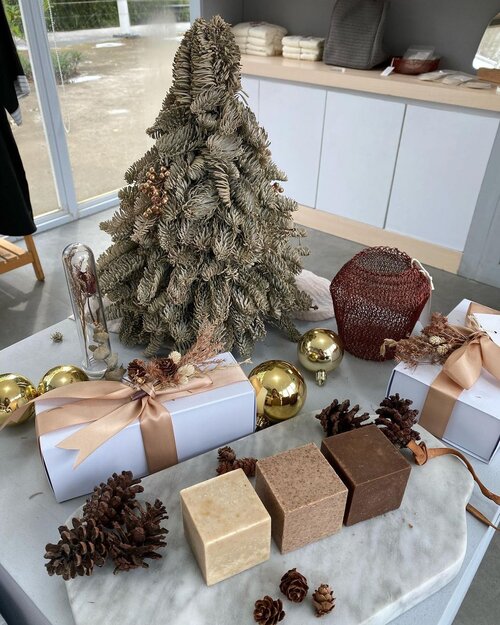 + View more details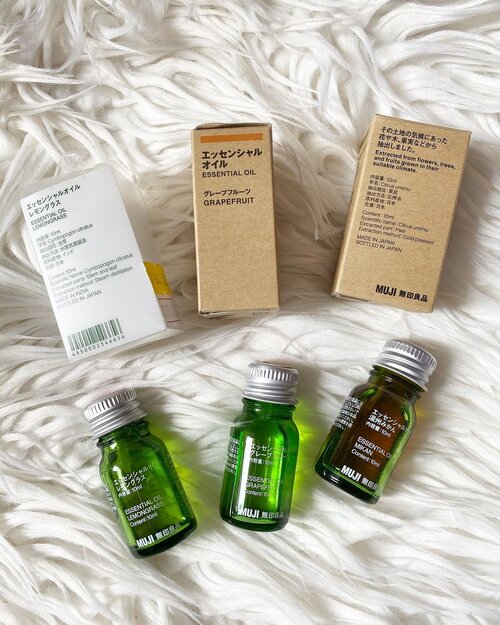 Pas @mujiindonesia discount di @pikavenue kita sempet borong (hiks, closing down sale), mulai dari aromatherapy nya @muji_global yang rata-rata citrus (I love Mikan).
Kita beli lemongrassnya juga, yang kok ada aroma fishy dikit ya 🤔
Lalu swipe right, sisir
#Muji
yang ternyata lebih enak dipakai dibanding w*tbrush. Rambut juga jadi lebih halus dan meski tangled gak berasa ketarik2 saat nyisir.
Last but not least, pisau Muji tajeeeeeeeem banget, asli, semua pisau "chef2an" dirumah juga kalah, ini ngeri juga pas pakai karena super sharp. Pas motong jadi berasa effortless.
Selain itu ada beli kapas juga (as always) karena suka dengan unbleached cottonnya.
Btw, closing sale kemaren 50-70% plus 10% lagi pakai BCA, lumayan banget ❣️
Anak-anak juga kebagian alat-alat tulisnya 🥳
#sale
#promo
#diskon
#discount
#aromatherapy
#smellsgood
#beauty
#haul
#shoppinghaul
#knife
#brush
#sisir
#beststuff
#mikan
#lemongrass
#igdaily
#igers
#instadaily
#instalove
#insta
#kitchen
#cooking
#tips
#grapefruit
#essentialoils
#hello
#potd
#happy
#clozetteid
+ View more details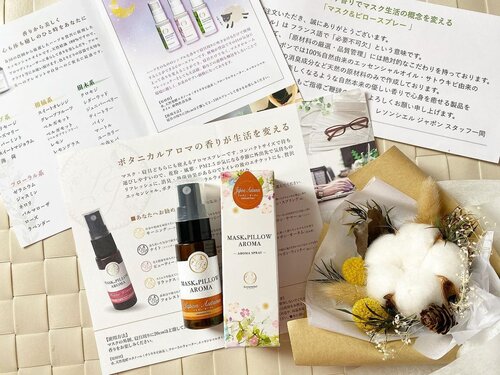 Aroma Spray for mask, pillow or room. This is their Autumn Scent which reminds me of a red colored leaves in the mountain side near Kyoto.
Product can be purchased here:
https://tinyurl.com/y8ons5n9
A direct e-commerce from Japan.
Mask Spray Derived from Plants] It comes with a cute box and is perfect as a gift.
"Autumn in Japan" with the fragrance of sweet Osmanthus that you will feel as fall comes. The rich fragrance of sweet Osmanthus is so comfortable and memorable.
As mask has become something we have to wear daily, scented mask gives us better mood and feeling. A 20 ml can spray 200 times (average 3 months). As it uses ethanol derived from sugar cane, it does not have the unique ethanol smell of mask spray. It also contains botanical deodorizer and has a deodorizing and bacteriostatic effect.
This 3-way product can be used for restroom etiquette, pillowcase, or room fragrance too. It contains essential oil and botanical floral water, so you can enjoy the original aroma. Recommended for those who like the scent of flowers, housewives, ladies, and those who like the calm scent.
[Contents of the blend] Kinmoku, bergamot, floral water, etc. [Use] Spray 2 to 3 times on the outside of the mask with a 20 cm gap. [Ingredients] Water, natural fermentation ethanol, floral water (pesticide-free), essential oil, plant deodorizer.
#love
#spray
#spraymask
#scented
#aromatherapy
#essentialoils
#tocoo
#Japan
#pillowspray
#beauty
#autumn
#shopping
#tocoomall
@tocoomall
#recommended
#igers
#igdaily
#dailyessentials
#dailyneeds
#clozetteID
#ecommerce
#smellsgood
#autumnvibes
🍁
#instadaily
#instagood
#aroma
#instadaily
#hello
#nature
+ View more details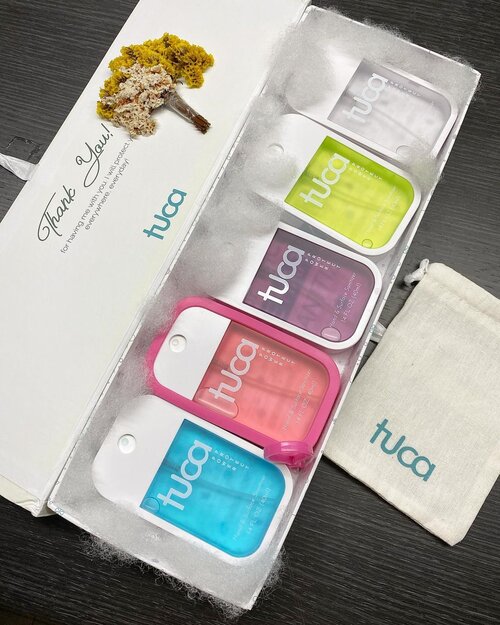 Pagiii, siapa yang masih rajin koleksi sanitizer? Sekarang makin banyak ya macemnya, dari yang gel, watery, liquid, perfumed, sampai yang filled with essential oils kaya @tuca.officialstore begini juga ada. Aromanya beda-beda, yang biru dengan clean ocean breeze, ungu berisi lavender, pink with flowers and feminine scent, hijau muda dengan aroma green tea yang segar and white mint untuk kamu yang sukanya delicate mint aja. Di dalamnya ada kandungan 70% ethyl alcohol, aloe vera leaf juice, lemon & peppermint essential oils, dan lainnya.Apapun variant
#Tuca
yang kamu pilih, they are all Food Grade, Plant Based dan bantu membunuh kuman.Partikel spray nya really fine dan bisa menutupi permukaan, kinda like a mist, and a bottle can last up to 500 sprays.
#sanitizer
#foodgrade
#colorful
#potd
#clozetteID
#beauty
#igstyle
#igers
#igdaily
#instadaily
#instagram
#instalike
#insta
#dailymood
#daily
#mood
#essentialoils
#moodoftheday
#hello
#love
#scents
+ View more details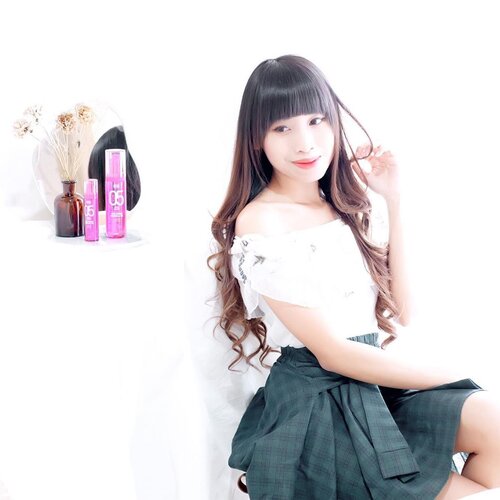 I've been trying,
@amosprofessional_official True Repair Essential Oil for a month !
-
Abis baca reviewnya,
katanya ini hair care yg srg d pake d salon" d Korea gitu. Well, ceritanya kemakan reviee dong dan ini my own review :
What's good?
Texturenya cukup kental, tp ga buat lengket d rambut sm sekali. Wanginya enak + seger, cepet meresap ke rambut dan ga buat rambut lepek. Malah rambut kita bisa terurai satu satu (sm seperti di foto aku)
Ini bisa d bilang vitamin rambut, khusus buat rambut rusak. Jadi ga cuma melindungi rambut dr bahaya styling. Tapi juga me-repair rambut kita biar lebih sehat. Asiknya lagi, @amosprofessional_official punya kemasan travel. Jadi ga usa worry deh kalo mau pergi" 🙈
Down side?
So far so good. I RATE IT 5/5 !
Ofc ! You need to try it out ~
-
How to use?
• Pakai essential oil ini sehabis keramas dlm keadaan rambut masih basah.
• Tuangkan 2-3 pump essential oil ke telapak tangan.
• Oleskan dari tengah hingga bagian ujung rambut
• Diamkan sampai rambut kering secara natural.
-
Kalo kalian buru" ga ada masalah kok buat lgsg d styling. Essential oil ini buat rambut kalian lembut. Mskpn uda d hair dryer ato d catok sekalipun.
Where's to buy?
On my @charis_celeb shop :
http://hicharis.net/tephieteph/1r6D
Try it and you'll love it ☘️
.
.
.
#clozetteid
#charis
#hicharis_official
#charisceleb
#chariscelebindonesia
#essentialoils
#haircare
#haircaretips
#haircareproducts
#hairvitamins
#beautifulhair
#tephcollaboration
#influencersurabaya
#influencerjakarta

+ View more details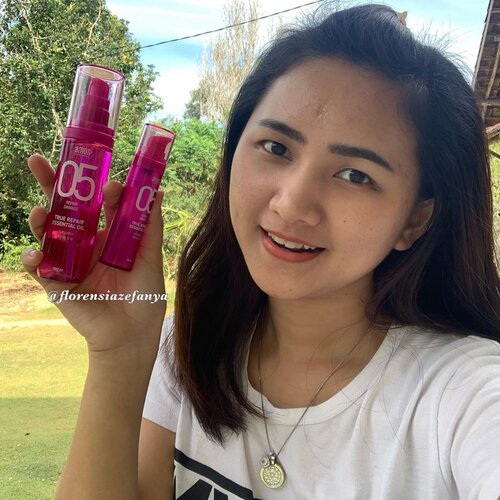 Suka punya pengalaman buruk sama oil-oil an buat rambut.. Biasanya setiap x aku pakai vitamin rambut yang oil begini pasti bikin rambut lepek..
.
Kaget sih pas pakai vitamin rambut dari @amosprofessional_official ini rambut sama sekali gak lepek malahan rambut jadi wangi dan super halus banget jadi kayak lebih jatuh gitu..
.
Mungkin pengaruh dari Ingredients nya juga sih, ada beberapa macam oil"an yang ada di dalam nya 👍🏻
.
Produk ini akan ada di shop aku di @hicharis_official nanti aku akan taro link nya di bio atau kalian boleh copas link ini ya (
http://hicharis.net/florensiasella/OUJ
)
.
#clozetteid
#charis
#charisceleb
#charispick
#hair
#hairvitamins
#rambut
#repairdamage
#essentialoils
@charis_celeb @charis_indonesia
#charis
+ View more details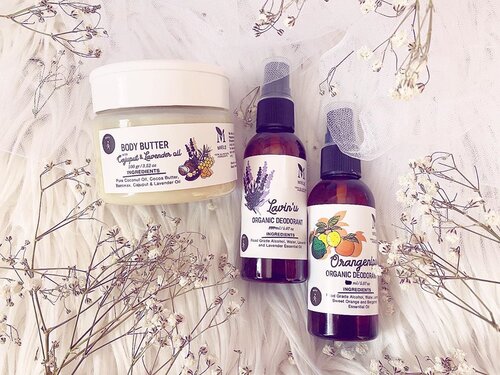 + View more details

loading ...
Back To Top